Our top 10 educational Thanksgiving books for kids grades K-8 will help teach children about the modern Thanksgiving holiday tradition which is commonly traced to the 1621 celebration at Plymouth in present-day Massachusetts. The Plymouth feast and thanksgiving was prompted by a good harvest, where Pilgrims and Puritans celebrated several days of Thanksgiving that have been identified as the "First Thanksgiving".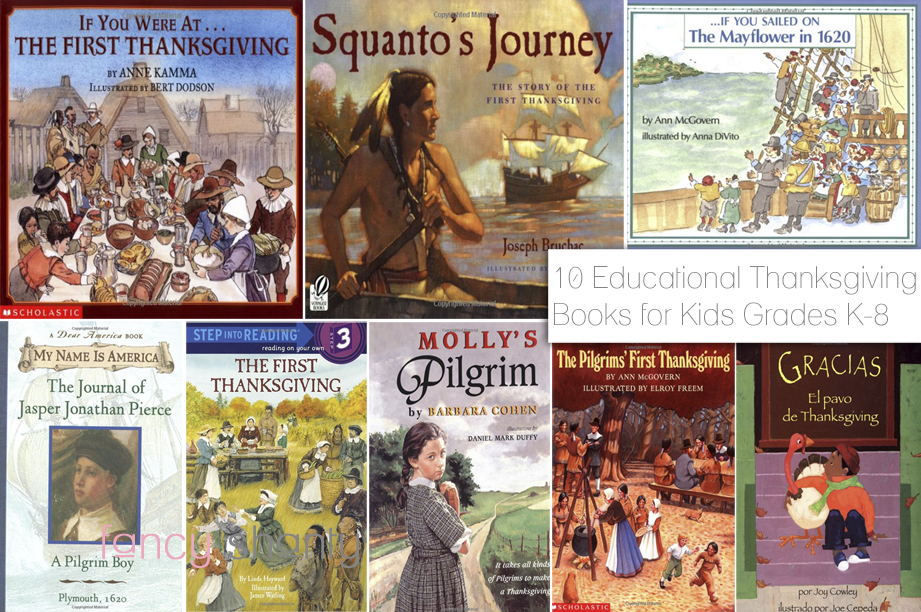 See Also: 0 Short Chapter Books for Pre-K through Grade 3, Thankful Turkeys – Free Thanksgiving Printables
From the historical details of this celebration to the spirit of gratitude and togetherness, these 10 educational Thanksgiving books for kids grades K-8 cover all aspects of this holiday's traditions to help children understand this historical holiday.
10 Educational Thanksgiving Books for Kids Grades K-8
1621: A New Look at Thanksgiving Catherine O'Neill Grace and Margaret M. Bruchac. (Grades 3–5 )
In October of 2000, Plimoth Plantation cooperated with the Wampanoag community to stage a historically accurate reenactment of the 1621 harvest celebration. 1621: A New Look at Thanksgiving exposes the myth that this event was the "first Thanksgiving" and is the basis for the Thanksgiving holiday that is celebrated today. This exciting book describes the actual events that took place during the three days that the Wampanoag people and the colonists came together.
The First Thanksgiving Linda Hayward (Grades PreK–1)
Give young readers the familiar story behind our tradition of Thanksgiving Day, detailed in this easy-to-read history storybook. The Pilgrims' journey, the trials they endure while at sea, and all of their amazing adventures are conveyed with vibrant illustrations and simple words for utmost comprehension.
Pilgrims' First Thanksgiving Ann McGovern (Grades PreK–1)
Full-color illustrations bring to life this historically accurate account of how the children of Plymouth Colony helped contribute to the first Thanksgiving celebration.
Clifford's Thanksgiving Visit Norman Bridwell (Grades PreK–2)
What child wouldn't like to have a pet as special as Clifford the Big Red Dog? In this adventure, Clifford experiences an unusual Thanksgiving journey, ending with an appreciation of overcoming difficulties, celebrating tradition, and spending time with family.
Squanto's Journey: The Story of the First Thanksgiving Joseph Bruchac (Grades K–3)
Travel back to 1620 as an English ship called the Mayflower lands on the shores inhabited by the Pokanoket people. As Squanto welcomes the newcomers and teaches them how to survive in the rugged land they called Plymouth, young readers are treated to a story ending with the two people feasting together in the spirit of peace and brotherhood.
Molly's Pilgrim Barbara Cohen (Grades K–3)
Molly nears her first Thanksgiving in America and her classmates giggle at her Yiddish accent and make fun of her unfamiliar ways. Now her mother embarrasses her with a doll that looks more Russian than Pilgrim. Will Molly discover something to be thankful for?
Gracias, el Pavo de Thanksgiving Joy Crowley (Grades PreK–2)
In this warm holiday story, a young Puerto Rican boy saves the life of his pet turkey with help from his close-knit New York City family and neighborhood. Beginning Spanish vocabulary is woven into the text, giving young readers a unique Thanksgiving story experience.
If You Were at the First Thanksgiving Anne Kamma (Grades 1-4)
Told from a child's perspective and illustrated in full color, this book brings the first Thanksgiving to life. Details about daily life put young readers into the middle of the action.
If You Sailed on the Mayflower in 1620 Ann McGovern (Grades 1–4)
Answer children's questions about the Pilgrims with an enlightening Thanksgiving story. With the beautiful illustrations, young readers can imagine being right on the ship, waiting to arrive in a new land. As part of the If You series, this book helps bring history to life and nurture imagination.
My Name Is America: The Journal of Jasper Jonathan Pierce: A Pilgrim Boy, Plymouth, 1620 Ann Rinaldi (Grades 4–8)
By promising seven years of labor to a fellow traveler, Jasper earns passage aboard the Mayflower and closes the door on his troubled past. His account of the arduous ocean crossing and first year in the New World shows young readers his physical and spiritual growth as he learns the strengths and weaknesses in himself, his Puritan people, and his Native American neighbors.
What are your favorite educational thanksgiving books for kids?