Are you ready for some football! These 10 football books for kids are sure to get your children ready for the playoffs and the big game on Superbowl Sunday with fun and exciting football stats and facts. Kids will learn all about first downs, touchdowns, the line of scrimmage, penalties, field goals, the players, and their stats with the easy to read books written for children.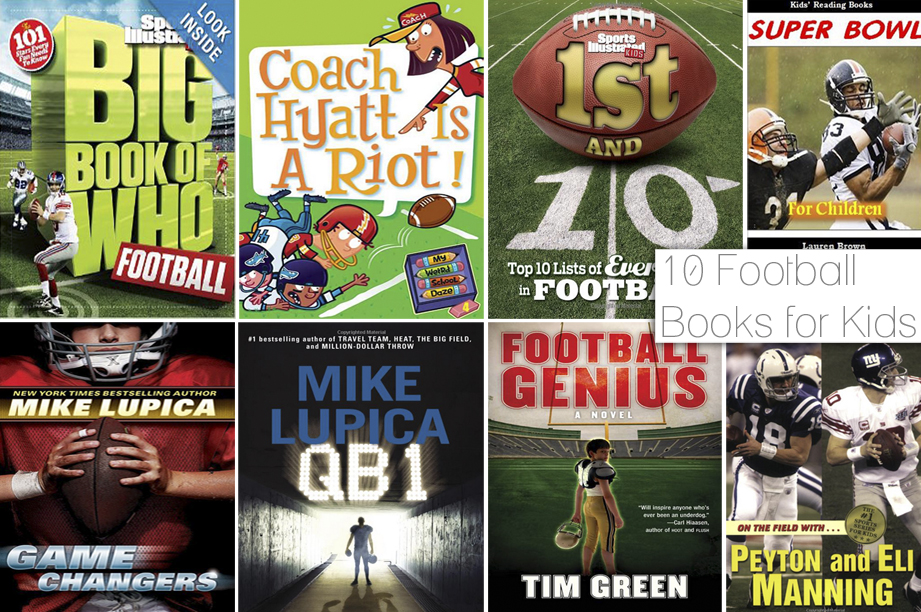 10 Football Books for Kids
The Superbowl is just weeks away and now is the perfect time to teach your kids all about the big game with these favorite 10 popular football books for kids.
Sports Illustrated Kids Big Book of Who: Football Sporty Illustrated for Kids
From the editors of Sports Illustrated Kids comes The Big Book of Who: Football, a 128-page collection of the brightest stars in America's favorite sport, past and present. Profiles, facts, and stats will bring the best players in pro football history to life with all the classic touches that Sports Illustrated Kids is famous for – terrific, age-appropriate writing and exciting sports photography.
QB 1 Mike Lupica
Jake Cullen is a freshman quarterback playing high school football in the high-pressure land of Friday Night Lights (Texas). He is also the brother of Wyatt Cullen, who quarterbacked his team to the Texas State Championship last season–not to mention the son of former NFL quarterback and local legend, Troy Cullen. To be a Cullen in Texas is to be royalty . . . and a quarterback. All of which leaves 14-year-old Jake in a Texas-sized shadow, a tall order for any boy, especially one who's merely a freshman.
Perfect Season (Football Genius) Tim Green
Tim Green delivers a gripping addition to his Football Genius series, with the tense action on and off the field that has made him a New York Times bestselling author. Perfect for fans of Mike Lupica's sportsbooks!
Sports Illustrated Kids 1st and 10: Top 10 Lists of Everything in Football by Sports Illustrated for Kids
Get everything you ever wanted to know about America's most popular sport in 1st and 10. Presented in the format of Top 10 lists, this book is a comprehensive yet fun football books for kids look at the greatest aspects of the game. From the top Super Bowl moments to the best-looking uniforms, SI Kids ranks 50 different topics from the gridiron.
Game Changers #1 Mike Lupica
Mike Lupica delivers a New York Times bestselling middle-grade series! Ben McBain is every football team's dream player. He's a jack-of-all-trades guy that can handle almost any position. When the game is on the line, Ben's number is the one being called for the final play. But Ben wants to be the starting quarterback and the one thing standing in his way is the coach's son.
Kids Reading Books: The Super Bowl for Children – Fun Facts and Action-Packed Photos of the Biggest Game in Football (Sports for Kids)Lauren Brown
Do you wish your kids had a fun and easy kid's book about the Super Bowl? This is it. This easy-to-read Super Bowl kids book is suitable for young readers ages 7 to 10. They'll love the cool and interesting facts and the awesome full-color photos. You'll enjoy discovering FUN Super Bowl activities for kids – keep them entertained for hours, action-packed FULL-COLOR football images, what the Super Bowl is, who plays in the Super Bowl, who won each Super Bowl, who was the MVP of each Super Bowl., how did the Super Bowl get started, anyway, what happened in the first Super Bowl….and Much, Much More! So enjoy the quality time together with your children discovering fun facts about the Super Bowl and looking at action-packed football photos.
On the Field with…Peyton and Eli Manning (Matt Christopher Sports Biographies) Matt Christopher
No other family has conquered football like the Manning's. It all started with the dad, Archie, a former pro quarterback who taught his sons Peyton and Eli to play football. Now, as the brothers have both grown into pro quarterbacks', they're creating a legacy of their own, starting with two stunning Super Bowl wins. This exciting Matt Christopher biography gives readers the story behind this famous football family, as well as thrilling recaps of some of the most awesome games in NFL history.
Million-Dollar Throw Mike Lupica
Everyone calls Nate Brodie 'Brady' because he's a New England quarterback, just like his idol, Tom Brady. And now he's got a chance to win a million dollars by throwing one pass through a target at halftime in the Patriots' Thanksgiving night game. More than anything, Nate's family needs the money his dad's been downsized, his mom's working two jobs, and they're on the verge of losing their house. The worry is more weight than a 13-year-old can bear, and it's affecting his playing for his own football team. Suddenly the boy with the golden arm is having trouble completing a pass . . . but can he make the one that really counts?
Football Genius Tim Green
Troy White can predict any football play before it happens. And when his single mom gets a job with the Atlanta Falcons, Troy knows it's his big chance to help them out of their slump—and finally prove his football genius. But unless Troy can convince star linebacker Seth Halloway that he's telling the truth, the Falcons' championship—and Troy's mom's job—are in serious jeopardy.
My Weird School Daze #4: Coach Hyatt Is a Riot!Dan Gutman
The weirdness never stops! It's Pee Wee Football season, and A.J.'s new coach is crazy. She wants the boys to do push-ups in the mud. She wants them to pick up a car. And worst of all, she wants to put girls on the team! You'll never believe in a million hundred years what happens in the big game.
Do you have any football books for kids you can add to this list? Add them in the comments below.