Top of the morning to you! As we celebrate the luck of the Irish on this magical St. Paddy's Day holiday, don't forget to dress in green and keep your eye out for that famously mischievous leprechaun. While you're at it check out this list of 10 Popular St. Patrick's Day Children's Books and you may just find your pot o' gold at the end of the rainbow!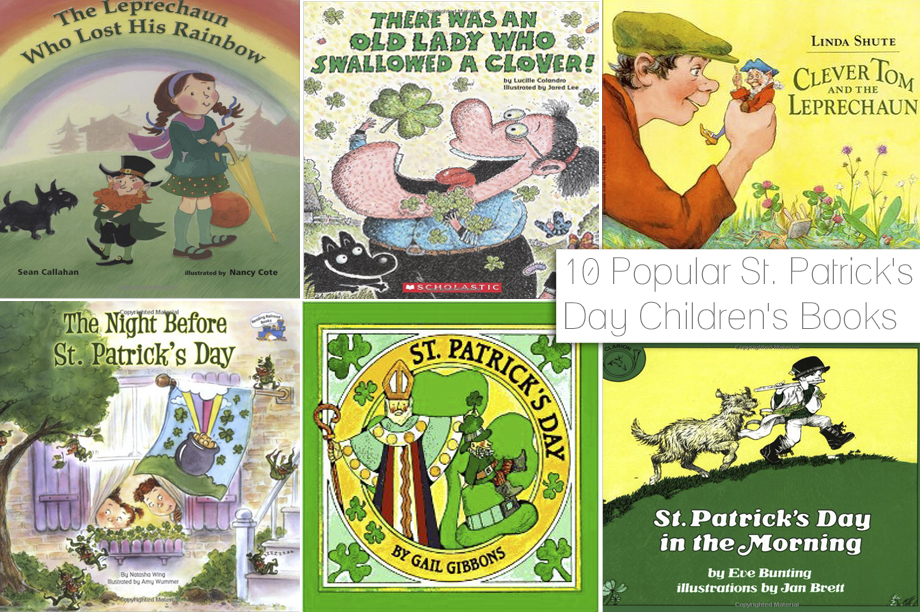 10 Popular St. Patrick's Day Children's Books
There Was an Old Lady Who Swallowed a Clover!
by Lucille Colandro
There was an Old Lady who swallowed things over and over, and now she's come back to swallow a clover. She's back! That lovely old lady has returned just in time for St. Patrick's Day. Now she's swallowing items to make the perfect rainbow to hide a pot of gold.
The Leprechaun Who Lost His Rainbow
, by Sean Callahan
It's raining, and Colleen is sad. How can her grandfather play his bagpipes in the St. Patrick's Day parade? His music is so beautiful it makes people laugh and cry at once. Suddenly, a leprechaun appears before her. He says he can make the sun come out by creating a rainbow – but to build its colors, Colleen must give up the thing she holds most dear. Sean Callahan's sweet, surprising story is complemented by Nancy Cote's bright paintings. A note at the end explains the science of rainbows and the Roy G. Biv naming tradition.
The Night Before St. Patrick's Day (Reading Railroad)
, by Natasha Wing
It's the night before St. Patrick's Day and Tim and Maureen are wide awake setting traps to catch a leprechaun! When they wake the next morning to the sound of their dad playing the bagpipes and the smell of their mom cooking green eggs, they're shocked to find that they've actually caught a leprechaun. But will they be able to find his pot of gold?
St. Patrick's Day in the Morning
, by Eve Bunting
Jamie seeks a way to prove that he is not too young to march in the big St. Patrick's Day parade.
Clever Tom and the Leprechaun: An Old Irish Story
, by Linda Shute
Clever Tom Fitzpatrick thinks his fortune is made when he captures a leprechaun and forces him to reveal the hiding place of his gold, but the leprechaun is clever too.
St. Patrick's Day
, by Gail Gibbons
In addition to the story of Patrick's life, here is information about how St. Patrick's Day is celebrated. There are decorations from shamrocks to shillelaghs. People give cards, share meals, and wear green to honor Ireland, the Emerald Isle–and there are parades! Included are six legends about Patrick.
Check out this additional list of good luck Popular St. Patrick's Day Children's Books

Story of Saint Patrick's Day

Happy St. Patrick's Day, Curious George

St. Patrick's Day Countdown

The Luckiest St. Patrick's Day Ever