My husband and I don't spend much on gifts for each other. Honestly, if we need something (and it really has to be a need, not a want) we usually just go out and buy it because we have to. But this year I wanted to start a new tradition celebrating 12 days of Christmas gifts for him. A tradition that is fun, inexpensive and thoughtful at the same time.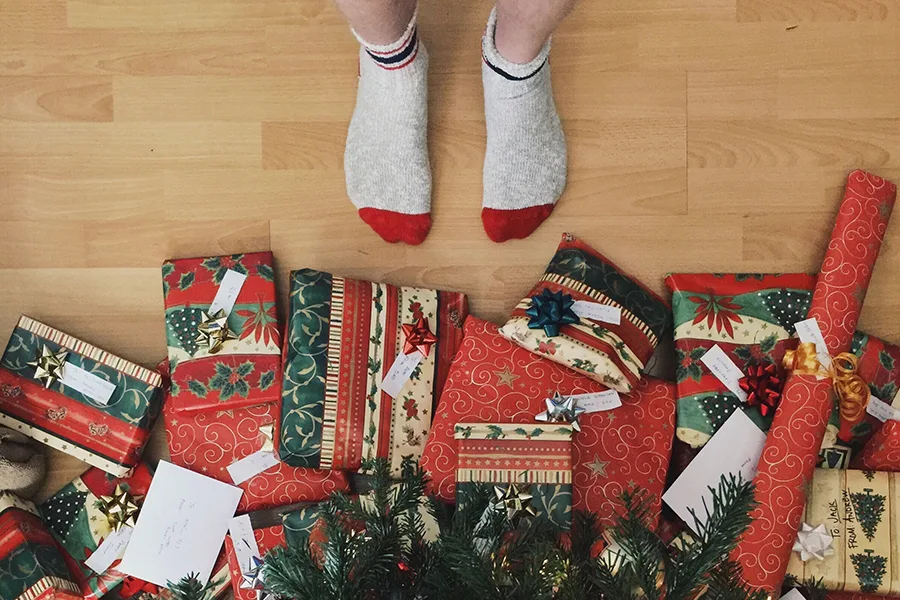 Traditionally the 12 Days of Christmas begin on Christmas (Day 1) and continue for the following 11 days. I decided, however, to take the less traditional route and celebrate the 12 days leading up to Christmas, with Christmas being the grand finale of our celebration.
Now, my husband doesn't normally read my blog because as he says 'Why do I need to read about what I lived early in the day?'. But if today is the day you (my husband) decided to start reading my blog…
STOP READING IT NOW!!!!!! (you have been warned!)
12 Days of Christmas Gifts for Him
The 12 days of Christmas gifts for him I bought are small, inexpensive gifts that I know he loves but doesn't buy himself for a variety of reasons. My husband is a man's man who is not extravagant, doesn't follow fads, never buys anything he doesn't NEED, and never expects anything from anyone (that's why this is so fun!).
If you're on a tight budget like we are and you're thinking there is no way you can afford 12 gifts, don't worry. I bought all these gifts in one shopping trip to Target, and together they cost less than $60.00. That's less than $5.00 per gift! You can do this! And best of all these are gifts he really loves, not overpriced gifts he'll just toss in six months.
Day 1: 1 Can of his favorite Honey Roasted Peanuts
Day 2: 2 Pairs of Wool Socks
Day 3: 3 Candy-cane flavored Christmas Peeps (They come in packets of 3s.
Day 4: 4 bags of Jerky
Day 5: 5 piece Travel Manicure Set
Day 6: 6 pack of his favorite Winter Beer
Day 7: 7 cans of 7-up
Day 8: 8 piece of Dark Chocolate Mint candies
Day 9: 9 bags of Movie Theater Butter Popcorn
Day 10: $10 Gift Card (perfect for CD's, Movies and Games)
Day 11: 11 of his favorite homemade cookies
Day 12: A little note with 12 Things I Love About Him
(Update: We're on Day 2 and hubs is catching on to this quick. He just said to me 'So on day 12 you got me a 12 pack of beer right?'. Now, why didn't I think of that? Haha!)
Some additional gift giving ideas include:
Day 1: Any single item. If you want to spend a little more on a gift, this is the day to do it.
Day 2: Thinks pairs. We did wool socks but slippers, gloves, tickets for two to the movies, dinner, or theater would be great too.
Days 3-6: Golf balls, golf tees, candy, beverages, bi-monthly magazine clubs or anything else that comes in a pack.
Days 7-11: Keep on the theme of packs and don't be afraid to buy multiple packs in smaller numbers if needed. Just open the packs and re-wrap to create the right number of items you need.
Day 12: What comes in dozens? Think beer (as my husband mentioned), soda, cookies, magazines, or food/wine of the month clubs.
12 Days of Christmas Gifts Printables
Whether you celebrate the 12 days leading up to Christmas or the 12 days from Christmas to the end of the year, these free 12 Days of Christmas Gifts for Him Printables are the perfect finishing touch for your celebration.
This printable comes in .jpg format for you to print at home, cut-out and fold for each day. You can even add a sweet love note inside each card.
Download 12 Days of Christmas Gifts Free Printables here.