Christmas is nearly upon us which means it's time to start taking a look at what toys are popular this year. For the last 9 years, Marvel's superhero movies have been dominating Hollywood and influencing what toys kids want. This year was no exception as we saw the release of Guardians of the Galaxy Vol. 2, Spiderman Homecoming, and Thor: Ragnarok.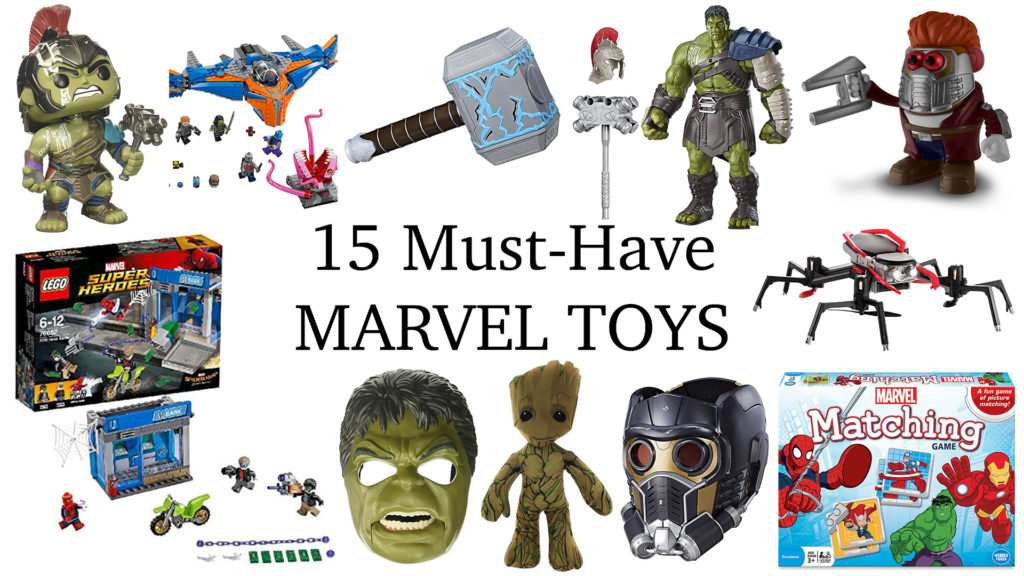 15 Must-Have Marvel Toys
Each of these movies starred kid's favorite characters. Groot and Star-Lord from Guardians of the Galaxy. Spiderman from Spiderman Homecoming. And Hulk in Thor: Ragnarok. All of these characters are going to be big hits for kids at Christmas with Action Figures, Funko Pops, and many other toys. This list of must-have Marvel toys is grouped into three very broad age categories.
MARVEL Fans Under 5
Guardians of the Galaxy Baby Groot Plushie
I am Groot! The cute and cuddly Baby Groot from Guardians of the Galaxy Vol.2 is now an adorable plush! Plush stands an adorable 15 inches tall. Super soft and huggable!
Get it on: Amazon.com
Guardians of the Galaxy Star-Lord Mr. Potato Head
Mr. Potato Head dons the guise of Peter Quill, the Star-Lord, leader of the group of cosmic misfits known as the Guardians of the Galaxy. This detailed collectible stands 6″ tall and includes Starlord's iconic mask, trench coat, and Element Gun.
Get it on: Amazon.com
Marvel Matching Game
The classic game of picture matching now features Marvel Super Heroes! Flip over brightly colored tiles featuring Iron Man, Spider-Man, Captain America and many more Marvel heroic friends and villains.
Get it on: Amazon.com
---
MARVEL Fans Ages 5-11
Thor: Ragnarok Hulk Mask
Imagine unleashing the fury of the Hulk! The Hulk Out mask includes chin-activated eyebrow-raising and mouth-opening features, so kids can imagine the Hulk getting angrier, and let out their own Hulk-inspired "GRAAAWR!" With iconic gamma-green hue and expression inspired by Bruce Banner's angry alter-ego, the Hulk Out mask lets kids imagine "hulking out" like the Hulk!
Get it on: Amazon.com
Hulk Electronic Action Figure
The Marvel Universe features heroes, villains, and stories that are larger than life. Marvel has created some of the world's most iconic characters through stories where incredible Super Heroes battle powerful foes with the fate of the universe in the balance. Create your own epic Marvel adventures with figures, vehicles, and role-play toys featuring the world's greatest collection of Super-Heroes.
Get it on: Amazon.com
Thor vs Hulk Lego Arena
Role-play an arena duel between Thor and Hulk and then team up with these two old friends to topple Grandmaster. This awesome LEGO Marvel Super Heroes Thor vs. Hulk: Arena Clash set features an arena with a sliding gate, secret weapons rack, 2 toppling pillars, smash-function wall, and an opening prison cell.
Get it on: Amazon.com
Spiderman Homecoming Lego ATM Fight
Robbers are raiding the bank so dash to the scene with Spider-Man! Don't be fooled by their Hulk and Captain America masks-these are bad guys. Cash is flying everywhere as they use their hybrid-tech stud-shooting ATM Buster and gun with a hybrid-tech chain to steal an ATM. Climb over the building and shoot Spider-Man's Power Blasts. Then grab those masked robbers before they can escape on the getaway bike with the money!
Get it on: Amazon.com
Thor: Ragnarok Thor Hammer
Nothing can stop Thor's power! With his legendary hammer Mjolnir, the God of Thunder is an unstoppable force in battle. Kids can imagine gearing up like the Asgardian warrior himself with the Thor Rumble Strike Hammer! Featuring spring-activated sound effects, this hammer is designed to look and sound like the mighty Mjolnir, as seen in the upcoming movie, Thor: Ragnarok.
Get it on: Amazon.com
Spiderman Homecoming Funko Pop
From Spider-Man Homecoming, SpiderMan Homemade Suit, as a stylized POP vinyl from Funko! The figure stands 3 3/4 inches and comes in a window display box.
Get it on: Amazon.com
---
MARVEL Fans Ages 12+
Spiderman Homecoming Drone
The Official Movie Edition Spider-Drone powered by Sky Viper, with Auto Hover and Auto Land, as Seen in Spider-Man: Homecoming
Everyone's favorite web-slinger is back in Spider-Man: Homecoming, sporting a new high-tech gadget. Own the Official Movie Edition Spider-Drone, a functional replica of Spidey's eight-legged, surveillance drone.
Get it on: Amazon.com
Guardians of the Galaxy Vol. 2 The Milano vs Abilisk Lego
Get set for an epic space battle as Star-Lord and his unlikely allies take on the Abilisk, featuring the Milano spaceship with two stud shooters, bomb-drop function, movable wings, and an opening four-minifigure cockpit. The Abilisk monster features moving tentacles and an opening mouth to role-play a daring rescue mission.
Get it on: Amazon.com
Guardians of the Galaxy Star-Lord Helmet
He's the Lord of the Stars! Or, whatever. Channel Star-Lord (but maybe not his sense of humor) with the Marvel Legends Premium Role Play Star-Lord Electronic Helmet. This groovy noggin bucket features premium sculpting and deco, as well as electronic SFX and light up eyes that'll have collectors seeing stars.
Get it on: Amazon.com
Groot Holding the Bomb Funko Pop
Get it on: Amazon.com
Thor: Ragnarok Hulk Funko Pop
Get it on: Amazon.com
Spiderman Fidget Spinner
Elegantly designed latest Spiderman fidget spinners are manufactured by integral molding of Aluminium and premium bearings. Well balanced for flexible fidgeting, twisting and one hand spinning. First Class Bearings: The Spiderman Spinners will comfortably spin for 2 to 5 minutes. They also suffer very little slow down during tricks.
Get it on: Amazon.com
While you're shopping for your favorite must-have Marvel toys be sure to keep an eye out for a couple of series of toys which are using some pretty sneaky tactics to get you to buy more. You could, for instance, buy a Thor Action Figure that also includes the head of the Hulk. This isn't for any other reason than to sell more toys. The Thor Action Figure is part of a set and each part of that set has a different part of Hulk's body inside the package. So when you've bought the entire set which retails at $150 you can build Hulk. But if you only buy one figure from the set you only have one part of Hulk. This sneaky tactic will have kids begging to buy more of the set. So if you happen to see an action figure with a random body part, you may consider skipping it.
Sadly, Marvel is falling behind when it comes to gender-specific toys. So many, if not all of these toys are with boys in mind. If you want girl superhero toys, check out Wonder Woman from the DC universe. Thankfully, though Funko Pops are generally considered gender neutral and so are Legos. Whichever movie your child loved this year you're sure to have plenty of options for all ages.