Believe it or not, yesterday's press conference wasn't just about the cast of this year's unprecedented cinematic journey ten years in the making. It was also about the hottest Infinity War toys being released in celebration of MARVEL's Avengers: Infinity War. Toys that we had the opportunity to hold, play with, and experience up close and personal. Toys we may or may not have considered trying to sneak out of the hotel. Kidding, okay, maybe not. What toys did we love most? Check them out below.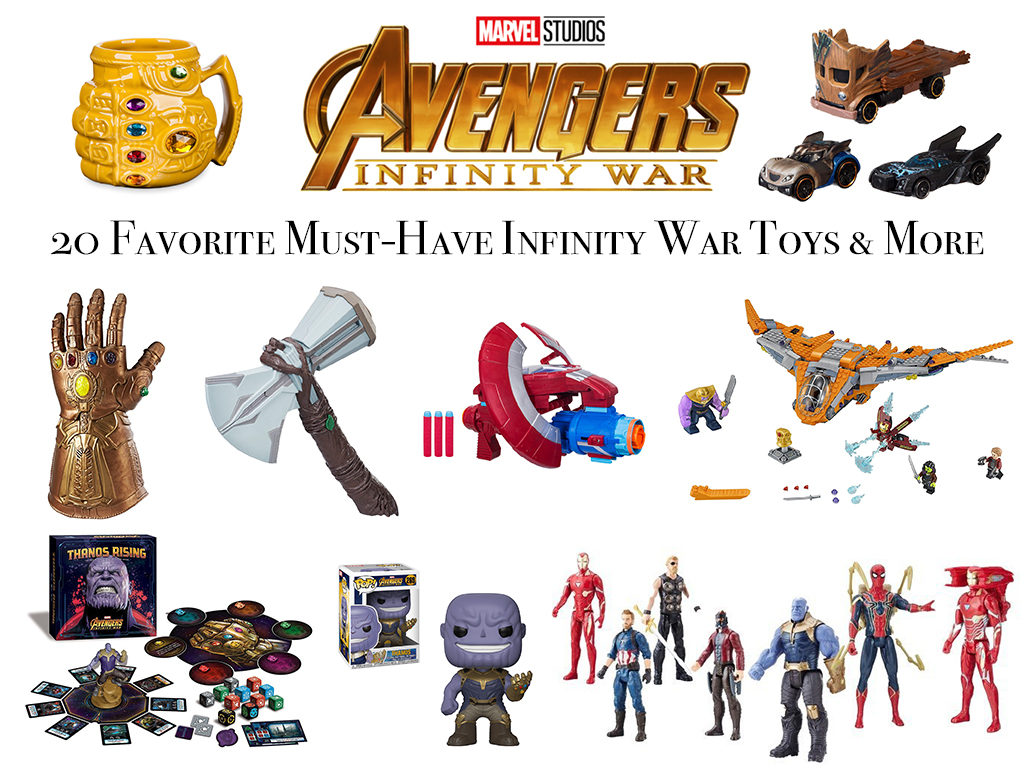 See also: Infinity War Cast Interviews – Keeping the Spirit of the Comics Alive in MCU Films, Win an Avengers: Infinity War Characters Prize Pack
20 Favorite Must-Have Infinity War Toys & More
With around 64 main characters in this latest film from the MCU, spanning across the entire Marvel Cinematic Universe, it's no surprise that stores everywhere are already selling out of this year's must-have Infinity War toys! Check out a few of our favorite MARVEL toys from the Avengers: Infinity War press conference, including this year's electronic Infinity War Gauntlet. (This thing is SO AWESOME!!!)
Infinity War Gauntlet Toy

Bring one of the most powerful weapons in the Marvel Universe to life! With this premium Infinity Gauntlet Articulated Electronic Fist from the Marvel Legends Series, lift up the power of the Infinity Stones and imagine taking control of the galaxy with the notorious gauntlet worn by the supreme being, Thanos.
Inspired by the upcoming Avengers: Infinity War movie, this Infinity Gauntlet from the Marvel Legends Series features premium design and styling, as well as intricate detailing on the gauntlet and 6 light-up Infinity Stones. Features pulsating light effects, movie-inspired sounds, and individually articulated finger movement, as well as a fist-lock feature for display.
Infinity War Weapons
Did you see how sad Thor was when Hela broke Mjolnir in Thor: Ragnarok? The big lug almost looked like he was going to break into tears for a moment as he lamented the loss of his beloved hammer. We thought he would never find a new weapon to replace it… but we were wrong! Just look at his brand new weapon, Stormbreaker, from Avengers: Infinity War. The spicy new weapon is an ax and hammer combination that seems to be acting as a fine substitute for the mighty Norse thunder god. In fact, we've been itching to get our hands on the brand new ax of his… a toy version that is!
Get ready to build and blast like the First Avenger with Captain America Assembler Gear!
Collect, combine, and customize! With Avengers Assembler Gear featuring Nerf technology, kids can assemble their ultimate blaster and imagine taking down the bad guys! Each Assembler Gear set features different blaster combinations and can be combined with other Assembler Gear sets.

Get ready to build and blast like an intergalactic hero with Star-Lord Assembler Gear! Powered by Nerf and featuring movie-inspired design from the Marvel Avengers: Infinity War movie, Assembler Gear lets kids and fans alike create different blaster combinations and blast into action like their favorite Marvel heroes!
Infinity War Action Figures & Figurines
With the Marvel Legends Series, both kid and adult Marvel fans can start a legendary collection of the comic- and movie-based Marvel characters. This 6-inch Spider-Man figure is highly articulated and features a comic-inspired design, making it another worthy addition to the Marvel Legends Series. Collect all figures in this Avengers Marvel Legends Series Build-a-Figure collection to assemble Thanos!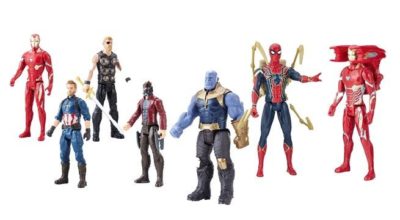 These figures include a Titan Hero Power FX pack so when kids connect the pack, they can power up their figure and activate character-specific sounds and phrases from Avengers: Infinity War! Connect Titan Hero Power FX pack to compatible Titan Hero Series figures (each sold separately) to activate character-specific sounds and phrases in a favorite super hero and villain figures!
Infinity War Funkos
Funko Mystery Mini: Marvel Comic Avengers Infinity War Bobble-Head Minis 2 Pack BUNDLE! Officially Licensed by Marvel. You will receive 2 random mini boxes (contents could be the same as boxes are randomly selected). Stylized collectibles stand approximately 2.5 inches tall. Collect them all!!
From Avengers Infinity War, Hulk buster, as a stylized POP Keychain from Funko! Stylized collectible stands 1.5 inches tall, perfect for any Avengers Infinity War fan! Collect and display all Avengers Infinity War POP! Keychains! Funko POP! is the 2017 Toy of the Year and People's Choice award winner.
You can also pick two-packs of your favorite Funko Pop keychain MARVEL Avengers: Infinity Wars characters.
From Avengers Infinity War, Thanos, as a stylized POP vinyl from Funko! The figure stands 3 3/4 inches and comes in a window display box. Check out the other Avengers Infinity War figures from Funko!
With so many NEW INFINITY WAR FUNKO POPs Available, don't miss your chance to collect them all!
From Avengers: Infinity War these 3 heroes, Thor, Iron Man, and Iron Spider, stylized Dorbz vinyl from Funko! Figures stand 3 inches and come in a double-sided window display box. Figure style may vary. Check out the other Infinity War figures from Funko! collect them all!
Infinity War Games
Thanos Rising – Avengers: Infinity War is a cooperative dice and card game for 2-4 players. In the game, players will recruit heroes and assemble a team to face off against Thanos and his villainous forces in an effort to thwart him from accomplishing his master plan – collecting all six Infinity Stones to power the Infinity Gauntlet and wreak havoc on the very fabric of reality.
Infinity War Legos
Stage an awesome battle at the Wakandan wall with Vision, Shuri and Black Panther against Corvus Glaive and an Outrider with this LEGO Marvel Super Heroes 76103 Corvus Glaive Thresher Attack set. The wall features a lever-operated opening gate, tower with rotating, dual stud-shooting turrets, hidden disc shooter, Wakandan lab with flip function and the Infinity Stone element. The bad guys are attacking with a Thresher launcher – hit the right spot on the wall with the Thresher to activate the lab's flip function. This super hero toy also includes 5 minifigures.
Fly into conflict on an uncharted planet aboard The Guardians' Ship with Iron Man, Star-Lord, and Gamora in this LEGO Marvel Super Heroes 76107 Thanos: Ultimate Battle set. The Guardians' Ship features an opening cockpit for 2 minifigures seated on the space scooter, stud shooters, plus an opening rear compartment with capacity for 2 minifigures and the Infinity Gauntlet and stand. The Infinity Gauntlet, which has attachment points for the included Infinity Stone and other collectible Infinity Stone elements, can be attached to the Thanos big figure. This exciting set features 3 minifigures with assorted weapons and 10 Power Burst elements.
Overpower Proxima Midnight and the Outrider with Bruce Banner's Hulkbuster in this LEGO Marvel Super Heroes 76104 The Hulkbuster Smash-Up set. The posable Hulkbuster features an opening minifigure cockpit and bashing arm function. This action-packed set also includes a ball-shooting gun turret with an opening rear compartment containing the Infinity Stone element, Falcon's buildable wings with a detachable Redwing drone element and 4 minifigures.
Infinity War Books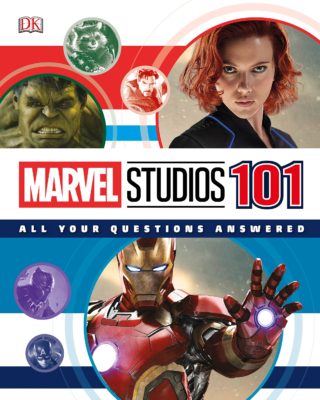 Featuring a sneak peek of the highly anticipated Marvel Studios' Avengers: Infinity War, this friendly companion untangles plots and characters, film by film. Even if you've never seen a Marvel movie, it's hard to miss that the Marvel Cinematic Universe is a really big deal. 10 years' worth of movies, all linked together into a vast, unique and compelling storyline. If you want to find out more but aren't sure where to start, this entertaining, illustrated book breaks down everything in a straightforward and fun way!
Marvel The Avengers: The Ultimate Guide, Updated and Expanded covers everything about Marvel's mightiest Super Hero team–their stories, their powers, their allegiances, and their enemies. Exciting comic-book art on dynamic page design gives a stylish and up-to-the-minute look, while information is presented through character profiles covering key issues, storylines, and topics. The perfect gift for Marvel fans.

As the stage is set for Marvel's Avengers: Infinity War, each Super Hero involved has no way of knowing how their lives will be forever changed. Captain America, Thor, Doctor Strange, and the Guardians of the Galaxy all have a role to play in the coming cosmic war–but fresh off their own independent adventures, they'll have to come together as Thanos prepares his conquest.
Told from unique perspectives, each hero finds their stories accelerating down the road to Infinity War!
Additional Infinity War Products We Love!
As Thanos tightens his grip on the universe, you'll get a better grip on your mornings as you sip from this sculpted Infinity Stone Gauntlet mug featuring jeweled details. Magic in the details. Hot beverage mug. Sculpted Thanos Infinity Gauntlet design. Faceted jewel Infinity Stone accents.
Assorted Hot Wheels Character Cars 2018 – Marvel Avengers Infinity War.
Our favorite – Thanos Marvel Avengers Infinity War Character Car. Thanos is one of the most feared conquerors to inhabit the universe. This multi-purpose all-wheel drive hauler wreaks havoc everywhere he goes, unleashing brute force through a generator powered by the Infinity Stones found in the truck's bed. His helmet protects the cab from head-on collisions and the dual-bladed glaive at the sides serve as a safeguard against all his enemies. His goal to dominate all of space, time and reality come that much closer to fruition when this beast hits the streets!
This star-studded group of characters now headline the limited-edition, MARVEL collection from Invicta. Maintaining the artistic spirit that first brought them to life, the collection renders each character with their own unique energy and personality throughout every exclusive timepiece.
Share these 20 Favorite Must-Have Infinity War Toys & More by pinning the image below.