If you're looking for something other than candy to give this Valentine's Day, have we got a treat for you. We've rounded up our top 20 popular children's Valentine's Day books sure to make a few hearts burst at the seams. Our favorite Valentine's Day children's books this season are bound to charm readers of any age.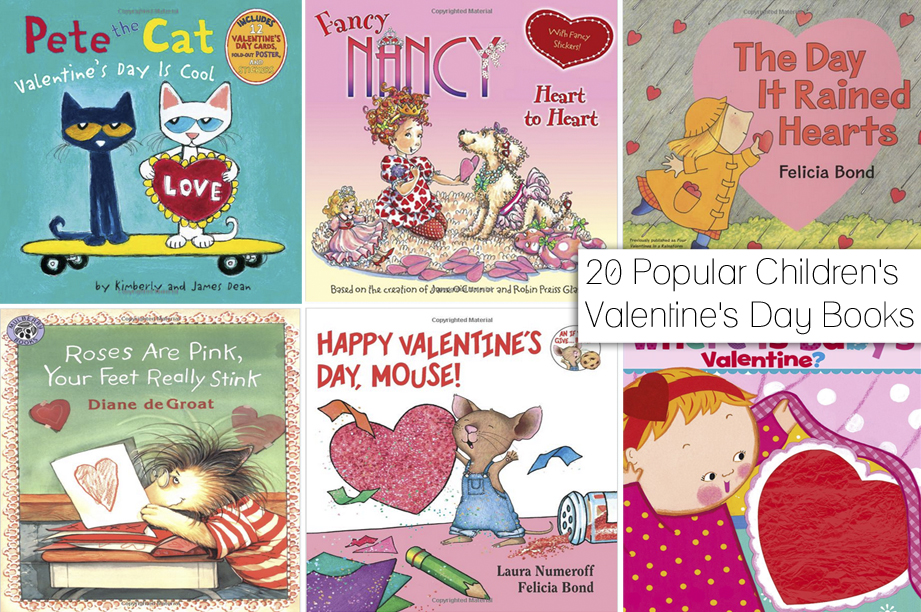 20 Popular Children's Valentine's Day Books
Pete the Cat: Valentine's Day Is Cool
by James Dean
Pete the Cat thinks Valentine's Day isn't cool . . . until he realizes how many special cats there are in his life! Pete works hard to make valentines for everyone, and it turns out to be the grooviest Valentine's Day ever. But what happens when he realizes he's forgotten to make a card for a very important cat? Join Pete the Cat as he discovers just how special Valentine's Day can be!
Happy Valentine's Day, Mouse! (If You Give…)
by Laura Numeroff
Join Mouse from If You Give a Mouse a Cookie as he celebrates Valentine's Day with all the friends he loves.
Happy Valentine's Day, Curious George
by N. Di Angelo
George and his friends celebrate Valentine's Day with decorating, baking, card making and some unexpected hilarity along the way! Just how much mischief can a curious little monkey get into when balloons, frosting, and glitter are involved? Fold-out flaps on each scene reveal lively surprises in this humorous celebration of friendship. Sparkly red foil shines on the cover and throughout the book.
Day It Rained Hearts
by Felicia Bond
One day it rains hearts, and Cornelia Augusta catches them. Each heart is special in its own way, and Cornelia Augusta knows exactly who to send them to.
My Fuzzy Valentine (Sesame Street)
by Naomi Kleinberg
It's Valentine's Day and Elmo has received an anonymous valentine. Who could have sent it? He checks with all of his friends and finds the answer right back where he started looking—at home! Toddlers will love touching the fuzzy valentine on every spread
Where Is Baby's Valentine?: A Lift-the-Flap Book
by Karen Katz
Baby made a valentine for Mommy. Where could it be? Is it behind the lamp? No, those are pretty, sparkly flowers! It's a shiny, glittering delight as you lift the sturdy flaps to help Baby find her very special valentine.
Roses Are Pink, Your Feet Really Stink
by Diane deGroat
When Gilbert writes two not-so-nice valentines to his classmates, his prank quickly turns into pandemonium. But there's always time for a change of heart on Valentine's Day.
Fancy Nancy: Heart to Heart
by Jane O'Connor
Almost everything about Valentine's Day is fancy . . . especially with Fancy Nancy! Mystery is in the air when Nancy receives a valentine from a secret someone. Join Nancy as she follows the clues to find out who it is—all in her trademark fabulous style, of course. Gorgeous stickers included!
Mickey Mouse Clubhouse Minnie's Valentine
by Disney Book Group
Meeska, Mooska, Mickey Mouse! Welcome to the Mickey Mouse Clubhouse! Join Mickey, Minnie, Donald, Daisy, Goofy and Pluto in two ready-to-read tales that teach valuable lessons about letters, numbers, shapes, decision-making, and friendship. Minnie's Valentine Love is in the air at the Clubhouse, but Mickey has no idea what to get Minnie for Valentine's Day. Minnie goes undercover, using a disguise to teach Mickey how to make a heartfelt Valentine's Day gift.
The Biggest Valentine Ever
by Steven Kroll
When Mrs. Mousely asks her class to make valentines, Clayton and Desmond decide to make one together and give it to their teacher as a surprise. But things don't go as planned. First Clayton puts too much glitter on the card. Then Desmond puts on too many hearts. Soon the friends are arguing and they rip the card in half. "I'm going to make my own valentine!" they both say and go home in a huff. But then Desmond and Clayton realize that by working together they can make the biggest, best valentine ever!

Check out these other amazing popular children's Valentine's Day books,
Vintage Valentines (Press Out Book)

The Night Before Valentine's Day

OLIVIA and the Perfect Valentine (Olivia TV Tie-in)

Elmo's Valentine (Sesame Street) (A Chunky Book(R))

Little Critter: Happy Valentine's Day, Little Critter!

Pinkalicious: Pink of Hearts

Doc McStuffins My Huggy Valentine

Junie B. My Valentime (Junie B. Jones)

Junie B. Jones and the Mushy Gushy Valentime (Junie B. Jones #14)

Snowy Valentine
Do you have any popular children's Valentine's Day books to add to our list? Link them in the comments below.