If you're anything like me, you've probably spent weeks, okay, maybe months, counting down the days until it becomes socially acceptable to do all those amazing and festive Christmas activities you love so much.
This year, we're making it easy to get in the Christmas spirit in every way imaginable with this free printable 30 Days of Christmas Activities list. It's the ultimate series of Christmas Bucket List Ideas.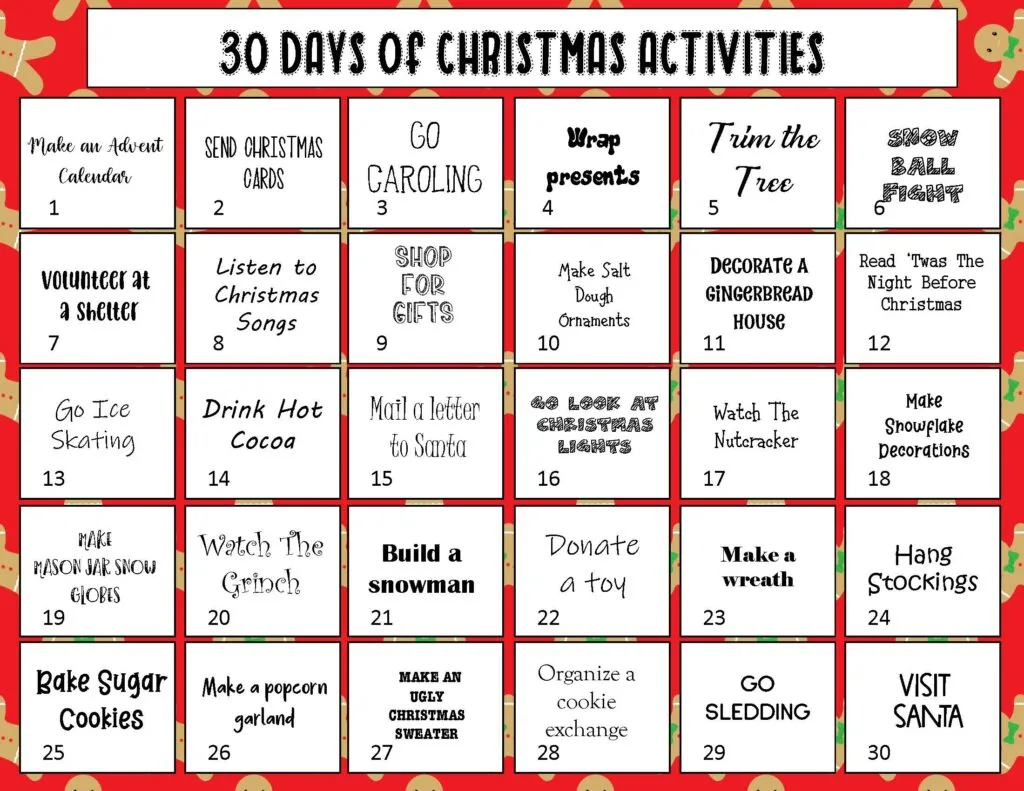 30 Days of Christmas Activities – Christmas Bucket List Ideas
It's time to make the most of your holiday season, now that your favorite time of the year is finally here!
This list of the best Christmas activities for kids and grown-ups alike goes way beyond decorating your home. Packed full of insanely fun Christmas activities for families, we'll help you turn every day of December into the most joyous time of year.
Gather up your friends and family for an ugly holiday sweaterparty (don't miss our free printable Ugly Christmas Sweater Party Kit) , bundle up and go caroling throughout the town, decorate a gingerbread house, or simply sip on a delicious Christmas cocktail (like our Cranberry Mint Cocktail) in your living room.
You can't go wrong with whatever activity you choose, as long as you've got the spirit of Christmas in your heart. So get out your notebooks, put on your Santa hats, and let's get spread some holiday cheer!
Download and print this free printable 30 Days of Christmas Activities here.
This printable is designed to print on standard 8.5 x 11″ paper and includes 1 page of 30 Christmas Bucket List Ideas your family will love.
Don't forget to pin the image below to share this free printable with family and friends.