You can imagine how proud we were this past school year when our boys came home on cloud nine screaming that they could read short chapter books, and now that school is ending, we want to continue their love of reading throughout the summer with short chapter books from our local library.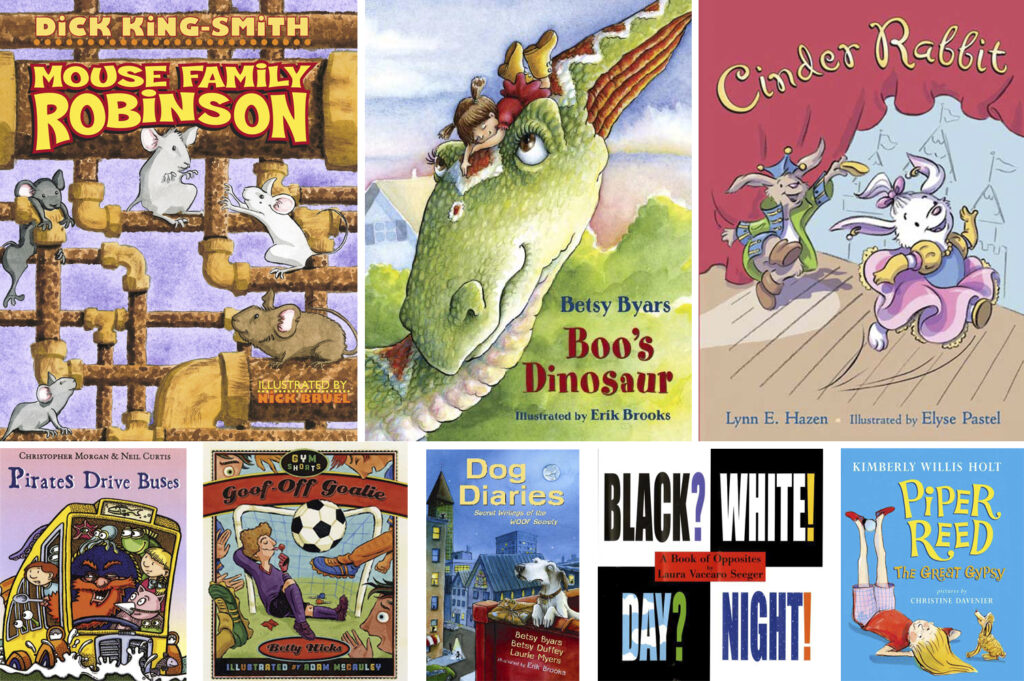 Short chapter books are fast-paced stories, long enough to be divided into short chapters, but not as long or complicated as a novel. Short chapter books still feature illustrations, but not as many as early reader picture books, and they are a great way to push readers to advance their skills.
Many popular chapter books are written as a series including the Henry and Mudge books, the Junie B. Jones series, Cam Jansen books, Amelia Bedelia and the Magic Tree House books.
These 30 short chapter books will not only enthrall your child, but they will spark your child's interest and imagination and are sure to get your child enthusiastic about reading.
30 Short Chapter Books for Pre-K through Grade 3
Three Little Robbers Graham, Christine
Jo, Flo, and Mo are robbers who live on a lane. Jo is strong. Flo is loud. Mo is quick.
Dog Diaries Brooks, Erik
What do dogs really think about their two-legged companions? It is the first annual meeting of the WOOF Society.
Piper Reed, Navy Brat Holt, Kimberly Willis
It's not easy being the middle child, especially when your dad is a Navy Chief.
Maybelle in the Soup Speck, Katie
Maybelle is a lovely, plump cockroach. She lives in her own cozy little home under the refrigerator of Mr. and Mrs. Peabody.
Pirates Eat Porridge Morgan, Christopher
Hoist the sails! Man the poop deck! A side-splitting tale with ridiculous pictures to tickle the funny bones of kids everywhere.
The Mouse Family Robinson King-Smith, Dick
Get ready to embark on a tiny adventure! "You mean you're going to have a baby?" "Babies."
Third Grade Baby Meyerhoff, Jenny
Polly Peterson knows that baby teeth are for babies like her little brother, Max. And yet she's the only kid in her third-grade class who hasn't lost a single…
Swimming with Sharks Hicks, Betty
Does Rita have what it takes to swim with the sharks?
Boo's Dinosaur Byars, Betsy
When Boo brings home a dinosaur that only she can see, her brother Sammy, doesn't want to…
Cinder Rabbit Hazen, Lynn E.
Every bunny at Grand Rabbits School is excited about the spring play.
Common Sense and Fowls Cutler, Jane
What is a community without heart? Uh-oh! – Mrs. Krnc is at it again!
7 x 9 = Trouble! Mills, Claudia
Wilson Williams worries about passing his times-table tests Wilson has a hard time with math, especially with Mrs. Porter's timed multiplication tests.
Piper Reed, The Great Gypsy Holt Kimberly Willis
Piper's dad – the Navy Chief – might be gone again, but Piper's got plenty to keep her busy at home.
Minn and Jake's Almost Terrible Summer Wong, Janet S.
There are a few things / about your best friend that you can only learn / when you see where he's from.
Goof-Off Goalie Hick, Betty
Soccer dreams and plenty of action this second book in the Gym Shorts series scores high with new readers.
Pirates Drive Buses Morgan, Christopher
"Oh, no," said Heidi. "It's that pirate again." It sure is. Newly-independent readers will welcome the pirate's return.
No More Pumpkins Catalanotto, Peter
Emily is tired of pumpkins. At school she and her friend Vincetta Louise have been doing pumpkin math, pumpkin field trips, and pumpkin writing.
Mokie and Bik Bean, Jonathan
From Mokie & Bik: Mokie and Bik lived on a boat called Bullfrog.

Black? White! Day? Night! Seeger, Laura Vaccaro
Having explored the alphabet (The Hidden Alphabet), colors (Lemons Are Not Red), and emotions (Walter Was Worried), Laura Vaccaro Seeger turns her…
The Secret Lunch Special Catalanotto, Peter
Meet Emily, and her new friend—sort of . . . Emily loves her shiny black lunch bag—the jewels, the way it sparkles.
In addition to the books listed above, check out these 10 Read-Aloud Short Chapter Books:
Little House in the Big Woods (Little House, #1) Wilder, Laura Ingalls
Charlie and the Chocolate Factory (Charlie Bucket, #1) Dahl, Ronald
Charlotte's Web White, E.B.
Stuart Little White, E.B.
The Best Christmas Pageant Ever Robinson, Barbara
Junie B., First Grader (at Last!) (Junie B. Jones, #18) Park, Barbara
Rascal North, Sterling
The Mouse and the Motorcycle (Ralph S. Mouse, #1) Cleary, Beverly
Harriet the Spy Fitzhugh, Louise
Socks Beverly Cleary