Abeka homeschool curriculum is one of the most well-known options in the Christian education field. Whether you are looking for a religious-based education for your children, or simply want a quality full curriculum for your homeschool classroom, Abeka is a widely popular choice.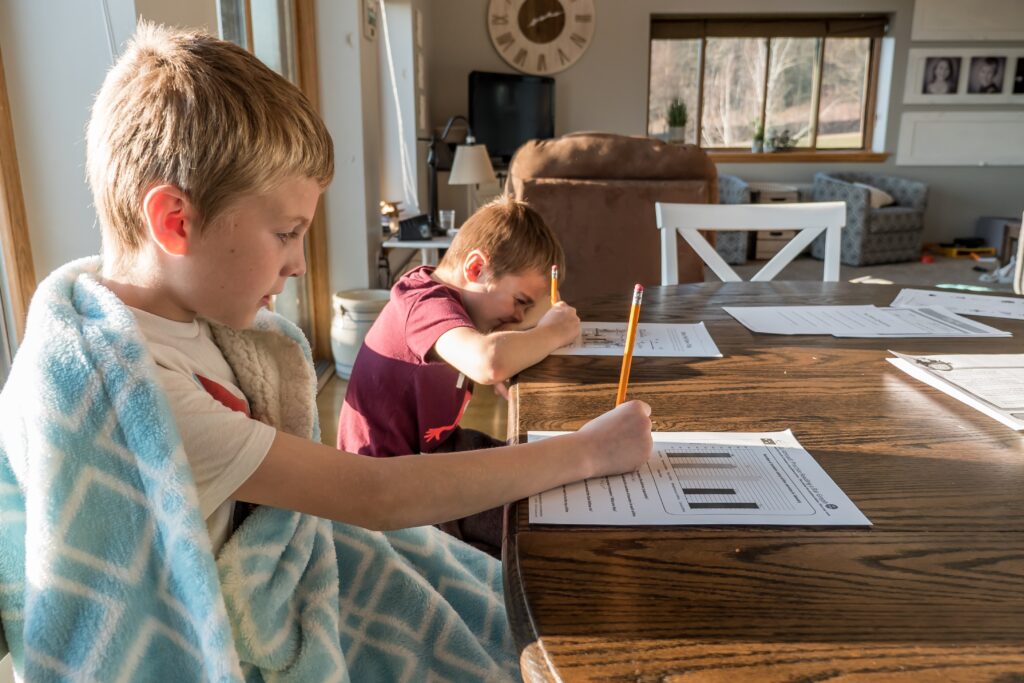 5 Benefits To Using Abeka Homeschool Curriculum
Video classes help parents who aren't natural teachers. There are a lot of parents who just don't feel like natural teachers. They may even struggle with some subjects themselves, or have a work at home business that makes it tougher to juggle their kids' education and work at the same time. Abeka homeschool curriculum offers a wonderful video program that is just what you need in this situation. Your child gets to sit and watch a classroom experience with a teacher. While they may not be able to ask questions as they would in a regular classroom, you will quickly find that this curriculum and video program offers tons of student questions and the teaching concepts work wonderfully for most children.
Setting up your children for the video school is easy, and also gives you a bit more freedom to work from home, tend to your household chores, and even take care of other children without feeling you have to spend hours each day in the "classroom". While you'll still be there for your child and helping them regularly, a lot of the stress of teaching is taken from your shoulders.
Complete curriculum options. Abeka homeschool curriculum is very comprehensive. It goes far beyond the basic reading, math, science, and history classes. It includes a Bible course, penmanship courses, and even tons of elective choices for high school students. This makes it much easier for you to give your children a well-rounded education.
Abeka homeschool curriculum even includes ideas and thoughts for an at home art class as well as physical education. For a busy homeschooling parent, these extra inclusions make it so much easier to manage the homeschool classroom. They have an excellent curriculum that will address all core education as well as extra items that may be important to you and your child.
Accredited video program. If you are concerned about your high school student having accredited education that will easily be accepted for college, Abeka homeschool curriculum is the best solution. Their video program offers accreditation that will be meaningful when it comes time to apply for college in their junior and senior year. While this isn't as important as other aspects, it is a huge bonus of using Abeka in your homeschool classroom.
Easy grading system. When using their program, you will actually be able to submit your kids' grades and some of their reports and tests to be evaluated by the Abeka program. This results in a report card being sent to you. For many, this is a great tool if your state requires a portfolio and grading system to be in place. It is also very beneficial to those who like to keep a simple record of grades on hand for future use. Some states require a certain GPA to allow a high school student to get a driver's license. This can prove very useful when the time for that testing, and is a great way to show a standardized grade system for records.
Payment plans. Another bonus of using the Abeka homeschool program if you choose the video program. The payment plan option allows you to break up the cost of the curriculum over a few months. For some families, the upfront cost is just too much to swing all at once. Being able to make payments like this can make a huge difference in being able to afford a video education for multiple children.
They also offer discount sales regularly, as well as discounts for multiple children in a family is enrolled in the video homeschool program. Abeka understands the financial strain and offers great options that spread the cost out over several months making it much more affordable for the average family.
There are some amazing benefits to using Abeka homeschool curriculum with your children. If you are looking for a quality and highly recommended education, this is a great choice.