There are several adult life skills that your homeschooler should know before they venture out into the world. Many of these sound very basic, but unless you teach your child how to properly do these tasks, they may get out on their own and be clueless!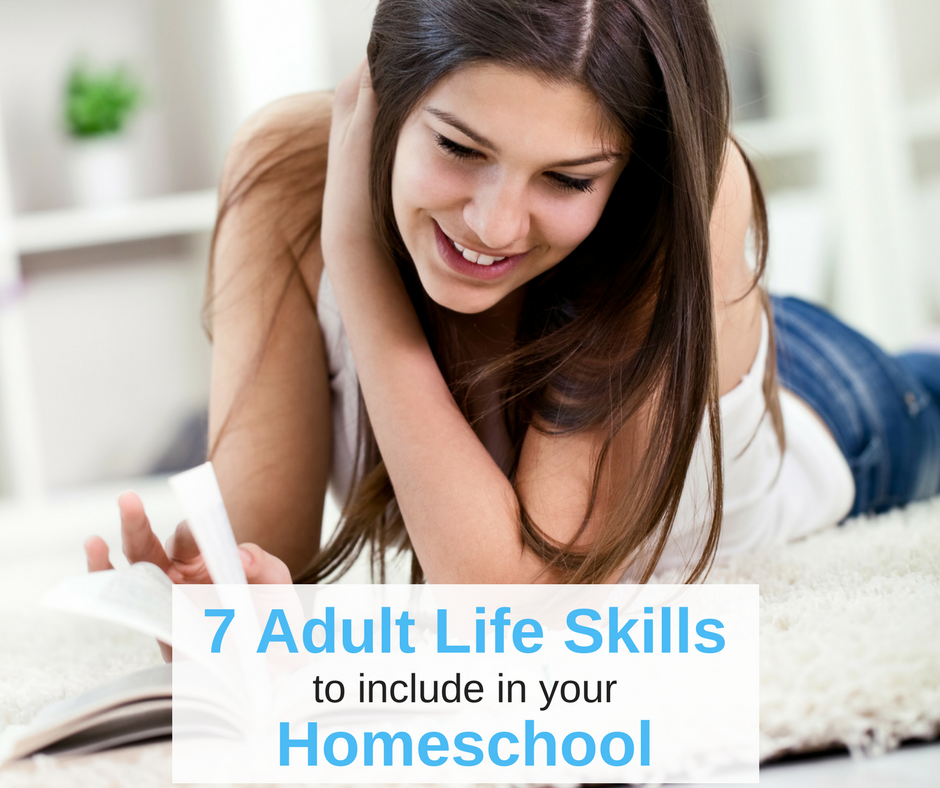 7 Adult Life Skills to Include in your Homeschool
The following are seven basic adult life skills you can include in your homeschool to prepare your students for adulthood.
1. Creating a budget.
Learning to manage money may be the most important skill you teach your homeschooler. You want your children to grow up to be financially secure.
Make sure you are teaching them how to create a budget, as well as how to spend and save wisely. These lessons will be beneficial long after graduation!
2. Cooking a simple meal.
Your children need to go out into the world knowing how to provide for themselves in the kitchen. An elective class you teach can involve learning to cook.
Start with simple recipes, which can be memorized to prepare a meal. If they are interested in learning more, you can also include more advanced cooking techniques into the lessons.
3. Basic first aid.
Equip your homeschooler with the knowledge of what to do in a situation where there is an injury or wound. This doesn't have to be more than teaching them how to apply a bandage, knowing when to ice an injury, and when to call the doctor for certain conditions. You could also teach CPR, if you wish.
The more they know about taking care of themselves and others, the better!
4. Preparing for a job interview.
Your homeschooler needs to know how to present themselves to prospective employers, even before they finish school. These skills are important if you want them to have a part-time job before they graduate, but they will stick with your student far longer than just their teen years.
Teach important lessons such as how to dress, what questions to ask, when to show up, and how to follow up for a job.
5. Auto Maintenance
To help them keep vehicle costs down, your homeschooler should understand the basic workings and maintenance of an automobile. Before they get their first vehicle, they should understand the rules of the road as well as what documents they need to have inside their car at all times.
Once they are driving, make sure they know how to check the oil and other fluids. They also need to learn how to pump gas. You may also want to teach them to change a tire. Making them self-sufficient with their vehicle will help prevent unnecessary expenses, such as speeding tickets or car repairs!
6. Planning for a trip
Your homeschooler needs to learn the basics of getting ready for a trip. This may include knowing what to pack, how to properly put everything into the suitcase, what not to carry on a plane, and proper car maintenance to perform before a road trip. Reading a map is another important adult life skill your child should know before they start traveling.
7. Housekeeping Skills
Every adult needs to know how to keep their house tidy and in working order. You can teach your homeschooler how to perform certain chores by letting him do them in your house as part of his coursework. You may also want to teach how to do basic repairs around the home, including replacing the batteries in a smoke detector or the air filter for the heating and air unit.
What adult life skills do you include in your homeschool? Leave your tips in the comment below. Don't forget to pin the image below to share this article with your homeschool families.