At the Frozen 2 early press day last month, we had the opportunity to go behind the scenes and learn how animators brought to life the new characters of the Enchanted Forests and Dark Seas in Frozen 2. Get a first look at four of the new characters coming to Frozen 2.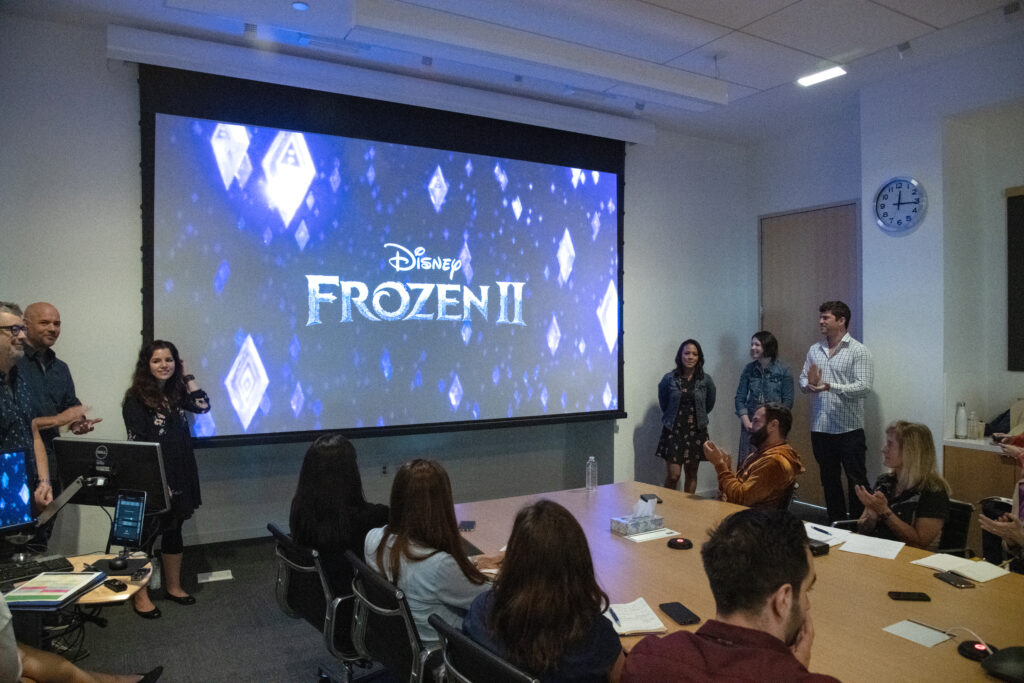 See also: Where Did Elsa Get Her Icy Powers? The Storyline from FROZEN 2 Revealed
Attending the presentation at Walt Disney Animation Studios was Bill Schwab – Art Director of Characters on Frozen 2; Tony Smeed – Head of Animation on Frozen 2; Erin Ramos – Effects Supervisor on Frozen 2; Trent – Animation Supervisor on Frozen 2; Svetla Radivoeva – Animation Supervisor; and Software Engineer – Hannah Swan.
Behind the Scenes of the Enchanted Forests and Dark Seas of Frozen 2
In Frozen 2, we're introduced to new characters that live outside of Arendelle. We met four of the new characters during the sequences of the film we saw during the early press day, and we're going to share more about those characters and the steps animators took to bring them to life.
The Earth Giants
The Earth Giants are made of rock and are asymmetrical which affects the way they move. They're extremely heavy and animators quickly realized their size and weight had to be conveyed through the animation.
The first Artist that worked on the Earth Giants was Manu Arenas. His goal was to focus on the enormous scale of these Characters while trying to integrate them into the environment
Nick Orsi, another Visual Development Artist in the Studio, pushed the boundaries of integrating the Characters with the environments, determining how much environment vs. character was needed with the enormous scale of the Earth Giants.

In addition to their mobility, one of the most difficult things about the Earth Giants was how to make these characters feel like they're alive and breathing?
If you think about us humans, when we breathe, our bellies expand and the skin stretches but these guys, they're made of hard rock and you can't stretch it, otherwise, it ceases to feel like rock.
To breathe life into the Earth Giants, Supervising Animator Wayne Unten, along with the Rigging Supervisor, Chris Pedersen, collaborated together and pushed the limits on the rigging to create a sliding motion in the rocks, through each other and over or under each other, to create breath.
Bruni the Salamander
Bruni the Salamander was created to be as adorable and cute as possible.
Modeling and animation came together to bring Bill's sketches to life. They started playing around with an early rig test before sending Bruni to Animation.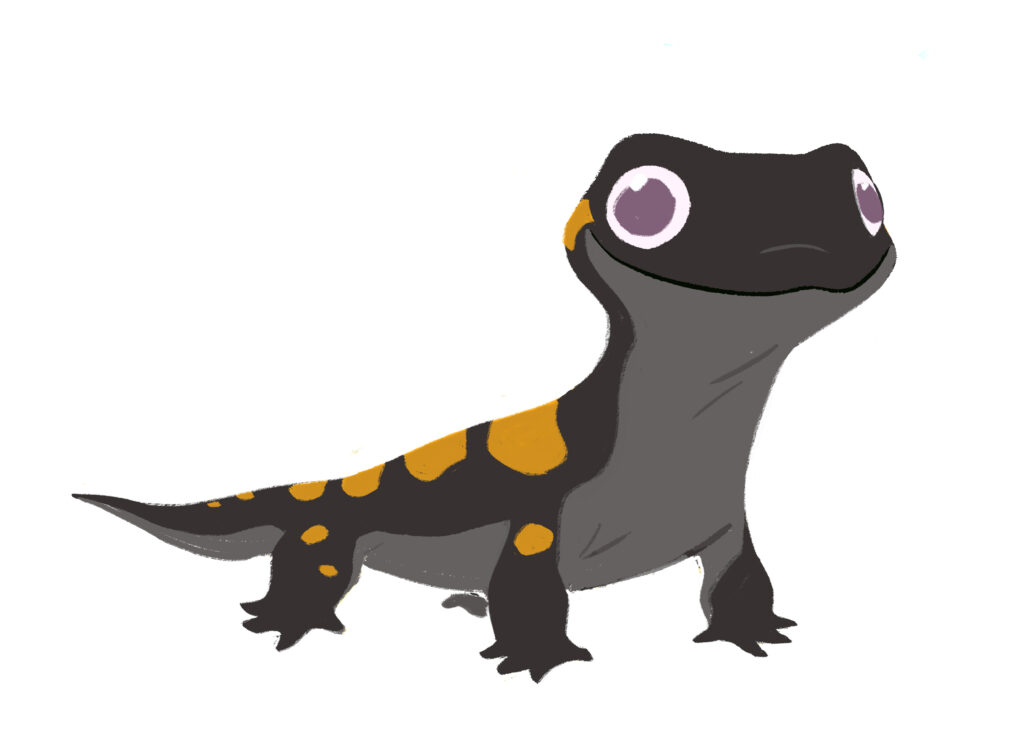 Once in animation, Bruni was brought to life with a walk cycle from Reece Porter, and a run cycle that Bill completed. With the help of salamander and lizard references, concept art to infuse real physics and personality, Bruni became the adorable salamander animators were looking to create.
Gale the Wind Spirit
To create Gale the Wind Spirit, animators first had to ask themselves what does wind look like, because we can't see it. They began by exploring what might Gale move around?
The image below with Olaf is by Griselda Sastrawinata as she was exploring this idea of patterning, color variation and again, different ways to bring Gale to life.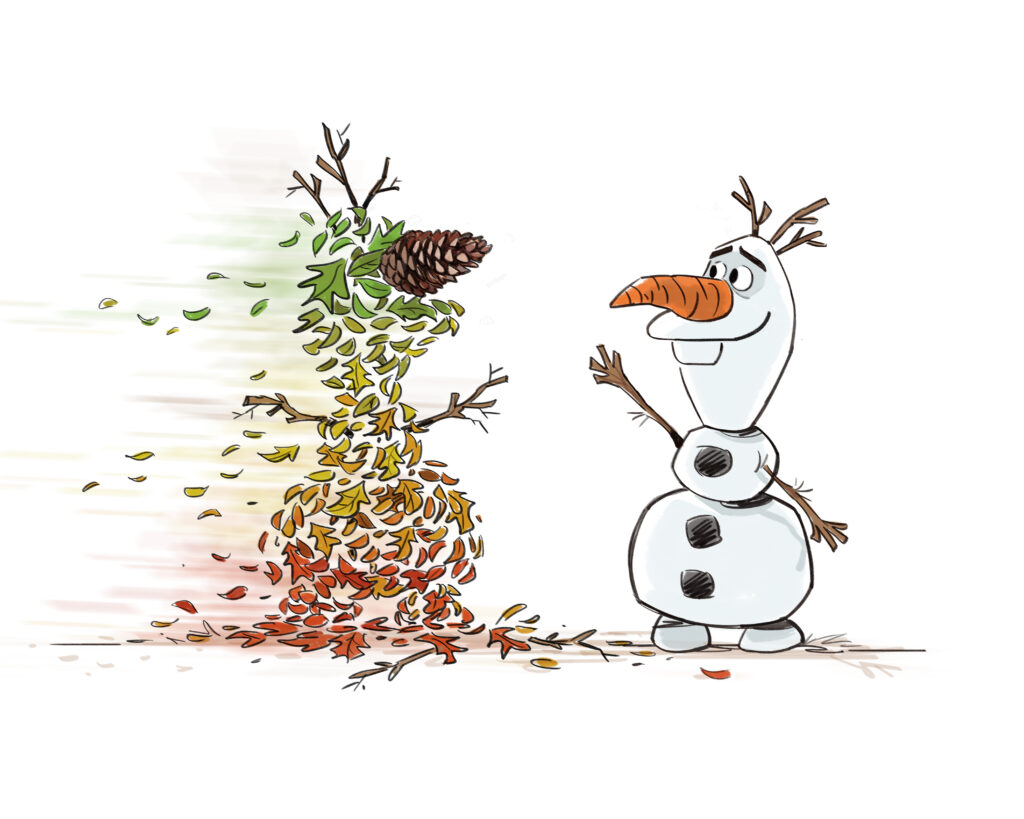 At the time, Gale was sort of an ethereal being and animators realized they don't have to load up Gale with tons of debris every time they want to see her. In addition, Jennifer Lee had written a sequence where Gale interacts with Elsa and it's this very small interaction between the two of them, very personal.
But, as they worked, animators found that when Gale wasn't moving around, they had trouble connecting the dots and that's where the Environments and Effects teams came in. They were left with the question of how to animate a character and get the performance they're looking for.
Nokk – The Dark Seas
Nokk is inspired by folklore and mythology from the Nordic region. It's a shapeshifting spirit but the Directors had decided it's going to have the constant shape of a horse and the direction was to be as realistic as possible and to not have cartoony, funny expressions.
In the Dark Sea, the Nokk is a warrior. The protector of the Dark Sea who will only allow someone that is worthy to pass by. Animators thought of the Nokk as a wild Stallion that has not been tamed.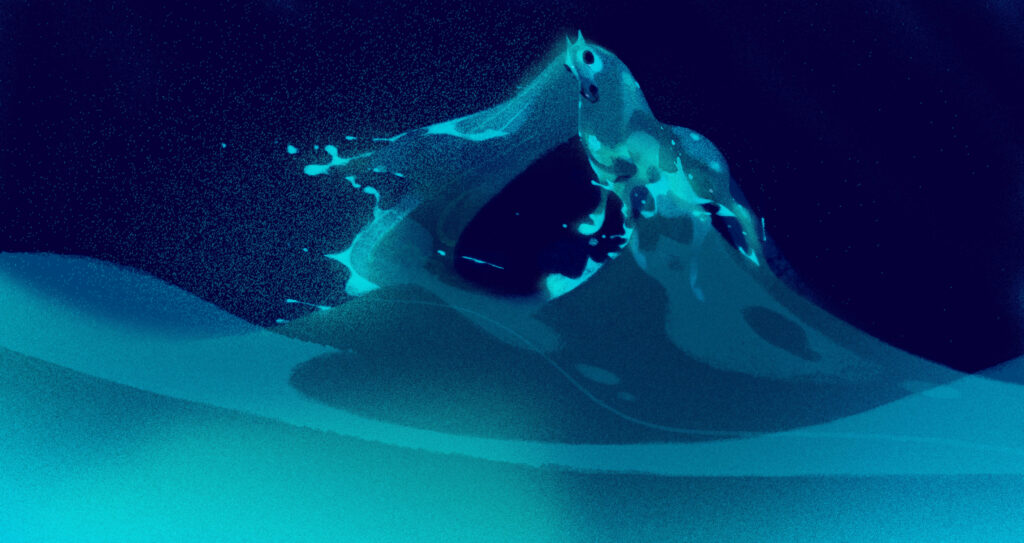 After doing research at an Equestrian Center animators learned that horses showed where their attention is placed by their ears. Wherever their ears are turned, this is where they're attention is at. Animators also learned that horses show emotion through (their) ears, even pulling them back to show that they're angry.
Animators then used this information throughout the movie when working with the Nokk.
With Nokk being a water horse, it became a very challenging character. The biggest challenge was the mane and the tail.
The mane and tail performance was mostly driven by Tech Animation. From there it went to Effects to make the horse look and feel like it's part of the ocean, with the ends of the mane blowing and flicking water droplets off of it.
About Frozen 2
Why was Elsa born with magical powers? The answer is calling her and threatening her kingdom. Together with Anna, Kristoff, Olaf, and Sven, she'll set out on a dangerous but remarkable journey.
In "Frozen," Elsa feared her powers were too much for the world. In "Frozen 2," she must hope they are enough. From the Academy Award®-winning team—directors Jennifer Lee and Chris Buck, producer Peter Del Vecho and songwriters Kristen Anderson-Lopez and Robert Lopez—and featuring the voices of Idina Menzel, Kristen Bell, Jonathan Groff and Josh Gad, Walt Disney Animation Studios' "Frozen 2" opens in U.S. theaters on Nov. 22, 2019.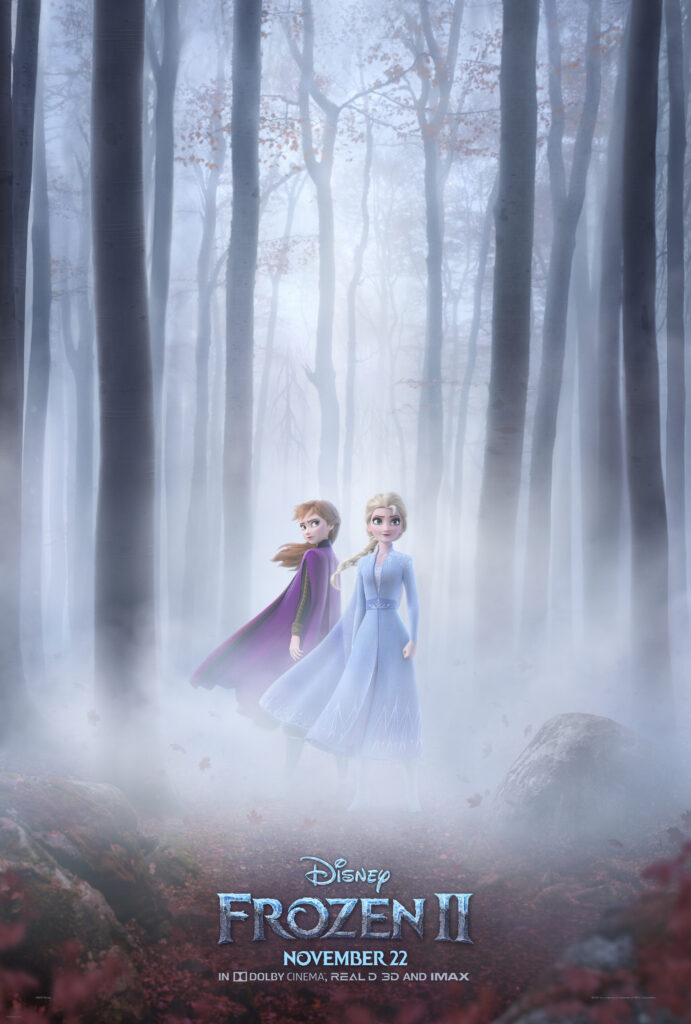 Portions of this material have been provided courtesy of Walt Disney Animation Studios.