I am an official ambassador for Dole Fresh Fruit and Fresh Vegetables.
Our family loves enjoying DOLE® fresh fruits and vegetables in the summertime, and one of our favorite dishes to make is this Better-than-Incredible Strawberry Pineapple Salsa!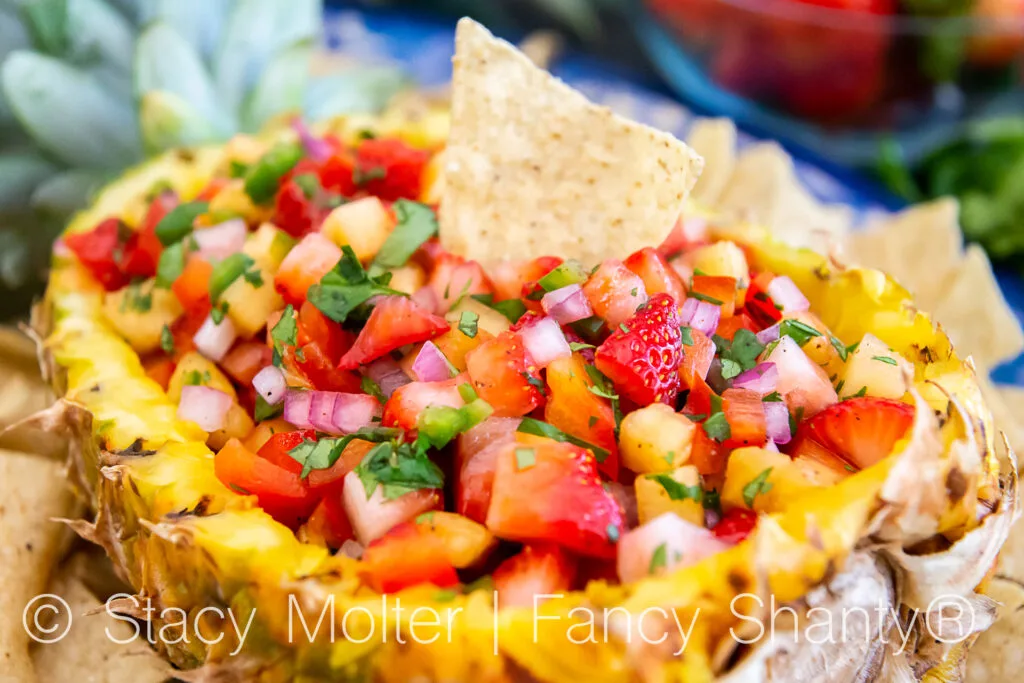 Inspired by Disney's Incredibles 2, this recipe blends the flavors of fresh pineapple and strawberry alongside traditional salsa flavors of jalapeno and cilantro creating a sweet and slightly spicy taste your entire family will love.
The familiar colors of red and yellow from The Incredibles franchise are not only perfect for brightening any summery tablescape, but they are also perfect for hosting a relaxing themed Incredibles movie night at home.
See also: DOLE® Berry Nutty Oatmeal & Smoothie Recipes
Best of all, this recipe is easy to create with just a handful of ingredients and a great way to add fresh fruits and vegetables to your family's diet. This summer, in celebration of Pixar/Disney's Incredibles 2, Dole is recruiting everyday heroes, like your family, to help fight for healthier kids and families. The goal is to provide super recipes, serving suggestions, and healthy-living tips that moms, dads, and others need to positively impact family eating habits all summer long.
Learn more about Dole's 'Powering the Hero Within' initiative below, and check out our Incredibles 2 inspired Better-than-Incredible Strawberry Pineapple Salsa recipe.
The Best Stories Begin with Healthy Living
Dole and Disney have come together once again to make healthy eating fun with their 'Powering the Hero Within' initiative. Created to inspire parents to make better food choices for their families, including a diet rich in fresh fruits and vegetables, this latest collaboration offers families a variety of ways to tell a new healthy-living story, from consumer promotions and in-store activities inspired by Disney films to character-themed recipes and Disney-branded DOLE® fruits and vegetables.
Families can look to this alliance for creative ways to make nutritious eating more fun for you and your family, including quick and easy recipes found on Dole's 'Powering the Hero Within' website, along with fun and educational interactive quizzes. Plus, keep an eye out in grocery and retail locations nationwide for fresh produce and other in-store activities featuring the latest Disney, Pixar, Star Wars, and Marvel characters, like the DOLE® Fresh Pineapples we found at our local market.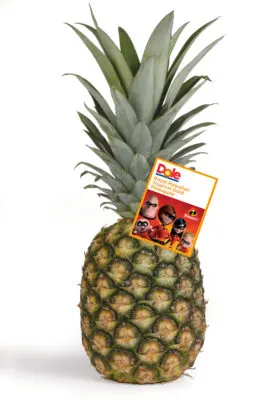 Check out this Pineapple Frozen Fireworks recipe made with DOLE® Fresh Pineapple from Dole's 'Powering the Hero Within' website. It's a refreshingly healthy treat on those hot summer days.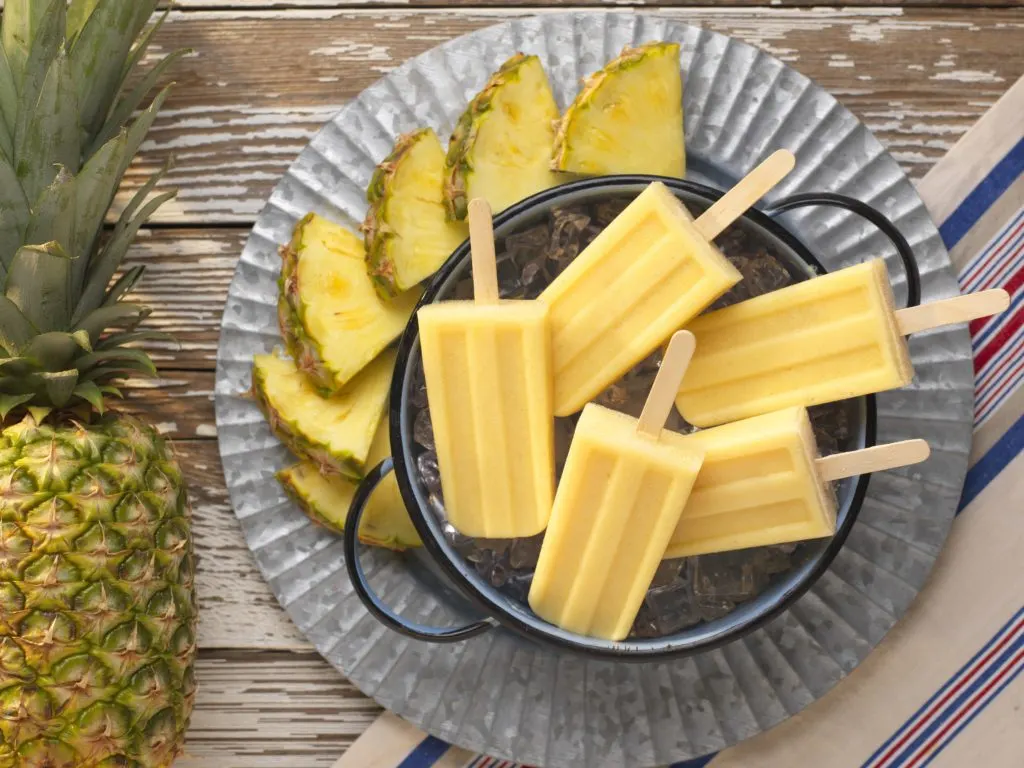 Better-than-Incredible Strawberry Pineapple Salsa
This Disney Incredible 2 inspired strawberry pineapple salsa recipe is the perfect addition to make any summer cookout incredible! The delicious combination of sweet DOLE® fresh fruits and spicy jalapeno pairs perfectly with grilled chicken or fish, and this recipe can even be severed as an appetizer with your favorite chips. Packed full of DOLE® fresh fruits, this recipe is a great way for families to get their daily servings of fruits and vegetables.
This recipe can be made a few hours before to let the flavors mingle, but keep in mind, if you make the recipe the day before the pineapple bowl won't look as fresh the next day.
Ingredients:
Whole pineapple (to use as the bowl)
1 cup

DOLE® Fresh P

ineapple, diced
1 cup

DOLE® Fresh S

trawberries, diced
1 cup red bell peppers, diced
1 jalapeno, seeded and diced
1/4 cup red onion, minced
1/3 cup cilantro, chopped
4 tbsp lime juice (about 2 limes or use bottled lime juice)
1/4 tsp black pepper
1/8 tsp salt
tortilla chips
Directions:
To make the pineapple bowl, cut about 1/3 of the pineapple off, leaving the stem intact to the larger section of the pineapple. Set the small pineapple section aside.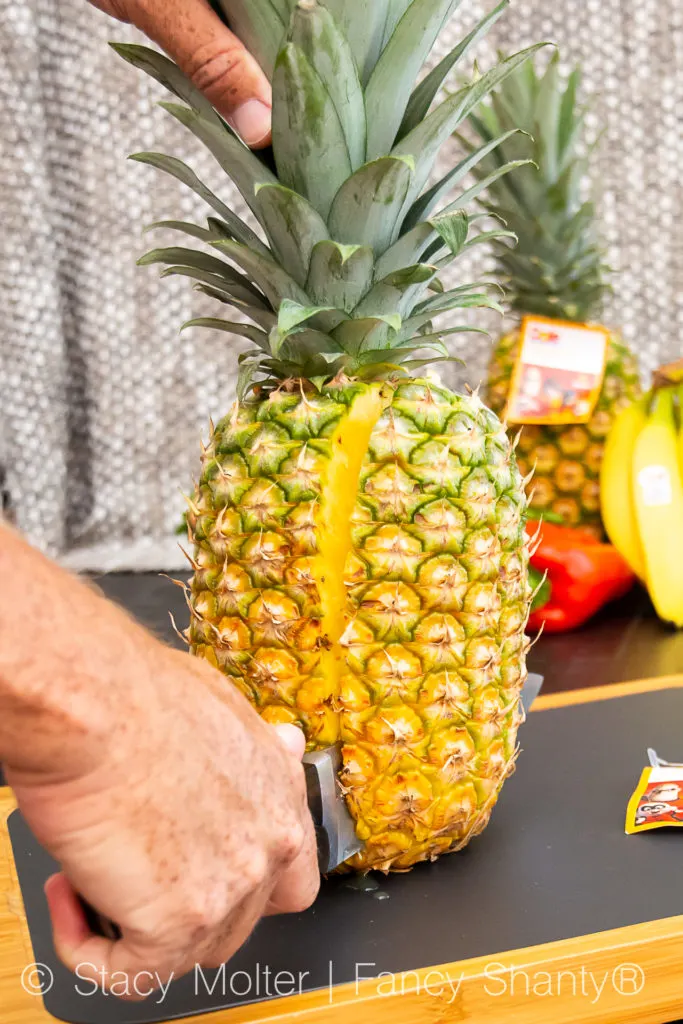 Lay the large section of pineapple on its side and cut around the outer edge of the pineapple fruit and make cuts across the middle too. Use a large metal spoon to loosen and scoop out the pineapple chunks. Save the pineapple chunks in a bowl. Pour the extra juice out of the pineapple bowl so that it is empty. Set aside.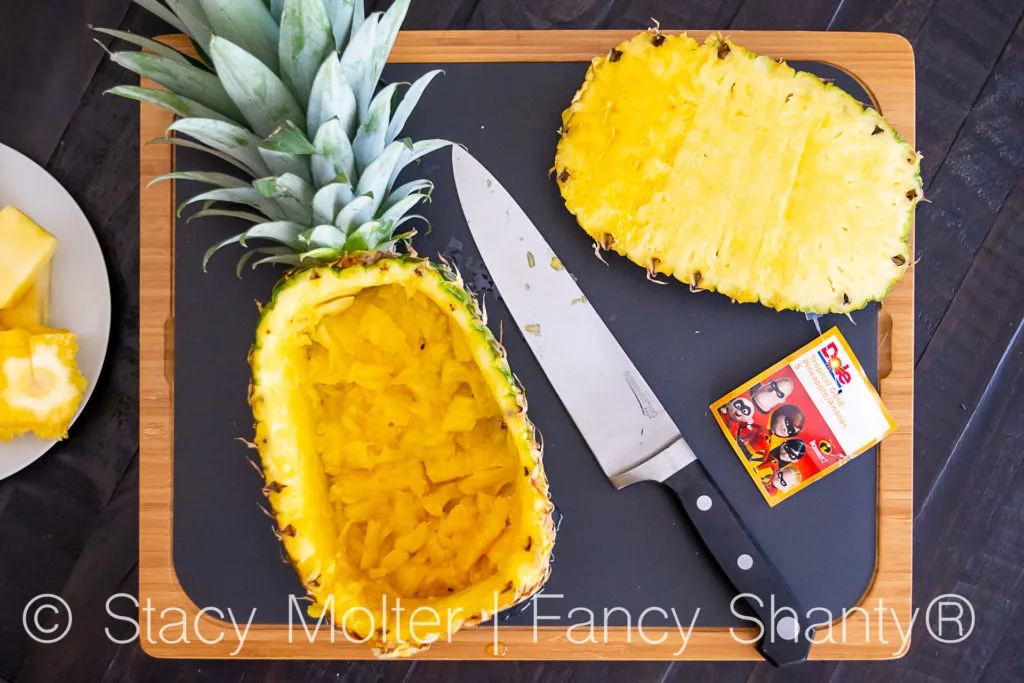 Dice enough of the pineapple chunks to make one cup of diced pineapple to be used for the salsa. Save the rest of the pineapple chunks for another use.
Prepare strawberries, peppers, jalepeno, red onion, and cilantro as directed.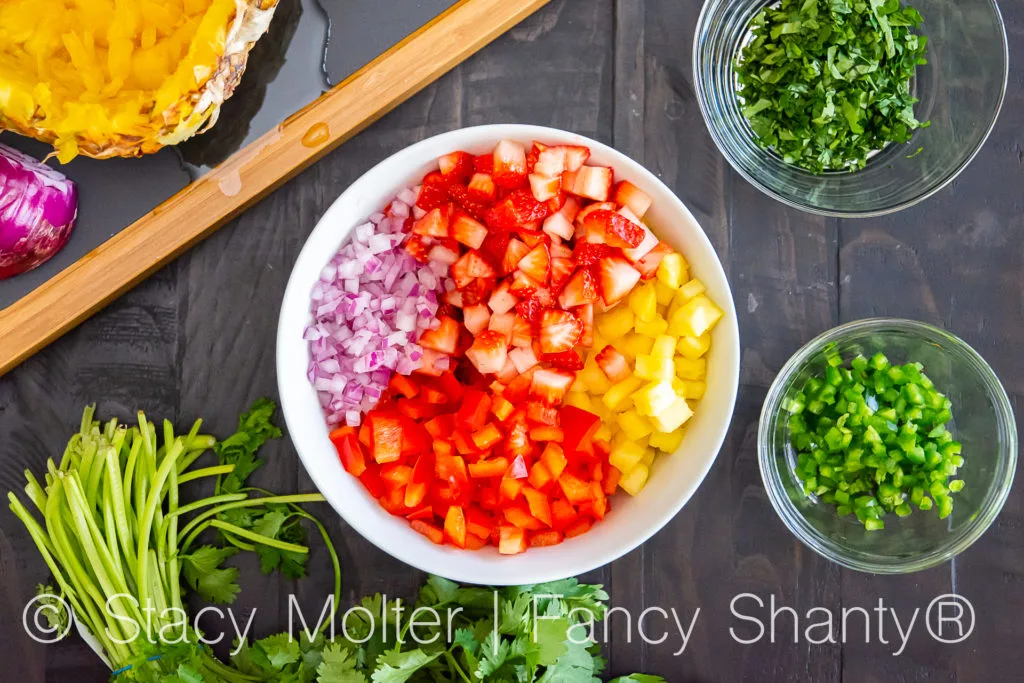 In a separate bowl, combine lime juice, salt, and pepper. Stir.
In a small bowl, combine together diced pineapple, diced strawberries, diced peppers, diced jalapeno, minced red onion, and chopped cilantro. Pour liquid over diced fruits and gently stir to combine.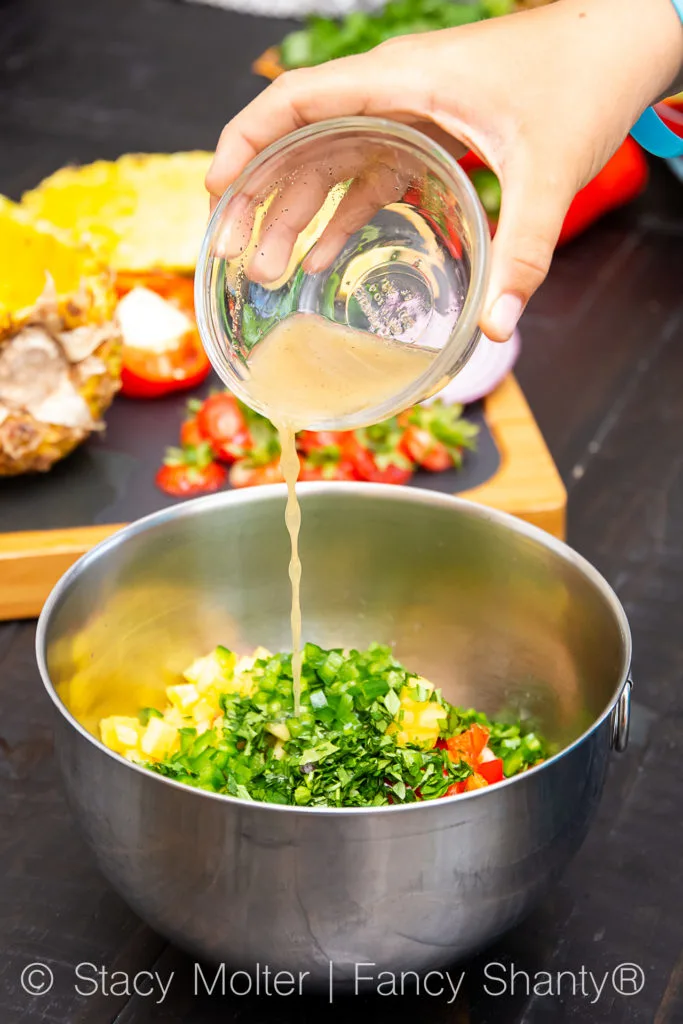 Transfer the strawberry pineapple salsa to the pineapple bowl for serving.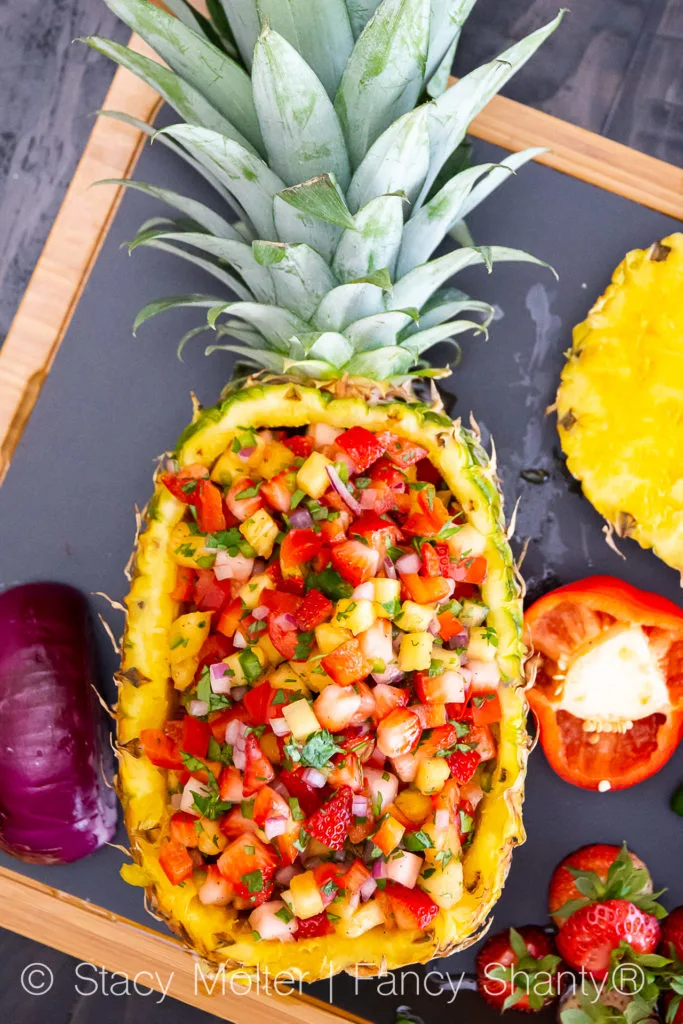 Refrigerate for 1/2 hour. Serve with your favorite tortilla chips.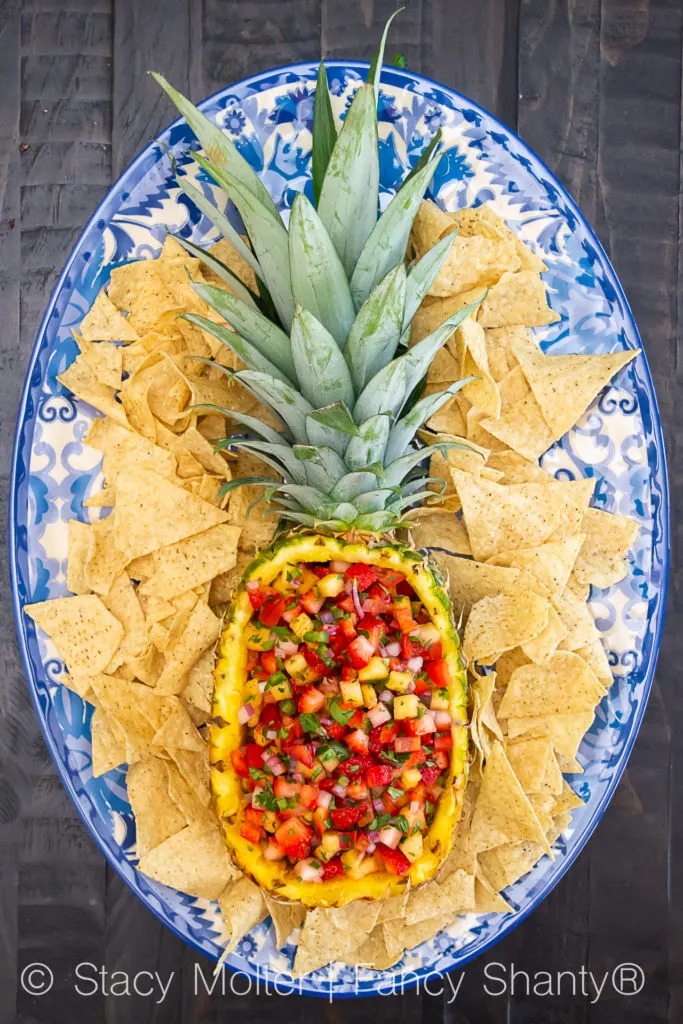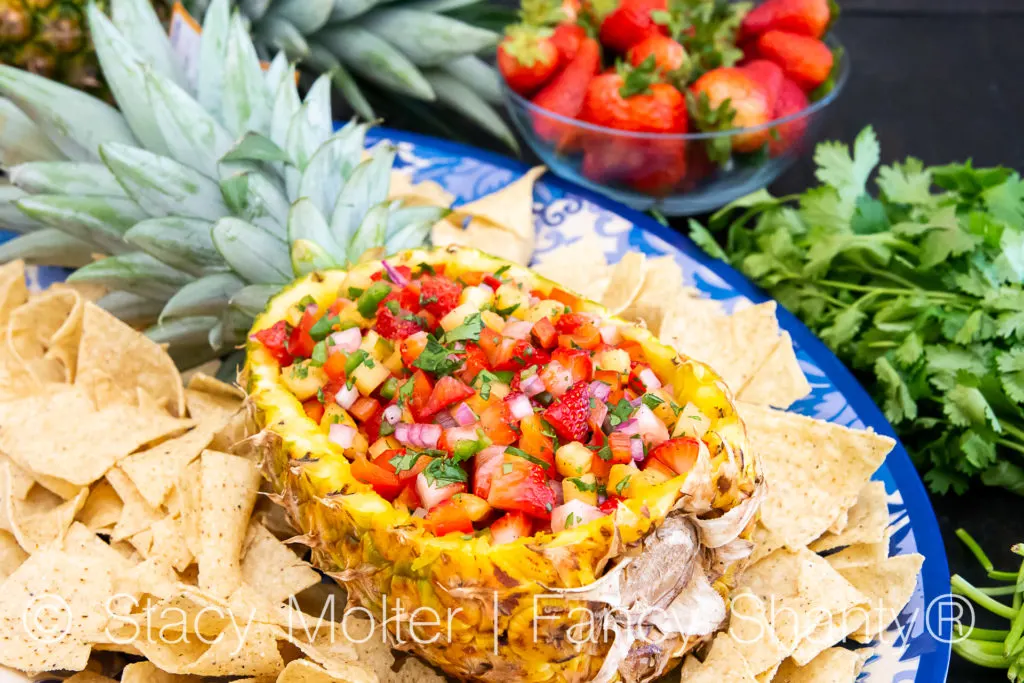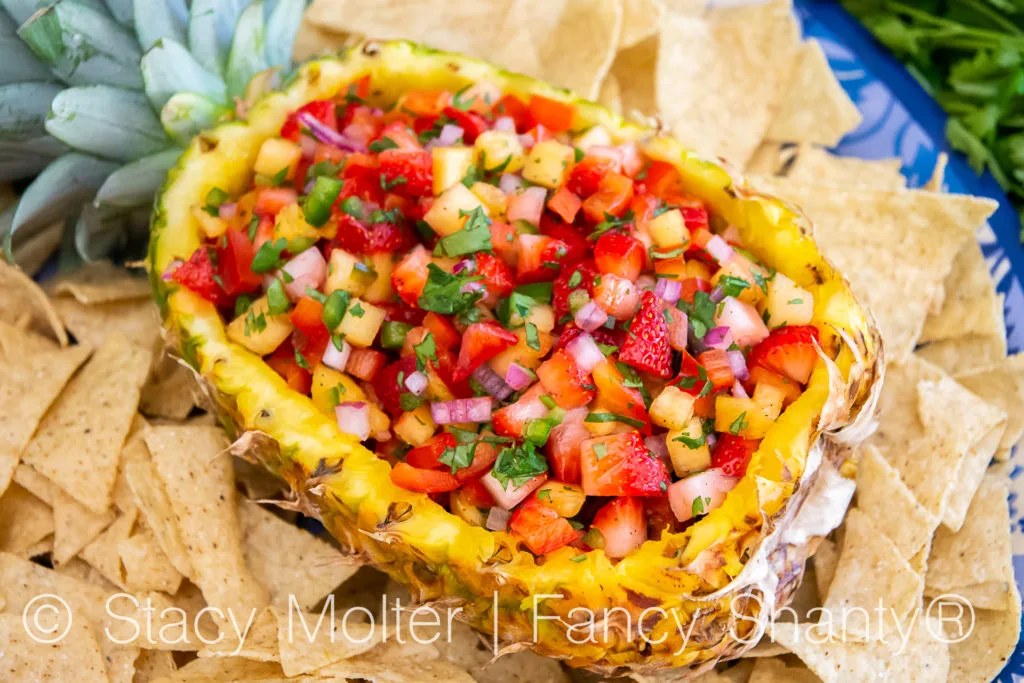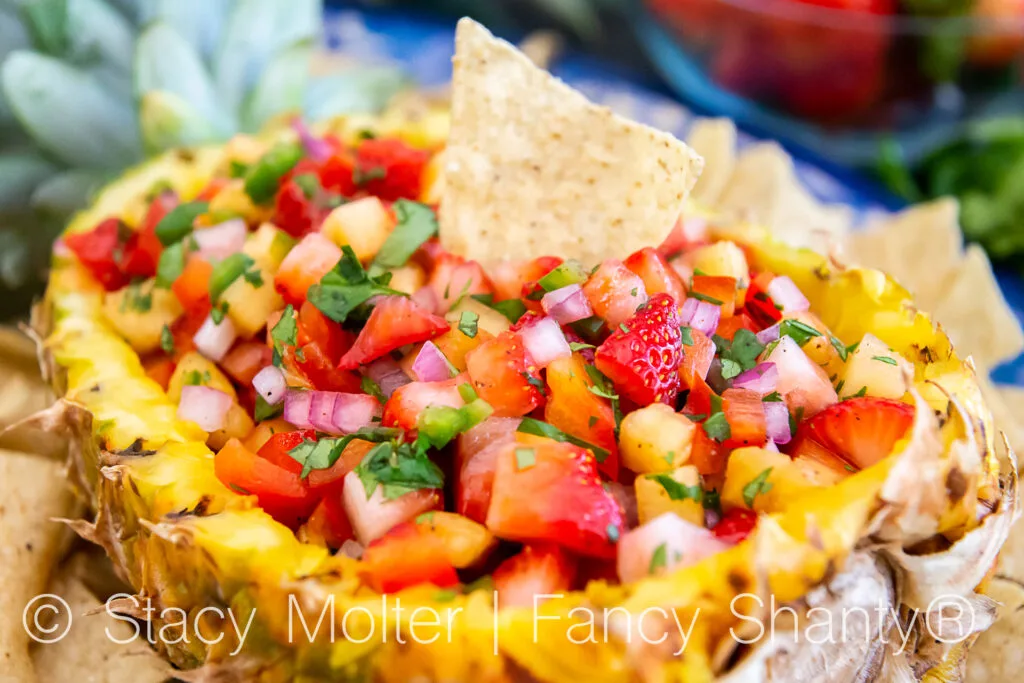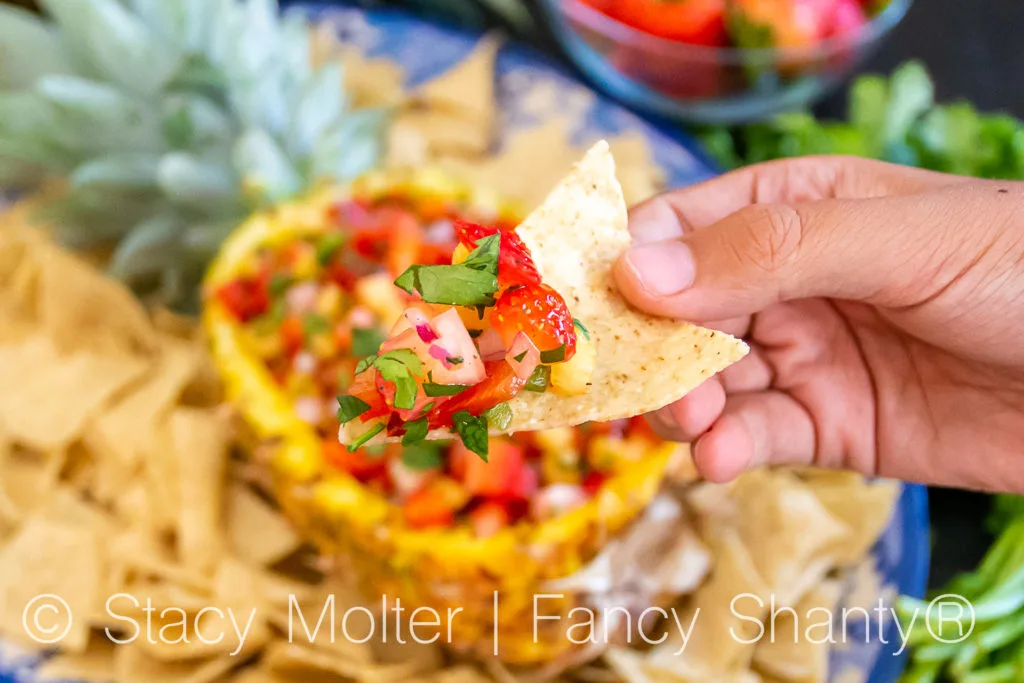 Don't forget to pin this Better-than-Incredible Strawberry Pineapple Salsa recipe to share with family and friends!