In his directorial debut with Walt Disney Studios, Steven Spielberg brings Roald Dahl's timeless story of The BFG to the big screen, immersing audience in a world that leaves you believing in the magic friendship and the power of imagination.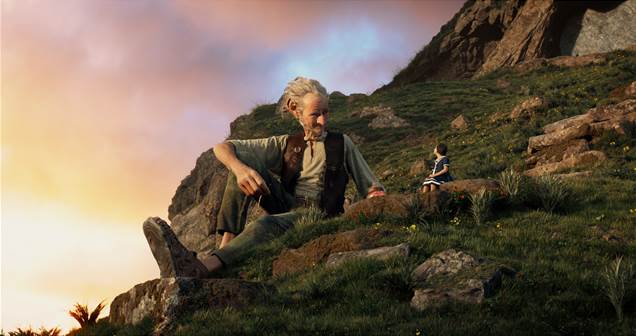 See also: Steven Spielberg Unveils the First Teaser for Disney's THE BFG, The BFG Free PDF Poster
Disney's The BFG is now playing in theaters everywhere!
The BFG Review
Sophie, a curious little girl with stories of the boogie man and of the witching hour, goes on the adventure of a lifetime after she's kidnapped from her orphanage by the BFG. Scared at first, Sophie soon realizes that much like giant country, the Big Friendly Giant's charm and compassion are larger than she could have ever imagined.
But, not everyone in giant country is happy Sophie is here. As Sophie, a strong girl who won't be intimidated by someone 20 feet taller than her, and the BFG embark on a daring adventure to save the world from the bad giants, Sophie realizes the BFG needs her just as much as she needs him.
We couldn't be happier with the casting of Mark Rylance as the BFG. His gentle performance and warm-hearted demeanor gives the BFG so much heart and soul you can't help but fall in love with him. And the Gobblefunk, the language created by Roald Dahl to give the BFG his unique voice, is perfectly brought to life with Rylance's performance.
One question I'm repeatedly asked is if The BFG is too scary for young children. I had the same question as well before we screened the film, and after receiving a resounding no we took all four of our children (ages 3 years to 10 years) to see the film.
While the film has a PG rating for some scary moments and brief rude humor (this kids will love the whizzpopper), I'm happy to say all of our children loved this film. The BFG is funny, wholesome, and free of foul language making it the perfect family-friendly adventure film to see this weekend.
Disney's The BFG will open your imagination as you go on a magical adventure to dream country like you never envisioned. Go see it this weekend, and don't forget to take the Gobblefunk Glossary below to learn more about the BFG's language.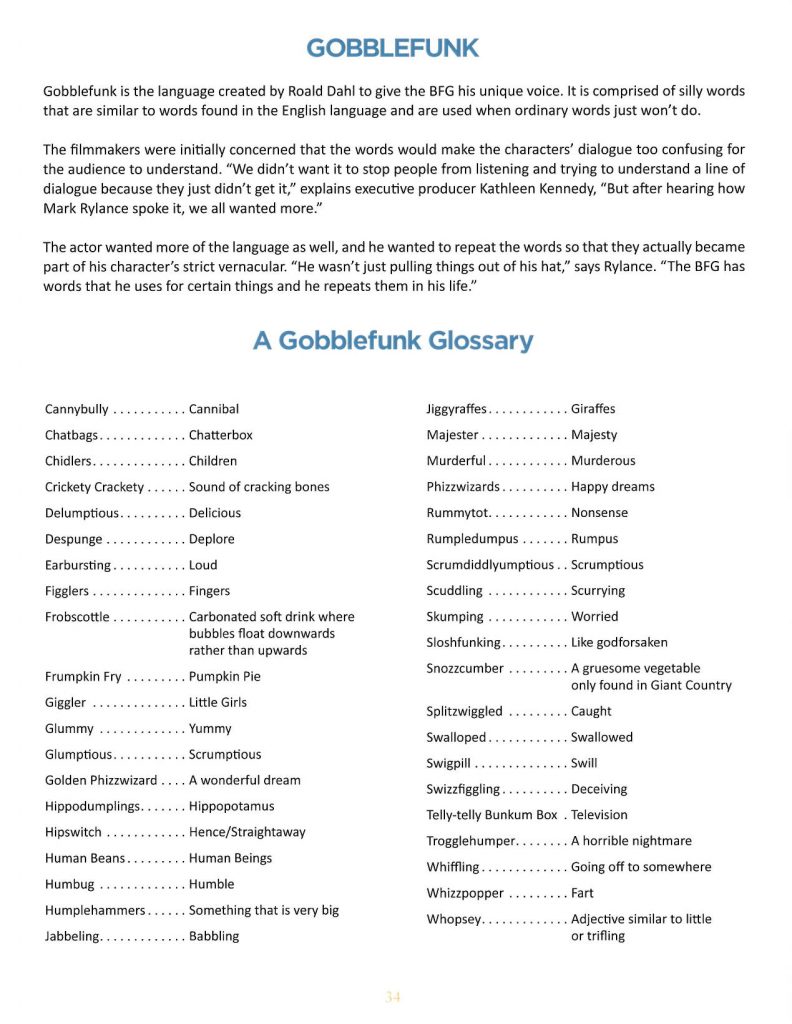 Free Printable Activity Pages
To celebrate The BFG opening in theaters today, we also have these fun free printable activity sheets to download. Click here to download the complete set of activity sheets.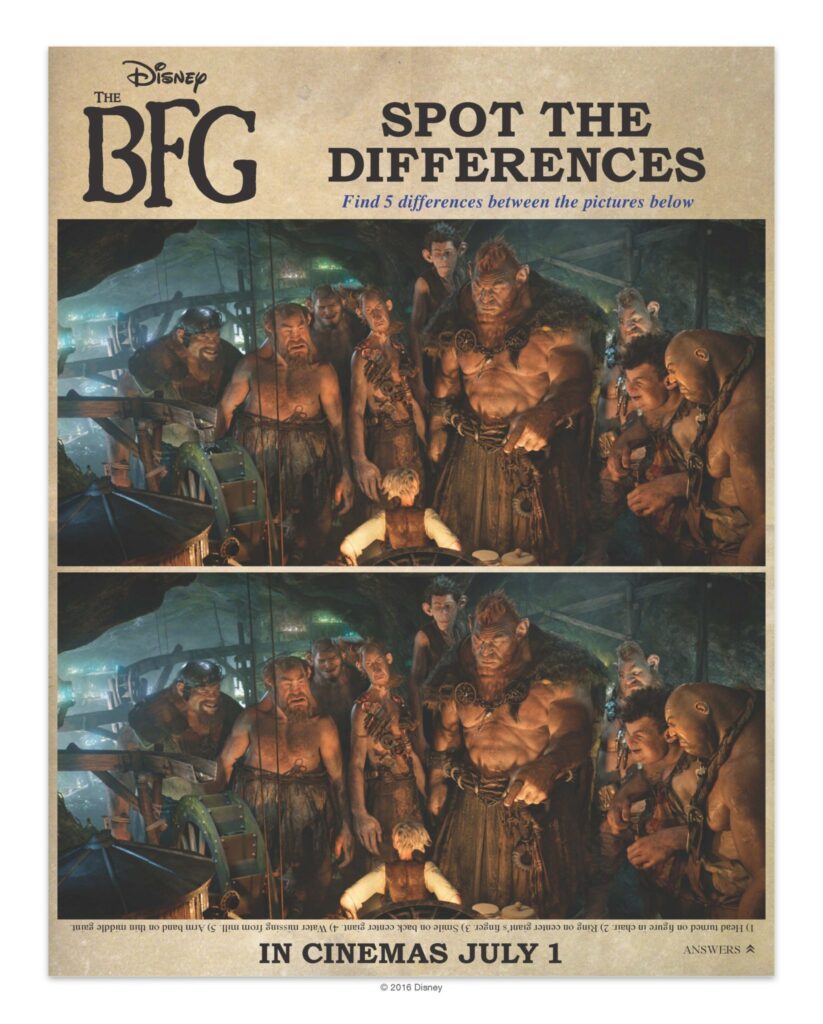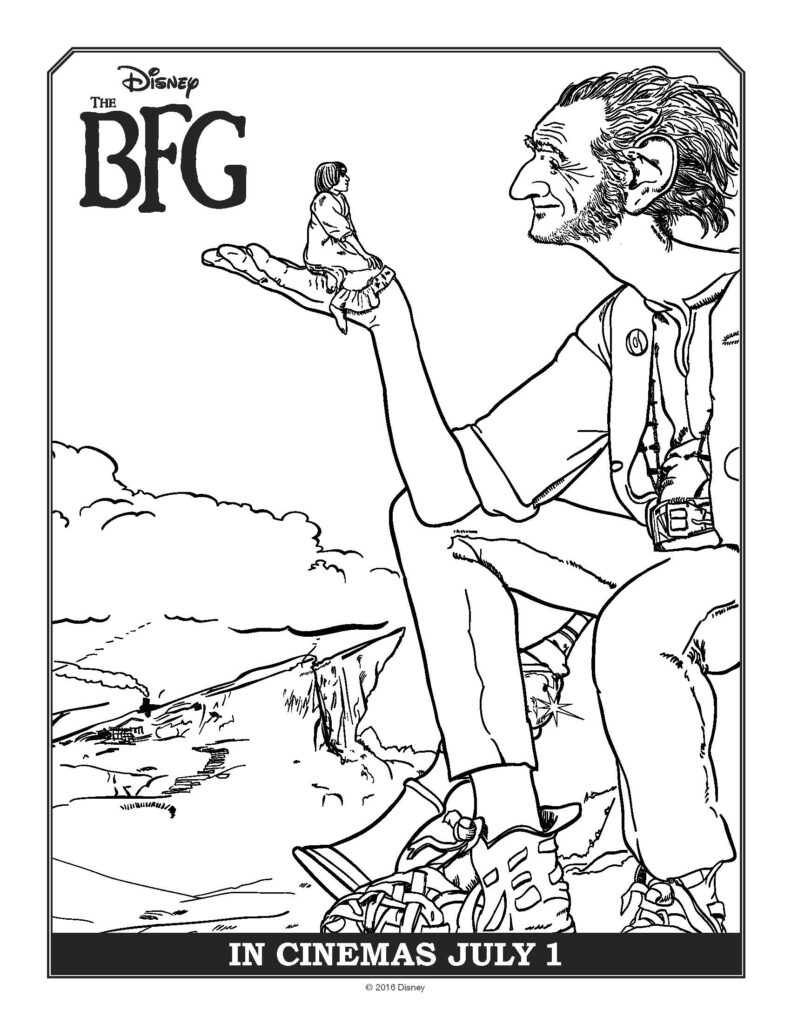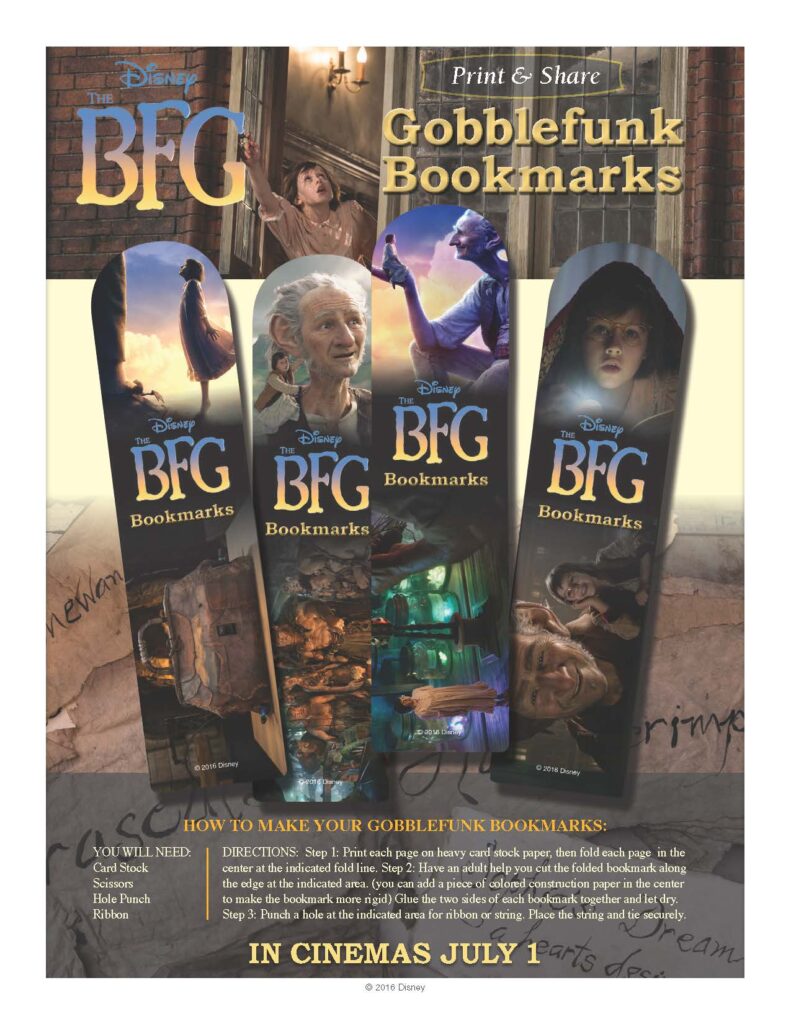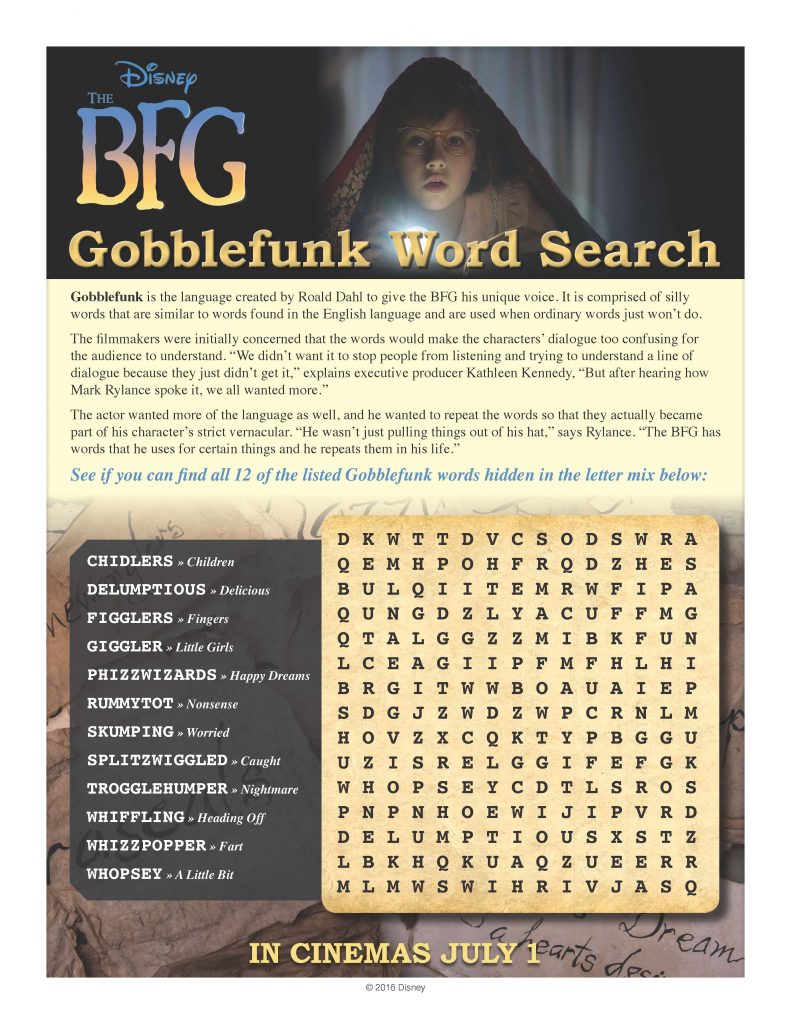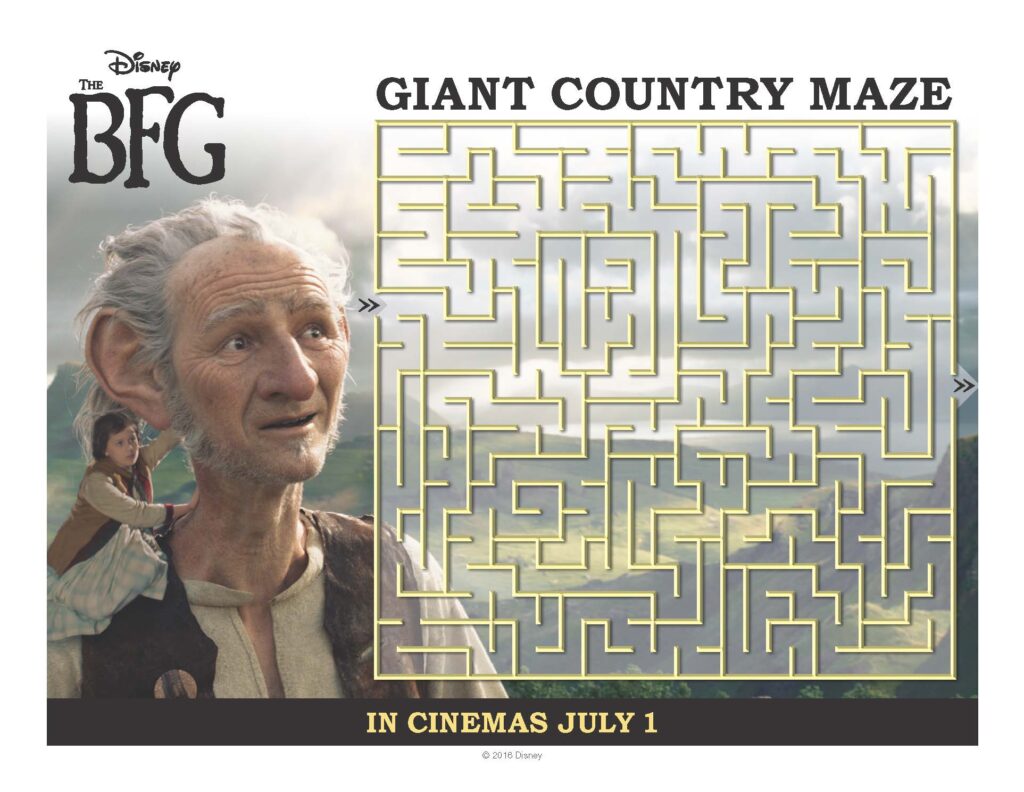 About The BFG
The BFG (Mark Rylance), while a giant himself, is a Big Friendly Giant and nothing like the other inhabitants of Giant Country. Standing 24-feet tall with enormous ears and a keen sense of smell, he is endearingly dim-witted and keeps to himself for the most part. Giants like Bloodbottler (Bill Hader) and Fleshlumpeater (Jemaine Clement) on the other hand, are twice as big and at least twice as scary and have been known to eat humans, while the BFG prefers Snozzcumber and Frobscottle. Upon her arrival in Giant Country, Sophie, a precocious 10-year-old girl from London, is initially frightened of the mysterious giant who has brought her to his cave, but soon comes to realize that the BFG is actually quite gentle and charming, and, having never met a giant before, has many questions. The BFG brings Sophie to Dream Country where he collects dreams and sends them to children, teaching her all about the magic and mystery of dreams.
Having both been on their own in the world up until now, their affection for one another quickly grows. But Sophie's presence in Giant Country has attracted the unwanted attention of the other giants, who have become increasingly more bothersome. Says Spielberg, "It's a story about friendship, it's a story about loyalty and protecting your friends and it's a story that shows that even a little girl can help a big giant solve his biggest problems." Sophie and the BFG soon depart for London to see the Queen (Penelope Wilton) and warn her of the precarious giant situation, but they must first convince the Queen and her maid, Mary (Rebecca Hall), that giants do indeed exist. Together, they come up with a plan to get rid of the giants once and for all.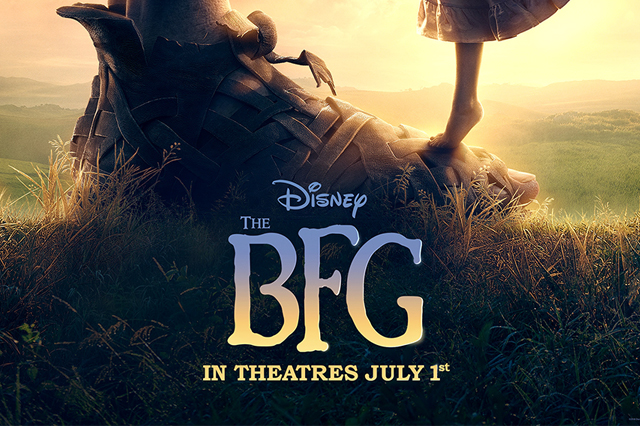 "The BFG" is now playing in theaters everywhere!
Portions of this material have been provided by Walt Disney Studios.