This is a sponsored post on behalf of Chappet.
Looking to spark your child's creativity and imagination this holiday season? Meet Chappet, a unique and interactive Bluetooth speaker that brings your child's favorite stuffed animals to life. Controlled by a smartphone app, this new toy allows parents to interact with their children through their stuffed animals during creative playtime. Chappet supports more than 1,000 prerecorded phrases, features 20 pre-recorded songs and stories, and its auto chat function can mimic the words a child shares with it in conversation, allowing children to interact with their favorite toy in an entirely new way. Chappet even makes the perfect addition to our bedtime routine, playing our daughter's favorite lullabies as she falls asleep. Come to see why we love this toy and recommend it to parents everywhere this holiday season!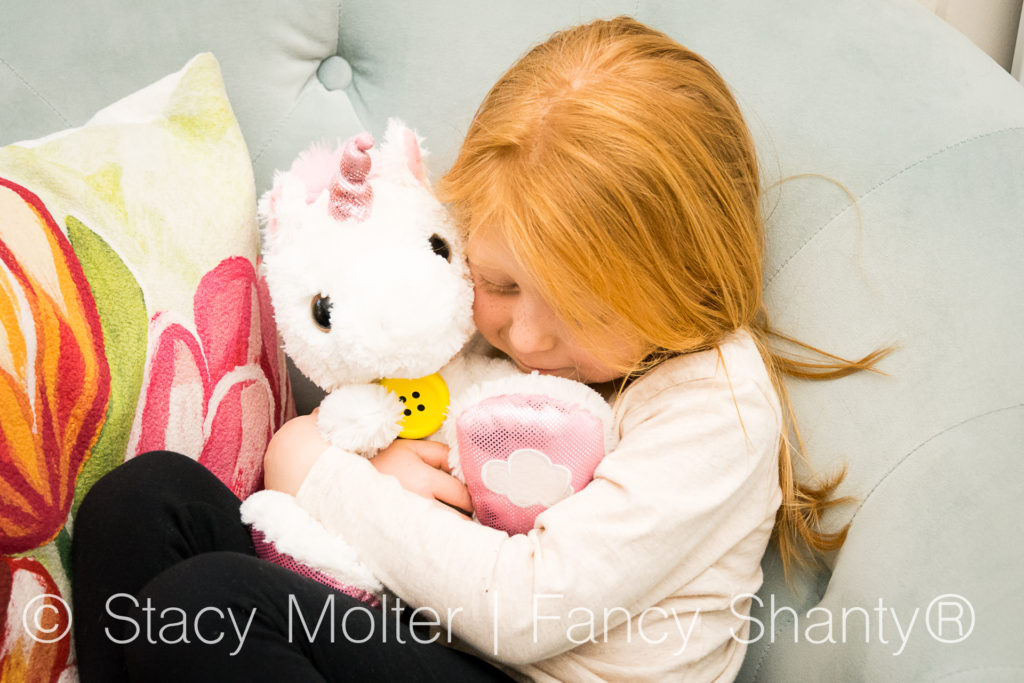 Bring Your Child's Favorite Stuffed Animals to Life with Chappet
When we received our Chappet, I decided to surprise our daughter with the magic of this little 2-inch wide button by attaching it to her favorite unicorn, Baby Fluffy. I attached the Chappet around Baby Fluffy's, tieing it tightly with a string around the stuffed animal's neck like a necklace, turned it on, and asked little Gracie to sit with her in the chair. That's when the magic happened. The first phrases Baby Fluffy spoke to Gracie was, 'Hello there, Gracie. Let's play together.' (Chappet can also be sewn onto your child's favorite stuffed animals.)
Gracie's eyes lit up just like they did the first time she saw Santa. Her best friend had come to life, and she couldn't wait to play with her more.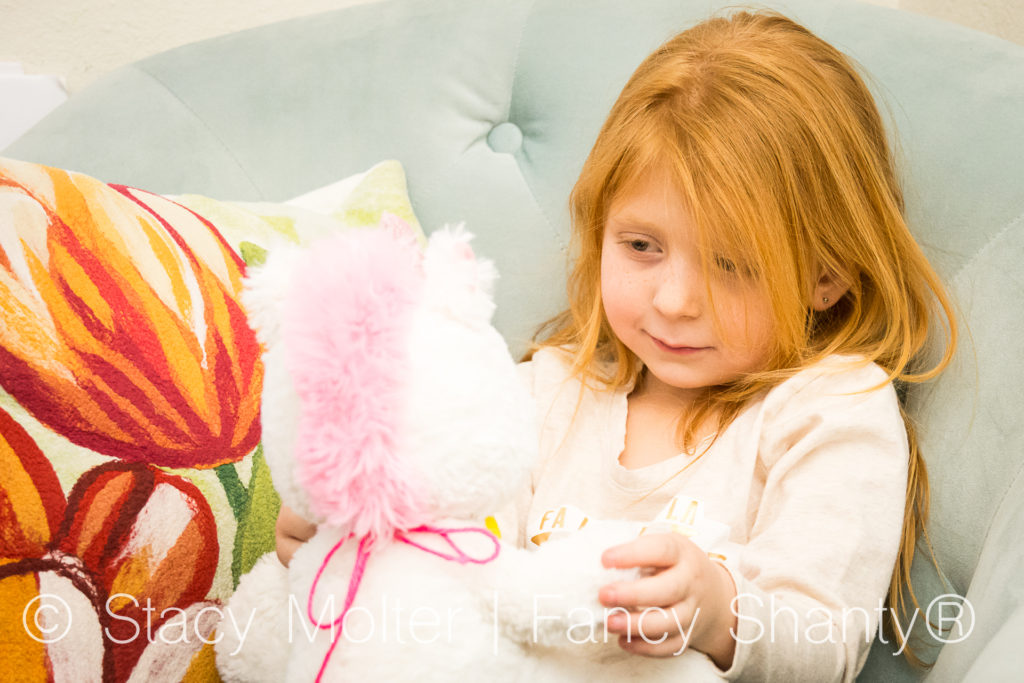 As a parent, I love the four interactive options the Chappet app features, Voice Chat; Text Chat; Tap Chat; and Auto Chat.
Through the voice chat option, I was able to pretend I was Baby Fluffy as Gracie and I let our imaginations run wild sharing whimsical stories with each other. Imagine being in the kitchen and your child is in the living room. You will have a blast seeing and hearing your child's reactions to the chats with their stuffed animal.
In our homeschool classroom, I use text chat to help Gracie follow her daily schedule, as well as learn her letters and numbers. I simply type the daily lessons in the Chappet app, and Chappet reads aloud what I type in a charming voice Gracie loves.
Tap Chat allows me to speak pre-recorded sentences or choose from a list of more than 1,000 phrases across numerous categories that suit a variety of everyday scenarios, and 20 pre-recorded songs and stories. I can also add new phrases via text with your own voice, and original songs and stories too!
And Auto Chat responds to our child's voice by making affirmative sounds of agreement or mimicking phases. Gracie laughs out loud when she finds their best friend is mimicking her.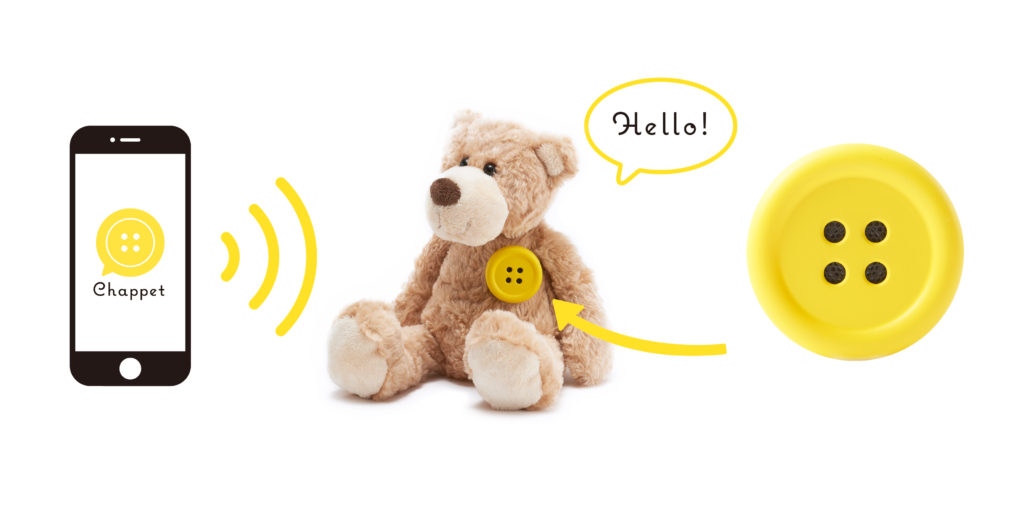 Chappet also allows you to set up reminders for key daily events such as meal, snack, or nap times. It can also be a great tool to help parents with potty training, allowing them to program their own phrases that use specific words their children respond to or use related to potty training.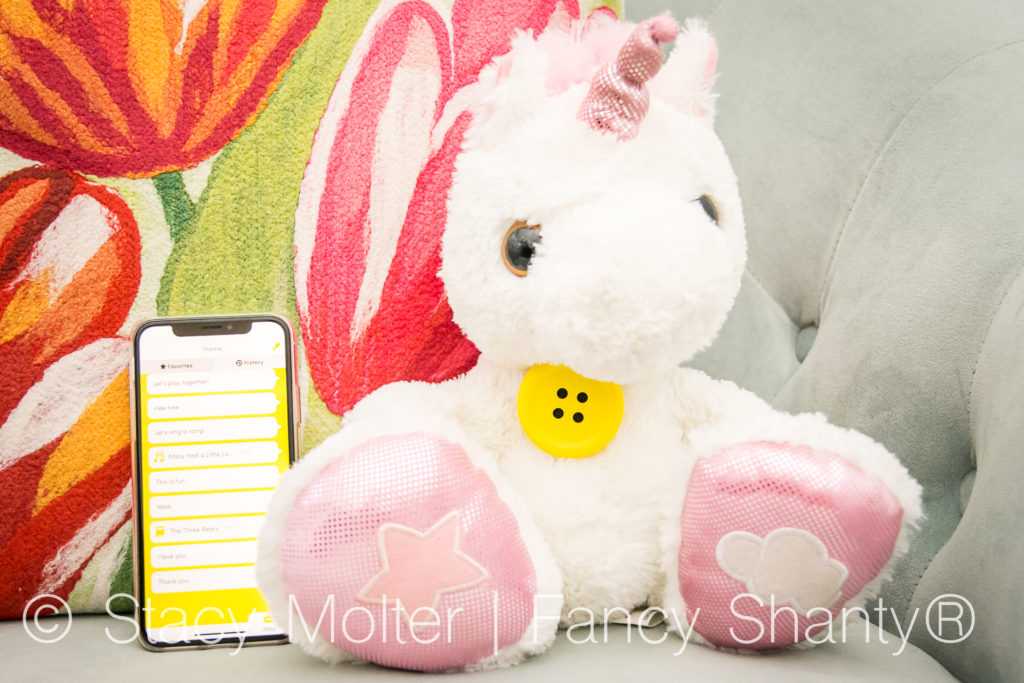 To learn more about Chappet's functionality, visit Chappet.com and check out the video below. Chappet is available for purchase exclusively on Amazon.com for $54.99, and the free app is available in the Apple Store and Google Play.
This holiday season, spark your child's creativity and bring your child's favorite stuffed animals to life with Chappet!