Anna Boden and Ryan Fleck, known for their work on Indie films, brought their style of intimacy and character-focused storytelling to the MCU in what is possibly MARVEL's most heartwarming film. Anna's love for Carol Danvers shined not only as she spoke about Brie's character at the recent press conference in Beverly Hills, but her love for Carol radiates from the big screen in a way only Anna and Ryan could create.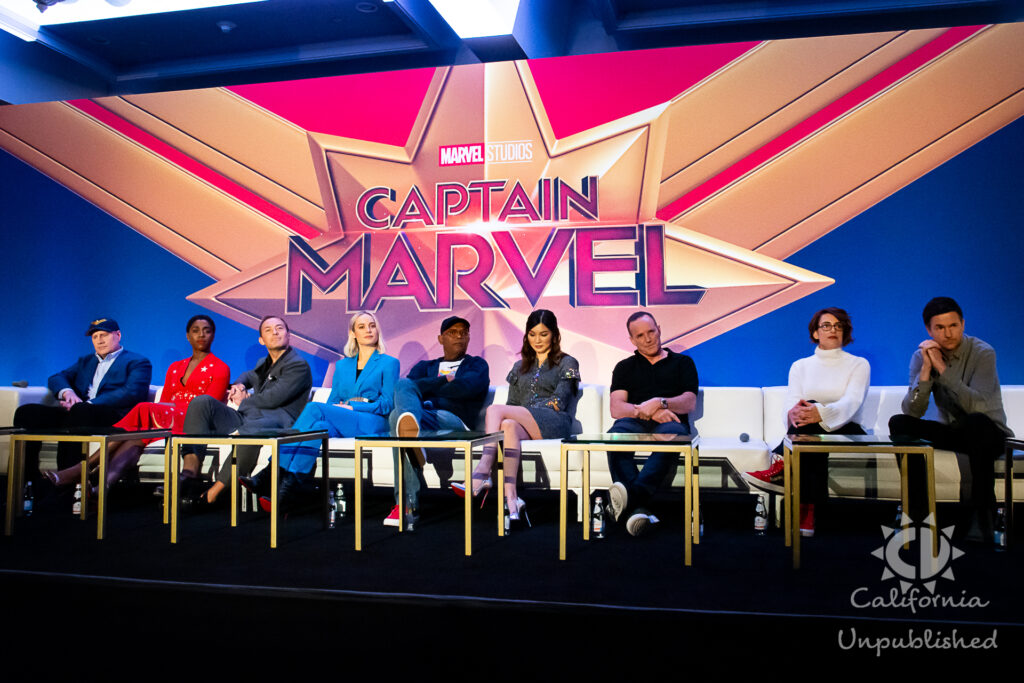 More: Marvel Cinematic Universe Press Conferences
With the guidance of Producer Kevin Feige, visual effects supervisor, Christopher Townsend, and visual effects artist Victoria Alonzo, Ryan and Anna created a film that follows the core value behind the MCU, that story comes first. Read more about how two Indie filmmakers brought a heartfelt friendship and a plethora of 90's nostalgia to the big screen in one Mar-vell-ous film!
Costumes from the film, Captain Marvel
Captain Marvel open in theaters everywhere, this Friday!
Captain Marvel Press Conference – How Indie Filmmakers Brought Friendship and 90's Nostalgia to the Big Screen
Q: Kevin, what did Anna and Ryan say about Captain Marvel that made you realize, these are the guys?
Kevin Feige: It's their body of work and their focus on character. Our belief that they wouldn't have lost the character, amongst the spectacle and the fun and the effects. Anna spoke very eloquently about Carol Danvers and about that female hero and over the course of developing the movie, and producing the movie, Anna went up in a jet, as did Brie, which was super impressive and I wouldn't do for a million dollars.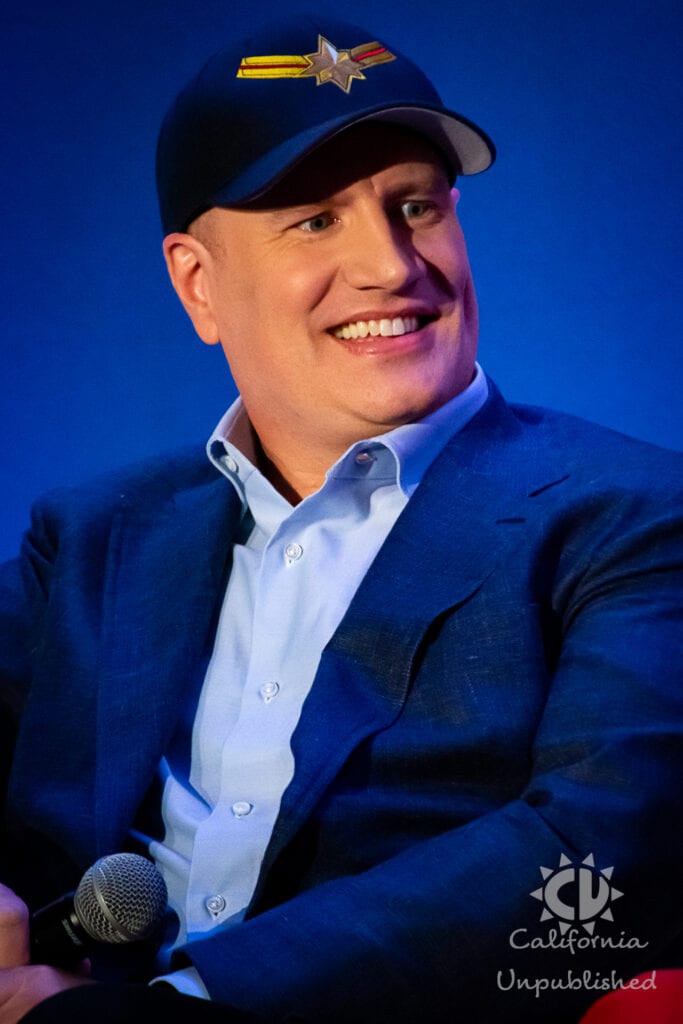 Q: Anna and Ryan, going all the way back to Half Nelson, Sugar, Mississippi Grind, to see what you two have done here is amazing. This is a leap that few directors get a chance to make, from the world of a little indie film to a Marvel tent pole. What was the learning curve like for the two of you doing Captain Marvel and now introducing and working with FVX heavy visuals, as opposed to your character-driven beauty yhat you still retain.
Ryan Fleck: I think in the early conversations with Kevin and with Brie, we wanted to bring to this story a continuation of the things we had done in our other movies, which is an intimacy and character-focused storytelling.
The visual effects were challenging at first for us, but we were working with the best in the business here and they've done, you know, one or two of these movies before we got here and we were in good hands. We were able to lean on them and work very collaboratively with the Effects team and learn how that works. They were patient with us and it was wonderful. I can't think of a better studio to take that leap with. They let us tell the story we wanted to tell.
Q: Kevin, this is something that you guys have built through these10 years. How did you guys develop more to make it a process where directors can come into a big movie like this?
Kevin Feige: In terms of the visual effects, it was having Victoria Alonzo, who's been with us since the beginning. She knows this stuff inside and out and is an amazing mentor to filmmakers.
Christopher Townsend was our Visual Effects Supervisor, who's done many movies for us. And, because it ultimately is always about the story, there's nobody pushing, the process never overwhelms the story. We'll alter the process if it fits the story, if it fits their vision. That's how you end up with a great movie like this.
Q: Brie Larson, Captain Marvel. This character is not just a damsel in distress; this is a woman that's got a little edge to her. I've heard you say that what you love about her is her dark side. Tell us about why you love this Captain Marvel.
Brie Larson: There's a lot to love about her, which is why I was really excited to do this. The idea of playing a superhero, or a female superhero in particular because my interest is in female complexity. I was a little worried about playing somebody, a superhero that would be perfect because I don't feel like that's realistic, or something aspirational at all.
Getting to play a character where the whole character arc and turn of this is watching her be this major risk taker, which means it's not always going to work out the best. Those are the moments, the defining moments of her character, where she doesn't lay down, she gets back up. That's everything. That's for everybody. There isn't a person who can't relate to that.
The main reason for doing it was so that in moments like this when we're talking about Carol's strength and we're talking about what I learned from her, it's that I'm stronger than I realized. This movie is like assisted with the VFX, because I can't personally shoot photon blasts.
But, I can stand here and say that I am really strong. I was able to dead-lift 225 pounds; I was able to hip-thrust 400 pounds. I was able to push my trainer's 5000-pound Jeep up a hill for 60 seconds. This concept, when it comes to gender norms or what the human body is capable of, or maybe what a female body is capable of, it's capable of a lot.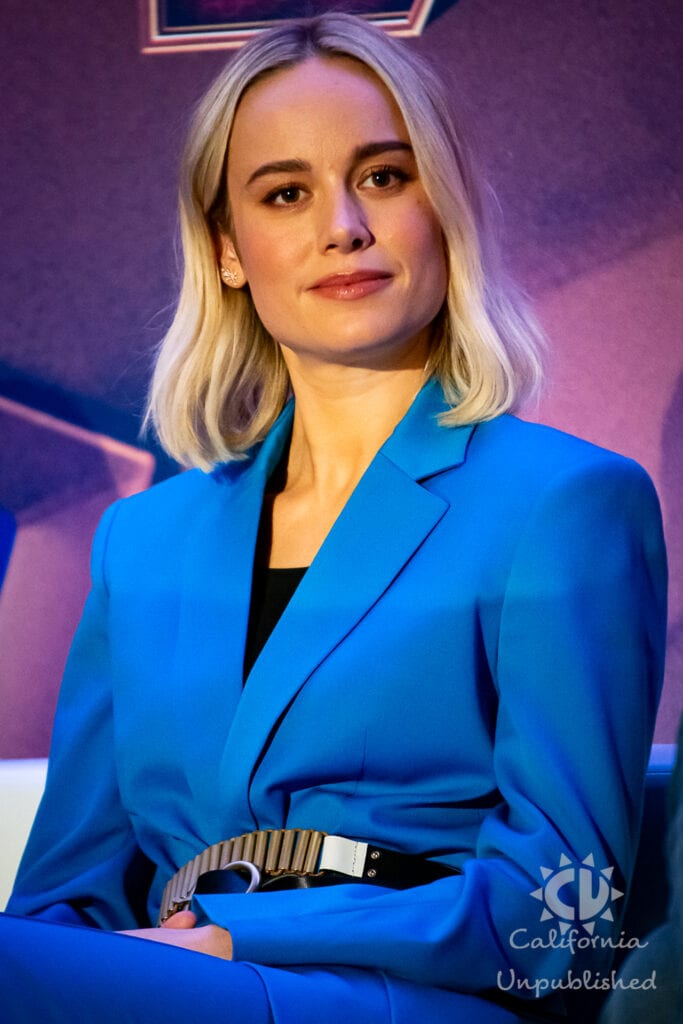 Q: Lashawna, I know, you campaigned to be in the MCU. This was like a mission for you. Talk to me about your long road and making a Marvel movie happen.
Lashana Lynch: The words that you just said were the words I had in my head for two years. I am a Marvel fan. I've grown up watching them. I've grown up loving the characters, enjoying the trajectories and I just had a feeling that something would come up. I was drawing towards something that represented something that I care about; women. So yeah, I campaigned to be up here.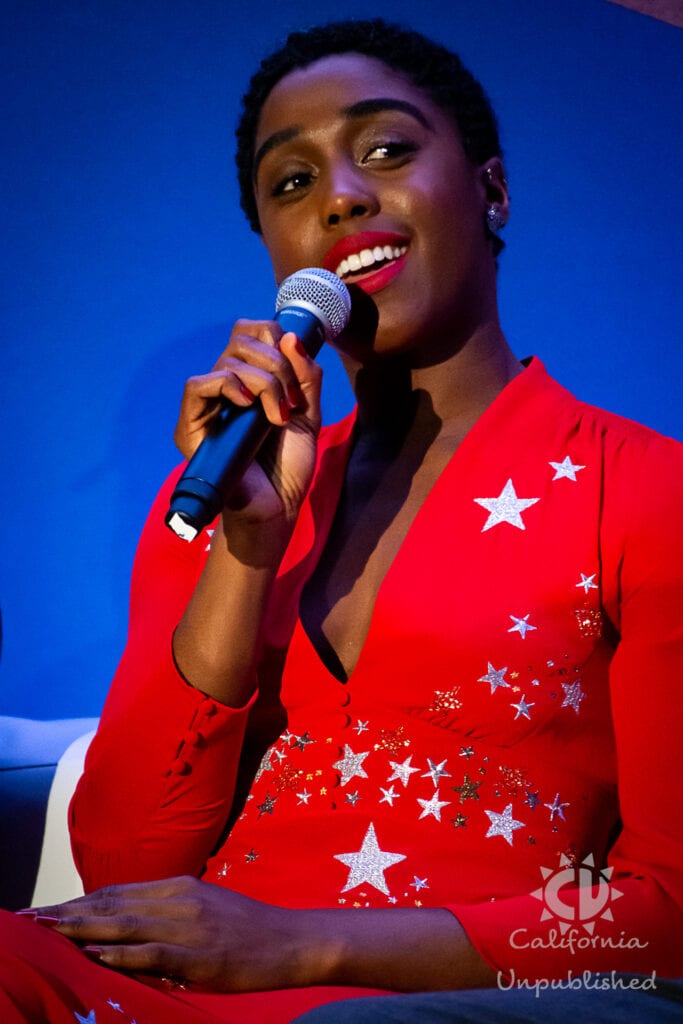 Q: Carol and Maria's friendship. That is such a great dynamic in the movie and I love it. If we go back to the beginning of their friendship, what drew them together?
Lashana Lynch: They're both in the military, so they come from male-dominated environments where they were drawn towards the women anyway. They would find power in whoever they find energetic connections to. I think they had a sarcasm together.
They did a nice thing about how Brie has represented Carol is that she's just a normal person. She's able to be every facet of what a woman represents today — sarcastic, dry, funny. She can kick men down and throw them into different parts of the universe. I feel like Maria embodies that in a very human way. She's able to just be a kind, good person.
Brie Larson: I think what they've gone through together, going through military training together, being the only women and then using each other to lean on each other through that type of like support and a recognition of their experience is really special.
Of course, I think they would have been friends outside of that experience but I think that that's a really tight-knit bond that they have and they're family. That's kind of what we're talking about in this film without being too showboating about it. This is the love lost. This is the love found again. This is the reason to continue fighting and to go to the ends of the earth for the person, the thing that you love.
Q: Another friendship that we get to see is Agent Coulson. Clark, you get to come back from, well, I don't know where you were. But this is where you are in the timeline but at this point, if you're watching Agents of Shield. I feel for you guys because we're all a little confused, but you're back.
Clark Gregg: They said, hey, do you want to come back? It's the '90s. Cool soundtrack. Ryan and Anna. Little origin buddy stuff with Sam. They're going to give you more hair and make you look younger. And, Brie Larson is going to be Captain Marvel. I said, okay, where do I go?
It superseded that in every way. It was so incredibly fun to do. I've gotten the thrill of taking my young daughter to a bunch of Marvel movies, but I'm taking a 17-year-old young woman to see Captain Marvel next week and I've never been more excited to take her to anything.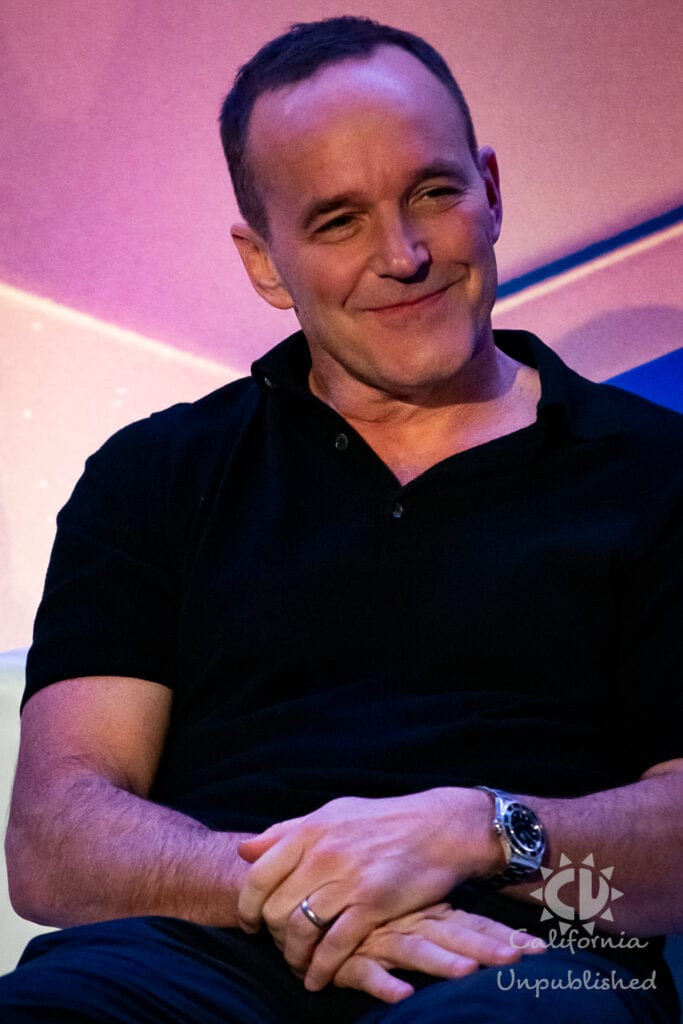 Q: Sam, this is a new side of Nick Fury that we get to see. What did you particularly like about embodying this '90s version of our favorite shield leader?
Samuel L. Jackson: This kinder, gentler, not so cynical world-weary, chip-on-the-shoulder Nick Fury who hadn't met anyone from another universe just yet, looking at the crazy lady trying to figure out why she thinks she's an alien and what all that means, it's kind of fun. It's fun to not be all-knowing, angry, persuader that Nick Fury always is.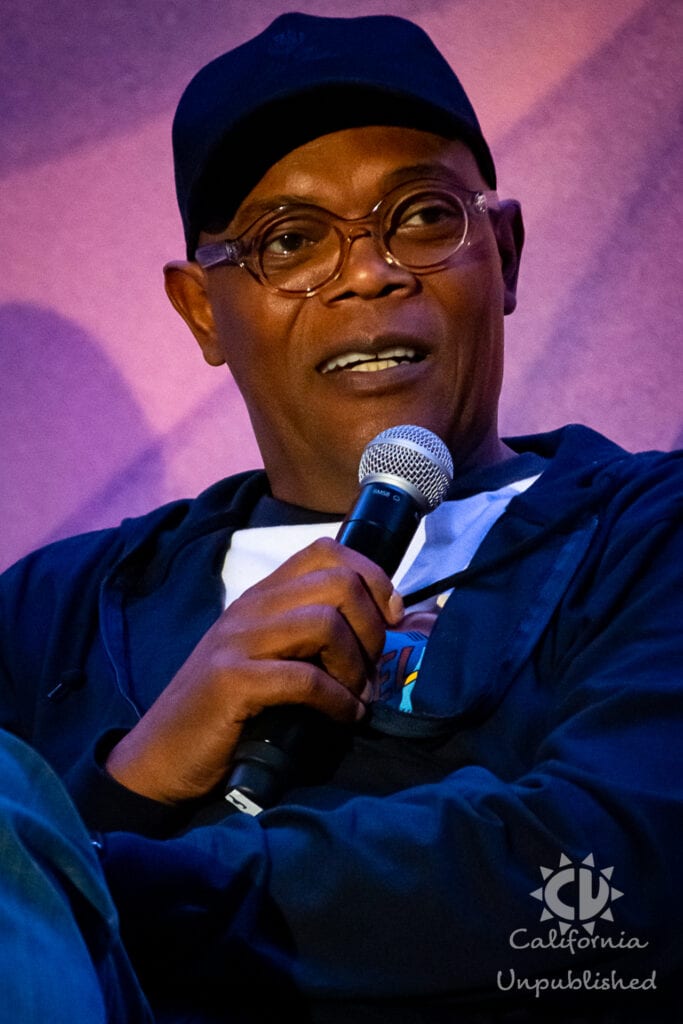 Q: Gemma, you show up as a sniper, mean girl, all in blue. What was it like embracing your inner mean girl?
Gemma Chan: I loved it. It was really fun going from playing Astrid, who is this very warm-hearted, kind, empathetic person to Minn-Erva, who's got a harder edge. She's sarcastic. She's a big mean girl. But, I like her. I like tapping into that side of me. It was fun to be bad.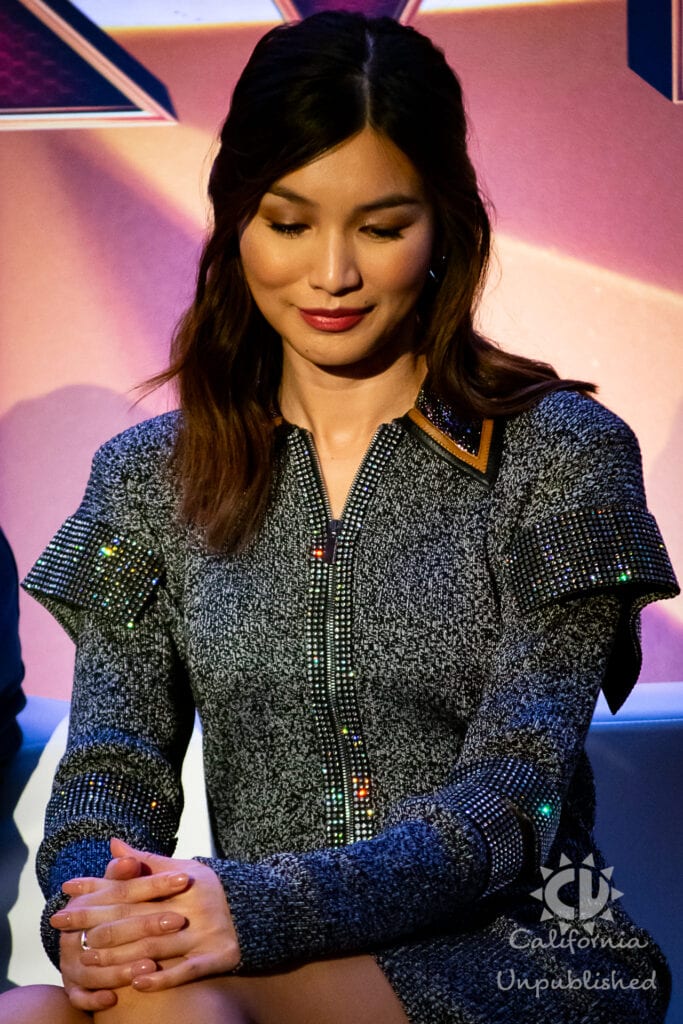 Q: Anna and Ryan, one of the things I loved about the movie was how many '90s awesome touches it has; it's like dripping with '90s nostalgia and it just brought me back to like my adolescence. Was that like from the script from the beginning? Did you have all the music cues? Did you have like this is where we want to go? Or did that come in the like pre-production process, to make it this '90s wonderland?
Ryan Fleck: We made a big playlist at the beginning of the movie and we shared it with the crew and some of the cast. Some of those songs are in the movie, but it was really in post, we put the scenes together and just threw songs in and see what stuck. It was very much a collaboration with Kevin and the whole team at Marvel, to figure out which songs really worked the best.
Q: Samuel L. Jackson, can you talk about working with the cat? Are you a cat person in real life?
Samuel L. Jackson: No, I am not a cat person. But, I'm also not a dog, bird, or a fish person, either. I don't engage pets.
Reggie is like most animals that people bring to set that have been trained to do this, that or the other — he's snack-oriented. You give him something to eat, he shows up. You talk softly and nice to him, give him something to eat again. They love you, so, it works out.
Q: Ryan and Anna, because you guys wrote in the cats, was there any temptation at any point not to go with them because you guys added so much more work by using a live cat.
Anna Boden: There's something about getting a cat to do what he normally does, and it was part of the struggle, actually, of having a very well-trained, very directable cat on screen. Sometimes we just wanted him to do the random thing that a cat's going to do, like lick his paw or go rub up against somebody. We had to suggest to the trainer, maybe we should just let him do his thing for a little while because there's something about the spontaneity of what an animal can do and I feel like it was worth it.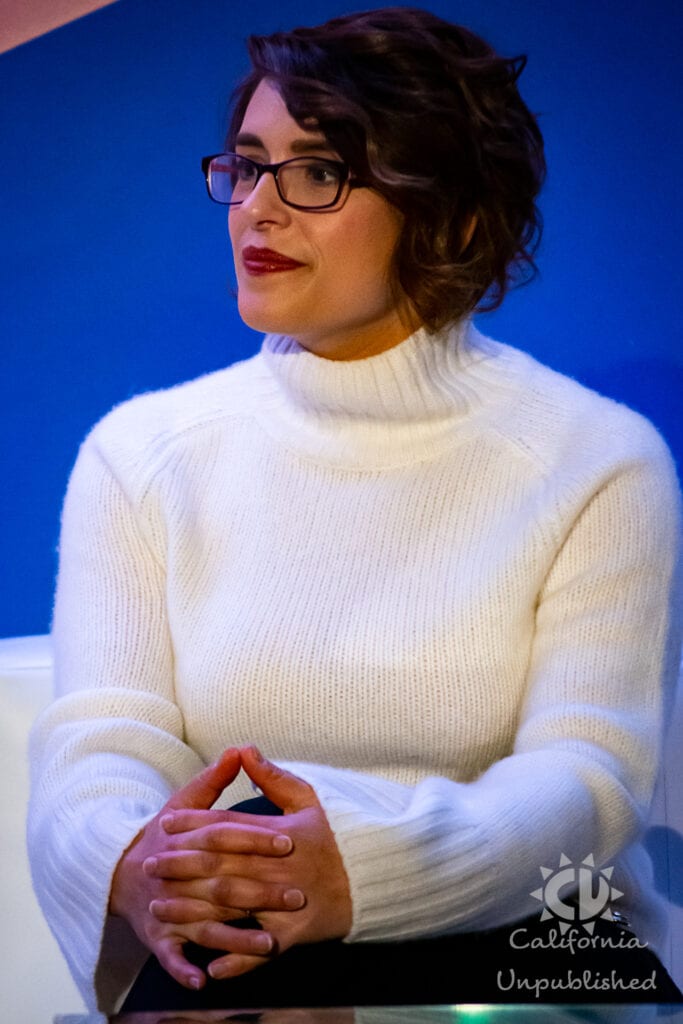 About Captain Marvel
Set in the 1990s, Marvel Studios' CAPTAIN MARVEL is an all-new adventure from a previously unseen period in the history of the Marvel Cinematic Universe that follows the journey of Carol Danvers as she becomes one of the universe's most powerful heroes. While a galactic war between two alien races reaches Earth, Danvers finds herself and a small cadre of allies at the center of the maelstrom.
The film stars Brie Larson, Samuel L. Jackson, Ben Mendelsohn, Djimon Hounsou, Lee Pace, Lashana Lynch, Gemma Chan, Rune Temte, Algenis Perez Soto, Mckenna Grace, with Annette Bening, with Clark Gregg, and Jude Law. Marvel Studios' CAPTAIN MARVEL is produced by Kevin Feige and directed by Anna Boden and Ryan Fleck. Louis D'Esposito, Victoria Alonso, Jonathan Schwartz, Patricia Whitcher, and Stan Lee are the executive producers. The story is by Nicole Perlman and Joe Shrapnel & Anna Waterhouse, and the screenplay is by Anna Boden & Ryan Fleck and Geneva Robertson-Dworet and Jac Schaeffer.