I was so excited to learn that Disney•Pixar was celebrating Dia de los Muertos in the new film Coco, set to be released on November 22nd, 2017, that I could wait to begin crafting an all-new Dia de los Muertos Sugar Skull for the holiday. While many already recognize that skulls and skeletons are two popular symbols for Dia de los Muertos, many don't know the history behind this tradition of honoring the dead.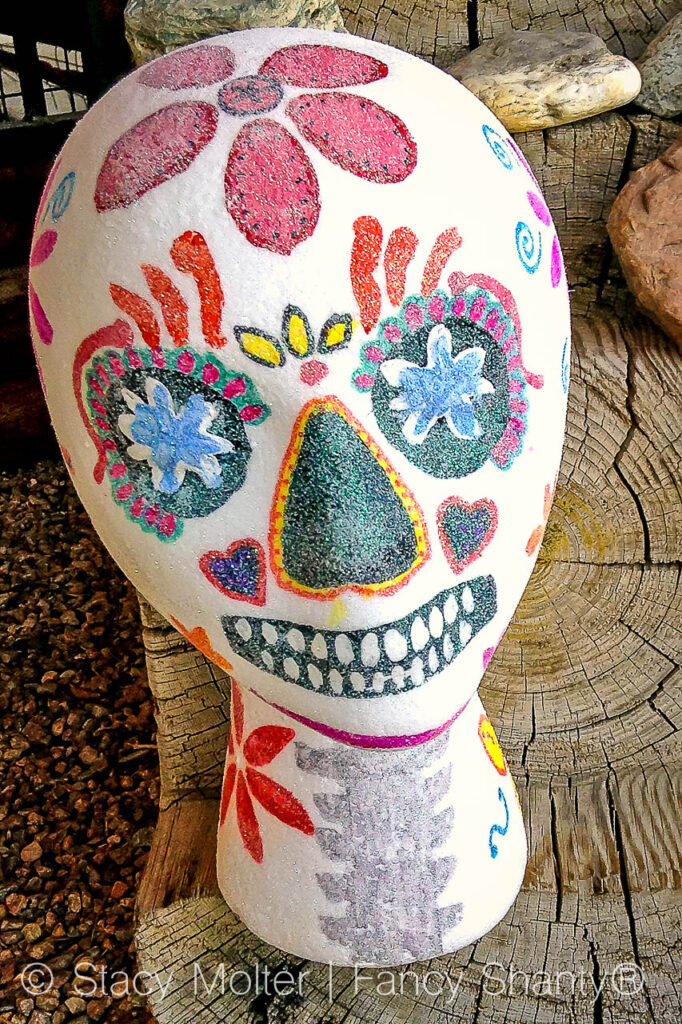 See also: Coco: A Love Letter to Mexico, Disney Dia de los Muertos at Disney California Adventure Park, Day of the Dead Art, Crafts, Decor, and Free Printables
The History Behind Dia de los Muertos Sugar Skulls
This history behind sugar skulls dates back to the Spanish conquest when the Spaniards brought new customs and the idea of molding decorations from readily available and inexpensive ingredients, like sugar and water which is abundant in Mexico.
During the holiday, skulls are placed as decorations to honor those who have passed. Often, skulls are decorated with bright colors and adornments and will have the deceased's name written on the sugar skull's forehead.
Today, many different versions of the sugar skulls exist but the meaning behind the traditions remains the same, to commemorate the person you are honoring, whether dead or alive.
Dia de los Muertos Sugar Skull
Every Dia de los Muertos sugar skull is supposed to be unique, so the design you pick is up to your own imagination. While traditionally, sugar skull art reflects the folk art style of big happy smiles, colorful flowers and geometric shapes, and sparkly tin and glittery adornments, for this craft we kept it simple with a big happy smile, colorful shapes, and glitter to create the sugary look.
If you're worried your art skills aren't up to par for a large craft like this, don't worry. Both paint and permanent marker work beautifully for this craft, and, depending on your skill level, you may want to do some painted areas and then fill in more intricate designs with markers.
Materials:
Styrofoam wig holder
Acrylic paints
Sharpie markers
White glue
Extra fine glitter, white/clear
Instructions:
Paint large areas first. Black paint will make eye sockets and nose area look skull-like.
Begin painting traditional flowers and geometric shapes. Use BRIGHT colors as the glitter will make all the colors seem less vibrant when applied.
Once you are happy with your design, paint on a layer of white glue and add glitter. Make sure to cover all areas of the head so it looks "sugary".
Let dry completely.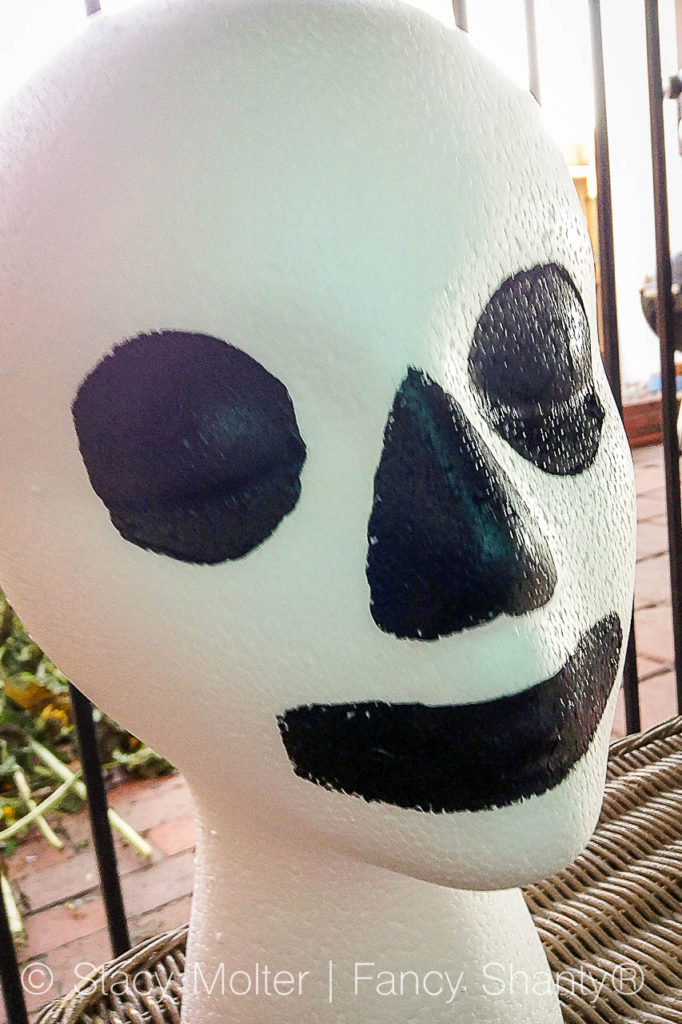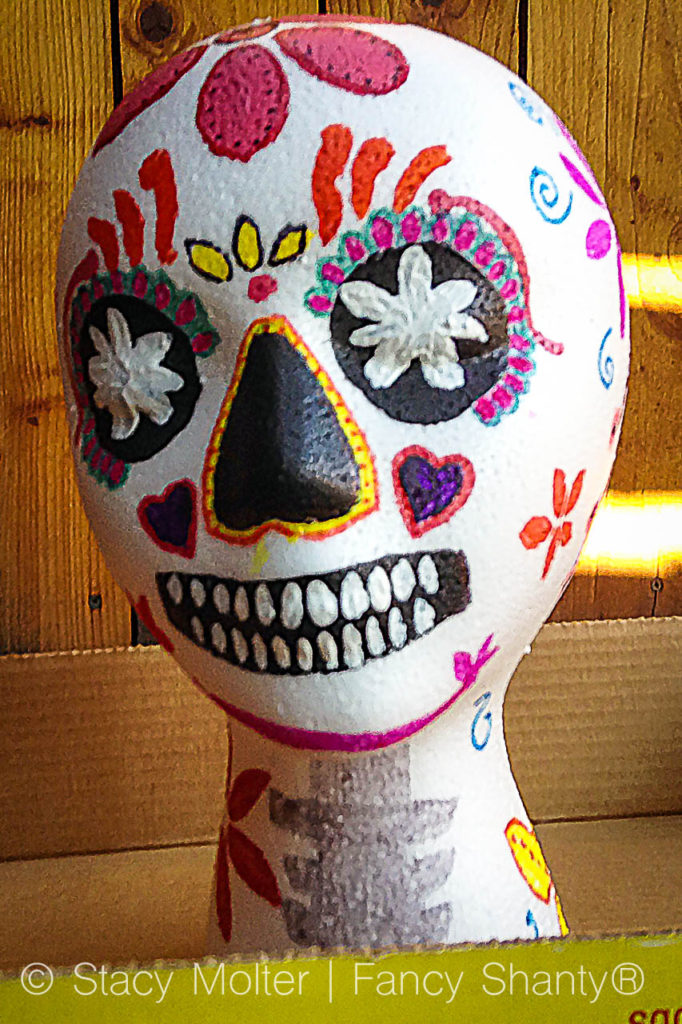 Close-up of the glitter (sugar) effect.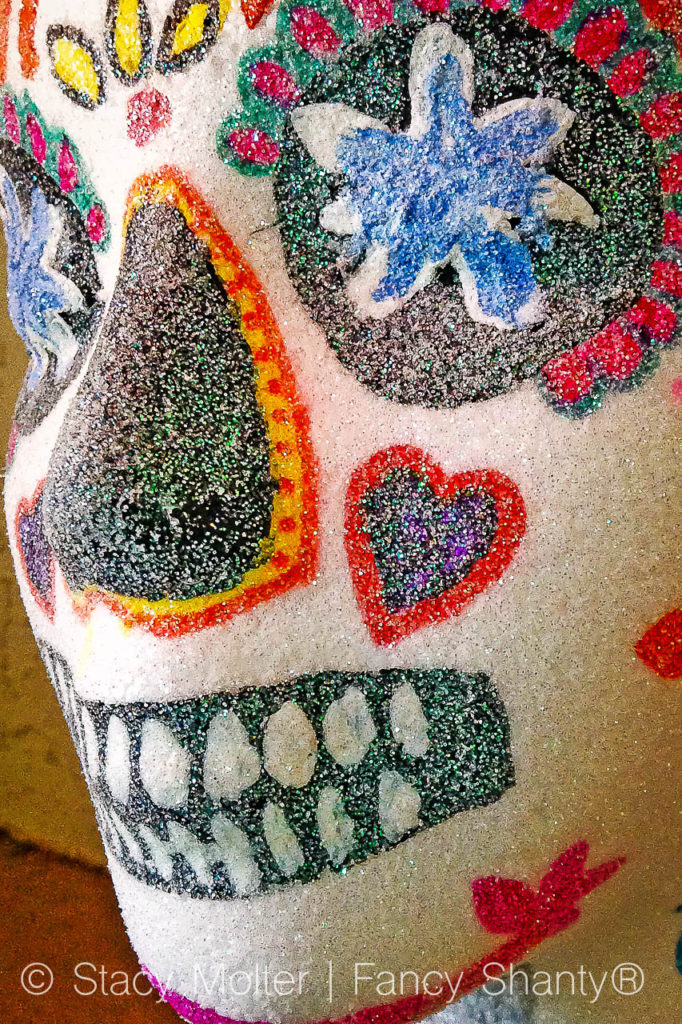 Don't forget to pin this Dia de los Muertos Sugar Skull craft for family and friends!