As if getting the exclusive invitation to cover Disney's A Wrinkle In Time cast interviews wasn't exciting enough, having the opportunity to listen to Oprah, the Queen of all media, share her thoughts on strength and empowerment was a once in a lifetime event. Listening to Oprah left us feeling empowered to accomplish our dreams, and the incredible humility of Ava and the entire Disney's A Wrinkle In Time cast reflected the heart of the story from the film, an empowering message of strength and courage.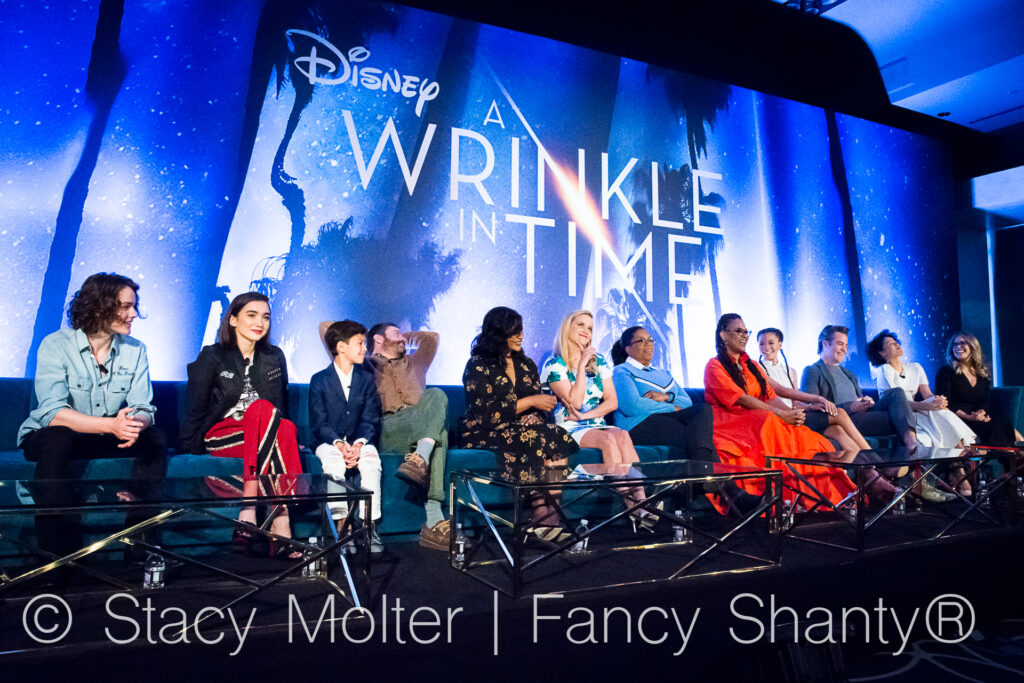 Disney's A Wrinkle In Time opens in theaters everywhere March 9th, 2018. Check out the official trailer now!
Disney's A Wrinkle In Time Cast Interviews
Q: Jennifer Lee, as a female writer/director who adapted Wrinkle in Time for this film, from one female writer/director to another female writer/director, how did that go down? What was the first meeting like?
Jennifer Lee: It was fantastic actually. I had daydreamed of Ava directing this and never imagined she'd say yes. Her incredible evocative storytelling, emotional storytelling is what this film needed, because this is a journey across the universe, but at the heart of it is a family story and empowering young girls.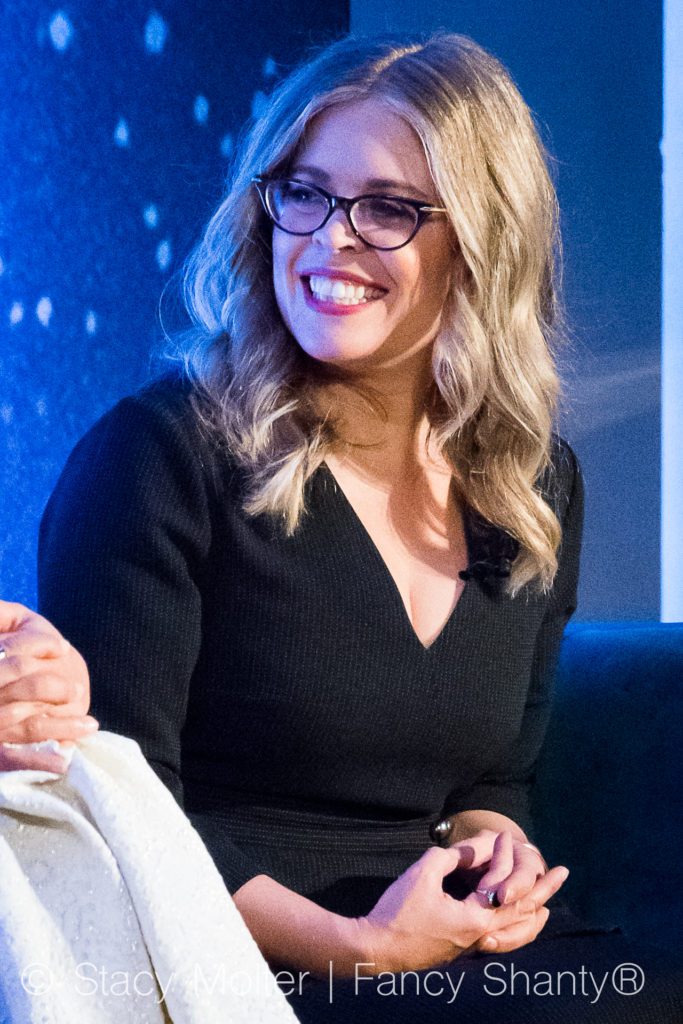 Q: And Ava, you know your way around a children's story in a way that really resonates with the children. You've done some incredible projects. How did you get in touch with your inner child on this project?
Ava Duvernay: This is a film for young people, and people who are young at heart. For me, I have to ask myself, do I still have a heart, first of all? And is there an inner child still in me? Did I tap into the 11-year-old, the 12-year-old, the 13-year-old in me, and find that light that I used to have, that dreamer? I got to do that for two years. I got to really get in touch with all that I thought I would be when I was young and really tap into that and try to create some magic with this great group of people.
Jennifer Lee: I think we talked a lot about what makes Wrinkle so amazing and has resonated for decades and decades is because there is a timeless quality to the themes she's dealing with. We did look a lot at what are those themes today, what do they mean today? How do you stay true to that, but re-interpret them in a way that we all say this is our world? This is what we understand. We just had a lot of conversations about what we were inspired by and then what that meant to us growing up and to children now and to the world now.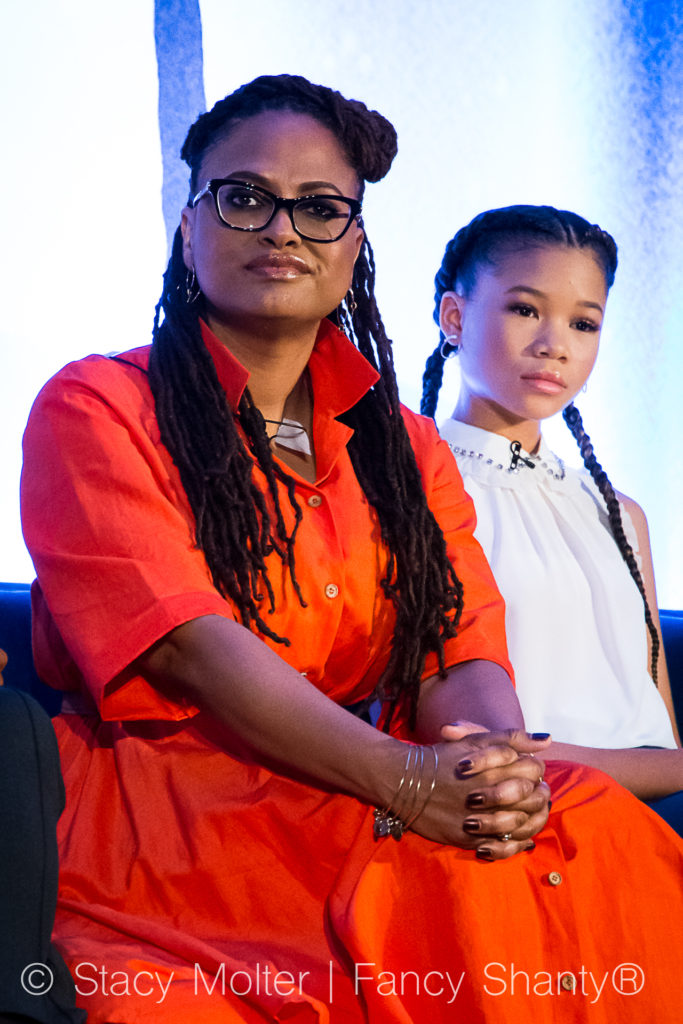 Q: Gugu, you play an inspiring role model for Storm's character Meg, being a woman who is a scientist. Explain to us how you got into that character.
Gugu Mbatha-raw: It was really fascinating because I'd never played a mother before and I'd also never played a scientist before, and it was kind of great because we got to meet this wonderful astrophysicist who was kind of the consultant on the movie, Stephon Alexander, and he wrote this incredible book, The Jazz of Physics. Ava introduced us to him, we got to talk to him a little bit about inside his mind and what it might mean and what it might take to sort of pursuing those theories. We visited JPL, which was really fun to be able to kind of again sort of getting into the mind of an astrophysicist. I was really drawn to the fact that even though Dr. Kate and Alex Murray are obviously a love match, they're also intellectual equals and it's like a meeting of minds and that's sort of the spark and discovering tessering and that pioneering spirit that they have is really what sort of keeps her hope alive when he's been gone for so long.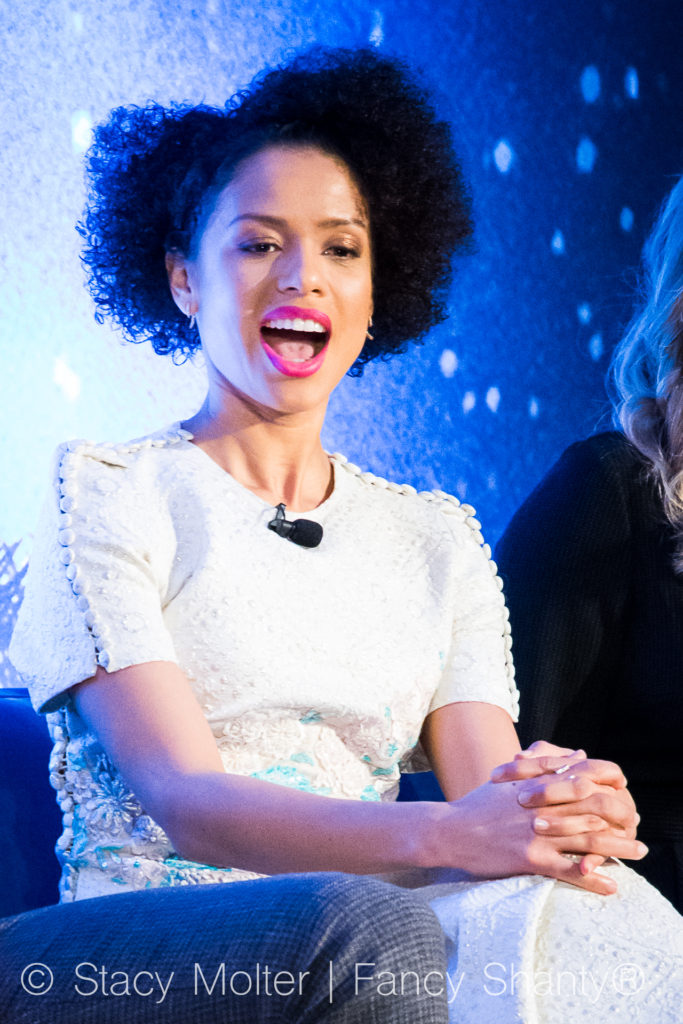 Q: Love is a huge through-line in this movie, and I love that you are a modern family, an interracial couple, a beautiful 2018 family. Chris, what was it like for you playing a scientist in this very complex story about wanting to move the narrative forward as a culture but the culture's not ready for it?
Chris Pine: I had so much fun with this guy, Dr. Alexander. He is so cool and this book, Jazz of Physics, I love jazz and I love John Coltrane. He opens the book talking about the music of the universe and how music and John Coltrane and physics and stars are one of the same things and I was just, I fell in love with this guy. I could talk to him for hours.
Something he said that I thought was really interesting and this may be part of the movie or not, but he was talking about how in what he's doing now, it's like we are all part of the same thing and in his studies, in his academic studies, he not only studies physics but he studies music, and then he studies painting, and then he studies… it's like this incredible hive of a bursting mind. I think that's what I really enjoyed about this character is that his brain is just, it's hungry and searching and explorative. Obviously that ambition to do great things has propelled him forward to do some wonderful things scientifically, but unfortunately that kind of shadow side of him, ambition, it disconnects from what is most important in his life and what requires his daughter to reintroduce him to, which is the spirit and the beauty and regenerative quality of being next to human beings, touching and feeling and holding and kissing. All those things that make us human.
Q: There's science, which is out there and it's very complex, and then there's just love, which is the basis of what keeps us human and what keeps us moving forward. Storm, you know I've interviewed you three times already, but how are you handling this run-up to the release of this movie?
Storm Reid: I'm really excited. I haven't been nervous this entire time, which is surprising to me because I'm usually always nervous. I think I'll be a little bit nervous tomorrow because I feel like this is our baby and this is the thing that we created and we love it so much and it's so great, but we're giving it to people for them to criticize it, for them to either like it or love it or not like it at all. That's a little bit nerve-wracking but I feel like we did a good job and I'm really proud of us so I'm really happy and it's a blessing.
Ava Duvernay: There's love in every frame of this movie and there's love in every frame of everything that I do. I don't have children. I won't have children by choice. These films are my children, are what I leave behind. They have my name on them, have my blood in them. This was an extraordinary experience for me. It's emotional to sit here with all of them because we really held hands on this and became a family, trying to just give a little bit of sweetness to the world in these dark times. It's a tough time right now. This film really saved me in a lot of ways from the kind of going down dark holes and kept me in a really light-filled place so I'm grateful for the past few years working on A Wrinkle in Time.
We're living in a chaotic time as adults. But imagine if you've only been on the earth for 10 years, and 11 years, and 12 years, the tension that you feel and to be able to just give a little breather and to say who you are is enough, and this is how you're gonna make it through by finding something in yourself that guides you.
Q: Oprah, the role was absolutely perfectly tailored to you, Mrs. Which. It's like art, what is it called? Art imitating life? Did you feel that when you were playing the character?
Oprah Winfrey: As a matter of fact, I actually did. You all have heard me say this before and it's so true. Ava and I are talking on the phone and when she went to New Zealand and posted pictures of scouting for New Zealand, I have been in New Zealand the year before, in Auckland and did not get to the South Island. I had wanted to do that. Everybody says, if you didn't get to the South Island, you haven't really seen New Zealand. So when I heard that she was going to be filming in New Zealand, I said to you, I'm going. I'm going. I'm just gonna go. She goes, what do you mean, go? I go, I'm just gonna go hang out with you for however long it takes, I'm gonna block it on my schedule, I'm gonna be there, I'm gonna watch you shoot and say action. Do that, and you know, because I can.
She said, well if you're serious about coming to New Zealand why not take a look at the script? I've been wanting to ask you to do this, but I didn't want to pressure you because of our friendship. I go, okay, I'll do it. I didn't even know what it was. I'll do it.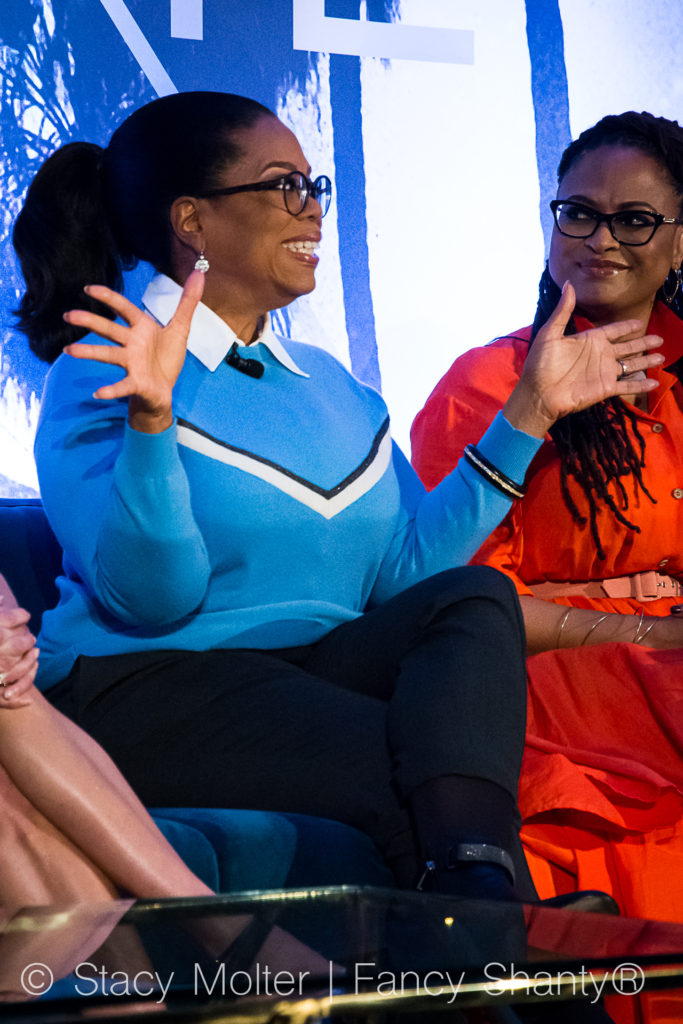 Q: You are sassy in this movie. Tell me about playing your character.
Reese Witherspoon: It's very flattering to be chosen to be part of Ava's movies because she doesn't just make a movie, she makes an experience for everyone. She cares about what happens in front of the camera and she cares about what happens behind the camera. And everybody feels like they are important. Special. Honored. Valued for their contributions. And I feel like this was a masterclass in how to be a very thoughtful filmmaker. And a real visionary. In so many ways. So it was a privilege and an honor, and I got to be this amazing celestial person, who hangs out with Oprah and Mindy all day.
The fact that I get to stand next to these extraordinary women who I've admired for so long and we get to talk about what would we impart to a young woman today, right now? And discuss that with Ava and discuss that with Storm, and it was extraordinary. Really, a beautiful experience.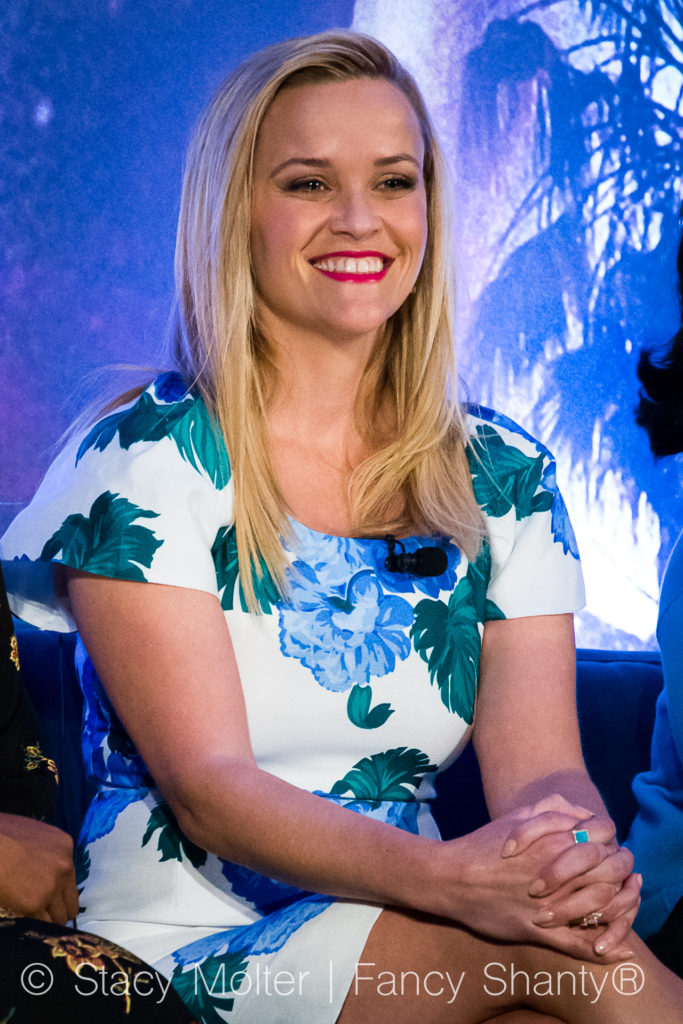 Q: This movie's at the perfect time, and during Women's Month is when it's gonna be released. Female empowerment is hitting a shift right now. It's hitting a pinnacle that is so beautiful to see and I don't think it's going anywhere. Like it's just gonna stay at the peak and how perfect that you're in this movie as well. Mindy, how are you feeling right now, being one of the Mrs.'s?
Mindy Kaling: It's absolutely incredible. I can't believe that I was selected to do this. It's such an honor to act with all these incredible actors. I'm a sitcom actress and Ava saw something in me and we actually met at a party. It was for Malala. And Ava, Malala and I were the only three women of color at this big party. After I finished talking to Malala, Malala was seated to my left and Ava was seated over there and once I finished talking to Malala, I was like, I really want to talk to Ava. After I finished talking to her, we had a great conversation and I thought, you know what, our genres are so different, we'll never cross paths, and then this happened. I feel so blessed to be part of it.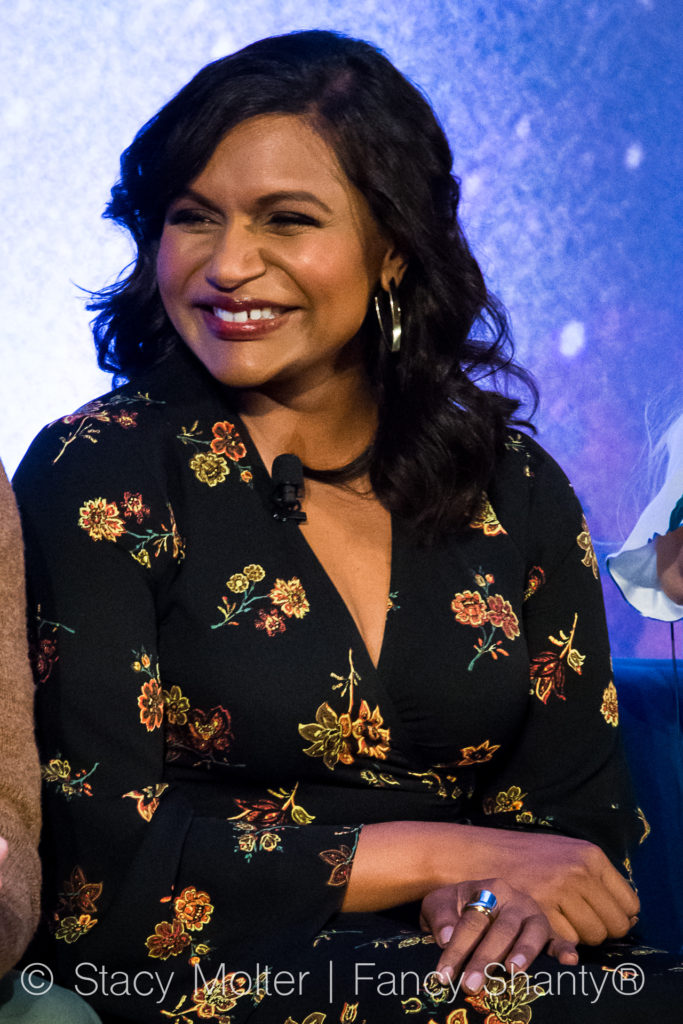 Q: Zach, tell me about how you got on board with A Wrinkle in Time.
Zach Galifianakis: I had seen the documentary that Ava had done and I, that alone was enough. You can see people and their work and you see it in their work and I was kind of, I think you played the game Which One Doesn't Belong Here? I feel like that sometimes when I get hired but Ava and all the people here were very gracious. I think when you're a stand-up comic you kind of have sometimes, not a chip on your shoulder, but you don't feel like, that's where I come from and to be involved in such a big, big, big movie like this is really, it makes me, I feel really proud.
It's nice for young boys, young men even, to see that it is okay to have a sensitive side of you. I think when young boys in this climate, they are seen as sensitive. They're made fun of, but that doesn't mean they're not, it means they're stronger to me. I wish we would just kind of change that. I come from a very masculine upbringing and a lot of people do it. I love the way I was raised, but looking back, we need balance. It's time for balance. I think that's what the happy medium is.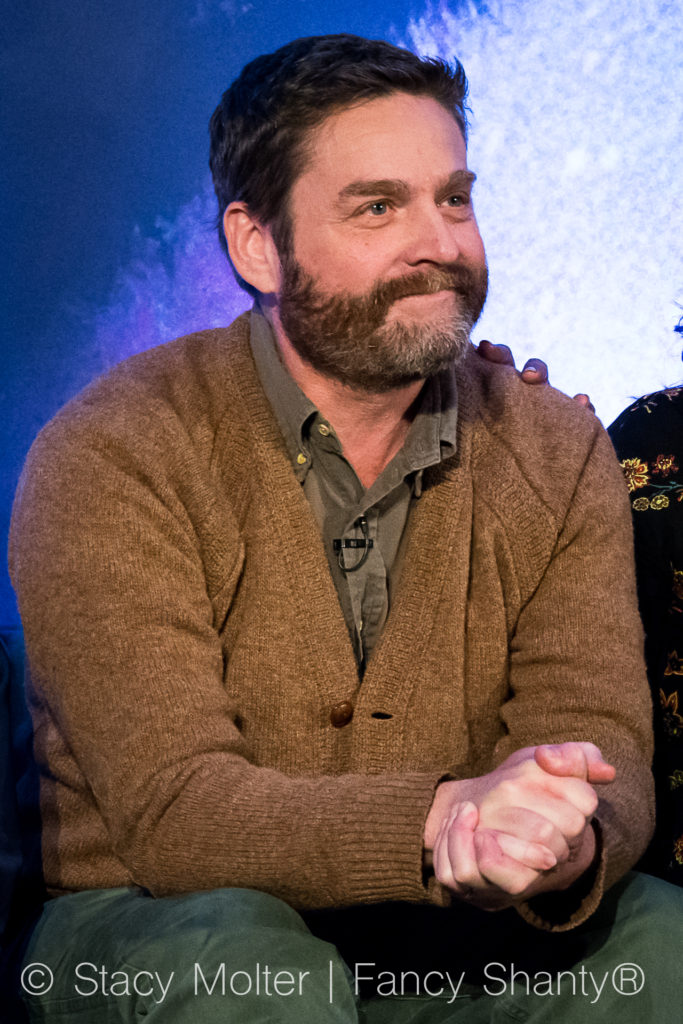 Q: Deric First of all, welcome to your first film. You smashed your role, sir. What was that like in your first film with cameras pointing at you from every angle?
Deric McCabe: Ava put us to a test during rehearsals. We were in a hallway, and I was with Levi and Storm, and she made us walk down and say our lines, and pretend no one was watching. And I was like, that was easy. And she's like, really? Hollywood. Pssshh.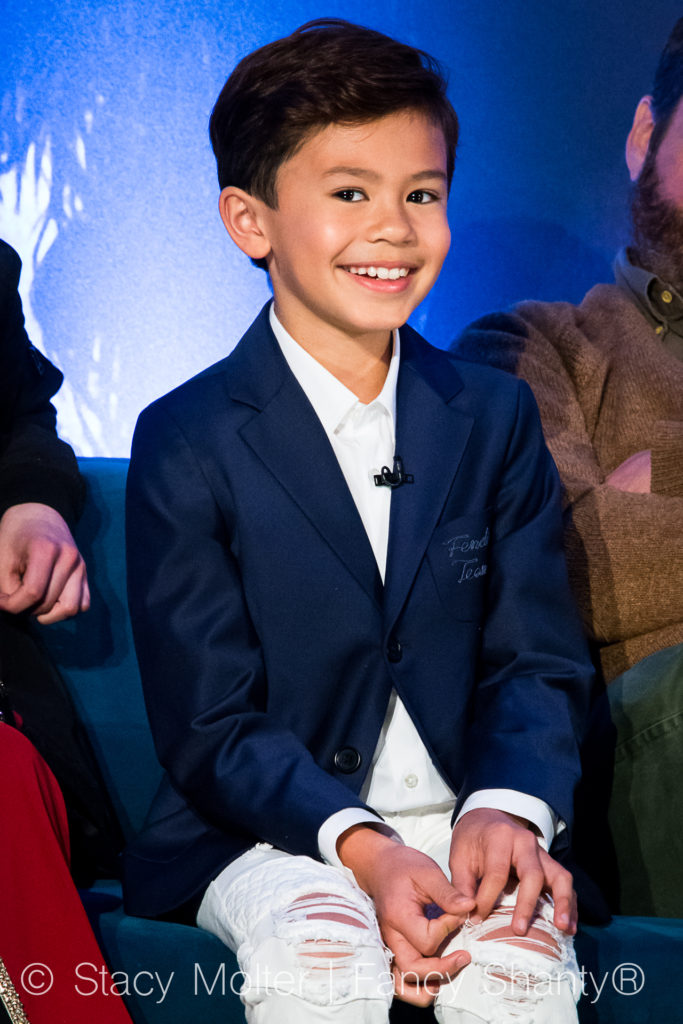 Q: Rowan, you were a mean girl.
Rowan Blanchard: I was, I was a bully. When I found out about the project I put it into the universe that I wanted to be a part of it in any capacity and I ended up playing my first mean girl role, which was really exciting, but I guess it was also sort of interesting because I think as teen girls we sort of get very basic and one dimensional representation of yourself on screen. It was interesting that this story that was about a bully and this girl, Meg, became a story about female friendship I think, and that comes across during the whole film, and sort of what's hiding behind a bully or behind the pain.
It's very stereotypical that girls catfight or those girls fight over stupid things and that girls hate each other. I was sort of interested in approaching Veronica and Meg's relationship in a way where I was able to recognize kind of the complexities of what it means to be the bully, and also it's so much more intricate than that. It's so much deeper and layered than just a bully and a victim. There are reasons why and I think especially between women, especially between young women, there's so much competition that's bred outside of their relationships interpersonally.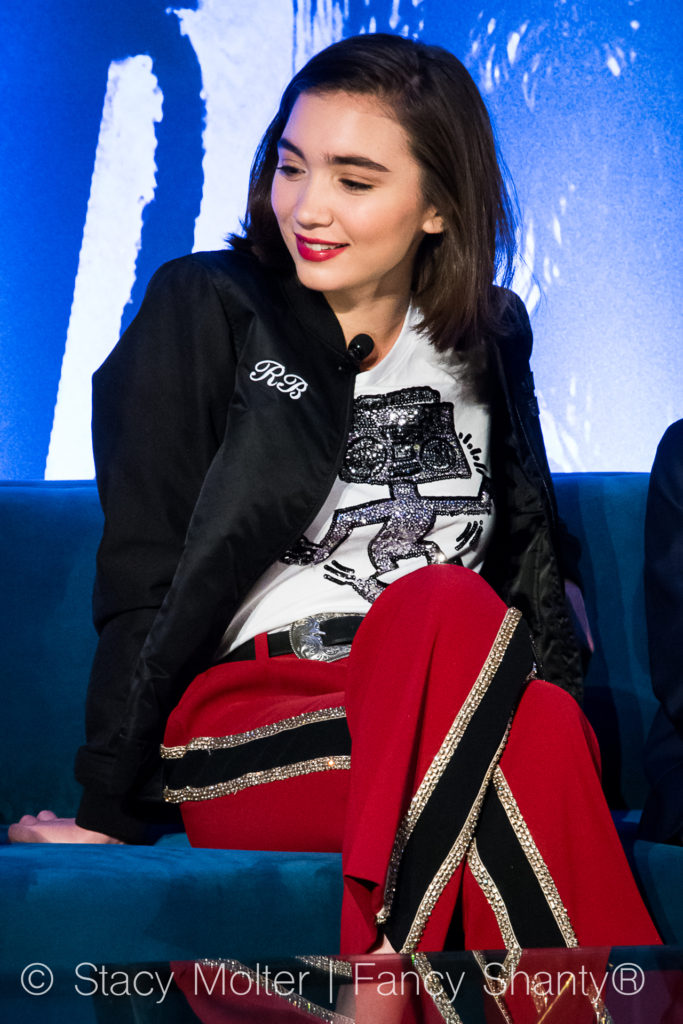 Q: Oprah, you say in the movie that we need to restore hope. And that's a beautiful talk. But do you think it's possible to be hopeful in times like this one?
Oprah Winfrey: Yeah, for sure. I think the darkness is there to help bring out the light in all of us. If you think about it, if we turned all the lights off in this room, and you just held one person just held a candle, you would start to dissipate the darkness. You would banish the darkness. Look at how much darkness it would take to actually engulf all the light that every candle would hold in this room. It just takes a little bit of light. Just a little bit of light. That's what we're hoping for. A little bit of light, and if everybody can get that message, that's how we have hope in the world. We're looking for warriors who can bring hope back.







About Disney's A Wrinkle In Time
From visionary director Ava DuVernay comes Disney's "A Wrinkle in Time," an epic adventure based on Madeleine L'Engle's timeless classic that takes audiences across dimensions of time and space, examining the nature of darkness versus light, good versus evil and, ultimately, the triumph of love. Through one girl's transformative journey led by three celestial guides, we discover that strength comes from embracing one's individuality and that the best way to triumph over fear is to travel by one's own light.