THOR: Ragnarok, the 17th film to be released under the MARVEL Cinematic Universe franchise, is the most daring film yet! Bold and outrageously funny, Ragnarok is packed with a stellar cast and lots of laughs making it one of the most enjoyable comedies of the year. And it's already at 98% on Rotten Tomatoes. To celebrate the release, The Hopping Bloggers have come together to give one lucky winner a HUGE Thor: Ragnarok prize pack worth $250!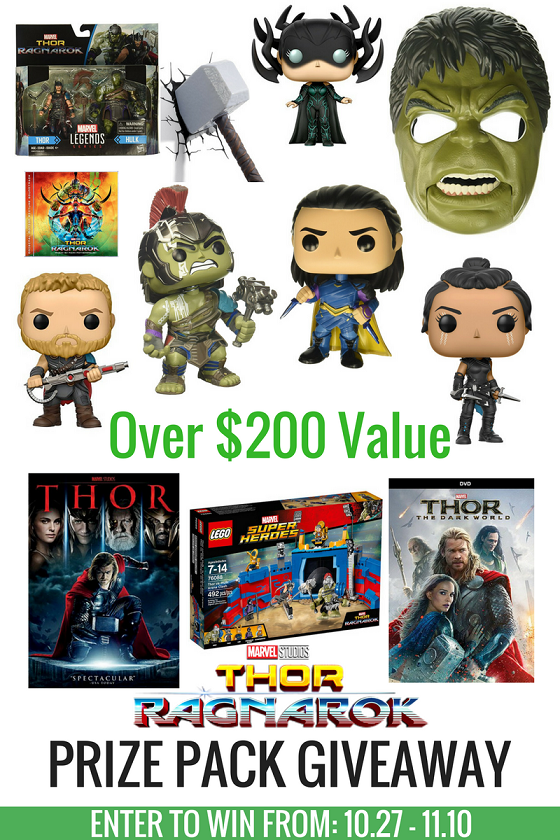 Epic MARVEL THOR: Ragnarok Giveaway
The Thor: Ragnarok Prize Includes:
Products subject to change based upon availability.
About Thor: Ragnarok
In Marvel Studios' THOR: RAGNAROK, Thor is imprisoned on the other side of the universe without his mighty hammer and finds himself in a race against time to get back to Asgard to stop Ragnarok—the destruction of his homeworld and the end of Asgardian civilization—at the hands of an all-powerful new threat, the ruthless Hela. But first, he must survive a deadly gladiatorial contest that pits him against his former ally and fellow Avenger—the Incredible Hulk! THOR: RAGNAROK is directed by Taika Waititi and returns Chris Hemsworth starring as Thor and Tom Hiddleston reprising his role as Loki. They are joined by Cate Blanchett, Idris Elba, Jeff Goldblum, Tessa Thompson and Karl Urban, with Mark Ruffalo and Anthony Hopkins.
See Thor: Ragnarok in Theaters 11/3!
Connect with Thor: Ragnarok on Social
Like THOR: RAGNAROK on Facebook: https://www.facebook.com/Thor/
Follow THOR: RAGNAROK on Twitter: https://twitter.com/thorofficial
Follow Marvel on Instagram: https://www.instagram.com/marvelstudios/
#ThorRagnarok
Enter to win this Thor: Ragnarok Prize Pack using the form below. GOOD LUCK!
If you're a blogger looking to connect with brands: Join The Hopping Bloggers database and get started today!
If you're a brand looking to work with a network of professional bloggers: Check out the creative campaigns The Hopping Bloggers has to offer!