The Finding Dory cast was full of laughter and quick wit during the recent press conference in Beverly Hills, California, as they shared their thoughts our burning questions. Will Hank get his own film? Is their really a gay couple in the film? And if so, does she really have a bad haircut? (Ellen chimes in on this one!)
See also: FREE Finding Dory Memory Game, Calendar, and Character Mobile and Free Finding Dory Coloring Pages and Activity Sheets
The Finding Dory cast, including Ellen DeGeneres (voice of "Dory"), Ed O'Neill (voice of "Hank"), Ty Burrell (voice of "Bailey"), Kaitlin Olson (voice of "Destiny"), Albert Brooks (voice of "Marlin"), Eugene Levy (voice of "Charlie"), and Hayden Rolence (voice of "Nemo") spoke candidly to the press as we learned more about Disney•Pixar's latest masterpiece focusing on diversity, acceptance, and most importantly family and friendship.
Finding Dory brings everyone's favorite forgettable fish back to the big screen in a memorable, heart-warming film packed full of life lessons for kids and adults alike, this Friday, June 17th!
Finding Dory Cast Interviews
Q: Dory's very much about going with the flow and just keep swimming and I'm wondering for each of you, are you more of a go with the flow type person or a planner?
Albert Brooks: I've never had a flow so I don't know. I'm a big planner.
Hayden Rolence: I guess I a planner to.
Eugene Levy: I like to think of myself as a go with the flow person, but I'm not. I think I would put myself in the planner category.
Kaitlin Olsen: I'm definitely a planner, and since I had kids I've turned into an anxiety ridden control freak planner. So the past two years of my life have been me consciously trying to go with the flow and let it happen. I'm trying very hard to be a more go with the flow person.
Ty Burrell: I don't think I'm a planner or a go with the flow person, which makes me a worried person without a plan.
Ed O'Neill: I don't plan. I don't really go with the flow either. I'm mostly confused. I just put one foot in front of the other. Just keep swimming. I'm up in the morning. I move around. And here I am.
Ellen DeGeneres: I'm pretty much a planner.
Q: Ellen, at D23 they showed a clip of your unofficial campaign to do a sequel. Since every other Pixar film gets a sequel, why do you think it took so long?
Ellen DeGeneres: In reinforcing what you said, I am responsible for every penny this film makes because this film would not have happened if I didn't campaign as hard as I campaigned. Thank God I had a talk show to talk about it.
It just seemed like it was obvious. The film was an iconic film. It won an Academy Award. I was a small part of it. I wasn't campaigning to have a sequel to Dory, I was campaigning for a sequel to a great movie. When it didn't happen for the first five or six years, I decided to make a joke of it. It just seemed like it was never going to happen. Then, the joke became a reality, and it became about Dory's journey. Again, I'm responsible for every single thing that happens from now on.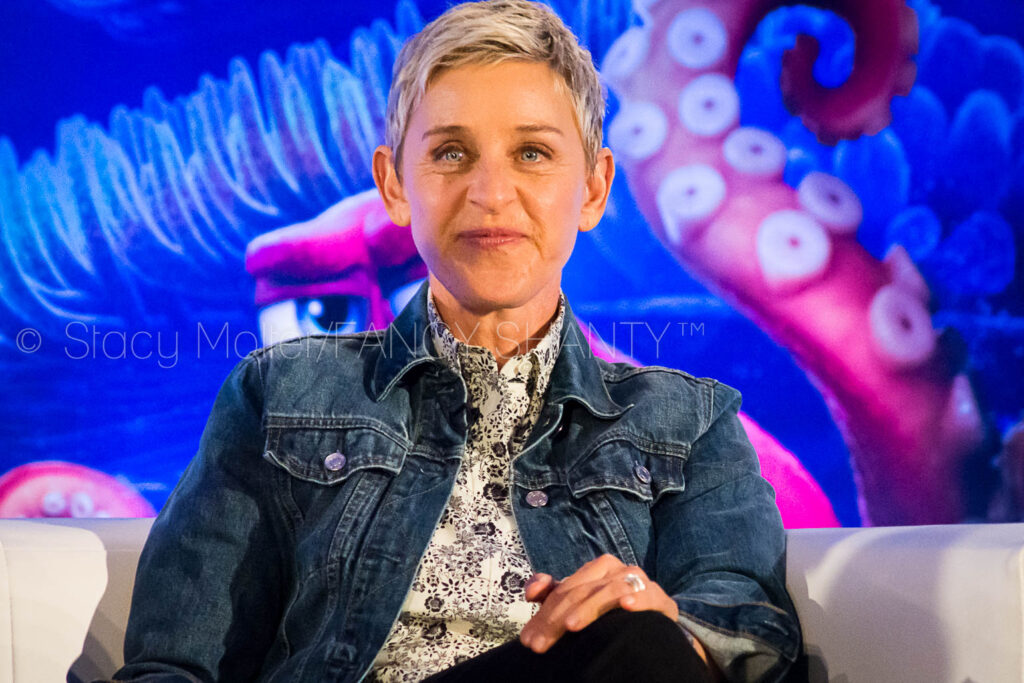 Q: This movie has a lot of diversity in it, what do you think about the rumor of a gay couple in the film?

Ellen DeGeneres: I don't know that there is and I didn't know anything about it until I heard this rumor. I watched the premiere last night and I was looking for that particular scene, and it appears that there are two women, one woman has a very bad short haircut which I find very offensive if that's the definition of a gay woman, how dare you. Just because someone has a short bad haircut doesn't mean she's gay, that's a bad hairdresser.
So I don't know if that's the case, but I think if you seen the movie several times which I recommend, if you see it four or five times, there are some gay fish in the background that you'll notice. A lot of them look very gay to me. It's not obvious until you see it a few times.
Q: Following up on that, when a conversation does begin over a presumption over two women we see in a couple second clip, is that a good thing that people are talking about this and it's coming up whether it's there or not?
Ellen DeGeneres: I personally think it's a great thing. I think everything that we see in the media, whether it's television of film, should represent everything that is happening in the world. I think the world should be seen and represented. So yes, it's a great conversation, whether they intended for it to be a woman with a bad short haircut or gay.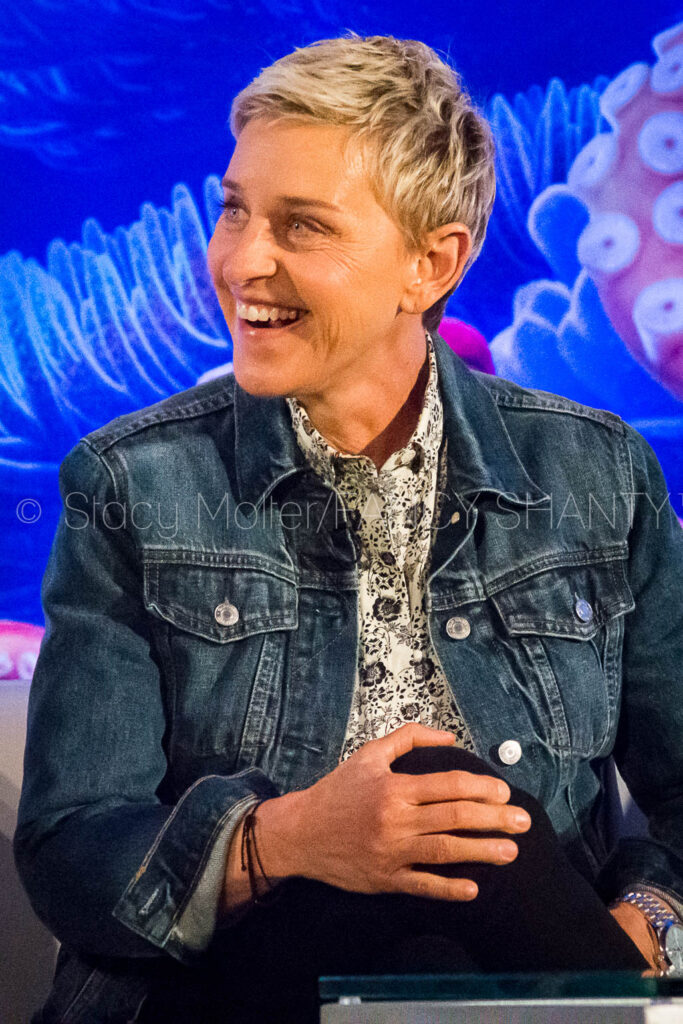 Q: Hayden, you're taking over Nemo, a classic character. Were you a Finding Nemo fan? Did you watch Finding Nemo then audition for this?
Hayden Rolence: I was a big Finding Nemo fan even before Finding Dory came out. Even before I knew I was going to be in Finding Dory. I really loved the world of Nemo and I never thought I'd be able to play him.
I was a little bit nervous at first, because he's a big character and someone everybody loves, and I wanted to do Nemo justice.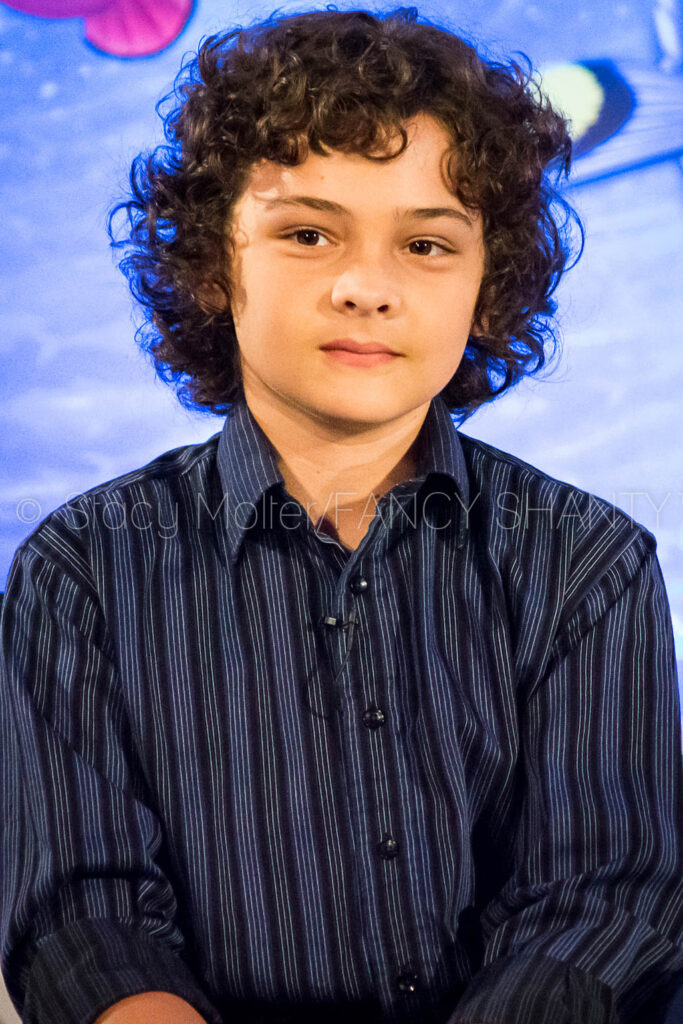 Q: Ellen, either by your nature or passage of time, have you battled forgetfulness in any form? If so, how have you tried to solve that in the clever ways Dory does?
Ellen DeGeneres: Well, I take ginkgo biloba, whenever I remember. I don't understand why they tell you to take medicine to remember things because you wouldn't remember to take the medicine.
I do have that problem with memory, not as bad as she does, but I don't try to do anything about it because it's just who I am. I just try to live in the moment and hold on to these few moments that I have.
Q: Which qualities did you give to Dory and which ones would you like to have from her?
Ellen DeGeneres: I would love to have every trait of Dory's. I try to have as many traits as she has as far as optimism, perseverance, non-judgement, and not having any resentment. She doesn't hold onto anger and doesn't feel like a victim and I think that's why she's such a lovable character that Andrew created. She really just thinks everything is possible and never for second thinks that anything is wrong with herself or anyone else. She just keeps swimming.
Q: Marlin and Dory have two very different approaches to problem solving. One is very analytical, one is taking what you got and going with it. How do you deal with problems yourself?
Albert Brooks: As you get older you forget little things, so I've come up with a new philosophy of life. If something is bothering me, I ask myself to check back in in 30 minutes. If it's still bothering me I deal with it, but a lot of it I don't remember. It's a great thing. The things bothering me at 1:30 are not necessarily bothering me at 2:00. That's my new philosophy.
Ellen DeGerenes: I do both. It just depends on the situation. Being a comedian I think I look around and analyze all kinds of things. I try to not do anything irresponsible, but I do also like to be spontaneous and take chances.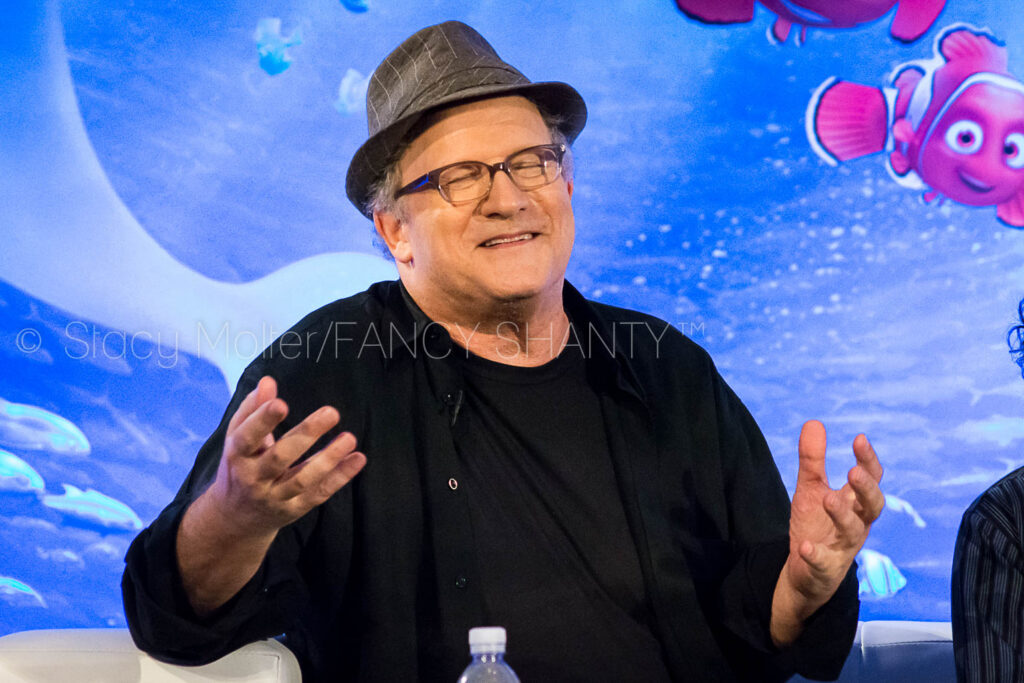 Q: Did you guys record the scene together when you finally met your parents? That was such an emotional, authentic moment. I would think that would be hard to record separately and get that emotion across.
Ellen DeGeneres: I was alone for that reunion. It was a beautiful thing to read. It was sad. It touched me. It was very emotionally for me to record that day.
Albert Brooks: The first time I read the script I welled up. I welled up a couple of times reading the script. It was beautifully written. It's not the easiest thing to do when you're not working with the other people so you are relying on the director to make sure you're giving him what he wants.
Q: Eugene, you play such a great movie dad. You're always comfortable and relatable. Every time you're a dad in a movie, I want to come in and move into your house. What is your secret?
Eugene Levy: It's called acting. I think the greatest storylines, as evident in this movie, have to do with family because that's the one thing that's most important in all our lives. Anytime you're in a familiar situation, a dad and a child, those are the stories that resonate with me because they're about something tangible and real.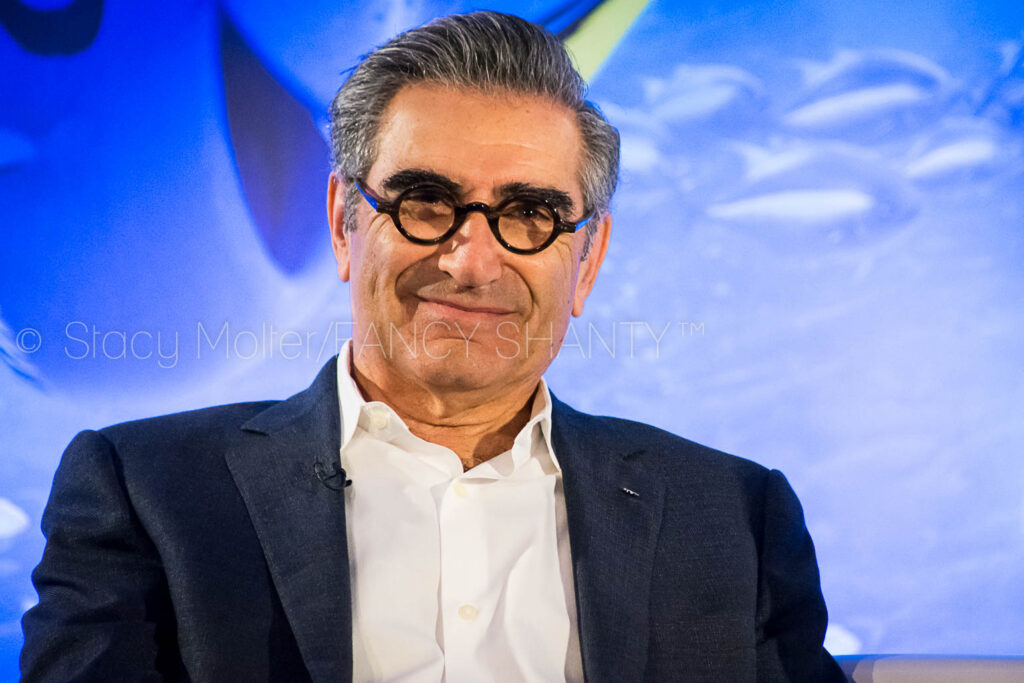 Q: For Bailey and Destiny, such a fantastic duo in this film. After seeing the final film, where do you place the relationship of those two characters? Friends on the playground or old married couple?
Kaitlin Olson: I think it was a brother/sister relationship. They are very close, but they annoy the hell out of each other.
Ty Burrell: I think so too. I feel there is a theme in the movie. Destiny can't see and Bailey's radar is all messed up. Dory can't remember, but somehow friendship can make you complete. I feel their relationship was about that. If you don't have a family you can create your own family.
Ellen DeGeneres: That we can all get along, even though we're all different species and look different, and have different traits.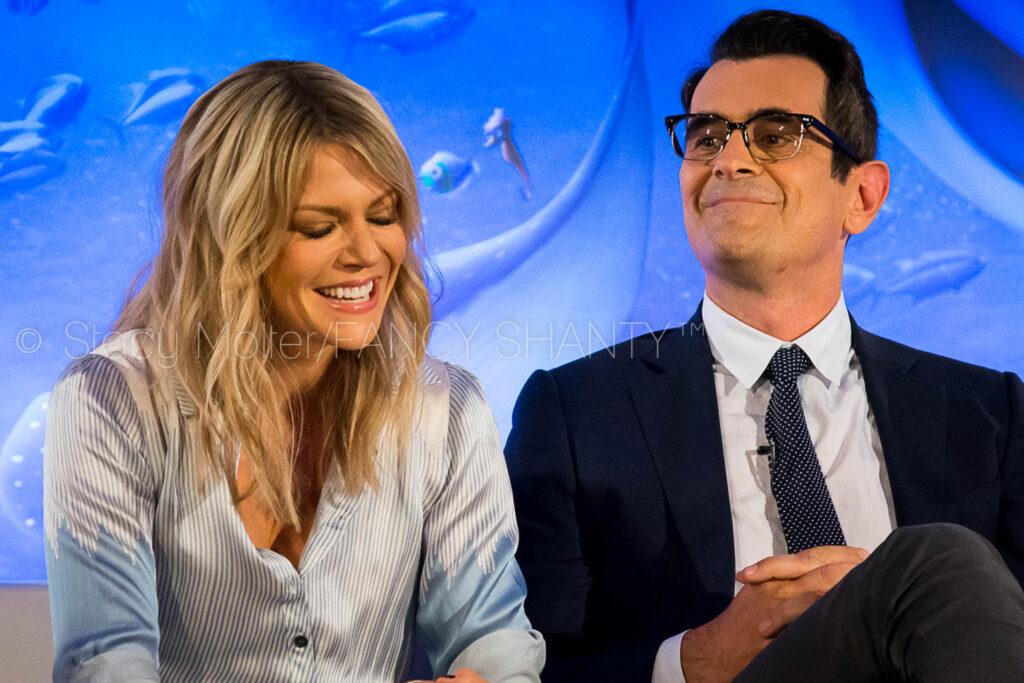 Q: Earler Andrew said that Hank in this film is what Dory was to Nemo. Does that mean we will see a subsequent movie with Hank, and will he be championing the cause on Ellen's show?
Ed O'Neill: We were just talking about that.
Ellen DeGeneres: I said that on our way out. We need to find a baby Hank. An angry, grumpy baby. Yes, there will be a campaign for that.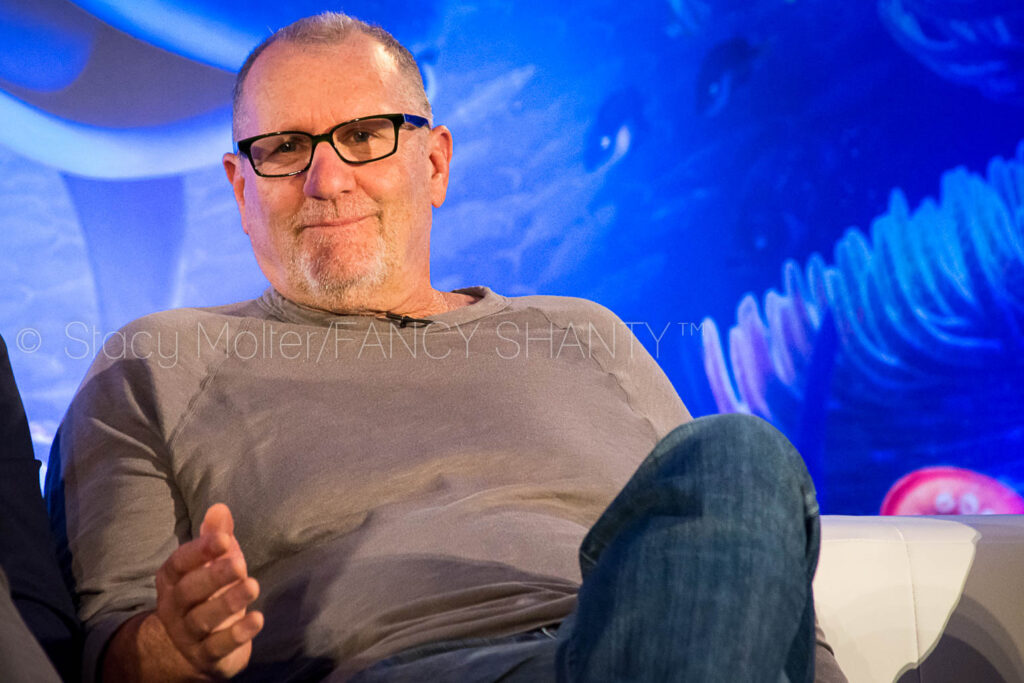 About Finding Dory
Dory (Ellen DeGeneres) is a wide-eyed, blue tang fish who suffers from memory loss every 10 seconds or so. The one thing she can remember is that she somehow became separated from her parents as a child. With help from her friends Nemo and Marlin, Dory embarks on an epic adventure to find them. Her journey brings her to the Marine Life Institute, a conservatory that houses diverse ocean species. Dory now knows that her family reunion will only happen if she can save mom and dad from captivity.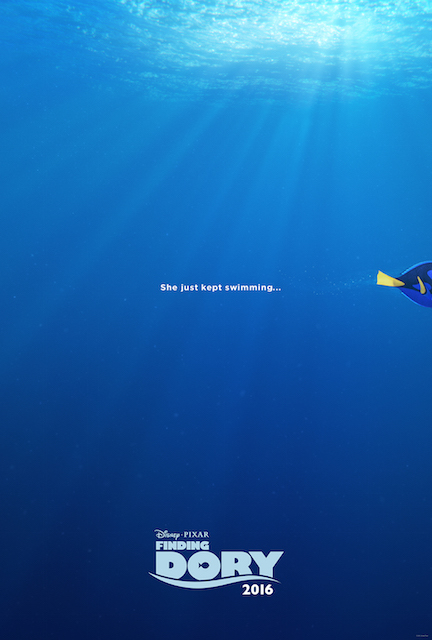 Finding Dory opens in theatres this Friday, June 17th!
Portions of this material have been provided by Walt Disney Studios.