Give your kids' (and their classmates) a holiday giggle with this set of free printable gingerbread man lunch box notes, perfect for making your kids' final days at school before the holiday break as jolly as possible.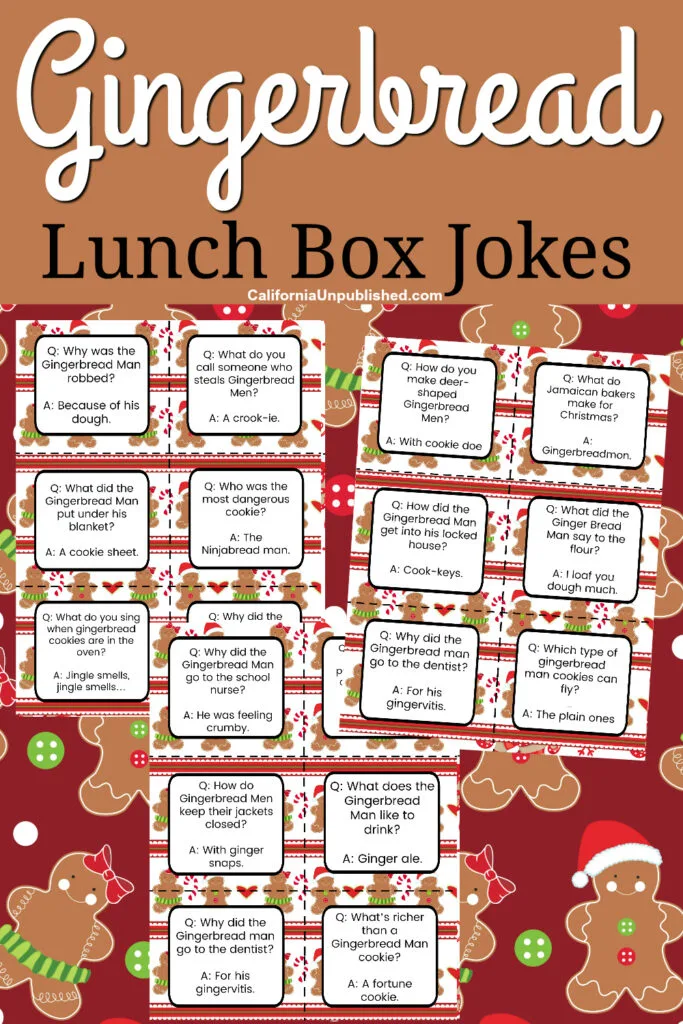 See also: Free Printable School Lunch Notes
Free Printable Gingerbread Man Lunch Box Notes
Add add a little merriment to your kids' holiday season with this cheerful set of free printable gingerbread man lunch box notes.
Simply print the .pdf file below the follow the lines to cut out each holiday-themed joke.
Then, simply slip the notes into your kids' lunch box to add a little holiday chuckle to their day.
Best of all, your kids will love sharing these jokes with their classmate, creating endless memories for the entire class.
Examples of these lunch box jokes include:
Q: Why was the gingerbread man robbed? A: Because of his dough.
Q: What did the gingerbread man put under his blanket? A: A cookie sheet.
Q: Why did the gingerbread man go to the dentist? A: For his gingervitis.
Q: How do gingerbread men keep their jackets closed? A: With ginger snaps.
Q: Why did the basketball player love gingerbread cookies so much? A: He loved to dunk them.
Q: What's richer than a gingerbread man cookie? A: A fortune cookie.
…and so many more.
The free printable contains 3 pages of 18 hilarious jokes your kids will love, in a .pdf format designed to print on 8.5″ x 11″ paper.
Download and print these free printable school lunch box notes here.
If you love these free portionable school lunch notes as much as we do, don't forget to pin them and share them with family and friends.