Hi everyone! It's Laura from www.onedishaway.com here with a simple, delicious and nutritious snack. Presenting my gluten-free buckwheat and almond flour banana nut muffin recipe!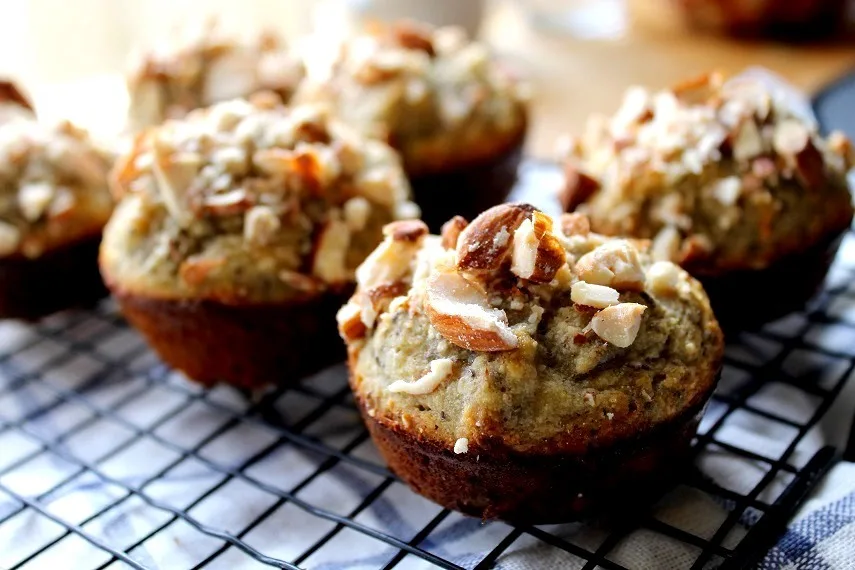 Gluten-Free Buckwheat and Almond Flour Banana Nut Muffin Recipe
This buckwheat and almond flour banana nut muffin recipe is absolutely loaded with flavor and goodness! I've swapped traditional white baking flour for a mix of buckwheat and almond flour, giving these muffins more fiber, protein and makes them gluten-free!
The chia seeds also provide fiber, protein and lots of beautiful omega 3 fatty acids, which is important for healthy skin, hair, and nails, and also helps to promote good cardiovascular health. And when you add in the deliciously sweet ripe bananas, honey, and freshly crushed almonds, they taste amazing too. What more could you want from a muffin?
Have them hot or cold, halved and slathered in nut butter, or paired with a cup of tea! Enjoy everyone!
Ingredients:
1 cup almond meal
1 cup buckwheat flour
¼ cup chia seeds
1 teaspoon baking powder
2 large ripe bananas
2 large eggs
½ cup honey
¼ cup apple sauce OR coconut/olive oil
¼ cup milk of choice (dairy or rice/almond/oat)
½ cup of raw almonds
Directions:
Pre-heat oven to 180 degrees Celsius or 350 degrees Fahrenheit.
Make a well in the center of your dry ingredients and pour in the banana mix. Stir until well combined.


Divide the mix into a greased/lined 12 hole muffin tin.