Sandy Powell (Costume Designer) has won three Academy Awards® for her work on "The Young Victoria" for Jean-Marc Vallée, "The Aviator" for Martin Scorsese and "Shakespeare in Love" for John Madden. She has been nominated for an Oscar® seven additional times for her work on "Orlando," "The Wings of the Dove," "Velvet
Goldmine," "Gangs of New York," "Mrs. Henderson Presents," "The Tempest" and "Hugo."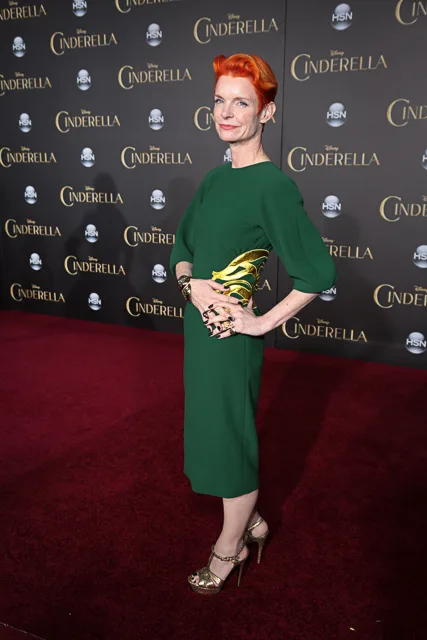 She has received two BAFTA Awards, for "The Young Victoria" and "Velvet Goldmine," and has also been nominated nine times. In 2011, Powell was appointed an Officer of the Order of the British Empire for services to the film industry.
We had the opportunity to sit with costumer designer Sandy Powell during the Cinderella press conference, where she shared her inspiration behind the amazing costumes in the film, the iconic glass slipper, and of course Cinderella's gorgeous wedding dress. Cinderella' is rated PG opens in theaters March 13th, 2015.
Interview: Cinderella Costume Designer Sandy Powell
Q: What were your primary considerations for the costume design? The attention to detail in the embroidery is meticulous. It's stunning. The women's costumes, like Cate Blanchett in the very 40's inspired with colors of the blues, the greens, the golds. How did all of this come together for you when designing this?
Sandy Powell: My primary concern with the ball gown was its movement, getting the color right, and actually what I wanted above anything else was to make it move. The most important things she does in the movie is dance in it, and runaway in it. So it had to look lovely as she was doing both of those things, especially the running away.
And then I needed it to be able to be seen at night. One of my original ideas was to have it light up from inside, but I wasn't going to literally do that. I wanted the whole feeling of it to be light, in movement and light in tone as well, but also have movement in the color.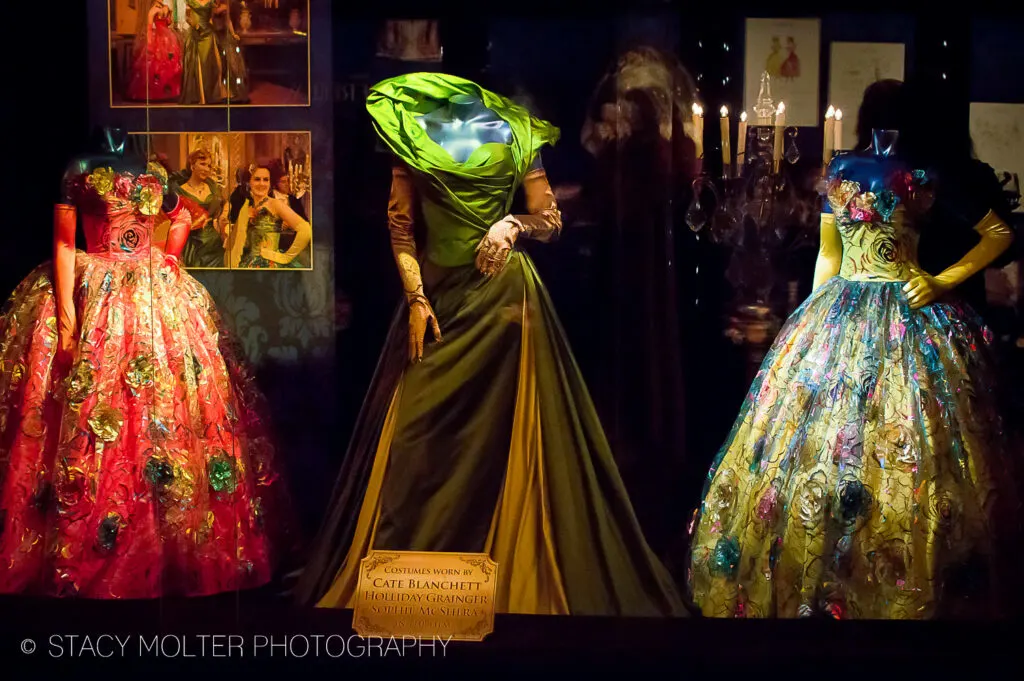 Q: How many layers did you have under there? And what fabric did you use?
Sandy Powell: Not that many layers. There's a crinoline cage which gives it the silhouette. Over the top of that there's a couple of petticoats with lots frills on the bottom that you get to see when she dances and when she jumps, and there are frills on the inside of the crinoline as well.
Then the layers over the top, there's only about five or six layers of very, very fine fabrics. The very top layer is a silk, it's called silk crepeline, which is a little bit heavier than a chiffon, not quite as wafty.
The layers underneath that are a polyester fabric, or yulisima, which is a new fabric we have discovered which is really, really light. I used different colors of that, a green, and a blue, and a lavender, and a lilac, a silvery color. The base layer was a really cheap fabric, an iridescent pale white color that we put a bit of blue through. That's the one the light bounces off. It looks like there's more to it than there is, it's actually very, very light, but there is a lot of fabric. There's 270 yards of fabric in each dress, and we made eight of them.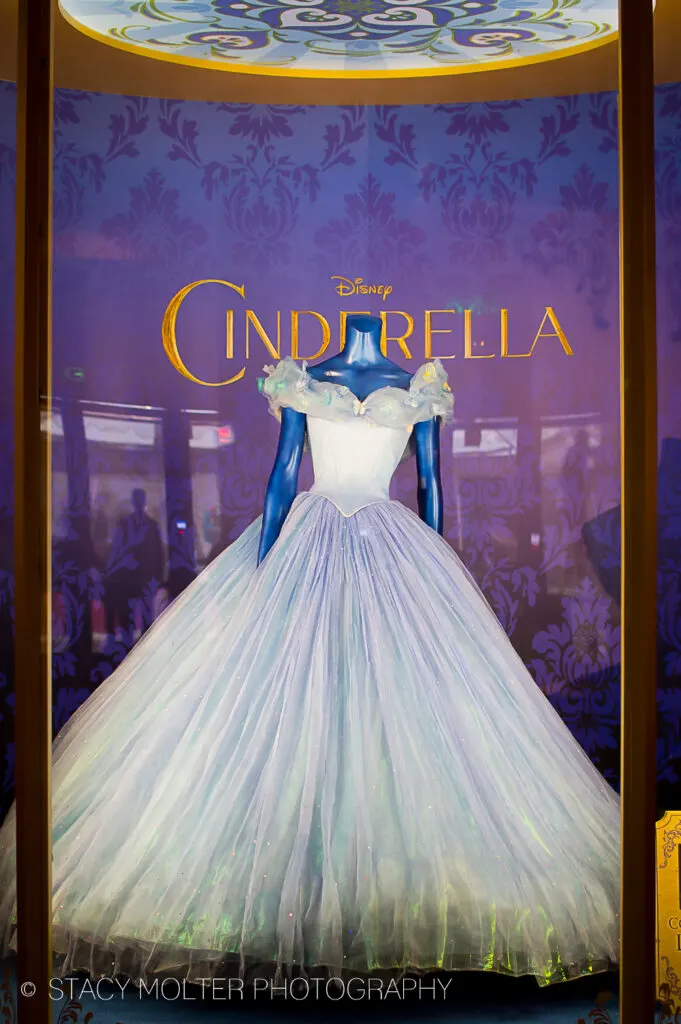 Q: With the men's costumes, the embroidery and the detail, and the use of the colors, the blues, the greens, and the golds. How did that come about?
Sandy Powell: We knew that the men were all going to be military. With the Prince and the Captain of the Guard, who is his right hand man, and the King, were all military. Then the Grand Duke is diplomatic, he's not military, he's diplomatic which is all the embroidery.
The colors for the Prince I knew were going to be the green when we first see him hunting. For me that had to be green, but I put the bits of blue in the crevant and his vests because it suited him. He has those fabulous blue eyes, so he always had to have a bit of blue going on.
Then I had to decide on the colors for the palace. It was sort of like deciding the royal colors, and that's what all the servants wear. What all the soldiers wear, was that sort of turquoise blue and gold.
Q: What did you go through with Swarovski to design the shoe, and why the heck couldn't they make one she can walk in?
Sandy Powell: I didn't immediately go to Swarovski for the shoe because I thought I was just going to somehow do it in glass. We were looking into people who blow glass and make glass, and wondering how's this going to work.
Then I thought what's it actually going to look like if it's just flat glass with toes stuck in, it's not going to look that attractive. I thought it needed to have something else to it. It's going to be held, and seen, and iconic.
Then I went to museums and looked at glass. I was looking at engraved glass and colored glass, it didn't have to be clear. Then I saw a piece of chandelier crystal and how the light hits it and goes through it, and reflects, and thought that's what it's got to be. It's got to absolutely light up on its own, at which point the only place to go for crystal is Swarovski.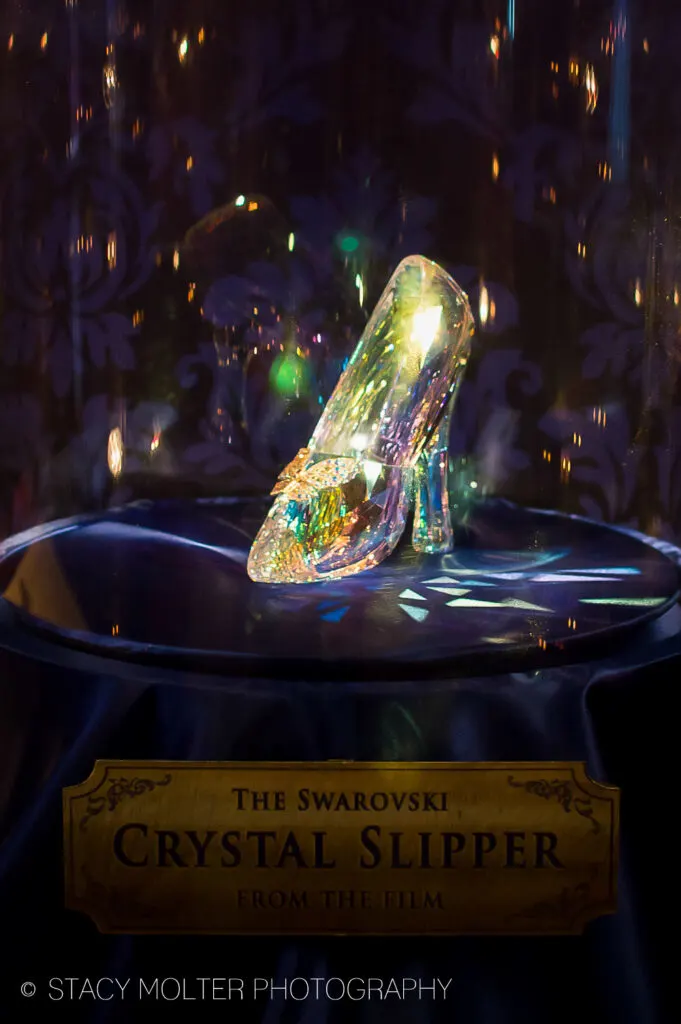 Q: What was the inspiration behind the stepmothers and step sisters dresses?
Sandy Powell: The look of the whole film is sort of 'once upon a time' period, sort of in and around the 19th century with a bit of the 18th century thrown in the palace. Then I thought it doesn't have to be strictly that, it doesn't have to be a strictly period film.
I don't know how I came across looking at 1940's films, but I guess Cate sort of reminded me of film noir actresses, like Joan Crawford, Marlene Dietrich. She's just got the bends, and the figure, and the rest of it.
Then I looked at their films that they've done, set in the 19th century made in the 1940's, and I rather liked the fact you could tell it was the 1940's with shoulders and pointy breasts, but 19th century. So I looked at a lot of 1940's fashion and then made it a bit 19th century, and with the sisters I upped them a decade and made them a little bit more 50's.
Q: Can you speak a little bit about the development of the wedding dress? It's so breathtaking.
Sandy Powell: The wedding dress was probably one of the hardest things to do because it had to follow the ball gown. I thought, the wedding dress can't be bigger than the gown. There's no point doing the same shape in another color, and how do I make it different. So in a way I suppose the ball gown is sort of based on a mid 19th century look, and the wedding dress is based on a later 19th century look, which is more streamline and elegant.
I wanted it to look a bit more grown up and sophisticated, and it obviously was going to have to be a pale color. One of my initial ideas for the ball gown was to use flowers, and then I went away from that. I didn't want to over complicate that. So I came back to the idea of flowers for the wedding dress. I didn't want it to be completely white. I wanted it to have some color in it, so we did the hand-painted flowers. The inspiration for that was from 1950's dresses, dresses like knee-length dresses and circular skirts with the painted yellow and pink roses.
Q: A dress that could not have been comfortable for anybody, but is stunning, Helena Bonham Carter, the Fairy Godmother dress.
Sandy Powell: It was only uncomfortable because of all the lights. She had to carry a battery pack.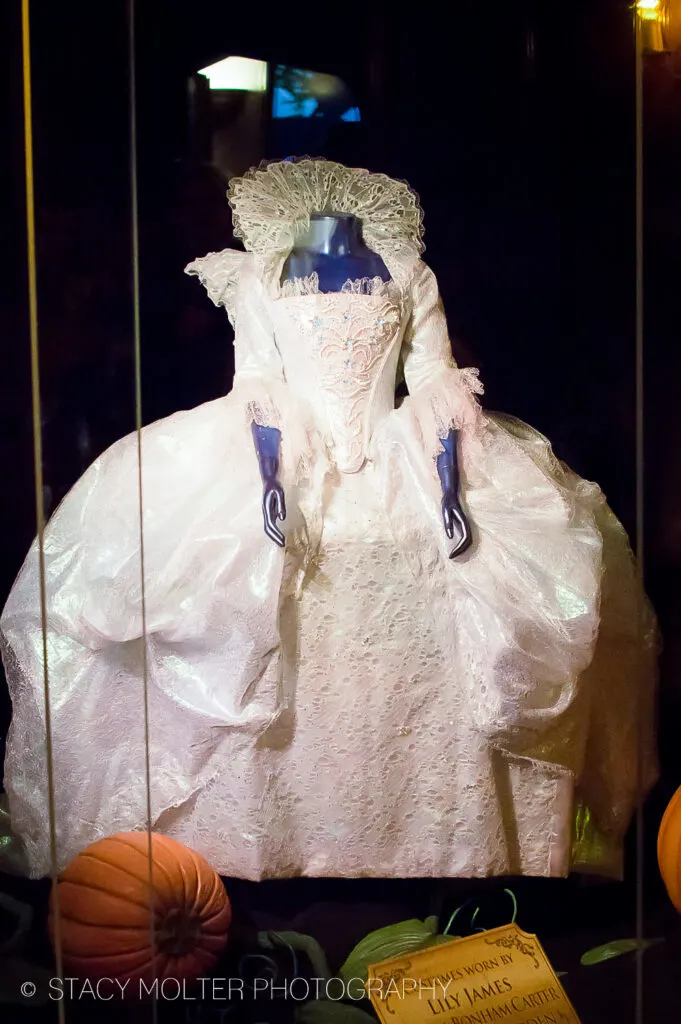 Q: Have you ever designed a lighted dress before?
Sandy Powell: No, I haven't. I wished I had more time to develop that one. I had this idea that I wanted it to light up, and it did, but it was quite complicated. We worked with a technician a lot, there's 400 led lights on it on different circuits, so the bodice lights up differently from the skirt. The idea was to have a different sequence of patterns happening. It was actually quite complicated.
About Cinderella
The story of "Cinderella" follows the fortunes of young Ella (Lily James) whose merchant father remarries following the death of her mother. Eager to support her loving father, Ella welcomes her new stepmother (Cate Blanchett) and her daughters Anastasia (Holliday Grainger) and Drisella (Sophie McShera) into the family home. But, when Ella's father unexpectedly passes away, she finds herself at the mercy of a jealous and cruel new family.
Directed by Academy Award®-nominee Kenneth Branagh ("Thor," "Hamlet") and starring Academy Award-winner Cate Blanchett ("Blue Jasmine," "Elizabeth"), Lily James ("Downton Abbey"), Richard Madden ("Game of Thrones") and Academy Award-nominee Helena Bonham-Carter ("The King's Speech," "Alice in Wonderland"), "Cinderella" is produced by Simon Kinberg ("X-Men: Days of Future Past," "Elysium"), Allison Shearmur ("The Hunger Games: Catching Fire") and David Barron ("Harry Potter and the Deathly Hallows"). The screenplay is by Chris Weitz ("About a Boy," "The Golden Compass").
Visit the official CINDERELLA Website. Like CINDERELLA on Facebook. Follow CINDERELLA on Twitter. Follow CINDERELLA on Instagram. Follow CINDERELLA on Pinterest. Follow CINDERELLA on Google +.
Portions of the material for this event has been provided courtesy of Walt Disney Studios, all opinions are my own.