Kenneth Branagh (Director, pictured far left) is one of the world's most consistently-acclaimed fi lmmakers and actors. As an actor and director, Branagh's work is trademarked by quality, truth and passion.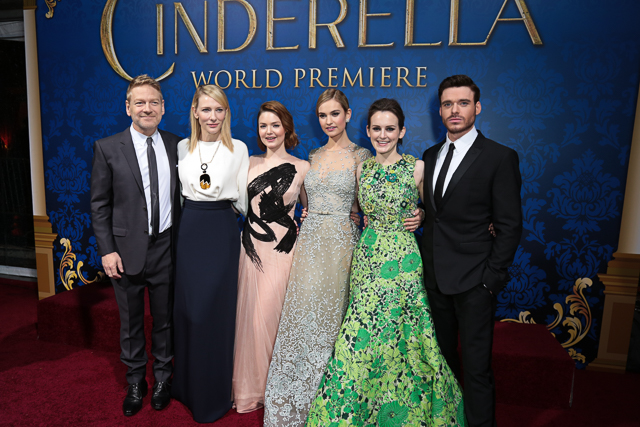 He most recently directed the newest installment of Tom Clancy's "Jack Ryan" franchise for Paramount, which he also starred in alongside Chris Pine and Keira Knightley, in January 2014. Additionally, he recently starred in and co-directed "Macbeth" for the Manchester International Festival in the summer of 2013. In June, 2014, Branagh reprised the same role and made his New York stage debut in the production of "Macbeth" at the Park Avenue Armory, which premiered to rave reviews and was a critical and commercial success. He was also recently knighted for services to drama and the community in Northern Ireland by Queen Elizabeth II.
Chris Weitz (Screenplay by) was born in New York City, the son of actress Susan Kohner and Berlin-born novelist/fashion designer John Weitz (born Hans Werner Weitz). His brother is fi lmmaker Paul Weitz. He is the grandson of agent Paul Kohner and Mexican actress Lupita Tovar on his maternal side. His grandmother, Lupita,
starred in "Santa," Mexico's first talkie, in 1932.
Allison Shearmur, p.g.a. (Producer) is a Los Angeles-based fi lm and television producer. She is currently producing: "Pride and Prejudice and Zombies," based on Seth Grahame-Smith's best-selling novel, written and directed by Burr Steers and starring Lily James and Sam Riley; "A Tale of Love and Darkness," written, directed
by and starring Natalie Portman; "Nerve," written by Jessica Sharzer and directed by Ariel Schulman and Henry Joost, which will star Emma Roberts and Dave Franco; and "Power Rangers," with Haim Saban and his company.
David Barron, p.g.a. (Producer) recently served as producer on David Yates' "Tarzan," starring Christophe Waltz, Alexander Skarsgård and Samuel L. Jackson. Previous producing credits include "Frank," starring Michael Fassbender, and the blockbusters "Harry Potter and the Order of the Phoenix," "Harry Potter and the Half-Blood
Prince" and "Harry Potter and the Deathly Hallows – Part 1 and Part 2." He was also an executive producer on both "Harry Potter and the Chamber of Secrets" and "Harry Potter and the Goblet of Fire."
We sat with Director Kenneth Branagh, Writer Chris Weitz and Producers Allison Shearmur & David Barron as they share their ideas behind sweeping crane shots, staying true to the animated classic Cinderella, and the qualities the looked for when casting Cinderella. 'Cinderella' is rated PG opens in theaters March 13th, 2015.
Interview: Director Kenneth Branagh, Writer Chris Weitz and Producers Allison Shearmur & David Barron
Q: Kenneth, this is a perfect marriage of your cinematic understanding, your love of classic old Hollywood film and theater. How did you and Haris go about developing your visual tone for this film? You have your sweeping crane shots, much like the little CGI blue birds do, and everything goes in tandem with your score which runs through the entire film.
Kenneth Branagh: We kept talking really early on between all of those key department heads. So we would sit down and I would talk with Patrick Doyle our composer, Haris Zambarloukos our VP, Sandy Powell our costumer designer, and we would talk about what was required.
We would reference movies like, for what it's worth 'Gone with the Wind' for the ballroom sequence, and the 'Wizard of Oz', and one of Dante's film 'The Age of Innocence'. Amélie, for some of those shots you recall in Amélie, there's some delicious sweeping shots that would seem to us to be a reference for a sort of delight in romance, a passion, and an expression of love really.
The desire was to bring the audience immersefully into this world. We wanted to take people to the ball, and take people on that sensory experience in every scene and every sequence.
Q: Adding so much to the visual tone of the story itself Ken, is the use of color and the fact that you shot on film and went with the panovision lenses. I'm thrilled that you did. What was your reasoning for shooting on film, and your decisions in terms of color with your rich blues, your greens, your golds, and the development of that color throughout the film?
Kenneth Branagh: It was kind of a cross conversation. Haris Zambarloukos did 'Thor' with me and we also shot that on film. We talked about some of the films we referenced, and some of the lush we were after.
The notion of shooting on film became something we were all excited by. We also felt in the curious paradox of it, although we talk about a world of magic that had been in many people's minds a cartoon, we wanted strangely to make it feel as real as possible.
So Dante Ferretti was forever saying no blue screen, no green screen, I want to build it. So it all was a 360 construction that meant when all those extras, and all those characters did walk in there you really did feel like you were in the place. No extra imagination was required when we were shooting it. We weren't trying to be particularly old-fashioned, we just felt it was a classical approach to it.
Q: It all starts with the story. It starts with the fairytale. It starts with Disney 65 years ago, but then it starts with your story and how you have brought it into the present so it's still timeless. What were your considerations in tackling this project and bringing the story to life now?
Chris Weitz: I think it starts with Ken, he's the guy that leads the charge on all this stuff, so I'm writing his movie.
I think the challenge in this case, and I think we'd all agree, is to resist irony and snark which is kind of one of the default ways that we can approach these classic, old stories. At the same time, to try to make something that has some sort of social relevance. Which is to say, we know loads of little girls are going to be watching this, it's going to affect them to say that Cinderella is not a character that is just waiting around for someone to save her, but who is resilient and self reliant, and at the same time to not make it so contemporary that she is starting her own business or learning martial arts. To still make it feel like it's of a piece with the Disney animated film and the fairy tales that we love so much. That's the real challenge.
Q: How do you still stay true to the classic, and still keep that fairytale magical touch that Disney brings out?
Allison Shearmur: You actually gave the answer. It's magic. I would say that it's still the story of Cinderella, I don't think anyone can watch the film and say we didn't tell the story of Cinderella. I don't think that any of the magical romantic expectations we bring to it have been left aside. All the emotional expectations we have, whether it's about transformation, or it's about magic, or it's about romance, they're absolutely satisfied in this version. We never approached it, not loving what it was, not denying what it was.
Q: How did you go about creating three-dimensional characters, and creating strong women for this movie? What were your must haves in your script?
Chris Weitz: We felt really that we must have a prince who we know enough to believe that somebody ought to fall in love with him, not just because they're rich and powerful. That meant building out the character in terms of someone who has ideas, he has a father who loves him, who goes through loss.
As well with Cate's character, not doing too much of a revisionists thing where she was suddenly the heroine of the movie, but understanding a bit about why she may have ended up the way that she does. So she's not a motiveless malignity, but someone who has suffered in her life as well, just took a different tact about how to deal with it. She is not kind.
I think the more you do that, the more you see the way that the characters behave is influenced by the way that they were brought up as opposed to influenced by the demands of the story.
Q: What was the main quality you were searching for when casting Cinderella?
Kenneth Branagh: Good question. Easy, effortless, generosity of spirit. When I heard Lily James' voice, I felt as though I was hearing kindness in this voice. And across a complicated rehearsal and audition process, she maintained this kindness, and interest, and sense of humor. She clearly took the work very seriously, but wasn't taking herself too seriously.
Q: What was your favorite animated scene to bring to life on live action?
Chris Weitz: For me, it was fun to take the notion of when Cinderella and the Prince talk, which you can actually hear them talk. You know that they have had something to say to each other. To be able to fill that in a bit. To be able to riff on something that people are already familiar with, it's a real treat.
Q: Why do you think the story of Cinderella remains so timeless? It's beloved by everyone no matter what age you are.
Allison Shearmur: She's an underdog. A total underdog. She loses her folks. She barely can stay in this house. She is really put in an untenable situation, and she not only transcends it, but transforms everyone around her. That's why whenever you hear people talk about Cinderella stories, it's because they're an underdog.
About Cinderella
The story of "Cinderella" follows the fortunes of young Ella (Lily James) whose merchant father remarries following the death of her mother. Eager to support her loving father, Ella welcomes her new stepmother (Cate Blanchett) and her daughters Anastasia (Holliday Grainger) and Drisella (Sophie McShera) into the family home. But, when Ella's father unexpectedly passes away, she finds herself at the mercy of a jealous and cruel new family.
Directed by Academy Award®-nominee Kenneth Branagh ("Thor," "Hamlet") and starring Academy Award-winner Cate Blanchett ("Blue Jasmine," "Elizabeth"), Lily James ("Downton Abbey"), Richard Madden ("Game of Thrones") and Academy Award-nominee Helena Bonham-Carter ("The King's Speech," "Alice in Wonderland"), "Cinderella" is produced by Simon Kinberg ("X-Men: Days of Future Past," "Elysium"), Allison Shearmur ("The Hunger Games: Catching Fire") and David Barron ("Harry Potter and the Deathly Hallows"). The screenplay is by Chris Weitz ("About a Boy," "The Golden Compass").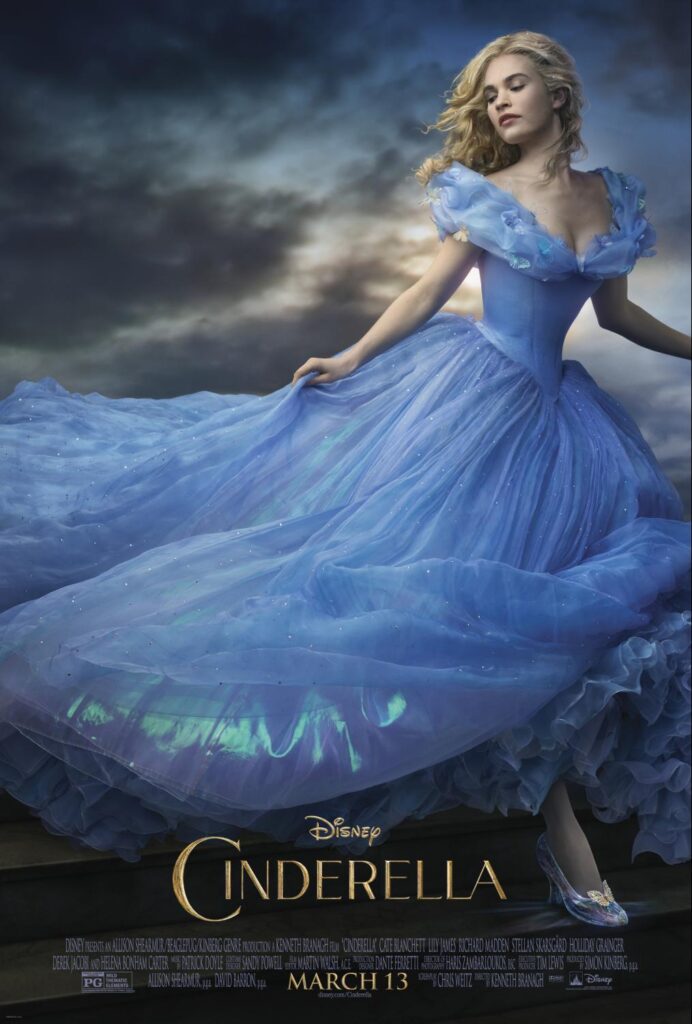 Visit the official CINDERELLA Website. Like CINDERELLA on Facebook. Follow CINDERELLA on Twitter. Follow CINDERELLA on Instagram. Follow CINDERELLA on Pinterest. Follow CINDERELLA on Google +.
Portions of the material for this event has been provided courtesy of Walt Disney Studios, all opinions are my own.