Growing up with two older brothers in school, our youngest son has been eager to start school for a couple of years now. Unfortunately though, not many private schools in our area offered a TK program or below.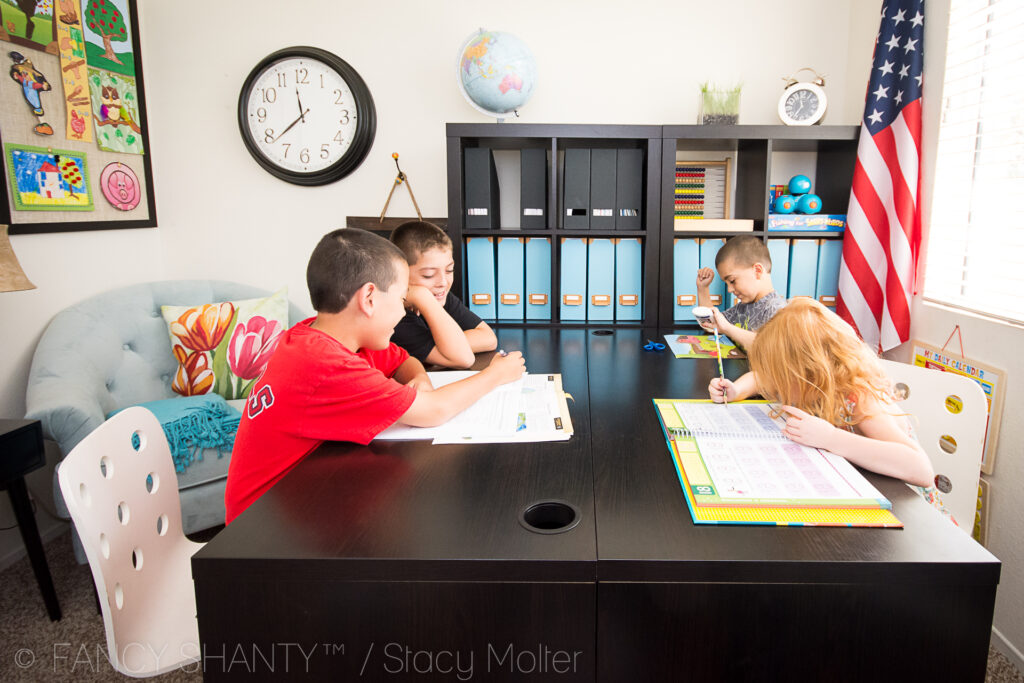 But now, since we're homeschooling he can finally begin 'official' school with his brothers and begin learning more than just his ABC's and 123's.
Kindergarten Homeschool Schedule
Our K4 grade homeschool schedule is much more relaxed than our elementary grade homeschool schedule, with less class time and more basic subjects.
We begin our kindegarten schedule at the same time as our elementary grade homeschool schedule, but unlike our elementary grade curriculum we start the day with Phonics and Reading and end the day with Numbers.
Here's our planned daily 4th grade homeschool schedule.
8:00 AM – Bible/Pledge of Allegiance (15 minutes)
8:45 AM – Phonics (10 minutes)
9:15 AM – Reading (5 minutes)
9:45 AM – Writing (10 minutes)
10:10 AM – Numbers (10 minutes)
10:30 AM – Phonics/Numbers Review (5 minutes)
11:15 AM – Art/P.E.
As you can see he has ample time between each subject to get the wiggles out with his little sister so he can come back and sit with proper habits for his next lesson. This also give me time to still be able to help our 4th graders without them loosing any school time.
During his breaks we often supplement his curriculum with our favorite LeapFrog videos his older brothers grew up with.
Videos like the ones below make the perfect addition to his curriculum. Best of all, his little sister loves them too giving her a jump on her education.
Of course there are many more LeapFrog learning videos available on DVD and Amazon Instant Video, many of which we'll be adding to our collection as our children grow.
This combination grade schedules works wonderfully for our family, and I hope this schedule serves as inspiration for you to create a combination grade schedule for your family!
This post may contain affiliate links.