What's sure to be this year's summer blockbuster event, Captain America: Civil War easily ranks as the best film in the MARVEL Cinematic Universe. Complex, intelligent, and ridiculously awesome, Civil War exceeds all expectations bringing the humor and action MARVEL fans have come to love. Captain America: Civil War opens in theaters this Friday.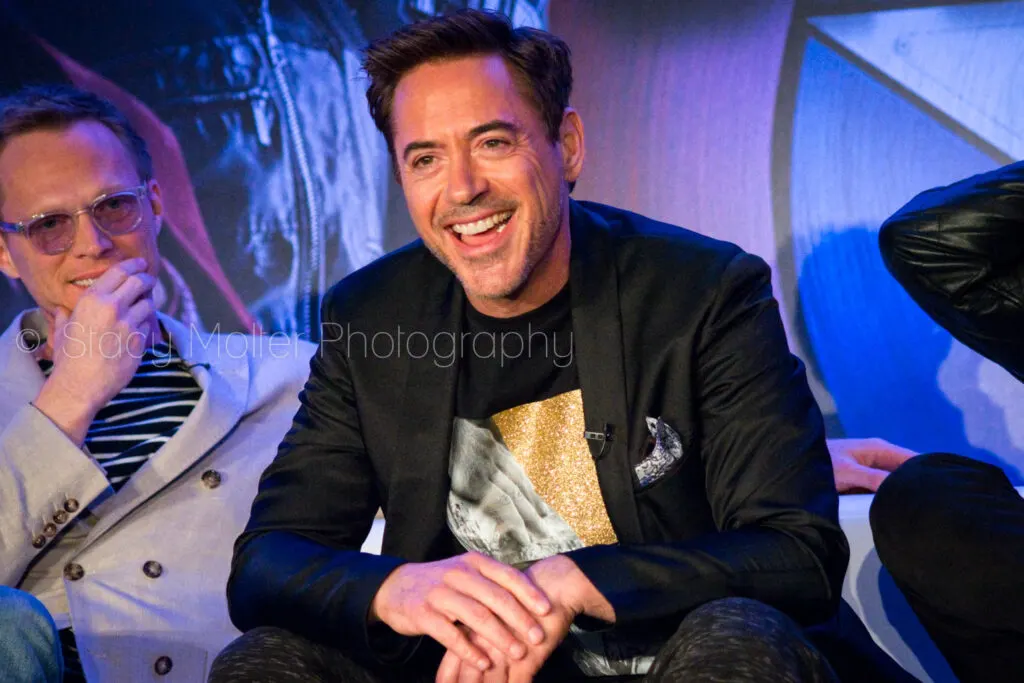 See also: MARVEL's Captain American: Civil War Press Conference #TeamCap, MARVEL Avengers Age of Ultron Press Conference, MARVEL's Ant-Man Press Conference
More: Marvel Cinematic Universe Press Conferences
Team Iron Man wasted no time in kicking off the MARVEL Captain America: Civil War press conference last month in Los Angeles with laughs and even a few questions from Robert Downey Jr. himself. Kevin Feige shared his respect for the complete ensemble cast and Anthony Russo gave us an insight into the flawless integration of Spiderman, a task he doesn't think anyone other than Kevin Feige could do.
The Team Iron Man press conference included: Robert Downey Dr. ("Tony Stark / Iron Man"), Don Cheadle ("James Rhodes / War Machine"), Paul Bettany ("Vision"), Emily Van Camp ("Sharon Carter / Agent 13"), Director Anthony Russo and Producer Kevin Feige.
Captain America: Civil War opens this Friday, May 6th, in theaters everywhere.
MARVEL's Captain America: Civil War Press Conference #TeamIronMan
Q: Robert, I feel like over the course of these films we've seen the layers of Tony Stark peel back to reveal an emotional center. Do you feel that's the case and how does that continue in Civil War?
Robert Downey Jr.: As for the evil arc of Tony over these bunch of years, I think anyone who sticks around for more than a minute and joins the party here, that's where MARVEL has really done some smart moves in making sure there really are some emotional boundaries.
Q: Even though Civil War has this unbelievable emotional pull, I wanted to ask if you thought there were certain technological advances that allowed for this movie to happen in the extraordinary way that it does?
Anthony Russo: Part of the popularity of these special effects driven movies is the fact that technology is such an incredibly high value. Every couple of years it changes. You reap the benefits if you push forward on every film and this movie has a very remarkable sequence where Robert Downey Jr. plays a 20-year-old man. Which is pretty incredible. He plays someone around the age he was when we first saw him on-screen. It took months and months of work to accomplish that shot. It's very complicated to manipulate the face in a way that looks realistic. In fact, it was the last shot completed for the movie and was dropped in just 5 days ago.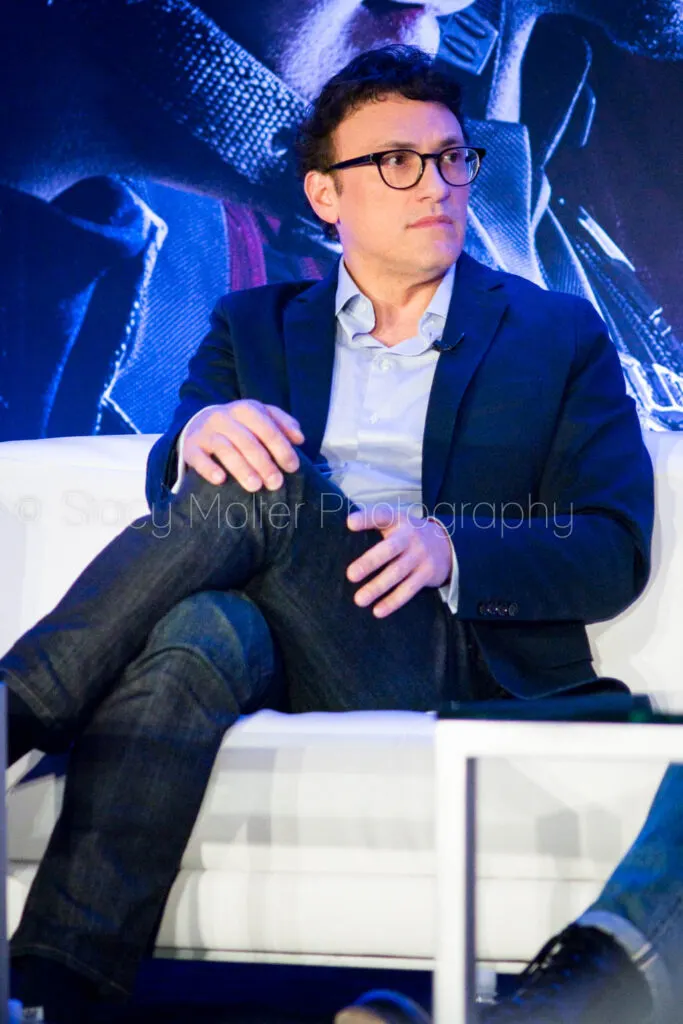 Question asked by Robert Downey Jr. to Paul Bettany
Q: What was it like hanging from a wire for six or eight days? There was an entire week where I saw you suspended in the air.
Paul Bettany: I really enjoy wire work. I like the freedom of it. I dream of flying. You have to balance that out with being suspended by your testicles. It's really a double-edged sword.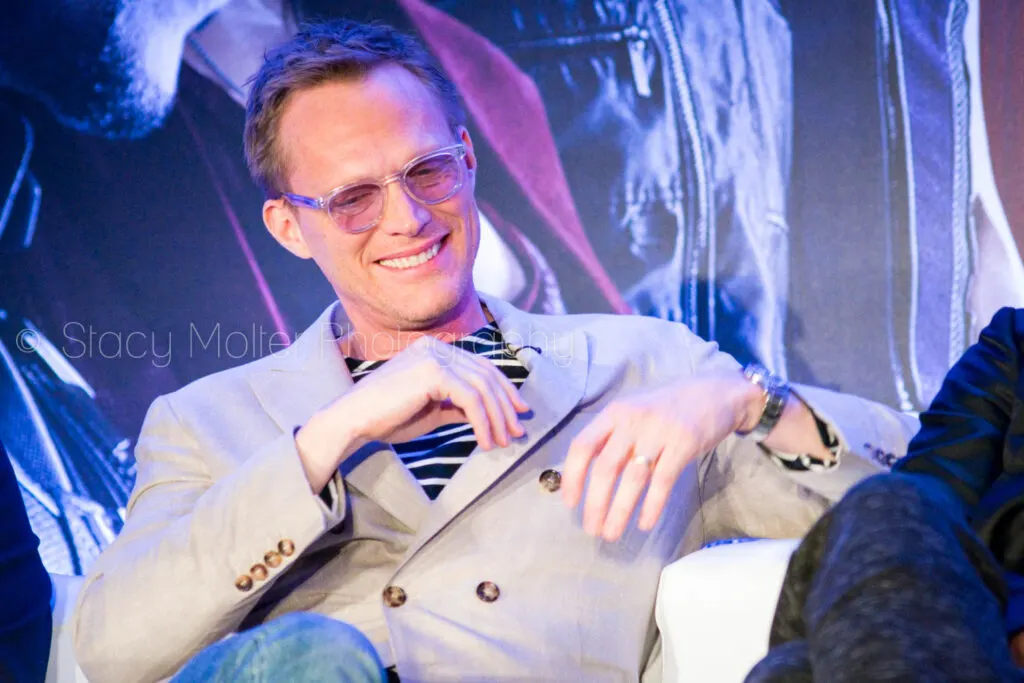 Q: Do you find yourself visiting the set and getting completely jealous of all of the magical things these folks go through in the heat?
Kevin Feige: I don't know if I'm jealous of the heat. I'm in awe of all of them. I'm in awe when they're in costume. I'm in awe when they're out of costume. There's never been an ensemble like this in cinematic history. It's really astounding. We had to break it up into two panels today because everyone is a headliner and getting them in a room together is pretty awesome.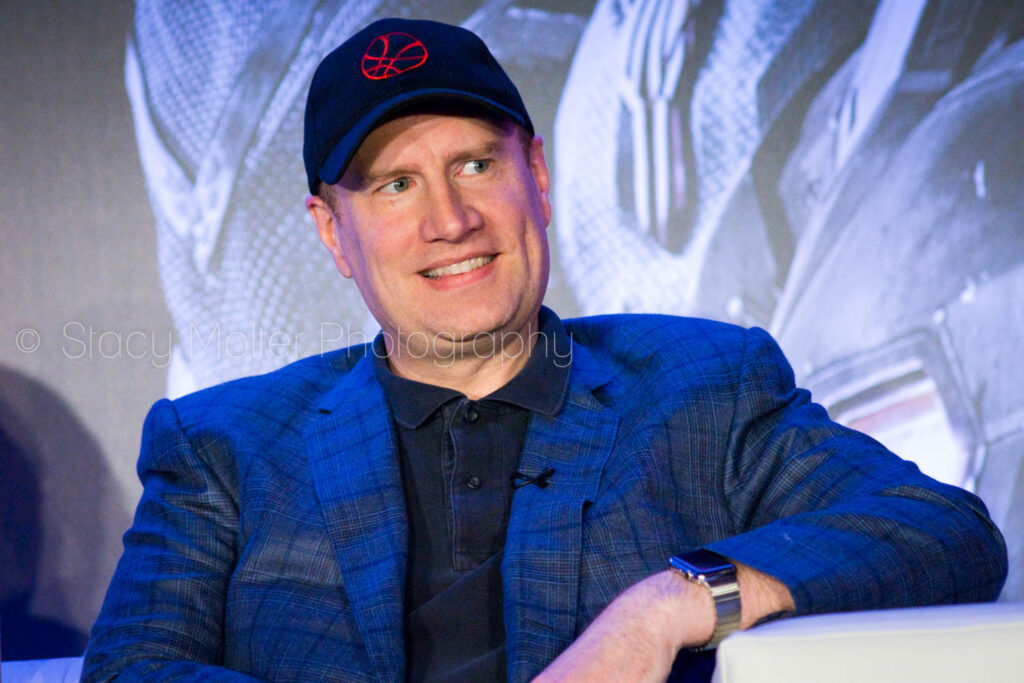 Q: Can you talk about bringing Spiderman into the mix? It was so flawlessly done. Did it feel forced at all or is this one of the amazing aspects of the film?
Anthony Russo: It was very important to us, all four filmmakers. We knew we wanted to tell a very complicated story between Captain America and Iron Man, a story that went to really dark places. We're big fans of balance in storytelling and really well-rounded movies, movies that make us laugh and cry. For us it became very important to find a way to change the dynamic and modulate the tone in the movie by bringing in characters that didn't have the same emotional investment that the Avenger's have with the events that unfolded, very serious and complicated events.
To bring in characters like Spiderman and Ant-Man who don't have that baggage, it gave us an opportunity as storytellers to bring new colors into the film at a deep place in the movie. I think it balanced that big fight they have with one another at the airport. I don't think many people could have pulled off getting Spidey in this film except for Kevin Feige.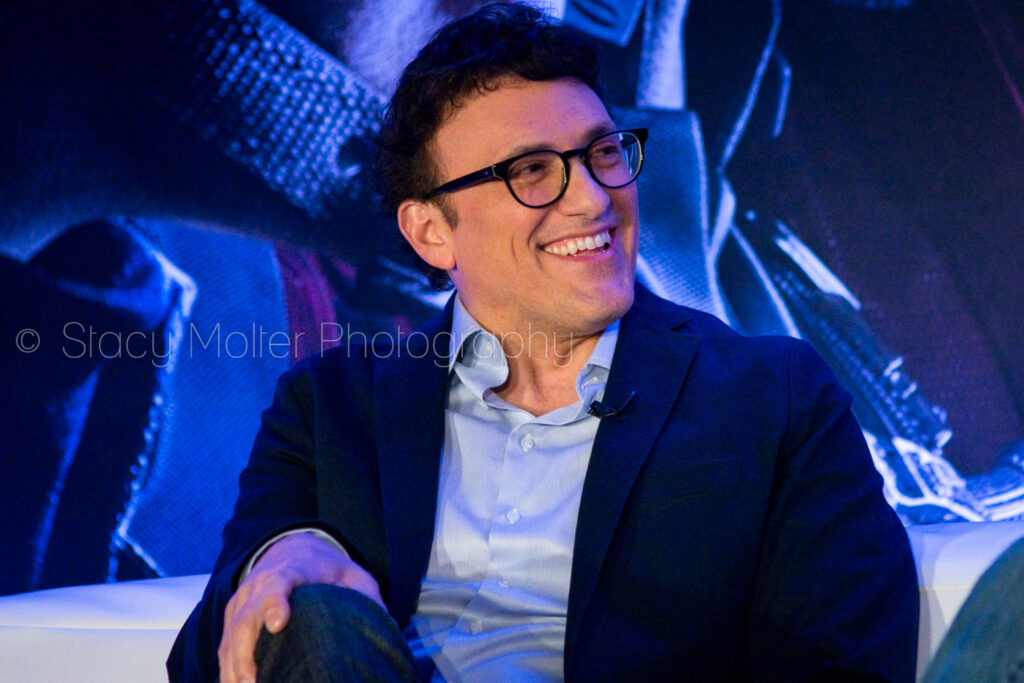 Q: Kevin, Black Panther does such an amazing job and has a great role to play, and Chadwick Boseman was phenomenal in his performance. How did you decided that Black Panther was going to be an essential part of the story and what stood out during the process of casting that made you know Chadwick was the guy for the role.
Kevin Feige: It was relatively early on in the development process that we thought it would be very valuable to have somebody sort of in the way, that Anthony was talking about Spidey and Ant-Man. People that weren't quite as invested. We wanted somebody who was perhaps invested but didn't have an alliance to any one side, who was essentially in it for very personal reasons themselves.
We knew we wanted to make a Black Panther movie at some point, but at that time we weren't sure exactly when it was going to be. As these discussions were going on, we thought let's bring Black Panther into this movie.
I'm not kidding when I say Chadwick was the only choice. His performance in 42. His performance in Get On Up. How different those performances are. My memory is we called him on the conference room speaker when we were developing the movie and he was in his car, and asked him if he had ever heard of Black Panther. He said, 'Yes. Yes. Why are you asking me that?' He said he wanted to play the part so it happened very, very quickly.
Q: Emily, now that this is your second film do you feel like you have really hit a stride?
Emily Van Camp: I think I was definitely intimidated in Winter Soldier, just getting used to the character, and it's great to see her come back more mature and confident. She's a great character to play, and I'm having so much fun with her.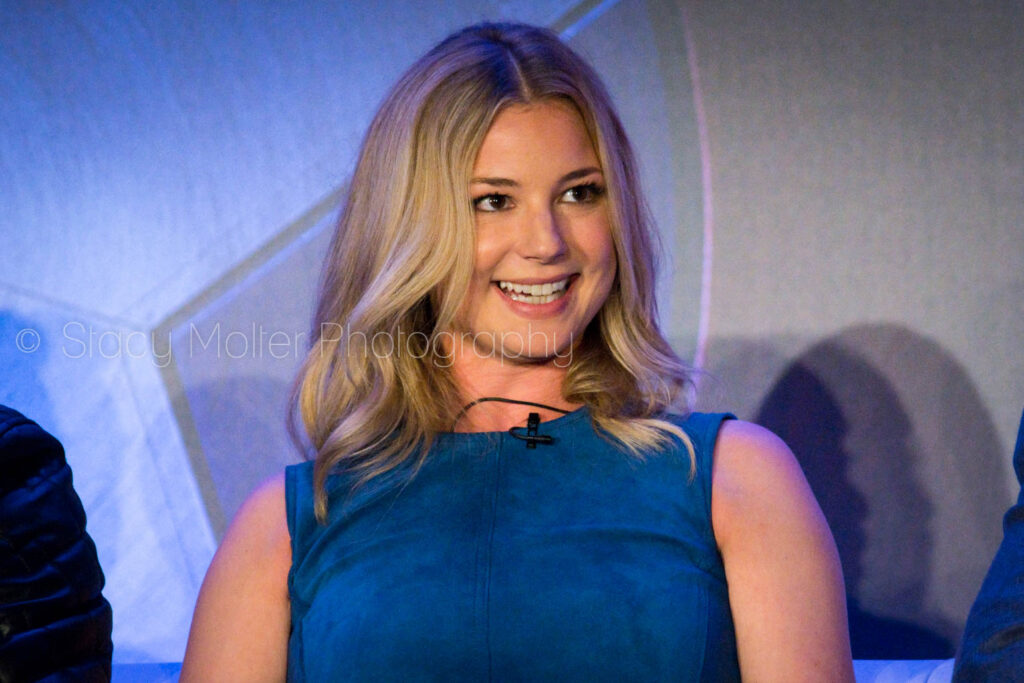 Q: Do you ever have an idea as to where your characters are going in the future? Do you ever get clues to play it this way because you are going this way at some point? Or is it a secret even from you guys?
Kevin Feige: The characters don't know what's supposed to be happening to them so I don't know how helpful it would be. Sometimes there's a long play, I think Paul knew for quite a while that he was coming down the pipeline and would have to keep it a secret for quite a while. Robert's very good at keeping secrets. We can tell him anything at anytime. It really does vary.
Q: How exactly did Tony know about Spiderman, and how does he know he is aware like the other comic book heroes?
Robert Downey Jr.: This is why I've always continued to like to play Tony. Tony is a guy who essentially is broken, narcissistic, and over the course of all these movies he's waking up and realizing that and trying to heal and become a better person. Which I think you could say is across the board for pretty much all the characters with me being the least informed version.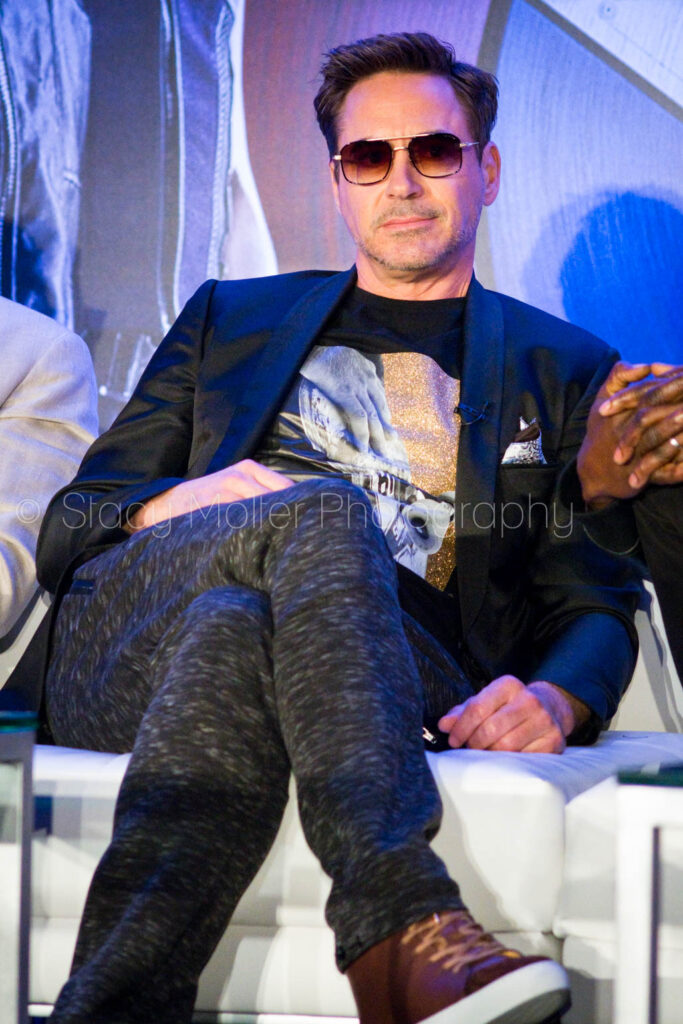 Anthony Russo: In our story time, he has been doing some things in New York and there's been these Sasquatch videos of what he's been doing showing up. We're hearing word of mouth of strange things happening. It's something that's in the rumor mill but nobody has been able to identify who exactly this is yet or how it's happening. But of course Tony Stark being who Tony Stark is, he's one step ahead of everyone else.
Q: Robert, how does it feel for Tony Stark's ego to read all the reviews and fan's reactions saying the best thing in this movie is Spiderman?
Robert Downey Jr.: Only sociopaths are so self-centered in the extreme that they can't make space for other people. What I've learned slowly over time is that once you make some space for yourself it's all about the other people who you're working with and I think Tom did a great job.
I couldn't be more excited than for Chadwick, and I love that you're (Paul Bettany) not just a voice now. Casting one of these characters is a whole thing. Lives are on the line. He really demonstrated why he's the right guy for the job.
Q: Paul, Scarlet Witch and Vision develop an interesting and complicated relationship, and in the battle they were on opposite sides which was very exciting but you can see it interfered with what was happening. How did that inform your experience of it, having such a personal relationship with a character on the opposite side of the fight?
Paul Bettany: You find Vision in Age of Ultron just born and naive, and in this movie you find him trying to figure out what humanity is and how you have loyalty because logic doesn't afford loyalty. I think it's really interesting working out what love is. There's this woman who has a similar problem that he's facing which is he doesn't know the limits of his power, nor does she, and love can make you feel loyal. At the end of this movie I think it's a double-edged sword. In his response to finally having a human response, he makes a big mistake which I find is a deft piece of storytelling.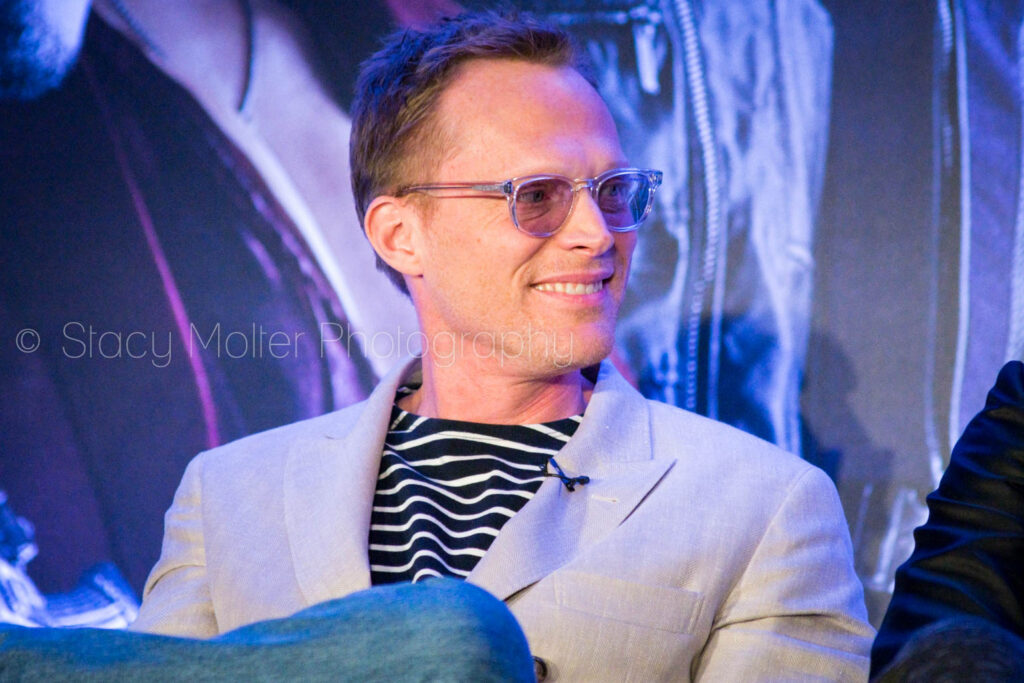 Q: Emily, with this character you mentioned you did have a little bit of a chance to kick ass, do you ever want to do more since that is what you're very familiar with from Revenge?
Emily Van Camp: I love it. I love all the physical stuff. It's brilliantly done in these movies. I also really enjoyed getting to share Sharon with the audience as well, we only knew her as Agent 13, and explore that relationship with Steve. Their relationship in the comic books was great, and complicated, and interesting, and we're just delving into that now.
Q: For everyone, which characteristic of each of your characters do you think draws audiences into your roles?
Don Cheadle: I know Rhodie is always struggling with what does he owe as a service? What is duty? What is his chain of command? How must that be protected and honored? This team of people, some who have no limits to their power, where are the checks and balances? That's something that is central to this film as well. I think that's an understandable fence that he's on. Friendship versus chain of command.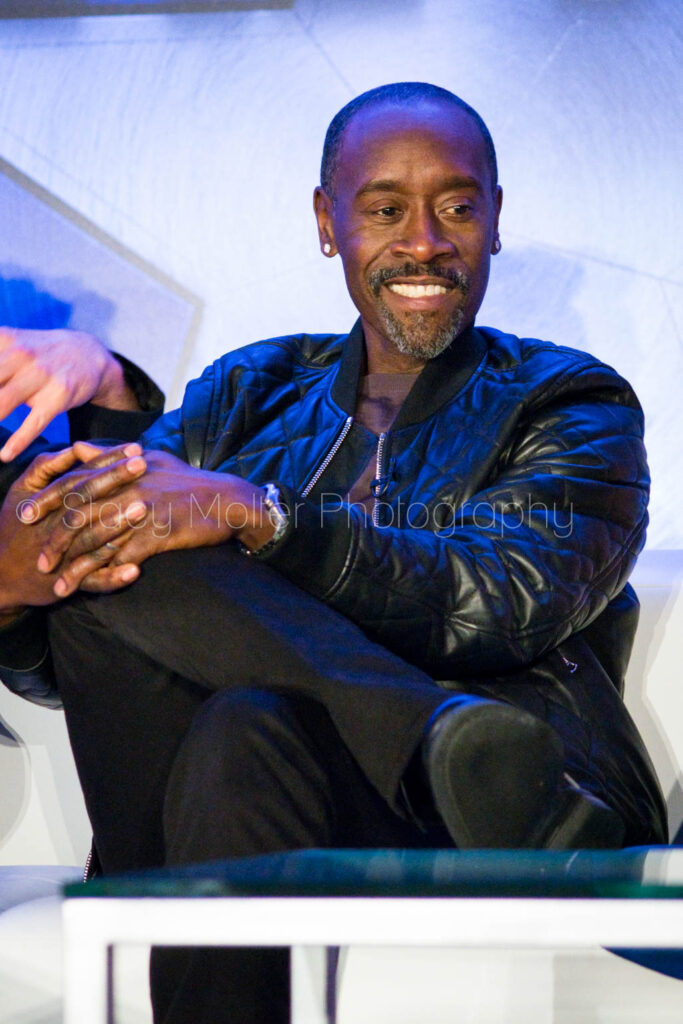 Paul Bettany: For Vision and synthetic people around the world, yearning to break free from their shackles, they really get behind my character. I really speak for them.
About Captain America: Civil War
From Marvel Studios comes the highly anticipated "Captain America: Civil War," the third film in the Captain America franchise and the first film in Phase 3 of the Marvel Cinematic Universe.
Marvel's "Captain America: Civil War" finds Steve Rogers leading the newly formed team of Avengers in their continued efforts to safeguard humanity. But after another incident involving the Avengers results in collateral
damage, political pressure mounts to install a system of accountability, headed by a governing body to oversee and direct the team. The new status quo fractures the Avengers, resulting in two camps—one led by Steve Rogers and his desire for the Avengers to remain free to defend humanity without government interference, and the other following Tony Stark's surprising decision to support government oversight and accountability.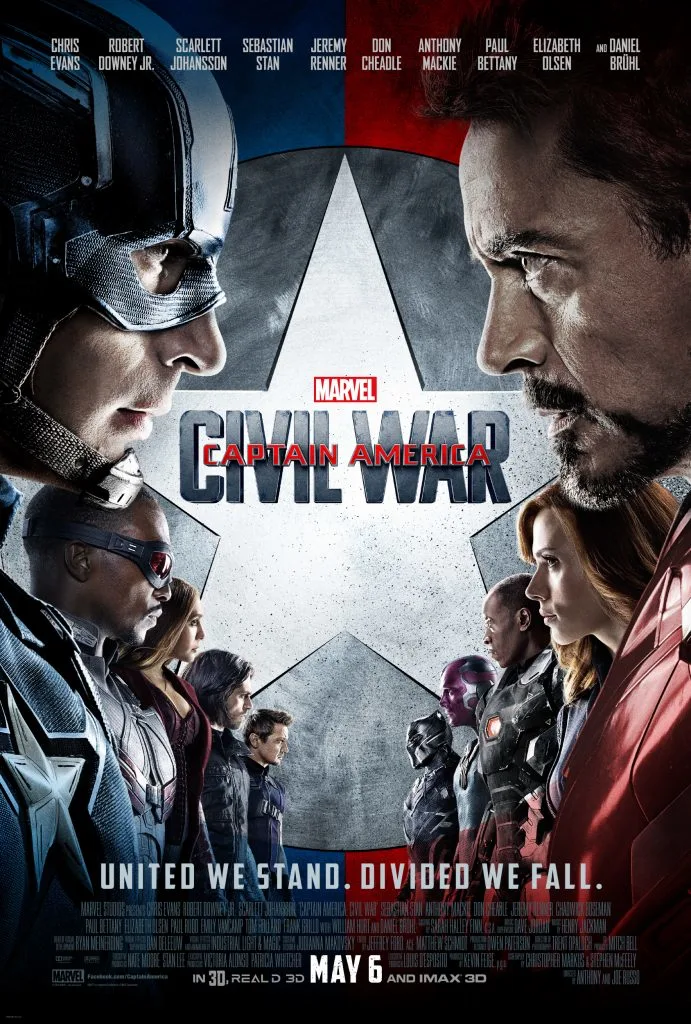 Captain America: Civil War opens in theaters everywhere this Friday, May 6th!
Portions of this material have been provided by Walt Disney Studios.