Creating a film like Mary Poppins Returns was not without its challenges for Director Rob Marshall. He needed to find balance, a balance that touched on the original film with heartwarming nods while taking us into the future of Mary Poppins. Director Rob Marshall flawlessly accomplished this by using himself as a barometer, leaning on his own desires of what he would want to see on screen.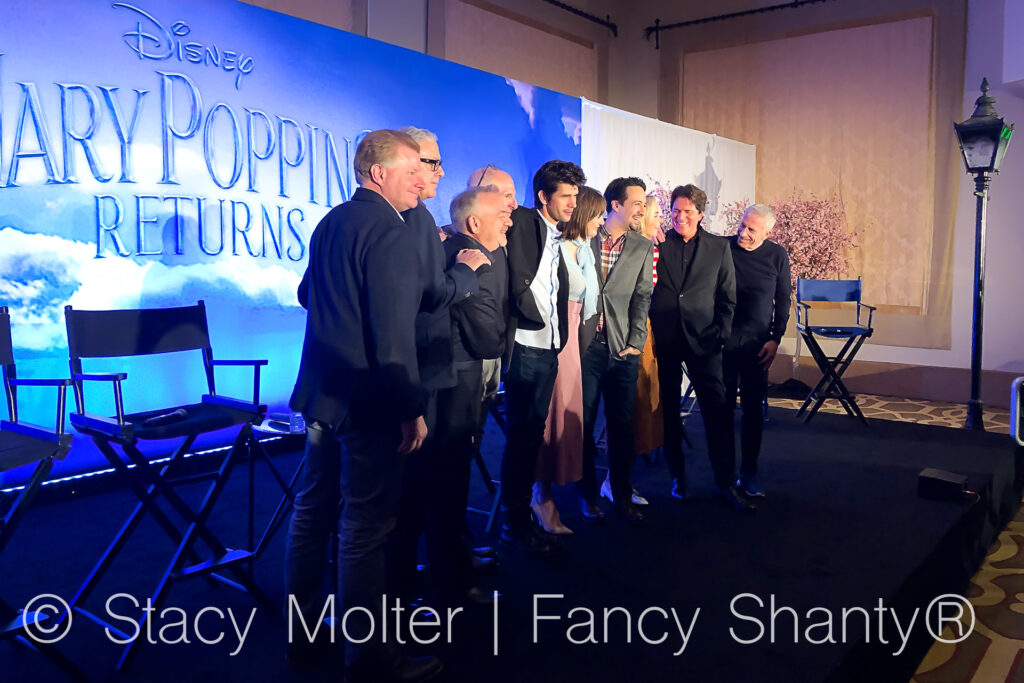 If I came to a sequel of Mary Poppins I would want to see an animation sequence with live action and I would want it to be hand drawn in a 2D world. I would want Cherry Tree Lane to have a curve to it because that's the Cherry Tree Lane we all know. I would feel disappointed if it was a straight street. It was as simple as that although we were finding our new way.

There were goal posts or sign posts throughout that we needed to hold on to because it's in the DNA of the material. John and I really wanted a big huge production number that Marc and Scott wrote so beautifully with athletic dancers. Men with Mary and Jack, Jack leading the entire piece. That needed to be in there in some way. If it wasn't there we've gone off track.

It was this insane balancing act of honoring the first film, but at the same time forging our own way, our own story. Setting it in the '30s helped that. Having Michael and Jane grown up and seeing what's happened to them and with their journey and what they've lost along the way helped that. But it was constantly back and forth and I have to say I just used my own gut about what needed to be there, what we needed to reflect on and pay homage to.

Marc and Scott were incredibly careful about making sure that we didn't abuse using themes from the first film. We used the themes in very strategic places throughout the film. Most of it actually very much at the end where we feel we'd earned it by then.
Read more about what Rob Marshall and the entire Mary Poppins Returns cast, Emily Blunt ("Mary Poppins"), Lin-Manuel Miranda ("Jack"), Emily Mortimer ("Jane Banks"), Ben Wishaw ("Michael Banks"), producer John Deluca, composter Mark Shaiman, lyricist Scott Wittman, and screenwriter David Magee, had to say about honoring the original Disney masterpiece, creating witty lyrics for the films musical numbers, and filming with original cast members.
Mary Poppins Returns opens in theaters everywhere December 19th, 2018.
Mary Poppins Returns Cast Talks About Honoring Original Masterpiece, Witty Lyrics, Filming with Original Cast
Q: Rob Marshall, you have single-handedly brought back the movie musical to our culture. What made you choose Mary Poppins Returns as your first original musical film?
Rob Marshall: What I thought to myself when this came my way was if anybody is going to do it I would like to do it because I wanted to be able to protect the first film and treat this film with great care and love. An original musical is very difficult to do, there are so many layers to it, but with this one, creating an original musical from scratch was a dream for me. I've never done it before and to be able to create it with this beautiful company was exactly what I was hoping for.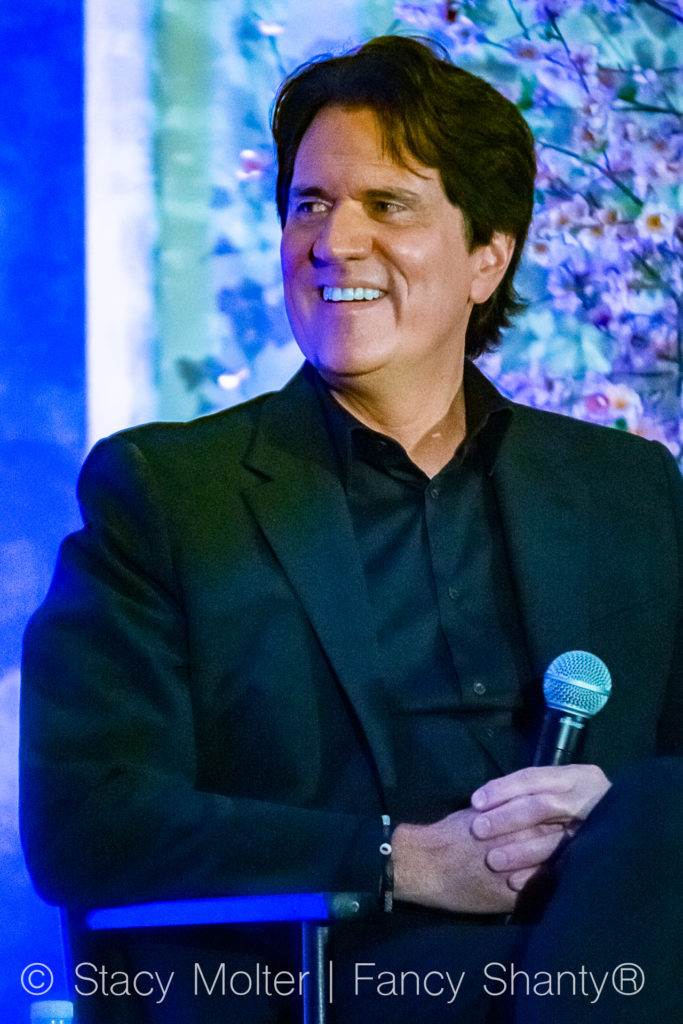 Q: Emily Blunt: Your joy and light shine in every frame of the film. How did this come about for you?
Emily Blunt: I got a voicemail from Rob who is my dear friend and the voice mail certainly had a sort of charged energy to it, like I was oh my god, what is it, you know? What is this project? He said, we've been digging through the Disney archives and we've found their most prized possession. When you, Rob, said Mary Poppins I thought the air changed in the room. It was so extraordinary, such an extraordinary rather unparalleled moment for me because I was filled with an instantaneous yes, but also with some trepidation, all happening simultaneously at that moment because she is so iconic. She had such a big imprint on my life and on everyone's lives, you know. People hold this character so close to their hearts. How do I create my version of her? What will my version of her be because there's no point? No one wants to see me do a sort of cheap impersonation of Julie Andrews because no one is Julie Andrews. She should be preserved and treasured in her own way of what she did. I knew this was going to be something that I wanted to take a big swing with and I knew I could do it with this man who is the most emboldening, meticulous, brilliant director in the world and I was in safe hands with him.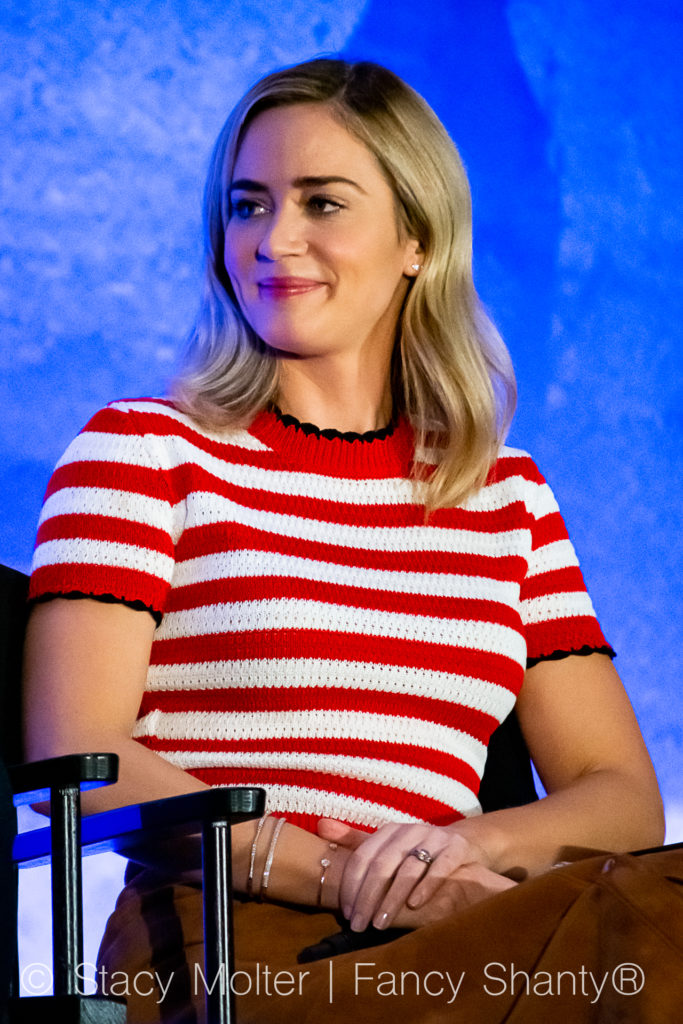 Q: Lin, you are so renowned for Broadway, I remember seeing you the first time in the Heights and watching you burst forth on stage. Here is your first big movie experience. How did it come about and how was the experience?
Lin -Manuel Miranda: I remember going to the midnight premiere screening of Chicago at the Ziegfeld Theater and seeing Chicago with everyone else who had the premiere date sort of written in blood on their calendars and seeing the greatest modern movie musical I'd ever seen in my life. So, when I got a call from Rob Marshall and John Deluca that became an immediate priority. They came to buy me a drink between shows. I was still in Hamilton at the time and I had a two-show day, so I finished the matinee, rolled across the street to the Paramount Hotel and I met them for a drink and they said they're making a sequel to Mary Poppins.
Honestly, I can't give them enough credit for seeing this role in me because when I'm playing Hamilton, I mean there is no childlike wonder in Alexander Hamilton. He has a very traumatic early life. He goes on that stage and he wants to devour the world and he wants to move so fast and he wants to do everything whereas Jack in this movie, as they pitched him to me, has this childlike sense of wonder. He's in touch with that imagination you all see in your kids when they play in their own imagination for hours. Jack never lost that and that was why I felt so humbled that he saw that in me.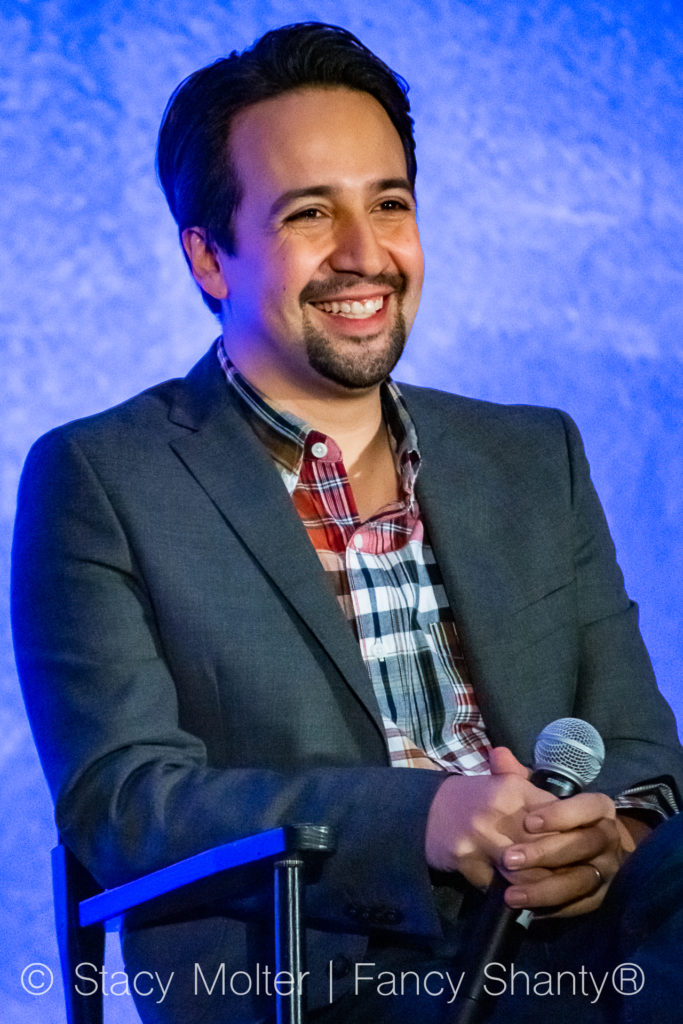 Q: Emily Blunt, I have to imagine there is an incredible inherent pressure playing the role of Mary Poppins. How do you balance Julie Andrews' extraordinary performance with the P.L. Travers version and the books while adding your own personal signature as well?
Emily Blunt: I think what I decided to do was, even though I'd seen it as a child was not watch the original so closes to shooting our version because she is so beautiful and so extraordinary and I think I may have tried to accommodate in some way, in some bigger way what he did and let that sort of bleed into what I wanted to do. I decided if I'm going to do this, I'm just going to go on my gut instinct from the book because she is rather different in all of the books. That was the decision really. If I'm going to carve out new space for myself it was going to have to be without watching the details of what Julie did so close to shooting.
Q: Emily Mortimer, there's a lovely Easter egg in the film, a cameo by Karen Dotrice who played the original Jane. What was that like meeting her at that moment?
Emily Mortimer: It was extraordinary. She's such a great, cool lady. So funny, wicked sense of humor, really down to earth, and ballsy. She came to do the cameo as a little moment where Ben is emerging from the house with his briefcase late and he bumps into her as we're out together. We all walked on to the set for the first time with her and she walked on to Cherry Tree Lane for the first time since the first movie was made and she just melted. That was so moving being there with her while that happened and seeing that.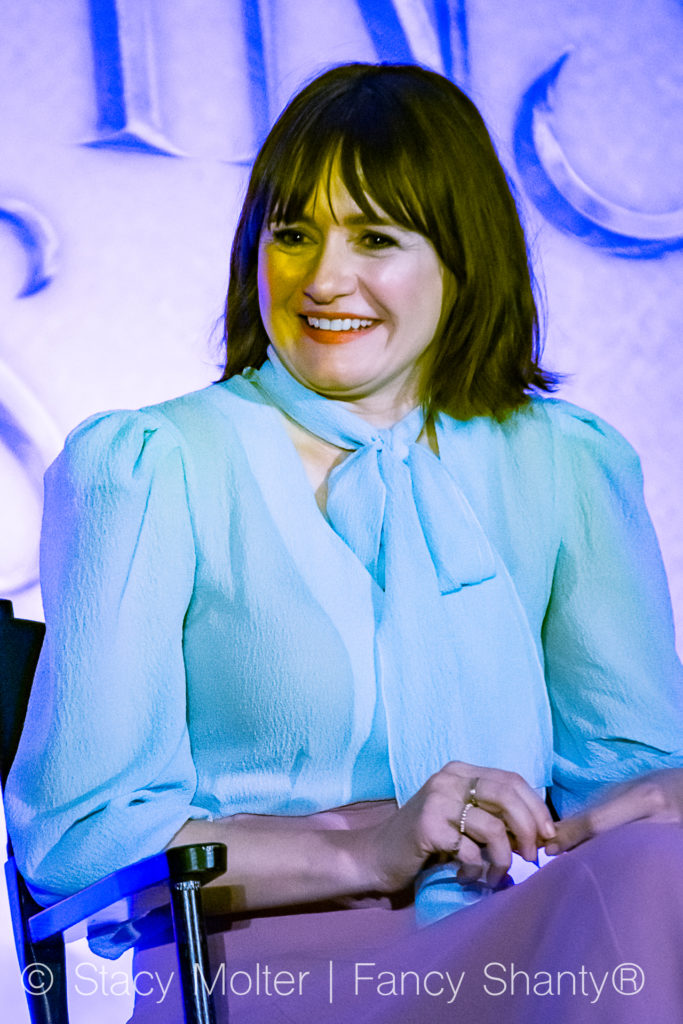 Q: What it was like having Dick Van Dyke on set?
Rob Marshall: I don't think any of us could even breathe that day because we couldn't believe that we were touching that. He was basically playing the same old banker that he played. He grabbed my hand as we walked on to the set and he turned to me and he said something I will never forget. He said I feel the same spirit here on this set that I did on the first film. And that was the dream come true right there.
John Deluca: I was so moved. My favorite moment on the set of the whole filming after Dick did his monologue to the kids in the bank. We were all waiting for Rob to call cut because he was with him reading a long time and then he couldn't because of all the emotion. He was crying and he literally couldn't say the word. Just realizing that, was so touching.
Q: Ben Whishaw, you're playing a character now grown up, an iconic character who, as a little boy had such a big impact on so many. Did the original film have an impact on you? And, then, how did you go about creating such an honest, indelible moving portrayal of this man trying to hold onto his family, his home, and ultimately his childhood?
Ben Whishaw: I was obsessed with the film when I was a child. It was the first film I ever saw. My dad taped it off the "tele" on a VHS tape and I watched it obsessively through my whole childhood. I used to dress up as Mary Poppins and parade up and down the street in our village. I was moved every day because you don't expect as an adult to be revisiting something that is such a part of your childhood.
And how did I play the character? It was brilliantly written. It was all there and that's why I think people never – like you just have to do it. David wrote this beautiful role, so delicate and so perceptive and clever. To get that in there whilst making the whole thing fantastical and magical and thrilling. Then you have a great song or two. I didn't have to think too much about it.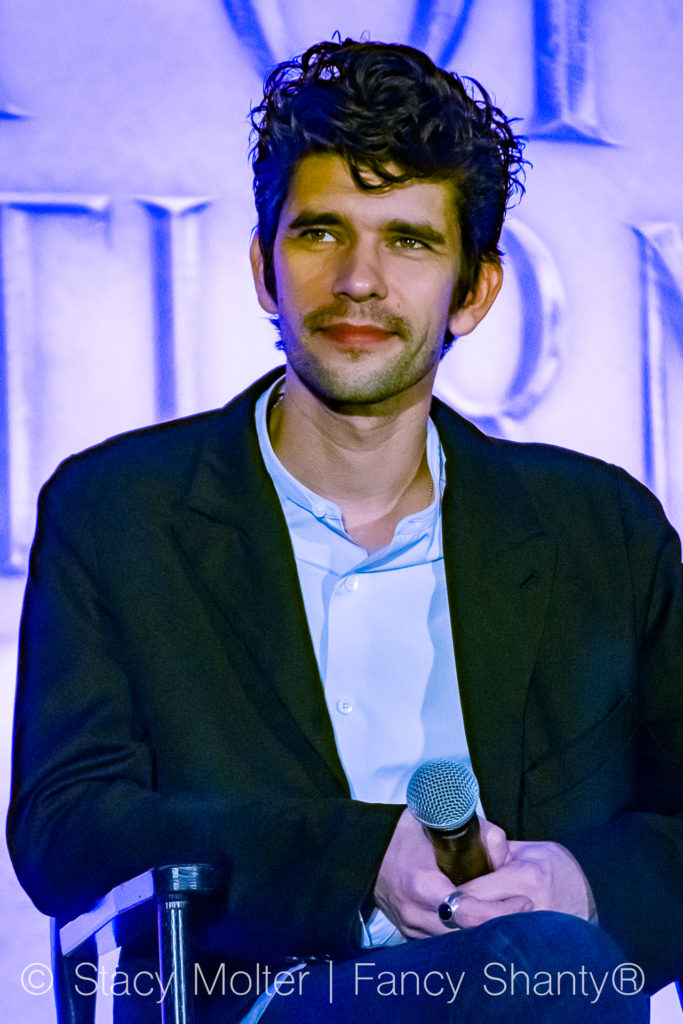 Q: Marc Shaiman, how did you accomplish the score for this film so beautifully?
Marc Shaiman: My entire childhood was Mary Poppins. I really have no other memory of my childhood except listening to that record and reading the synopsis of the story. As I grew up I was fascinated by the orchestrations on it. I learned everything I could from that album. The dream came true where I had the opportunity to incorporate every single thing that I ever learned from that album into real life and wrote songs with Scott. Then, to score the movie which is a whole other thing outside of songwriting. It's so nice to see everyone because the odd thing about scoring a movie, and I'm sure for the editor as well and Rob and John, but we live with your images, every frame of them. Thirty frames a second, I know you all so intimately.
Q: Scott Wittman, you write the lyrics with Marc and the range of the wordplay in this piece from the witty to the rap set in music hall, music for Lin to the profundity of nothing is gone forever only out of place, is just such an extraordinary range. Where does accomplishing such a big challenge comes from?
Scott Wittman: I hope today's kids will say but mommy what's bathtub gin, as we have to find a lyric. We went back to the books, but we had a lovely experience. I think my favorite part of the whole experience was the months that Rob, John, David, Marc, and I spent together in the books and carving out what the musical numbers were gonna be and I think that's probably one of the most creative times I've had in my very long time in show business.
About Mary Poppins Returns
In Disney's MARY POPPINS RETURNS, an all-new original musical and sequel, Mary Poppins is back to help the next generation of the Banks family find the joy and wonder missing in their lives following a personal loss. Emily Blunt stars as the practically-perfect nanny with unique magical skills who can turn any ordinary task into an unforgettable, fantastic adventure and Lin-Manuel Miranda plays her friend Jack, an optimistic street lamplighter who helps bring light—and life—to the streets of London.
MARY POPPINS RETURNS is directed by Rob Marshall. The screenplay is by David Magee and the screen story is by Magee & Rob Marshall & John DeLuca based upon the Mary Poppins Stories by PL Travers. The producers are John DeLuca, p.g.a., Rob Marshall, p.g.a. and Marc Platt, p.g.a. with Callum McDougall serving as executive producer. The music score is by Marc Shaiman and the film features all new original songs with music by Shaiman and lyrics by Scott Wittman and Shaiman. The film also stars Ben Whishaw as Michael Banks; Emily Mortimer as Jane Banks; Julie Walters as the Banks' housekeeper Ellen; Pixie Davies, Nathanael Saleh and introducing Joel Dawson as the Banks' children, with Colin Firth as Fidelity Fiduciary Bank's William Weatherall Wilkins; and Meryl Streep as Mary's eccentric cousin, Topsy. Angela Lansbury appears as the Balloon Lady, a treasured character from the PL Travers books and Dick Van Dyke is Mr. Dawes, Jr., the retired chairman of the bank now run by Firth's character.