Mary Poppins Returns hits the big screen today in a new, original story Mary Poppins fans everywhere have been waiting for. In this all-new family-comedy, Mary Poppins returns to help the Banks' kids once again through one of the most difficult times in their lives. With a little magic and little help from her friend Jack, Mary Poppins helps the family rediscover the joy and wonder missing in their lives. Mary Poppins Returns is now playing in theaters everywhere.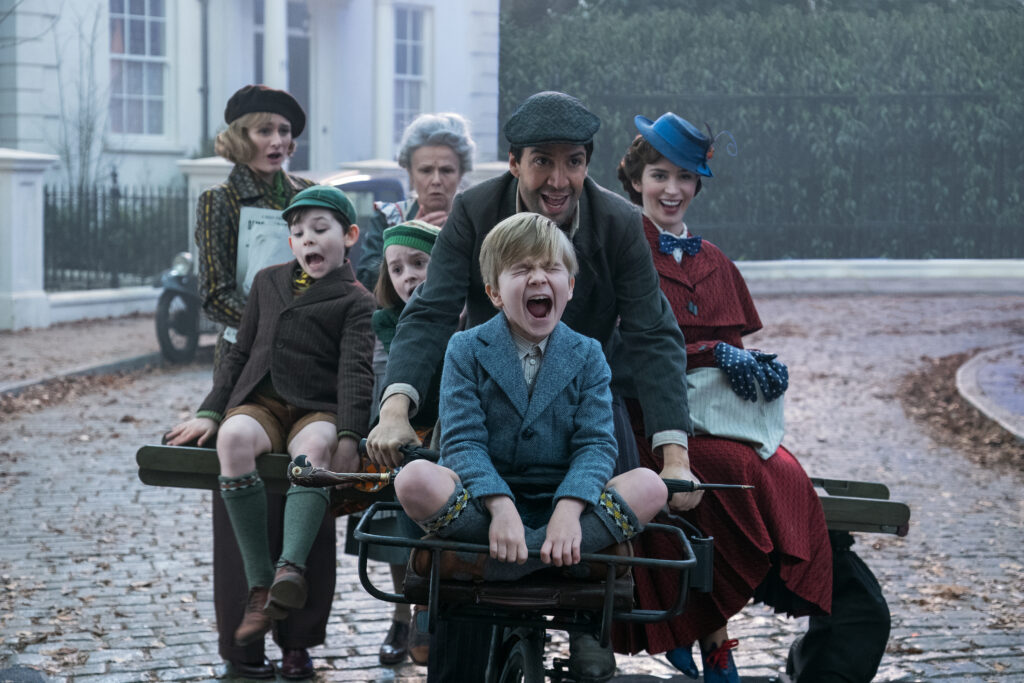 Mary Poppins Returns with Nostalgic Perfection
If you're looking for the perfect family-friendly movie to see this holiday weekend, you have to see Mary Poppins Returns. A heartwarming story full of nostalgic perfection, Mary Poppins Returns will have you singing and dancing in your seat. It's a magical film honoring the 1964 original Mary Poppins with tenderhearted nods, creating an old-fashioned movie musical that works perfectly in the modern world.
In keeping with the nostalgia of the original film, the musical score was created to feature subtle musical references to the songs "A Spoonful of Sugar", "The Perfect Nanny", "Feed The Birds", and "Let's Go Fly a Kite", songs from the score written by Sherman Brothers for the original Mary Poppins. It's not until the end of the film though when you hear more apparent musical reflections from the original film, where, as Rob Marshall noted, he felt by that time they had earned the privilege to pay a more open homage to the original, Mary Poppins. Get the soundtrack here.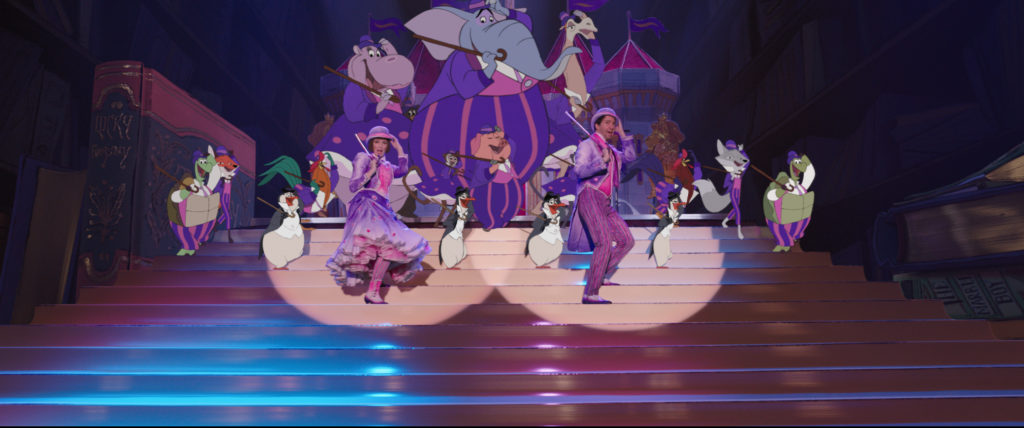 Another nostalgic nod to the original film comes in the form of easter eggs, and you know how much we all LOVE easter eggs. You'll definitely want to keep your eye on the screen. Throughout the film, there are numerous memorable moments giving consideration to the original film, most noting the chalk drawing in the third act that appears on the sidewalk and in the attic where there are little placements through production design, of things that were in the original nursery. There's even a cameo appearance by Karen Dotrice who played the original Jane, and it's no secret Dick Van Dyke returns as Bert in one of the film's most memorable sets.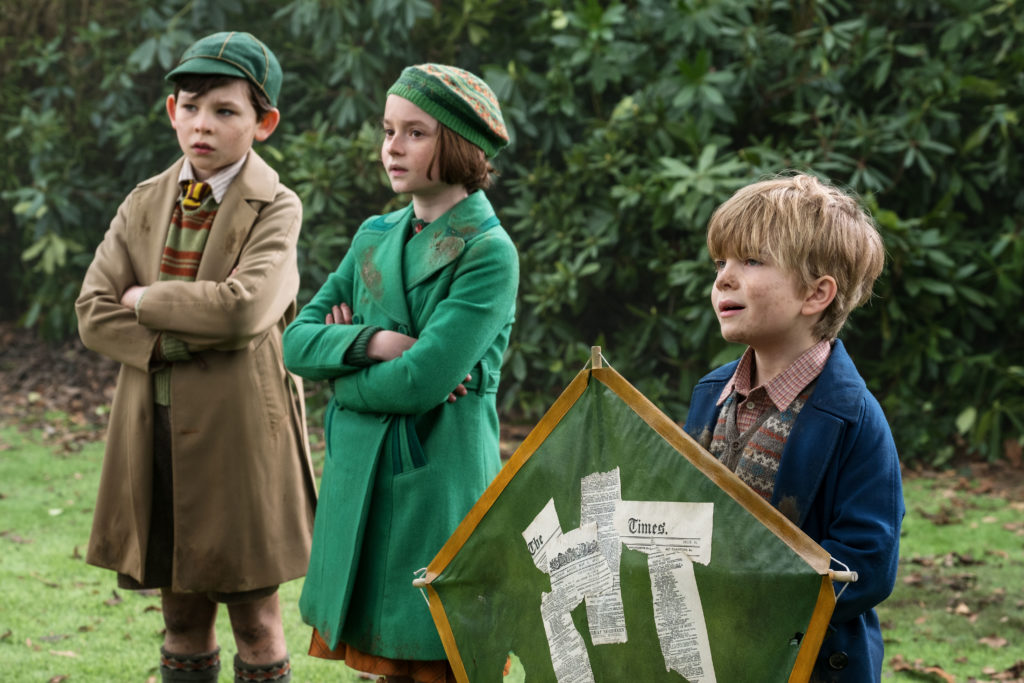 But what I love most about the film is how Director Rob Marshall perfectly captured the feeling of an old-fashioned movie musical. From Mary Poppins arrival on Michael's kite (a nod to the original film) to the 2D hand-drawn animation created with traditional pen and paper we see while on Mary Poppins' adventures, and the "Trip a Little Light Fantastic" sequence which will take audiences back to Dick Van Dyke's "Step In Time" sequence, it was no surprise our daughter proclaimed that she wants to live in Mary Poppins world.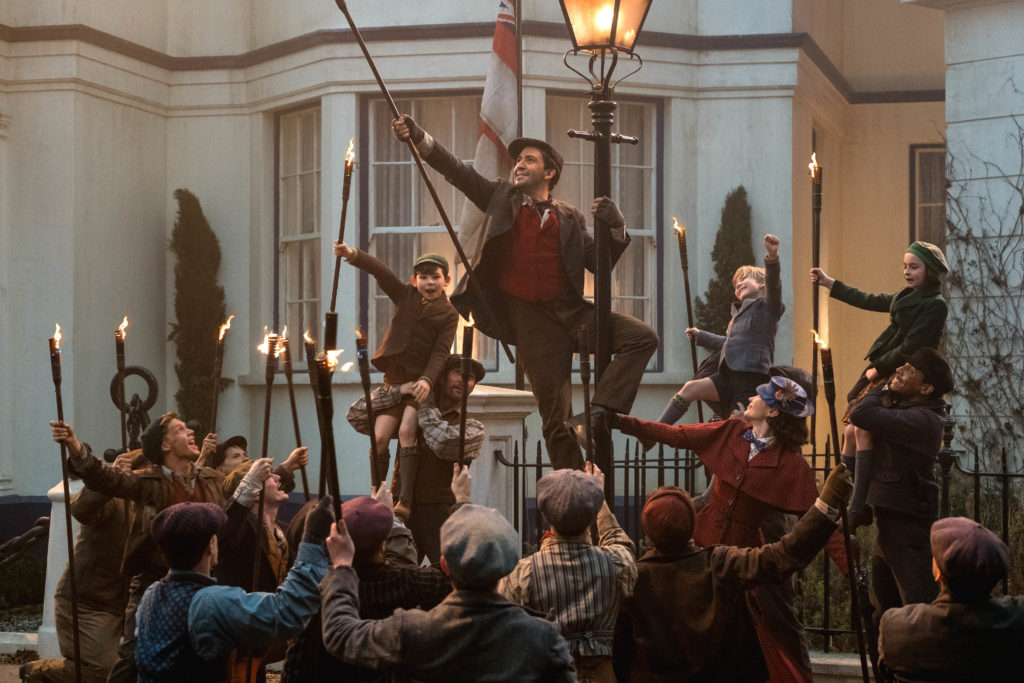 As far as the cast, there's no better choice than Emily Blunt to play the part of Mary Poppins as she shines with magic and the perfect amount of sass throughout the film. Her chemistry with Lin-Manuel Miranda (Jack) is simply remarkable. And Ben Whishaw shines with his performance as the heartbroken father doing everything he can to happily raise his family after the dealth of his wife.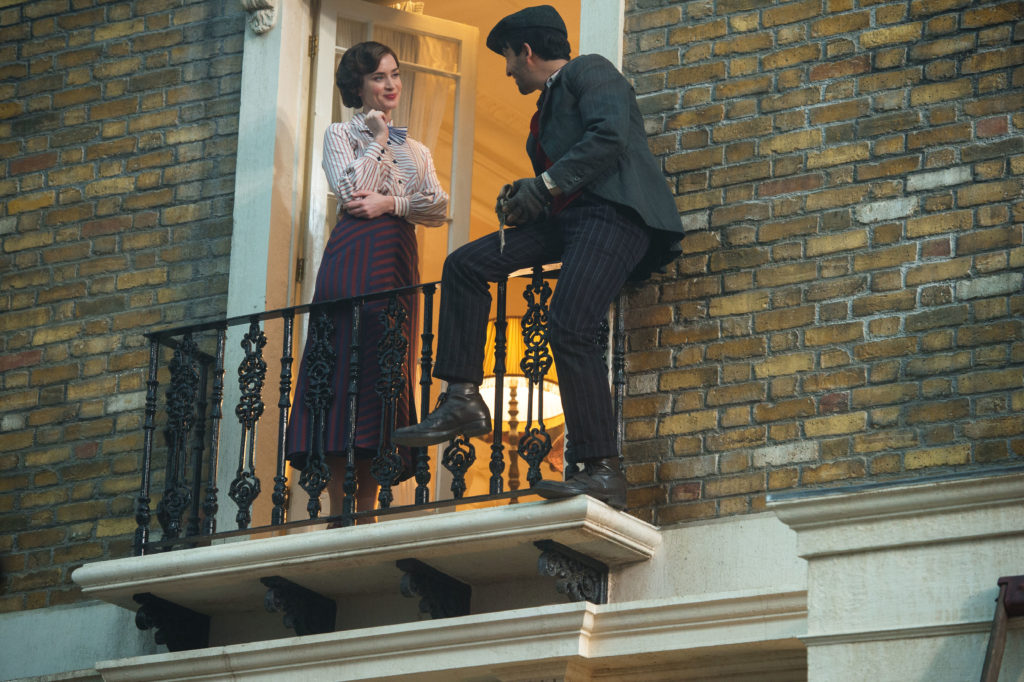 After receiving Golden Globe nominations for Best Picture (Comedy/Musical), Best Actress (Emily Blunt) in a Motion Picture (Comedy/Musical), Best Actor (Lin-Manuel Miranda) in a Motion Picture (Comedy/Musical), and Best Original Score (Marc Shaiman), Mary Poppins Returns is stepping up to be an Oscar contender for Best Original Score, Best Original Song ("The Place Where Lost Things Go", "Trip a Little Light Fantastic"), Best Visual Effects, as well as a Best Actress Nomination for Emily Blunt. Don't miss your chance to see this film this holiday weekend.
Mary Poppins Returns is now playing in theaters everywhere.
About Mary Poppins
In Disney's MARY POPPINS RETURNS, an all-new original musical and sequel, Mary Poppins is back to help the next generation of the Banks family find the joy and wonder missing in their lives following a personal loss. Emily Blunt stars as the practically-perfect nanny with unique magical skills who can turn any ordinary task into an unforgettable, fantastic adventure and Lin-Manuel Miranda plays her friend Jack, an optimistic street lamplighter who helps bring light—and life—to the streets of London.
MARY POPPINS RETURNS is directed by Rob Marshall. The screenplay is by David Magee and the screen story is by Magee & Rob Marshall & John DeLuca based upon the Mary Poppins Stories by PL Travers. The producers are John DeLuca, p.g.a., Rob Marshall, p.g.a. and Marc Platt, p.g.a. with Callum McDougall serving as executive producer. The music score is by Marc Shaiman and the film features all new original songs with music by Shaiman and lyrics by Scott Wittman and Shaiman. The film also stars Ben Whishaw as Michael Banks; Emily Mortimer as Jane Banks; Julie Walters as the Banks' housekeeper Ellen; Pixie Davies, Nathanael Saleh and introducing Joel Dawson as the Banks' children, with Colin Firth as Fidelity Fiduciary Bank's William Weatherall Wilkins; and Meryl Streep as Mary's eccentric cousin, Topsy. Angela Lansbury appears as the Balloon Lady, a treasured character from the PL Travers books and Dick Van Dyke is Mr. Dawes, Jr., the retired chairman of the bank now run by Firth's character.