We were invited to tour our local Oxnard California Strawberries farm to learn more about how California strawberries are grown from one of our local farmers Juan Hernandez, of Mandalay Berry Farms. Juan has been involved with growing strawberries for 28 years, and his farm, Mandalay BerryFarms, is located in my local rural community of Ventura County, California.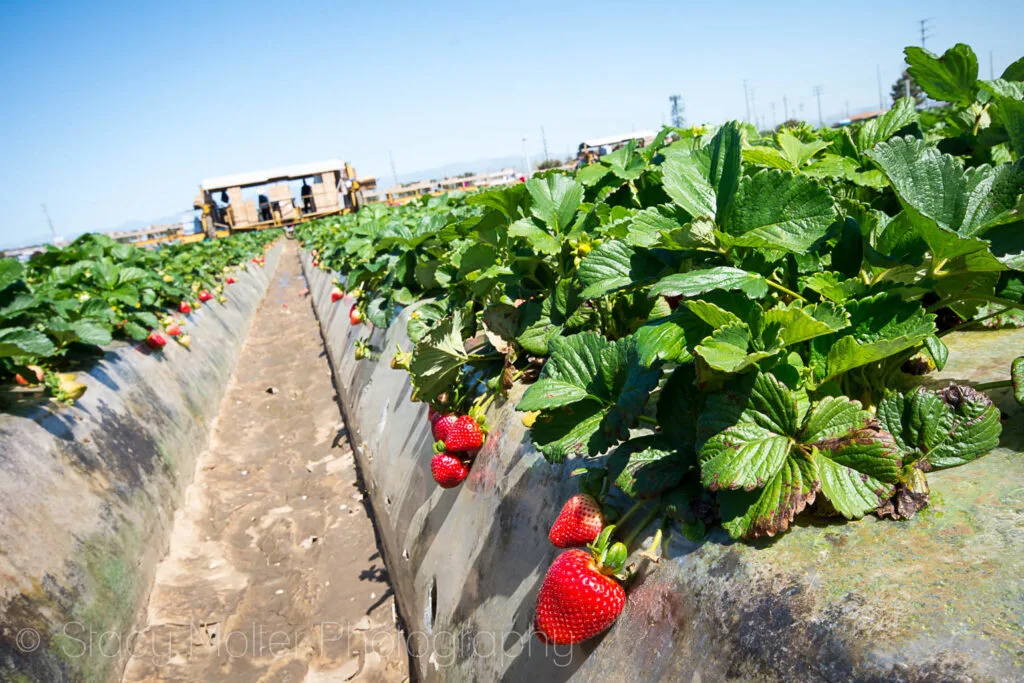 On our tour, Juan shared with us a look into the life of a California Strawberry farmer, and how the California Strawberry Commission helps support local farmers and the training they receive.
Oxnard California Strawberries Farm Tour – Learning More About Our Local Farmers
As a farmer, Juan is always looking to find ways to use less fertilizer when farming and to finding more efficient ways to grow the fruit. His goal is to try to grow the best fruit for the people.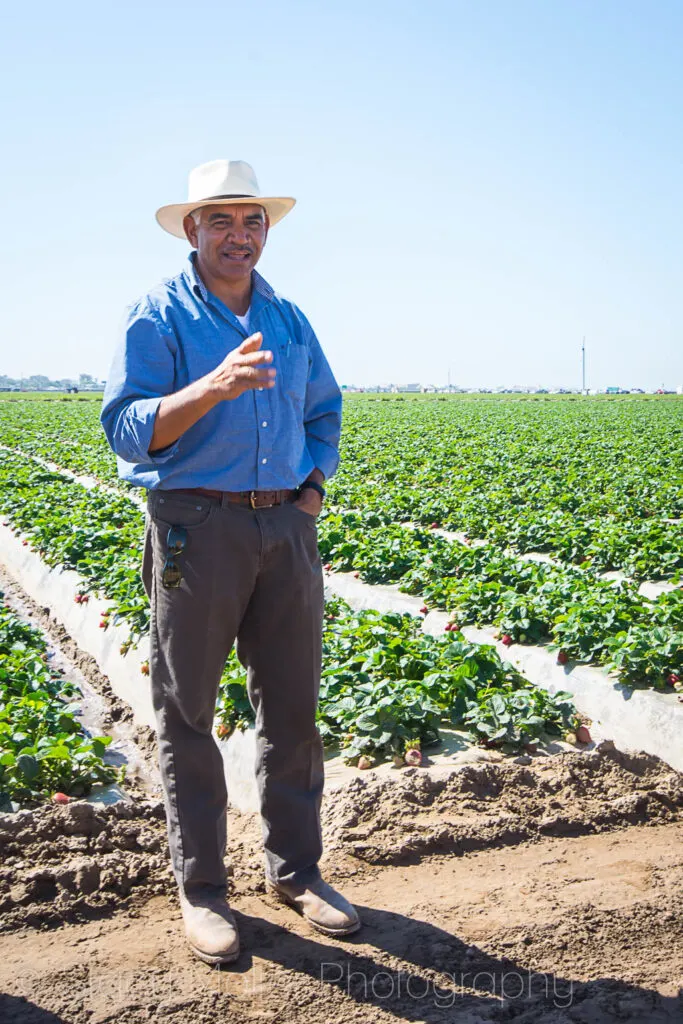 Juan's top concern when he hires harvesters is safety. The harvesters are trained on safety and sanitation before they ever reach the field, and foreman are on-hand to enforce the training the harvesters have received.
Food Safety Training
All the strawberries you find in markets are hand harvested, which means when you purchase a flat or clam shell of strawberries the last person to touch the strawberries was the harvester.
There's no machinery that can do the harvester's job, so every harvester in the field participates in a five level training program with their crew supervisors to assure they are meeting California's food safety standards. Topics the harvesters are trained on include food safety, food born illnesses, best hand-washing practices, and why it's important to keep the fruit safe in the field. It's all about keeping the workers safe, and the fruit safe.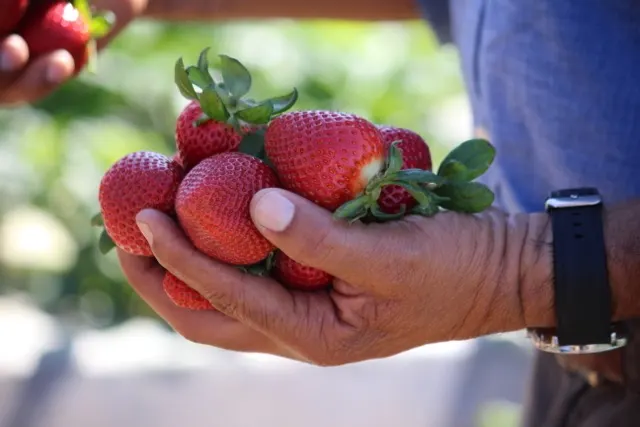 Growing California Strawberries
California strawberries are grown in high beds to protect the sensitive roots, this helps leach the salts in the water away from the plant's roots.
The beds are raised three at a time before being shaped into the finished form. Once the beds are raised, a slow time release fertilizer and drip system are added then covered with a plastic barrier. Next, a machine comes through the beds creating the holes where the berries will be planted.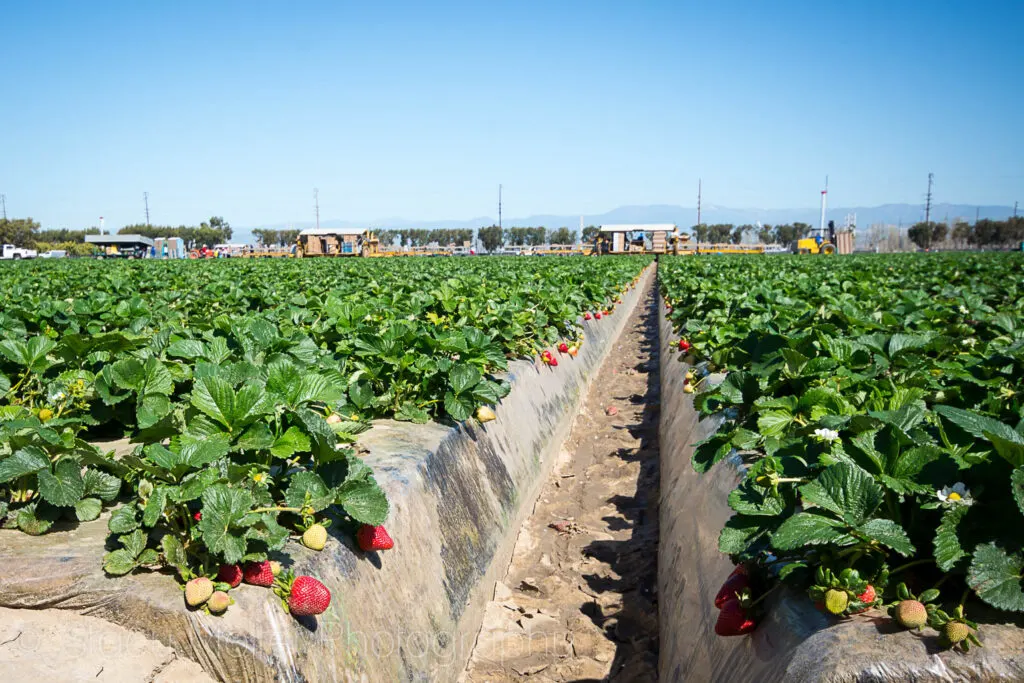 Since it can take 10 years for a strawberry seed to become a mother plant with runners (the daughters), the plants that arrive at the farm from the nursery have already been in the soil for 6 months. The plants, which are grown in cold temperatures, thrive once they hit the warm California sun producing fruit ready to be harvested in as little as two, to two and half months.
The growing season for California strawberries in Oxnard runs from planting in the last week of September, harvesting around November or early December, through the end of June, maybe even part of July. Local farms will pack for fresh strawberries through May, then will send the remaining harvest to processors to create canned products, jams and jellies, and frozen products. The reason they do this is because as the weather warms, it's harder to ship fresh fruit as the summer heat softens the fruit.
Keeping Strawberries Pest Free
California farmers are always looking for way to farm with less pesticides. With research and education on Integrated Pest Management, California farmers have learned how to farm with less fumigants.
One of the recent ways farmers have found to farm with less fumigants is with the use of bug vacuums. Bug vacuums are tractors with big hoods that cover each row sucking the bugs off the plants. With research and education on bug biology, farmers have learned what time of day is the best to vacuum and what the best speed to vacuum at is to get the most number of bugs up.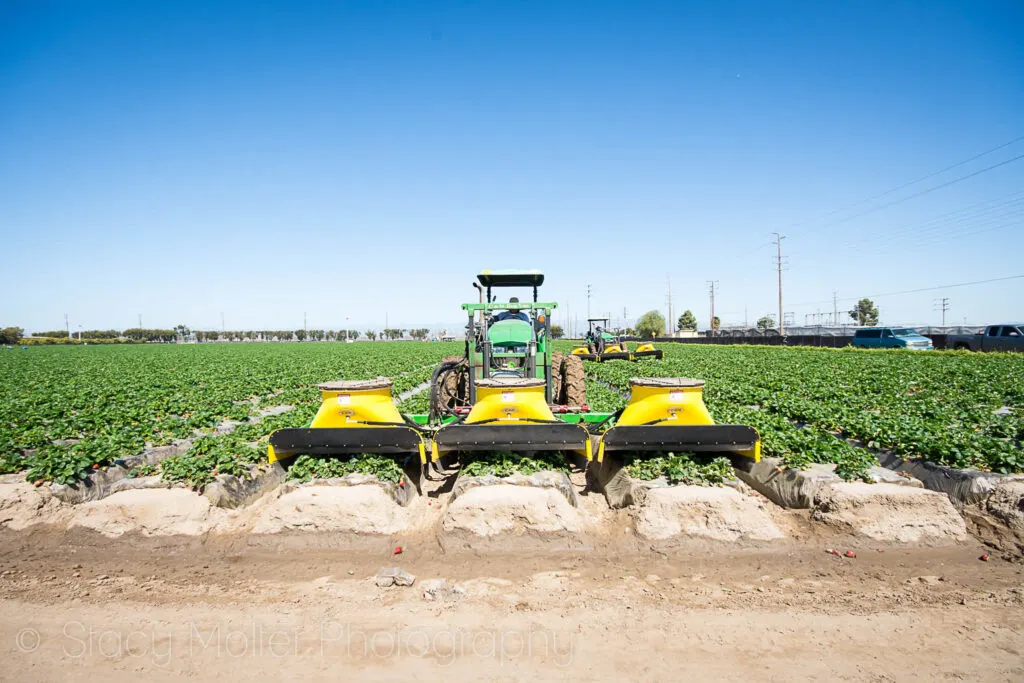 Most importantly of all, we learned the best way to eat a fresh strawberry. Though many consumers refrigerator their berries, the best way to eat the berries is at room temperature. Eating them at room temperature gives you the most juicy, sweet summery delicious flavor possible.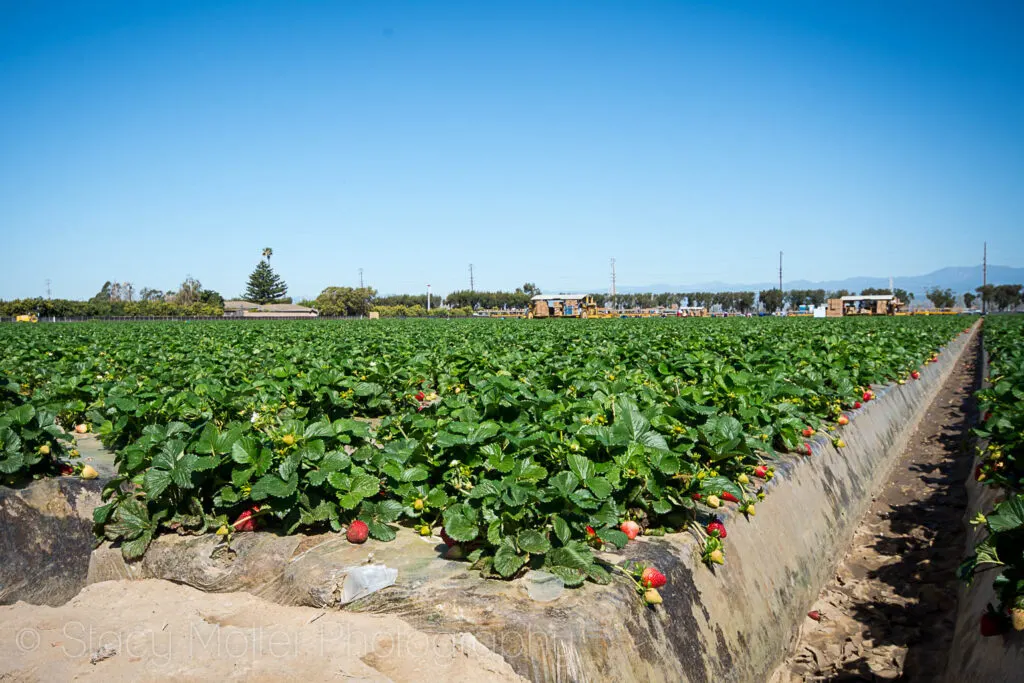 What I wore: Aventura Clothing Amy Hat (Natural), Kyle Wrap (Raspberry Wine), Fleur Dress (Black)

About Strawberry Farming
​​The path to the American Dream quite literally winds its way through California's strawberry fields. 90% of U.S. strawberries are grown year-round in California by 400 diverse family farmers, many on multi-generation farms.
​CA strawberry farming has given Latinos more ownership opportunities than any other major crop. Latinos now comprise two-thirds of strawberry growers in California with 25% of them moved up the ladder of agricultural success, starting as pickers and independent growers.
​With this, California's 400 family strawberry farmers sustain their communities. They have created 70,000 jobs, have funded more than $2 million in scholarships for children of field workers, and invest 97 cents of every farm dollar back into their communities!
California strawberry farmers are leading stewards of water conservation: ​​Strawberries require less water per acre than an acre of homes in Los Angeles. They continue to invest millions of dollars in non-chemical farming methods, more than any other commodity group in the world.
About Strawberry Nutrition
​Research suggests that eating just 1 cup (#8aday) is good for the whole body, promoting heart health, diabetes management, supporting brain health, and reducing the risk of some cancers. ​With year-round availability and a 12-month growing season, California strawberries are an easy way to pack a nutritional punch in your daily diet!
With more vitamin C than an orange and loaded with nutrients, California strawberries are a nutritious and versatile fruit to enjoy every day. Strawberries are naturally sweet but low in sugar — only 7 grams and 45 calories per cup!
Connect with California Strawberries at www.californiastrawberries.com, and on Twitter: @CAstrawberries, Facebook: www.facebook.com/CAstrawberries, Instagram: CAstrawberries Pinterest: CAstrawberries, and Google+: California Strawberries. You can also subscribe to 'Our Heart of Farmers' blog: http://www.heartoffarmers.com/
Portions of the materials and expenses for this event have been provided by California Strawberries.