Calling all animal lovers! Open the door to new worlds of imagination and instill in your children your own fondness for the four-legged with these popular animal story books for children 9-12 years old.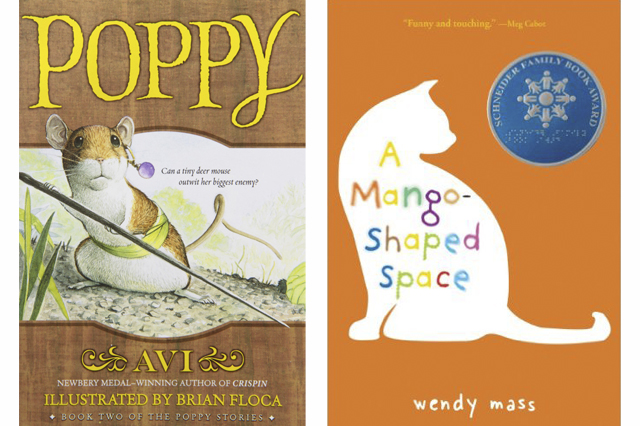 Below is a short list of some of our children's favorite animal story books. These books are a great addition to your child's summer reading list, and most are approved for use in all public and private schools.
You can find many more titles available in paperback, hardcover, and even Kindle editions here.
Popular Animal Story Books for 9-12 Years Old
Poppy, by Avi
From acclaimed Newbery-winning author Avi comes the thrilling and heartwarming second book in the classic animal adventure series, The Tales of Dimwood Forest.
At the very edge of Dimwood Forest stood an old charred oak where, silhouetted by the moon, a great horned owl sat waiting. The owl's name was Mr. Ocax, and he looked like death himself. With his piercing gaze, he surveyed the lands he called his own, watching for the creatures he considered his subjects. Not one of them ever dared to cross his path . . . until the terrible night when two little mice went dancing in the moonlight. . . .
A perennially popular story of courage and determination, Poppy is a fixture on state award lists and in classrooms across the country.
Tale of Despereaux, by Kate DiCamillo
Welcome to the story of Despereaux Tilling, a mouse who is in love with music, stories, and a princess named Pea. It is also the story of a rat called Roscuro, who lives in the darkness and covets a world filled with light. And it is the story of Miggery Sow, a slow-witted serving girl who harbors a simple, impossible wish. These three characters are about to embark on a journey that will lead them down into a horrible dungeon,up into a glittering castle, and, ultimately, into each other's lives. What happens then? As Kate DiCamillo would say: Reader, it is your destiny to find out.
The School Mouse, by Dick King-Smith
Flora, a young mouse, lives with her family in the cupboard of a kindergarten classroom, and after she teaches herself how to read, Flora becomes determined to follow the children into the first grade.
A Mango Shaped Space, by Wendy Mass
Thirteen-year-old Mia Winchell has a secret: sounds, numbers, and words appear to her in color. Mia has synesthesia, the mingling of perceptions whereby a person sees sounds or tastes shapes. This coming-of-age novel chronicles Mia's developing appreciation for her gift.
Archer's Quest, by Linda Sue Park
In Dorchester, New York, Kevin is doing his homework when suddenly an arrow comes out of nowhere and pins his baseball cap to the wall. The man who shot the arrow claims he fell off a tiger . . . and wound up in Kevin's room. It's not long before Kevin realizes that the man, who calls himself Chu-mong, or Great Archer, is no ordinary burglar, but a traveler from far away in both space and time.
A visit to the local museum confirms that there was a king named Chu-mong in ancient Korea who was legendary for many accomplishments, including exceptional skill with bow and arrow. Kevin knows little about his own Korean heritage, but he understands that unless Archer returns to his people and his throne, history will be changed forever. And he's determined to help Archer go back, no matter what it takes.

Smart Dog, by Vivian Vande Velde
Fifth grader Amy Prochenko is wildly unpopular. Then one day Amy meets Sherlock, a dog on the run from a university lab. Sherlock is not like other dogs: He can talk, he's smarter than most of Amy's classmates–and he needs Amy's help. Suddenly Amy's life is full of danger and excitement, and she finds she is becoming, of all things, popular. Best of all, she discovers in Sherlock the sort of friend she's always longed for–and one she must protect no matter what the cost.