Diving into popular fantasy and adventure books is exhilarating! There are so many wizards, princesses, orphans, faeries, and dragons your children will love to spend their time with.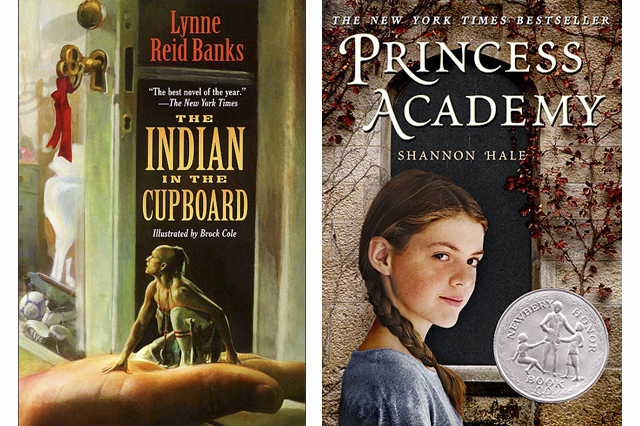 Below is a short list of some of our children's favorite popular fantasy and adventure books. These books will make a great addition to your child's summer reading list, and most are approved for use in all public and private schools.
You can find many more titles available in paperback, hardcover, and even Kindle editions here.
Popular Fantasy and Adventure Books for 9-12 Years Old
The Indian in the Cupboard (Series), by Lynn Reid Banks
Full of magic and appealing characters, this classic novel takes readers on a remarkable adventure.
It's Omri's birthday, but all he gets from his best friend, Patrick, is a little plastic Indian brave. Trying to hide his disappointment, Omri puts the Indian in a metal cupboard and locks the door with a mysterious skeleton key that once belonged to his great-grandmother. Little does Omri know that by turning the key, he will transform his ordinary plastic Indian into a real live man from an altogether different time and place! Omri and the tiny warrior called Little Bear could hardly be more different, yet soon the two forge a very special friendship. Will Omri be able to keep Little Bear without anyone finding out and taking his precious Indian from him?
The Last of the Really Great Whangdoodles, by Julie A. Edward
The Whangdoodle was once the wisest, the kindest, and the most extraordinary creature in the world. Then he disappeared and created a wonderful land for himself and all the other remarkable animals — the ten-legged Sidewinders, the little furry Flukes, the friendly Whiffle Bird, and the treacherous, "oily" Prock. It was an almost perfect place where the last of the really great Whangdoodles could rule his kingdom with "peace, love and a sense of fun" — apart from and forgotten by people.
But not completely forgotten. Professor Savant believed in the Whangdoodle. And when he told the three Potter children of his search for the spectacular creature, Lindy, Tom, and Ben were eager to reach Whangdoodleland.
With the Professor's help, they discovered the secret way. But waiting for them was the scheming Prock, who would use almost any means to keep them away from his beloved king. Only by skill and determination were the four travelers able to discover the last of the really great Whangdoodles and grant him his heart's desire.
Jackie and Me: Baseball Card Adventure, by Dan Gutman
Like every other kid in his class, Joe Stoshack has to write a report on an African-American who's made an important contribution to society. Unlike every other kid in his class, Joe has a special talent: with the help of old baseball cards, he can travel through time. So for his report, Joe decides to go back to meet one of the greatest baseball players ever, Jackie Robinson, to find out what it was like to be the man who broke baseball's color barrier. Joe plans on writing a prize-winning report. But he doesn't plan on a trip that will for a short time change the color of his skin–and forever change his view of history and his definition of courage.
Magic by the Book, by Nine Bernstein
Neither Anne nor Emily remembered choosing the book at the library, but when as they read it, the boundary between their world and the one described in the book disappears. Suddenly they are in Sherwood Forest, where they join Robin Hood's band. The further adventures that await Anne, Emily, and their brother, Will, are the kind they had always dreamed about. They had yearned for magic as strong as the spell cast by the stories they loved best. But then an uninvited guest turns up at their parents' garden party. The sinister man snatches the book with the intention of using its powers for evil, and the siblings find themselves engaged in a battle to regain possession of the book.
Princess Academy, by Shannon Hale
Miri lives on a mountain where, for generations, her ancestors have lived a simple life. Then word comes that the king's priests have divined her village the home of the future princess. In a year's time, the prince will choose his bride from among the village girls.
The king's ministers set up an academy on the mountain, and every teenage girl must attend and learn how to become a princess. Soon Miri finds herself confronted with a harsh academy mistress, bitter competition among the girls, and her own conflicting desires. Winning the contest could give her everything she ever wanted-but it would mean leaving her home and family behind.
Time Warp Trio (Series), by Jon Scieska
Everyone's favorite time-travelers are changing their styles! The Time Warp Trio series now features a brand-new, eye-catching design, sure to appeal to longtime fans, and those new to Jon Scieszka's wacky brand of humor.