Teach the importance of relationship with our collection of popular stories about family and friends. These age appropriate stories will help children learn the important life lessons through positive characters children can enjoy.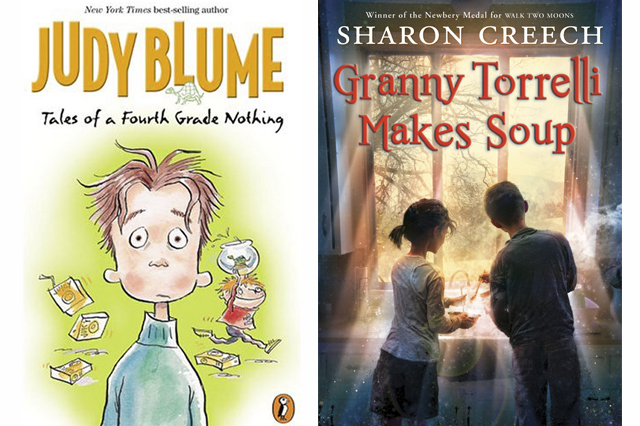 Below is a short list of some of our children's favorite stories about family and friends. These books will make a great addition to your child's summer reading list, and most are approved for use in all public and private schools.
You can find many more titles available in paperback, hardcover, and even Kindle editions here.
Popular Stories About Family and Friends for 9-12 Years Old
Tales of a Fourth Grade Nothing, by Judy Blume
Millions of fans young and old have been entertained by the quick wit of Peter Hatcher, the hilarious antics of mischevious Fudge, and the unbreakable confidence of know-it-all Sheila Tubman in Judy Blume's five Fudge books. And now, Puffin Books honors forty years of the book that started it all, Tales of a Fourth Grade Nothing, with a special edition–featuring a new introduction from Judy–to celebrate this perennial favorite.
Lunch Money, by Andrew Clements
MEET GREG KENTON, BILLIONAIRE IN THE MAKING.
Greg Kenton has two obsessions — making money and his long-standing competition with his annoying neighbor, Maura Shaw. So when Greg discovers that Maura is cutting into his booming Chunky Comics business with her own original illustrated minibooks, he's ready to declare war.
The problem is, Greg has to admit that Maura's books are good, and soon the longtime enemies become unlikely business partners. But their budding partnership is threatened when the principal bans the sale of their comics in school. Suddenly, the two former rivals find themselves united against an adversary tougher than they ever were to each other. Will their enterprise — and their friendship — prevail?

Granny Torelli Makes Soup, by Sharon Creech
Bailey, who is usually so nice, Bailey, my neighbor, my friend, my buddy, my pal for my whole life, knowing me better than anybody, that Bailey, that Bailey I am so mad at right now, that Bailey, I hate him today.
Twelve-year-old Rosie and her best friend, Bailey, don't always get along, that's true. But Granny Torrelli seems to know just how to make things right again with her interesting stories and family recipes. It's easier to remember what's important about love, life, and friendship while Granny Torrelli makes soup.
Hattie Big Sky, by Kirby Larson
Alone in the world, teen-aged Hattie is driven to prove up on her uncle's homesteading claim.
For years, sixteen-year-old Hattie's been shuttled between relatives. Tired of being Hattie Here-and-There, she courageously leaves Iowa to prove up on her late uncle's homestead claim near Vida, Montana. With a stubborn stick-to-itiveness, Hattie faces frost, drought and blizzards. Despite many hardships, Hattie forges ahead, sharing her adventures with her friends–especially Charlie, fighting in France–through letters and articles for her hometown paper.
Her backbreaking quest for a home is lightened by her neighbors, the Muellers. But she feels threatened by pressure to be a "Loyal" American, forbidding friendships with folks of German descent. Despite everything, Hattie's determined to stay until a tragedy causes her to discover the true meaning of home.

Mad Cat, by Kathy Mackle
And this year her fastpitch softball team, the Norwich Sting, is going National. They'll be shooting to make the National Fastpitch Softball World Series, playing against the best teams from around the country. MadCat is thrilled.
But going National isn't quite what MadCat expected. Almost half the girls from the Sting — girls who have played together for years — have been cut to make room for hotshots from nearby towns. Their coach tells them the most important thing is to play to win. MadCat's best friend, Jess, isn't fun anymore: all she can think about is beating the competition, both inside and outside the team. Things are getting tenser and tenser.
The Sting's winning all their games; they're sure to make it to the big time. They know nothing can stop them, not when their motto is Eating Dirt Is Better Than Losing. But is winning really more important than anything? Or will all their victories just add up to nothing?