In celebration of the end of Summer (and after school snacks!), I created these whimsical rainbow sprinkle cookies. They're a fun treat that easily turns into an after school activity for the entire family.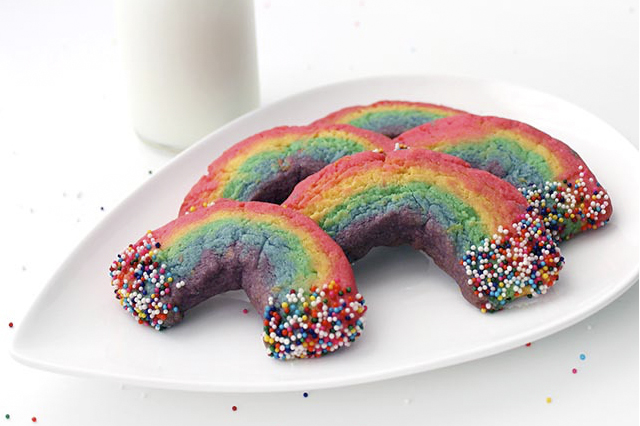 It's one thing to have pretty cookies, but they need to be delicious, too! The addition of lemon to this recipe adds a little twist and the sprinkles at the ends of the rainbows create a bit of crunch. One thing is for sure, your family will love to create and eat these pretty treats.
Rainbow Sprinkle Cookies
Makes around 40 cookies
Ingredients:
2 large eggs
2/3 cup + 2 tbsp granulated sugar
2 tsp freshly grated lemon zest (about 1 lemon)
2-1/2 sticks softened, unsalted butter
1/2 tsp salt
1 tsp vanilla extract
3 cups all-purpose flour
1 large egg white, lightly beaten
Food coloring: red, orange, yellow, green, blue, purple
Directions:
Start by placing your eggs in a saucepan with 1-inch of water and bring to a boil over high heat. Remove your pan from the heat, cover, and let rest 10 minutes. Then, gently transfer your eggs into a small bowl containing ice water and let sit for 5 minutes. Crack and peel the eggs, then separate the yolks from the whites. Save your yolks and mash up with a fork until very fine.
Preheat oven to 350 degrees.
In a separate bowl, combine sugar and fresh lemon zest. Using a fork or your fingertips (fun for the kids!) combine and rub the mixture together until it resembles the texture of sand.

Set up your stand mixer with a paddle attachment and add butter, sugar mixture, salt, and cooked egg yolks to the mixer bowl. Beat about 4 minutes, or until light and fluffy. Make sure to scrape the bowl to fluff up all of the ingredients! Then, turn your mixer onto low, add vanilla, and mix until incorporated.
Now add the flour. Add slowly in 3 increments on low-speed. Once all is combined, use a spatula to press the dough into one ball.
Next, divide the dough into six equal portions and add food coloring to each until bright. Place each dough ball in between two pieces of plastic wrap and then roll into a roll into a rectangle until about 1/4 inch thick. Repeat with each color.

Beat the egg white until fluffy. Use a pastry brush to brush each layer with the egg white mixture and place each layer of dough on top of each color in the same color sequence as a rainbow: purple, blue, green, yellow, orange, and red. Use a knife to trim the edges to create a uniform rectangle and slice the dough into 1/4 inch rectangles.


Bend to make a rainbow shape and dip the ends in sprinkles of your choice. Place them 1 inch apart on parchment paper lined baking sheets. If the dough seems soft when slicing, chill for 20-30 minutes)

Bake 14-16 minutes, rotating the baking sheets halfway through. Let them cool for 5 minutes and then transfer to a wire rack. Enjoy with milk!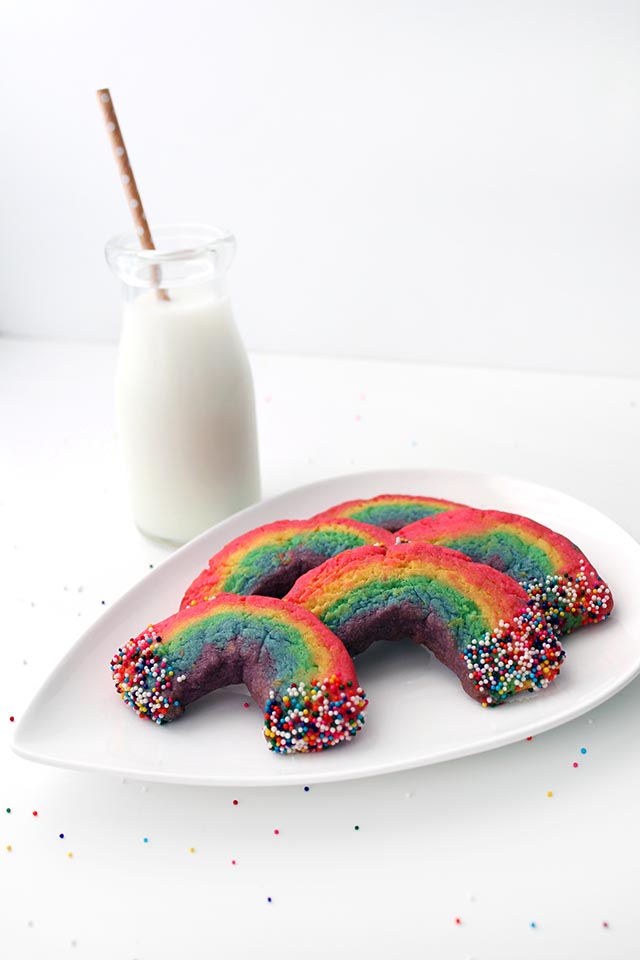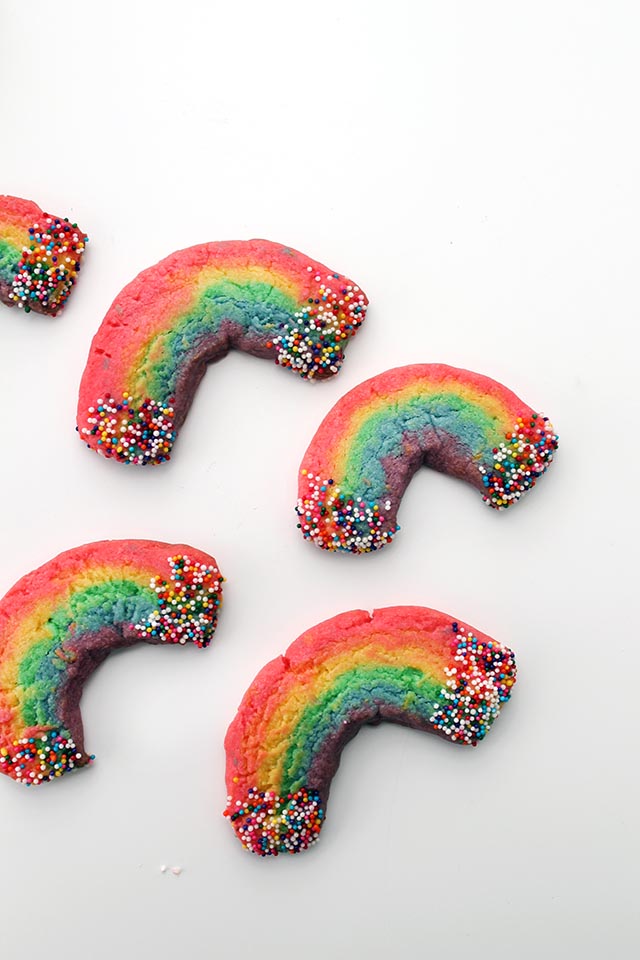 Psssst – if you sneak these into your littles lunches, they'll earn extra cool points at lunch time! The possibilities are also endless with these cookies. You can cut them into rectangles and bake if you don't have sprinkles on hand, or roll into balls and hand-press them for a cool tie-dyed look. Whatever you choose, have some fun!