Thank you to Knott's Berry Market for inspiring us to share some holiday dessert cheer with our readers this season!
If you're looking for a colorful holiday dessert to serve this year, look no further than this sweet Raspberry Crumb Bar. It's not only easy to make but looks amazingly great on a holiday tablescape.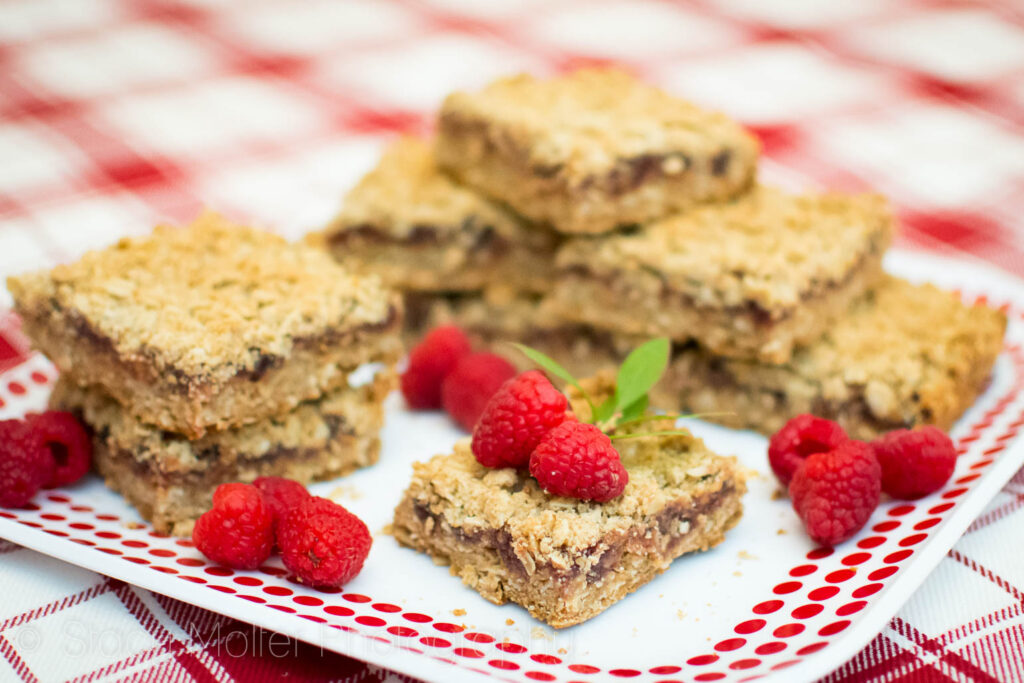 Best of all, you can create this dessert a day in advance giving you the time to step outside of the kitchen and enjoy the holiday celebration.
Knott's Berry Market
Berry Market products can be found at the Knott's Berry Market store, an adorable little shoppe located in Knott's California Marketplace just outside of Knott's Berry Farm. At the Berry Market, you can find your favorite Berry Market ingredients, as well as seasonal gifts and more! You can even enjoy a sample of fresh, rich fudge in an assortment of flavors.
Check out all the fabulous food and gift items you can find at the Berry Market!
As you can see, I couldn't help but pick up a few of our family's favorite Berry Market products. From sweet jams and cookies to their savory Boysenberry BBQ sauce, the Berry Market is sure to have something you will love!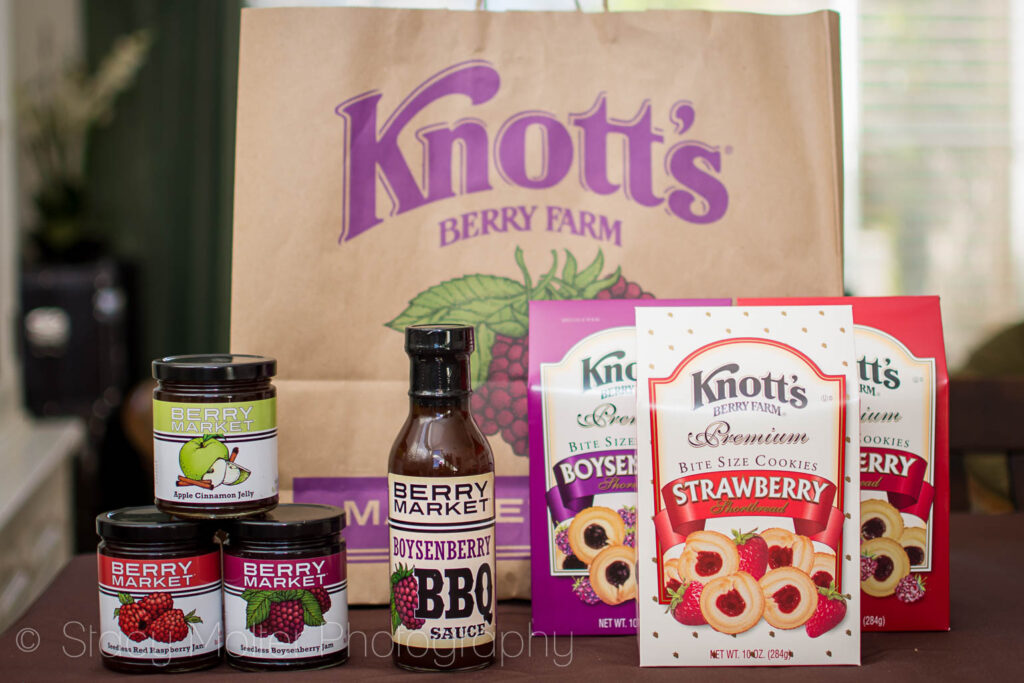 For our recipe today, we're featuring the Berry Market Seedless Red Raspberry Jam. Raspberries are a favorite in this house, and the natural red color of the fruit pairs perfectly with the season's holiday colors.
Berry Market jams are one of our favorite jams because they are made in the home-style tradition Walter and Cordelia first used in 1920, in small batches with simply the best berry ingredients (raspberry puree, cane sugar, lemon juice, pectin, and calcium citrate) and cooked quickly to capture their smooth sweet flavor. Even better, Berry Market jams contain more fruit, less sugar, and no preservatives or high-fructose corn syrup.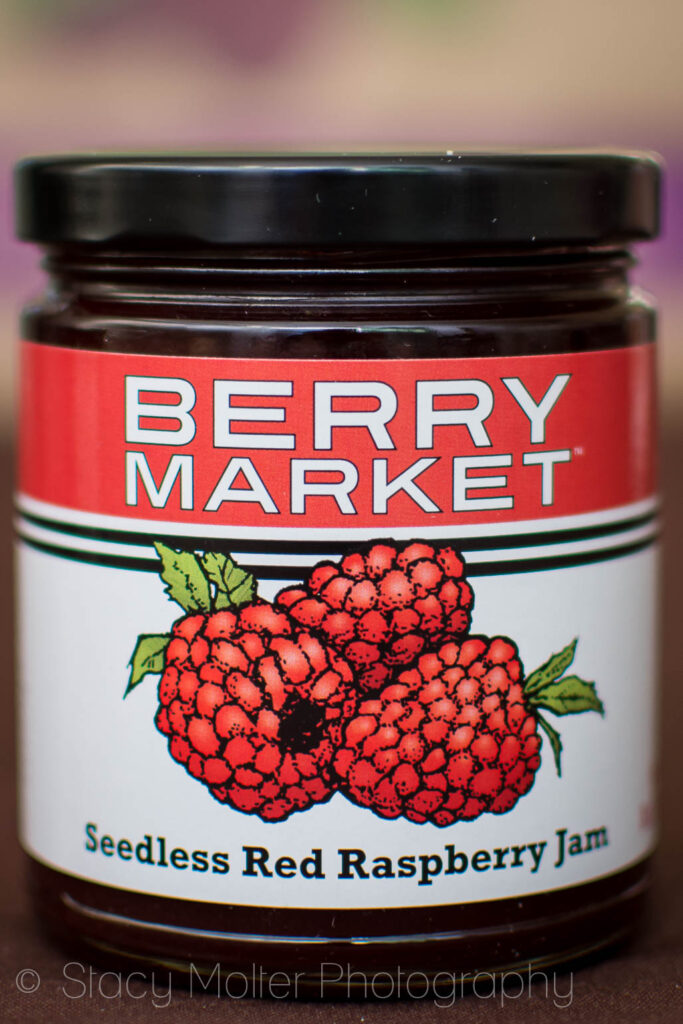 Raspberry Crumb Bars – A Berry Delicious Holiday Dessert
Raspberry Crumb Bars are a favorite treat in our house. The natural sweetness of jam bounces off the rich flavor of whole grains oats creating a sweet and savory dessert bar you will love. Plus, the whole grain oats are packed with protein giving you a reason to enjoy these little treats for breakfast too!
Personalize this recipe with any flavor jam you love or serve a variety of sweet flavors at your next celebration.
Ingredients:
1 1/2 cup all-purpose flour
3/8 tsp baking soda
3/8 tsp salt
1 1/2 cup rolled oats (old-fashioned)
3/4 cup packed light brown sugar
3/4 cup unsalted butter, softened
10 oz Berry Market Seedless Red Raspberry Jam
fresh raspberries as decoration
Directions:
Preheat oven to 350 degrees. Line a 9 by a 9-inch baking dish with parchment paper layering two layers if necessary, leaving a 2-inch overhang of parchment paper on two sides. Lightly grease the parchment paper. (Pro tip: To get parchment paper to fit into any size or shape pan, crumble it up and then smooth it flat.)

In a large mixing bowl, whisk together flour, baking soda, and salt. Stir in oats and brown sugar, breaking up brown sugar clumps.


Using fingertips, work the butter into mixture until evenly moistened. The mixture should be crumbly.


Place 2 cups of the oat mixture to the prepared baking dish and press into an even layer.


Spread raspberry jam evenly over the oat layer, coming within 1/4-inch of all edges.


Sprinkle top evenly with remaining oat mixture, then lightly press into jam layer.


Bake about 35-40 minutes, or until golden brown. Remove from oven and allow to cool completely before cutting into squares. Top with fresh berries and serve immediately or store in an airtight container.



You can also serve these tasty Raspberry Crumb Bars alongside a complementing flavor of Knott's Berry Farms Premium Shortbread Cookies. You taste buds will love you for it!