The latest film from MARVEL Cinematic Universe is charming, quirky, and features the smallest hero to hit the big screen. A much lighter film than Avenger's: Age of Ultron, MARVEL's Ant-Man is a fun heist movie that will steal the hearts of audiences everywhere.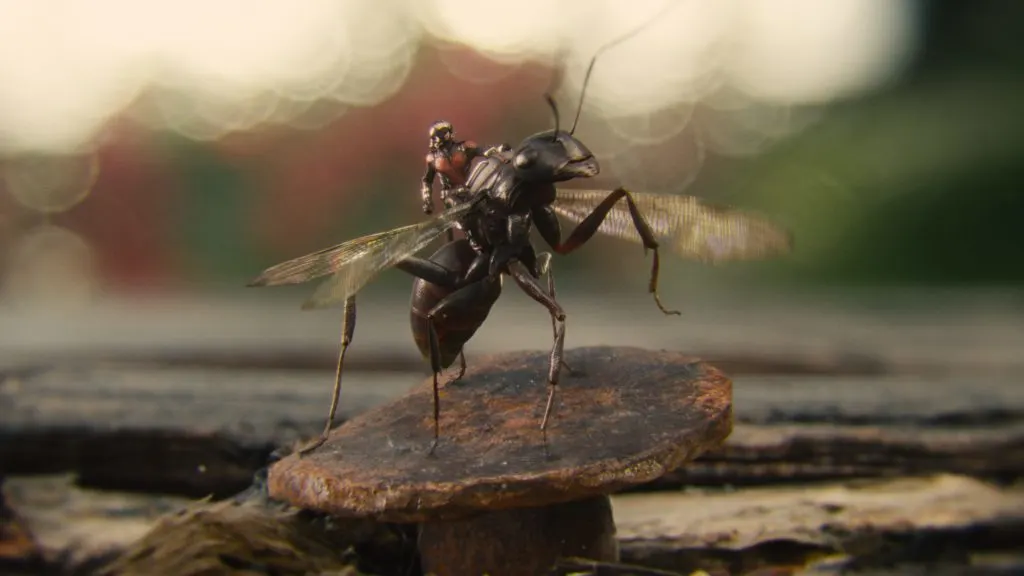 As the film opens we get a glimpse into the past where we find scientist Hank Pym (Michael Douglas) amongst a group of friends/enemies holding a red vial containing the 'Pym particle.' Something undoubtedly very important and something S.H.I.E.L.D. wants to get their hands on, the highly secretive 'Pym particle' gives Ant-Man's suit it's powerful shrinking ability and S.H.I.E.L.D. has been unable to successfully recreate the formula, that is until now.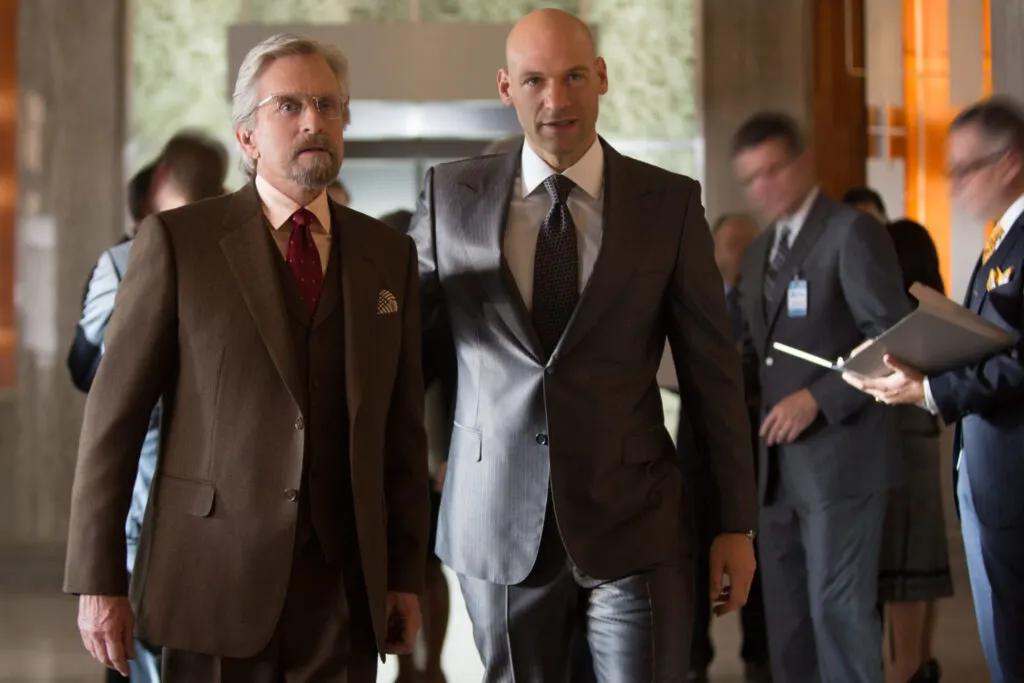 Too old to wear the suit himself, and not willing to risk losing his daughter Hope Van Dyne (Evangeline Lilly) as he did his wife Janet on a mission years earlier, Hank Pym hand picks ex-convict Scott Lang (Paul Rudd) to thwart his former apprentice Darren Cross (Corey Stoll) from successfully creating his own shrinking suit and ultimately selling it to Hydra.
After Scott lands himself back in jail from a heist, Hank Pym offers Scott Lang a proposal to keep him out of jail, and to help him rebuild his lost relationship with his daughter Cassie (Abby Ryder Fortson), something Hank has longed for with his own daughter Hope for years. As Scott Lang professes 'My days of breaking in places and stealing stuff are over. What do you want me to do?', Hank Pym explains 'I want you to break into a place and steal some stuff.'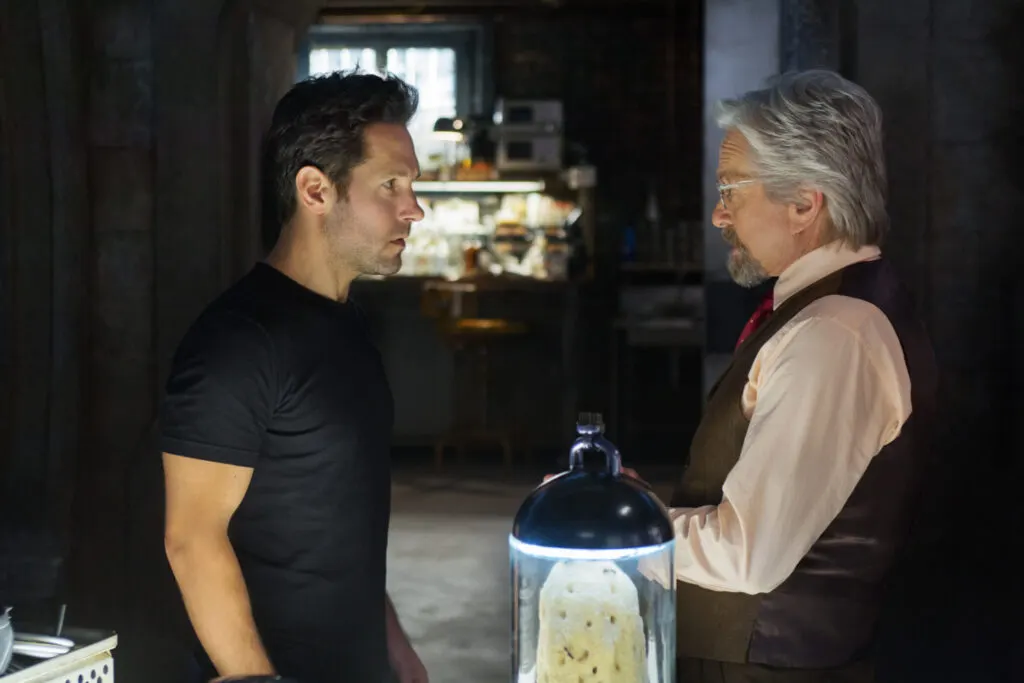 But a heist film wouldn't be complete without a team to help with the planning, execution, and aftermath of the theft, and MARVEL knocked it out of the ballpark with Luis (Michael Peña), Dave (Tip "Ti" Harris), and Kurt (David Dastmalchian). This one-of-a-kind team of fellow ex-cons keeps audiences laughing with their high-stakes antics.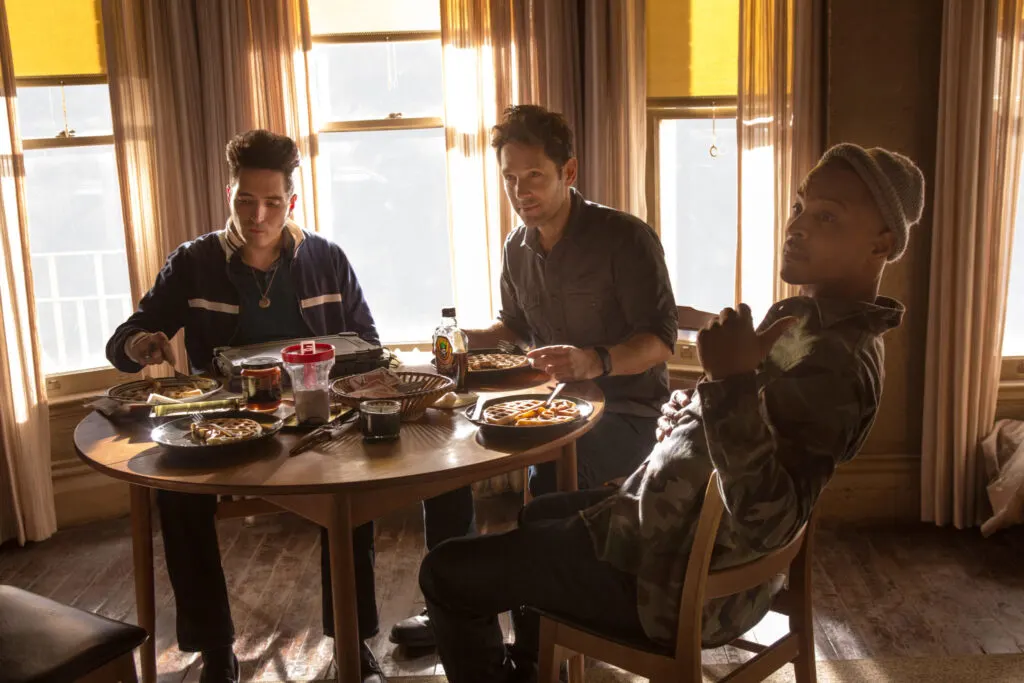 As Hank, Scott, Hope, and the team of ex-cons assemble an army to defend the world against Yellowjacket and prevent the sale of Darrin's invention to Hydra, we see a softer side of MARVEL as Scott and his daughter Cassie, Hank and his daughter Hope, even Darrin and his father-figure Hank, resolve the conflicts within their relationships and begin to heal and grow as a family.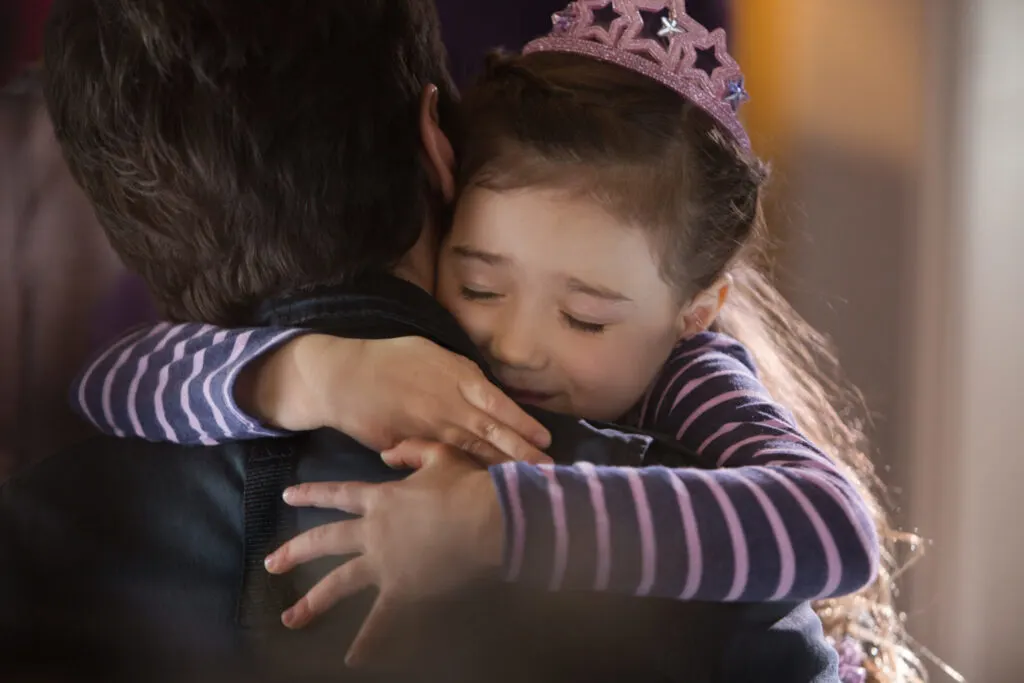 Ant-Man is Rated PG-13 for mild sci-fi action violence and mild profanity. We highly recommend MARVEL's Ant-Man to age appropriate audiences everywhere.
MARVEL's Ant-Man is playing in theatres everywhere.
Reel Kids Review: Marvel's Ant-Man is the Smallest Hero to Hit the Big Screen
Our twins were once again invited to attend a screening of MARVEL's Ant-Man before it hit the big screen. Here's what they thought about the pint-sized hero that packs a big punch.
Q: What did you think of the film Ant-Man?
Kevin: It was awesome and action packed. My favorite moment was the epic battle between Ant-Man and Yellowjacket at the end of the film. That was the best!
Lewis: Yes, I loved that part too. Especially when they were fighting in the living room on the Thomas the Tank track. That was sick.
Q: Who was your favorite character and why?
Kevin: Ant-Man because he has super strength when he's small. It's amazing how strong he is when he is small, just like real ants.
Lewis: Ant-Man and his army of ants army. It was so cool how he could use his mind to communicate with the ants, and how the ants helped him defeat Yellowjacket. Antony!!!!!!!
Q: When do you think we'll see Wasp? What do think her part will be in upcoming MCU films?
Kevin: I think we'll see Wasp in Captain America: Civil War. I think she'll become a commander of the Avengers, and help win the war against Hydra.
Lewis: Definitely Captain America: Civil War. I think she will join the Avengers against S.H.I.E.L.D. to win the war. I'm not sure what her talent or powers will be, but I'm sure they'll be awesome!
Q: What's going to happen to Cassie's huge pet ant?
Kevin: It's going to shrink and go live with the other ants again.
Lewis: I think she'll keep it as a pet. She really liked it.
Q: In the post credit teaser we saw Falcon, Cap and Bucky? What do you think MARVEL is hinting to in future MCU films?
Kevin: They'll all fight in the Civil War together, along with Ant-Man and Wasp to defeat Hydra.
Lewis: I think they'll join forces and break away from Iron Man since they were upset with Tony Stark in Avengers: Age of Ultron, and how he created Ultron and Vision. Iron Man thinks he smarter than the rest, and I don't think they like that.
About MARVEL's Ant-Man
The next evolution of the Marvel Cinematic Universe brings a founding member of The Avengers to the big screen for the first time with Marvel Studios' "Ant-Man." Armed with the astonishing ability to shrink in scale but increase in strength, master thief Scott Lang must embrace his inner hero and help his mentor, Dr. Hank Pym, protect the secret behind his spectacular Ant-Man suit from a new generation of towering threats. Against seemingly insurmountable obstacles, Pym and Lang must plan and pull off a heist that will save the world.
Marvel's 'Ant-Man' stars Paul Rudd as Scott Lang aka Ant-Man, Evangeline Lilly as Hope Van Dyne, Corey Stoll as Darren Cross aka Yellowjacket, Bobby Cannavale as Paxton, Michael Peña as Luis, Judy Greer as Maggie, Tip "Ti" Harris as Dave, David Dastmalchian as Kurt, Wood Harris as Gale, Jordi Mollà as Castillo and Michael Douglas as Hank Pym.
Marvel's 'Ant-Man' delivers a high-stakes, tension-filled adventure is now playing in theaters everywhere.
Like Ant-Man on Facebook, Follow Ant-Man on Twitter, Visit the official Ant-Man site.
Portions of the material have been provided courtesy of MARVEL and Walt Disney Studios.