Thanks to STXfilms for the invitation to participate in the Second Act press day. Second Act, the new STXfilms movie starring Jennifer Lopez, hits theaters on December 21, and you're going to want to start planning your girls' night now.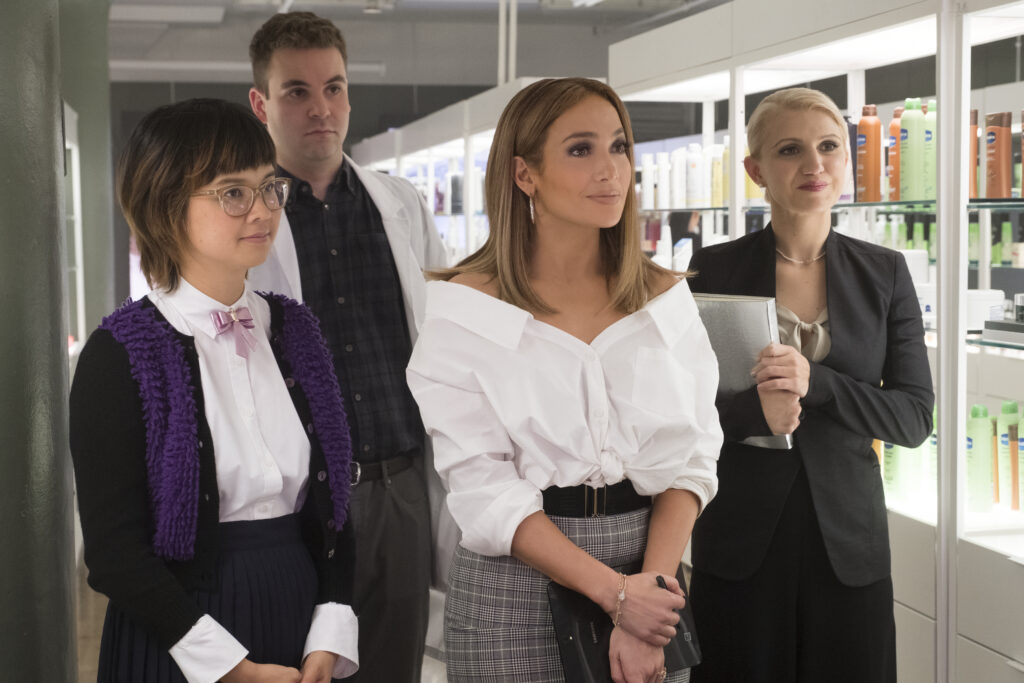 A group of fellow bloggers and I were invited to screen the movie early, and to attend the press junket, offering us the opportunity to interview Jennifer Lopez, best friend and co-star Leah Remini, and Director Peter Segal. What a fun day it was!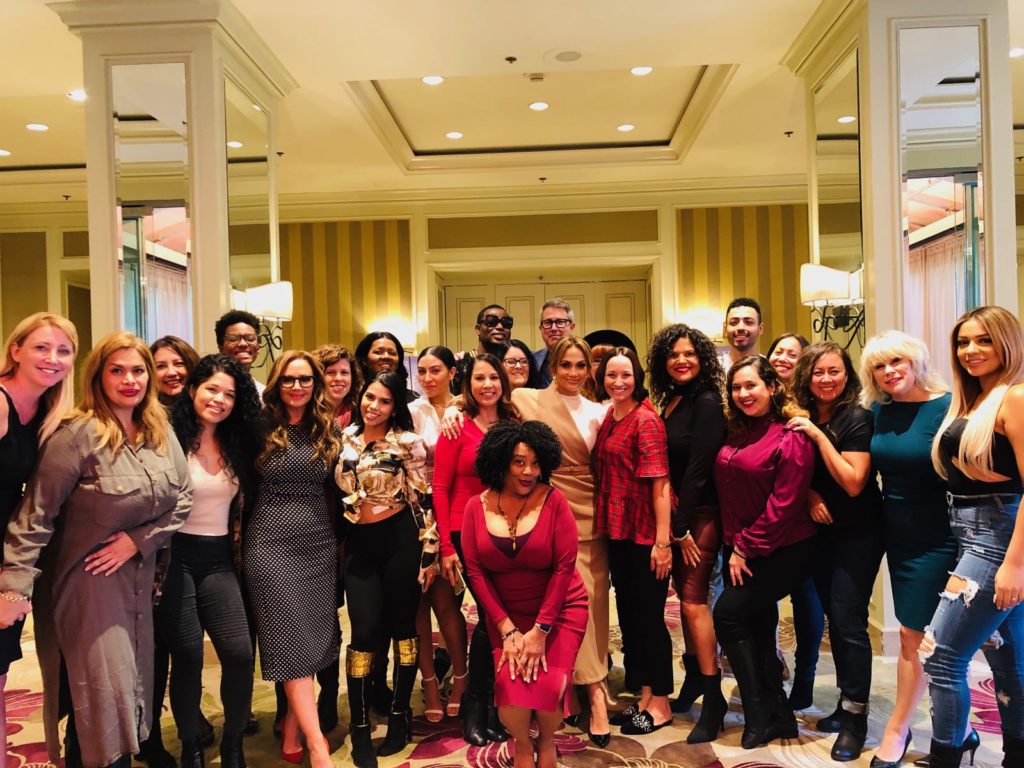 The event was held in the beautiful Four Seasons Hotel in Beverly Hills, a hotel that's known for its lavish decor, and it didn't disappoint. Gold trees and glamorous Christmas decor was everywhere we looked, as we enjoyed hot cocoa and cookie while waiting to begin the conference. Waiting on J-Lo, Leah and Peter to enter, the energy in the room was high and everyone was really excited. Then they swooped in, with Jennifer in a gorgeous long white dress with a beige wrap, and Leah in a black and white classic polka dotted dress, two gorgeous women, ready to talk business.
Second Act – The Best Time of Your Life is Now
The questions started immediately, with the first one addressing the fact that the movie's focus was on a 40+-year-old woman who was looking to reinvent herself. There were several women in the room in that age room, emphatically nodding their heads as Jennifer responds that that theme was exactly why she took the role, "kind of a Working Girl, It's a Wonderful Life, an outer-borough woman who was in her forties and was thinking her life was over."
In fact, Jennifer was able to relate to the movie on a personal level, about how life's not only far from over, but in some ways feels like it's just beginning as she feels like now is the best time of her life. She knows so much more than she did in her 20s or even 30s.
The two ladies are very close outside of the movie set, and they shared that just like any other friends, they have their ups and downs. One moment they'll be upset with each other, and then by talking it out, they're back to normal again. This comes across in the movie, as their chemistry is clear. In fact, one scene that's in the trailer shown on TV shows when Leah's character, Joan, is trying to empower Jennifer's character, Maya, to go for something she's wanted. "Who's the champ?" "I'm the champ." "Who's the champ?" and so forth…and when Maya doesn't seem to get it yet, Leah lightly slaps her on the face repeatedly, finally resulting in Maya slapping her back and heading off to take care of business. It's one of the funniest scenes in the movie.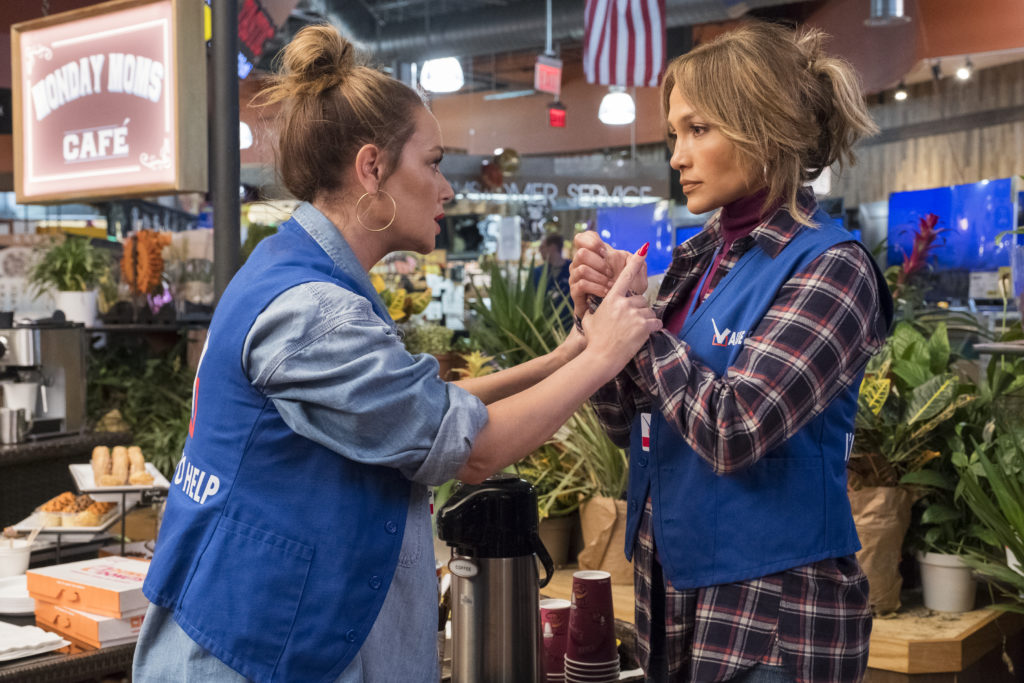 Another funny scene that will get everyone laughing is when Maya has to attend a business meeting with a possible client because she's the only one that speaks Mandarin. Problem is, she doesn't really speak it. It's part of her entirely faked resume, which includes a heavily doctored Facebook page and social media persona, which Joan's son creates in order to help Maya get ahead in her career after being declined a promotion at her long-time job due to not having a degree.
"I wish the world valued street smarts as much as book smarts." Don't we all?
Maya's character is at dinner with the client, who doesn't know Maya has an earwig enabling her to get language coaching from a friend who is a veterinarian. He happens to be mid-exam on a dog and Maya erroneously repeats a veterinarian phrase instead of the proper response, causing the client to laugh, and resolving the meeting in a positive manner. Jennifer speaks no Mandarin and she shared that there were repeated takes as her co-star laughed at her poor pronunciation. To see Jennifer share a flaw and something personal was endearing and funny.
Leah spoke about how lucky they were that what we see in the movie is basically her and Jennifer's relationship, due to a director that let them be themselves and do things their own way. In fact, Mr. Segal shared that when he saw them interacting in person, they were like sisters and he felt that would work well for the movie, so he encouraged them.
Another personal thing that Jennifer shared was how much she loves playing roles where she gets to tap into her maternal instinct, as it's her strongest instinct in life right now. In the movie, Maya has a very sad experience at a young age, and while I won't spoil that for you, Mr. Segal shared that the studio wasn't initially interested in that aspect of the story, yet they were able to prevail, and it ended up being the heart and soul of the movie.
Leah made, point, in that she wants everyone to laugh…not just during the interview, but during the movie, as we need to laugh more. Everyone adamantly agreed.
Jennifer piggy-backed it later by sharing that being your authentic self is important, "let them see that part of yourself" because "who you are is even better than that" fake persona. True words of wisdom for us all.
Second Act is a story of finding yourself, being yourself, and loving yourself. Starring Milo Ventimiglia as Maya's boyfriend, it's also about allowing yourself to love and trusting those around you as we don't need to be something we're not in order to be loved. It's a movie that makes for a wonderful girls' night out. Gather the girls and buy your tickets now!