Celebrate this holiday season with the Italian flair of this Snapper & Pernod-Infused Cioppino Recipe with Saffron Aioli from guest author Chef William Dissen.
Cioppino is a classic and hearty tomato-based seafood stew popularized in San Francisco's North Beach in the late 1800's. It's there that wharfs and Italian fishermen were commonplace. After a long day of fishing at sea, workers used whatever seafood was left over from the day's catch to make a filling meal.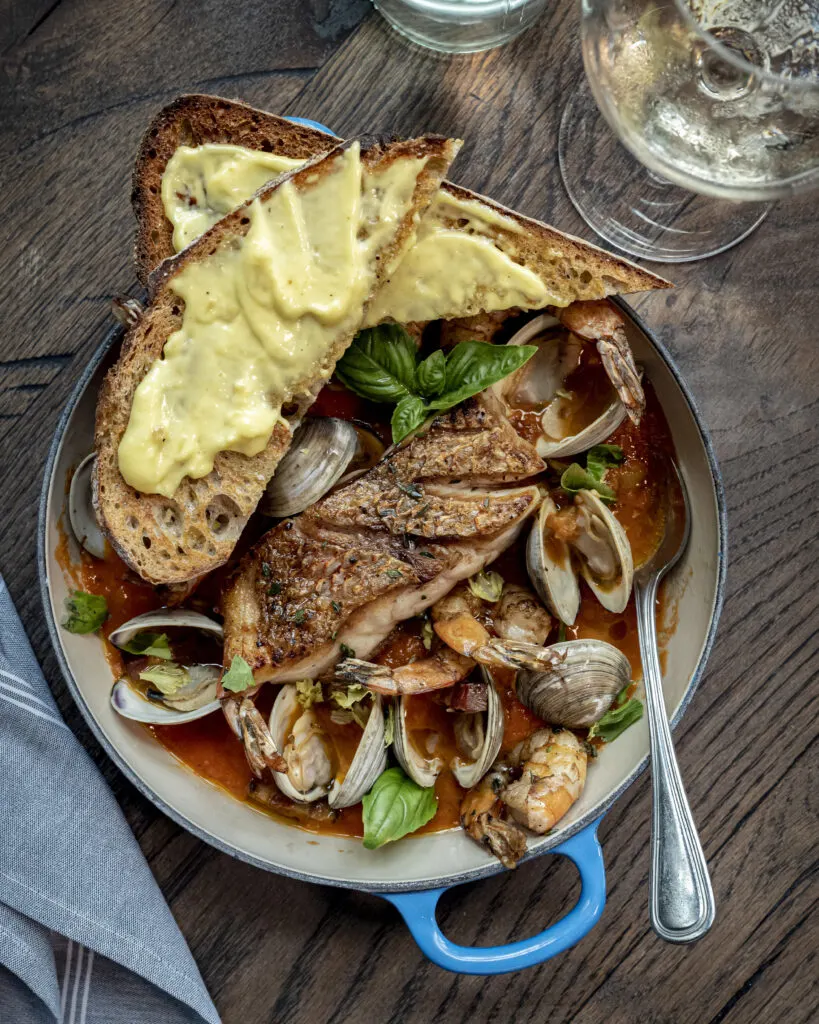 Specializing in American farm-to-table cuisine, former JBFA 2022 Judge Chef William Dissen's version of the storied Cioppino stew infuses freshly caught snapper, with large shrimp, littleneck clams and fish fumet cooked in a Dutch oven.
Chef Dissen works with a variety of savory ingredients, such as red pepper, fennel, diced onions, minced garlic, chopped basil, and San Marzano tomatoes cooked down in Pernod and white wine. His version also includes a mouth-watering Saffron Aioli sauce for the quintessential baguette that accompanies the dish.
Snapper & Pernod-Infused Cioppino Recipe with Saffron Aioli
Snapper & Pernod-Infused Cioppino Recipe
(Yield 6 portions)
Ingredients
Olive Oil 3 tbsp. + 3 tbsp.
Fennel Bulb, small dice 1 cup
Yellow Onion, small dice 1 1/2 cups
Celery, small dice ½ cup
Garlic, minced 2 tbsp.
Red Pepper Flake ½ tsp.
San Marzano Tomatoes 1 – 28 oz. can
Fish Fumet Broth 4 cups
Pernod ½ cup
White Wine, dry 1 cup
Kosher Salt to taste
Black Pepper, ground to taste
Snapper, cut into large pieces 1#
Large Shrimp, P&D 1#
Littleneck Clams, steamed 2 dozen
Basil, rough chopped 4 tbsp.
Flat Leaf Parsley, rough chop 4 tbsp.
Method
In a large dutch oven, heat 3 tbsp. of olive oil over medium high heat. Stir in the fennel, onion, and celery and cook until translucent and tender, about 5 minutes.
Stir in the garlic, red pepper flake and cook for about 2 minutes, or until fragrant.
Next, stir the pernod and white wine, bring to a simmer and reduce by half. Stir in the tomatoes and fish fumet. Bring to a simmer and allow to cook uncovered for about 25-30 minutes, stirring occasionally.
Use an immersion blender, and puree to a rustic consistency.
Season the cioppino with kosher salt and black pepper to taste.
Add the snapper and shrimp and bring to a simmer again. Lower the heat to medium low, cover and cook for about 5 minutes, or until the seafood is cooked through. Stir in the steamed clams. Adjust the seasoning as needed and serve immediately.
Ladle the cioppino into large, shallow bowls, and drizzle with the olive oil and garnish with the chopped basil and parsley. Serve with toasted sourdough smeared with saffron aioli.
Saffron Aioli Recipe
(Yield: 1 qt)
Ingredients:
1 qt Dukes prepared mayo
¼ cup Confit garlic puree
1ea lemon, juice of
1TBS Saffron
1 cup White wine
Method:
Add the saffron and white wine to a small sauce pot and simmer 'till the wine is deeply colored and reduced to 2 oz. Strain this into a mixing bowl. Add the mayo, garlic puree, and lemon. Stir 'till combined.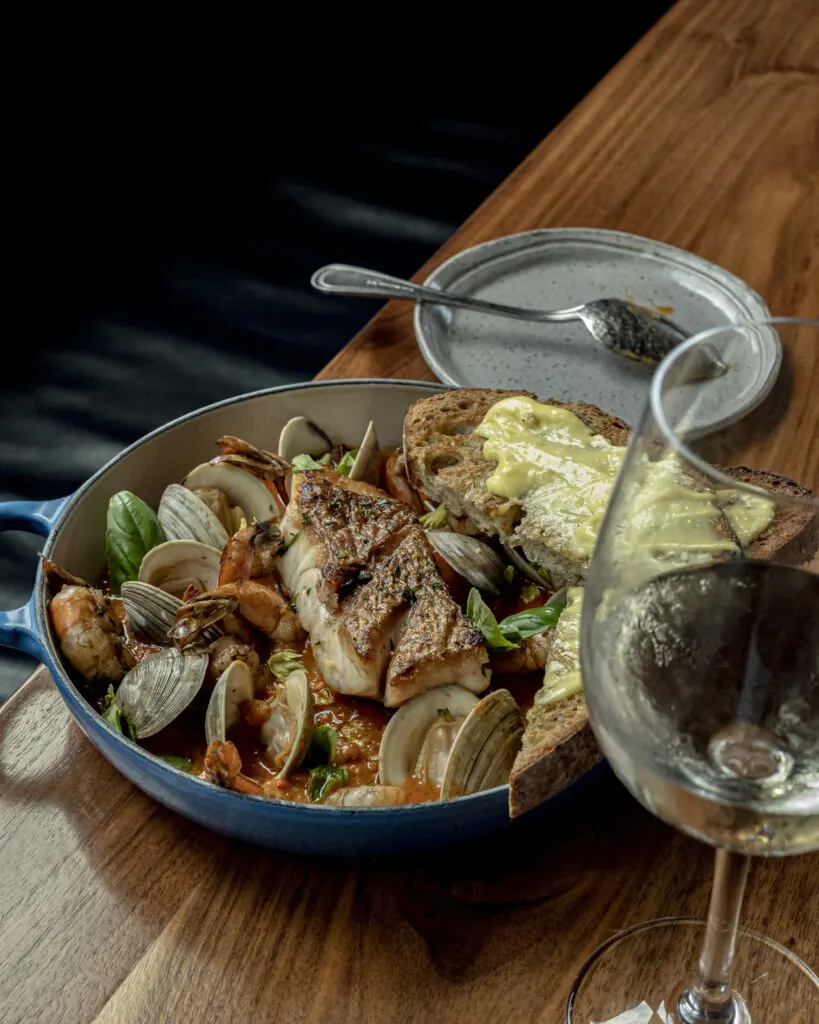 Guest Author Background
William Dissen, a North Carolina executive chef and restaurateur, is the founder of The Market Place Restaurant (www.marketplace-restaurant.com) in Asheville, and the upscale farm-to-table, Charlotte eatery: Haymaker (www.haymakerclt.com). William's take on Cioppino has become a fan-favorite amongst uptown Charlotte's banking district and downtown Asheville's bustling tourism scene!
Did you know, The Market Place restaurant is among the old north state's longest-running, famous classic American restaurants at 43-years?
The Market Place is also an official partner to The Monterey Bay Aquarium (since 2012), where Chef Dissen has served as Seafood Watch Ambassador (since 2011) and Blue Ribbon Task Force Member (since 2014). William's knowledge and devotion to ocean conservation runs deep. He volunteers his time at events around the world: including, Sustainable Foods Institute in California, World Food Summit in Copenhagen, and Qatar-USA Food Festival, where he educates world leaders and culinary educators on age-old practices and modern ways to incorporate sustainable food practices into their processes.