If you are a homeschool family with more than one child, you will likely run into the issue of teaching different grades at once. Before you start to worry, don't fret! Homeschooling different grades at the same time is easier than you think. Read on to find my best tips for managing different grades at the same time in your homeschool.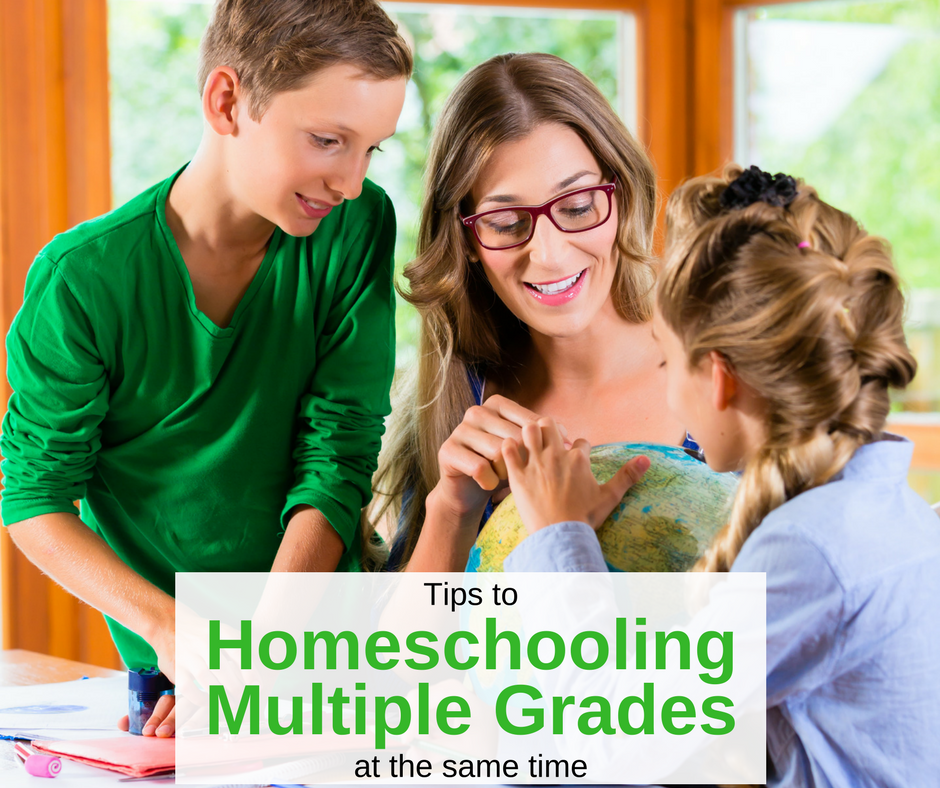 Tips to Homeschooling Different Grades at the Same Time
Stay organized!
It is essential that you keep your homeschool organized any time, but even more so when you are teaching multiple grade levels at once. For most homeschooling moms, it's best to keep things separated by child. That way, there's no confusion where one child is versus another child.
Create a plan for everyone.
Within your homeschool, you need to have a separate plan for each child. The best plans, however, will work together to allow you to get everyone's lessons done each day. Having a plan will make the flow easier so no one is getting frustrated that homeschool is taking an hour longer while you try to figure out what to do next.
Teach the same subject to all at once.
It may be easier on you, the teacher, to create plans that teach the same subject to every student, regardless of their grade level. This keeps everyone on the same page, and the activities tend to flow better this way. Everyone knows when to expect language arts, math, science, and so on.
Use multiple learning mediums.
Because you are homeschooling different grade levels in the same home, you will need to have different ways of learning for the students. For example, your fourth grader can watch a math video on the computer while your first grader does his math worksheets. Then, they can switch. Learning centers in your homeschool space are another great way to present different lessons at the same time.
Consider an online curriculum.
If you have the devices handy, let each child homeschool with an online curriculum. These are typically self-paced, so each student will work as fast or slow as they need to. Once they are finished, they can move on to another activity while their siblings are finishing up.
Teach each child at different parts of the day.
If you have a child that requires more assistance or one-on-one time, schedule this outside of the normal homeschooling schedule. That way, your other children aren't bored or getting frustrated that you are focused on one student.
Be flexible!
Above all, be willing to bend and shift as the homeschooling days go by. Some days, you may be able to run right on schedule with your plans. Others, however, may be a little more hectic or crazy. Be okay with changes, and teach your children to do the same. That way, everyone gets their work accomplishing without being unhappy!
What are your tips for homeschooling different grades at the same time? Leave them in the comments below. Don't forget to pin the image below and share with your fellow homeschool families.