Another one of our favorite Christmas traditions is to sit by a roaring fire with our children and read some of our favorite Christmas books from Christmas' past. There's something special about introducing young children to classic Christmas tales we once read as children ourselves.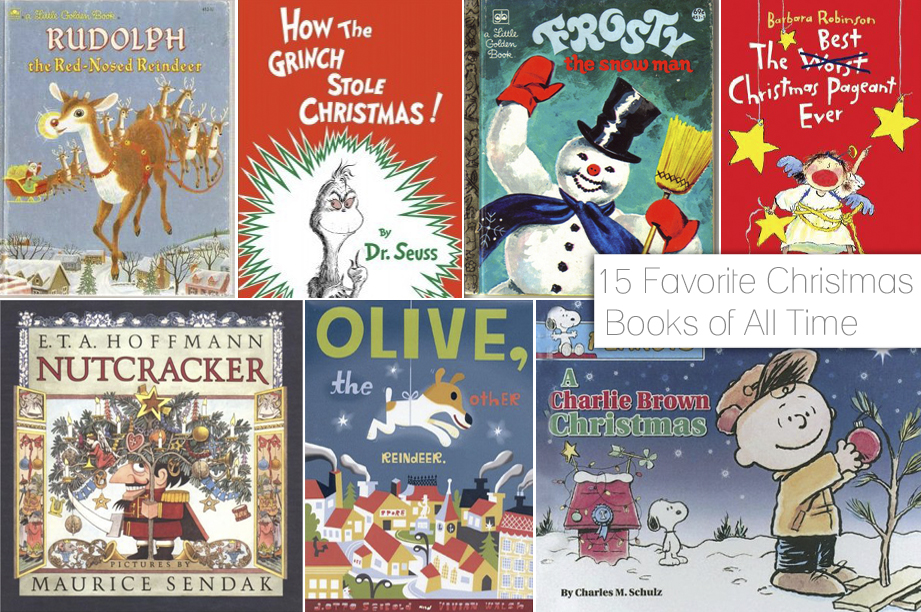 Each of these 15 favorite Christmas books of all time hold a special place in our hearts, and it's beautiful to watch our children's love for these classics come to life every year.
15 Favorite Christmas Books of All Time
How the Grinch Stole Christmas! Dr. Seuss
"The Grinch hated Christmas! The whole Christmas season! / Now, please don't ask why. No one quite knows the reason." Dr. Seuss's small-hearted Grinch ranks right up there with Scrooge when it comes to the crankiest, scowling holiday grumps of all time.
A Christmas Carol Charles Dickens
One of the best-loved and most quoted stories of "the man who invented Christmas"—English writer Charles Dickens—A Christmas Carol debuted in 1843 and has touched millions of hearts since.
The Night Before Christmas Clement Clarke Moore
As St. Nick and eight tiny reindeer descend through a brilliant night sky onto the roof of a Victorian house in a snowy New England village, the famous Christmas poem begins.
The Polar Express Chris Van Allsburg
A Christmas classic written and illustrated by Chris Van Allsburg-great picture book w/ a charming story about keeping the holiday in your heart.
The Best Christmas Pageant Ever Barbara Robinson
The Herdmans are the worst kids in the history of the world. They lie, steal, smoke cigars, swear, and hit little kids. So no one is prepared when this outlaw family invades church one Sunday and decides to take over the annual Christmas pageant.
The Gift of the Magi O. Henry
One dollar and eight-seven cents is all the money Della has in the world to buy her beloved husband a Christmas present. She has nothing to sell except her only treasure — her long, beautiful brown hair.
The Nutcracker E.T.A. Hoffmann
The tale of Nutcracker, written by E.T.A. Hoffmann in 1816, has fascinated and inspired artists, composers, and audiences for almost two hundred years. It has retained its freshness because it appeals to the sense of wonder we all share.
Rudolph the Red-Nosed Reindeer Barbara Shook Hazen
Every year at Christmastime, young and old alike fall under the finger-snapping, joy-inspiring spell of this song. Now fans of the most famous reindeer of them all can become acquainted with the original story of Rudolph the Red-Nosed Reindeer, written in verse by his creator, Robert L. May, in 1939.
A Charlie Brown Christmas Charles M. Schulz
It's Christmas! Everyone is getting into the Christmas spirit — except for Charlie Brown. It seems like everybody has forgotten what Christmas is truly about. But Lucy, Linus, and the whole Peanuts gang have some holiday surprises that will make even Charlie Brown feel merry!
The Snowman Raymond Briggs
Illus. in full color. A wordless story. The pictures have "the hazy softness of air in snow. A little boy rushes out into the wintry day to build a snowman, which comes alive in his dreams that night. The experience is one that neither he nor young 'readers' will ever regret or forget."
The Velveteen Rabbit Margery Williams
Nursery magic is very strange and wonderful, and only those playthings that are old and wise and experienced like the Skin Horse understand all about it.
The Jolly Christmas Postman Allan and Janet Ahlberg
This wonderful book gave children a chance to read letters sent from one fairy tale or Mother Goose character to another. Among the funny notes was one from Jack, who lolled on a sun-drenched island, thanking the Giant for the gold that let him afford such a nifty vacation.
Olive, the Other Reindeer J. Otto Seibold
Sings to the tune "Rudolph the Red-Nosed Reindeer"
Bear Stays Up for Christmas Karma Wilson
Bear's friends are determined to keep Bear awake for Christmas! So they wake Bear up and have him help them find a Christmas tree, bake cakes, hang up stockings, and sing Christmas songs.
Frosty the Snow Man Jane Werner Watson
Based on the beloved song of the same name, this colorfully illustrated version of Frosty the Snow Man, told by Annie North Bedford, is a sure delight for all ages. Who can resist the tale of children enjoying the fun of building Frosty, when suddenly to their astonishment, he comes alive!
Share your favorite Christmas books in the comments below.