Popular first day of school books can help children feel comfortable on a day of uncertainty and new beginnings. Whether children are starting a new school, beginning a new grade, or are nervous about leaving mom and dad for the first time, these popular first day of school books can give children the confidence and self-esteem to have a magical day at school, and remind them that they are not alone in their feelings and fears.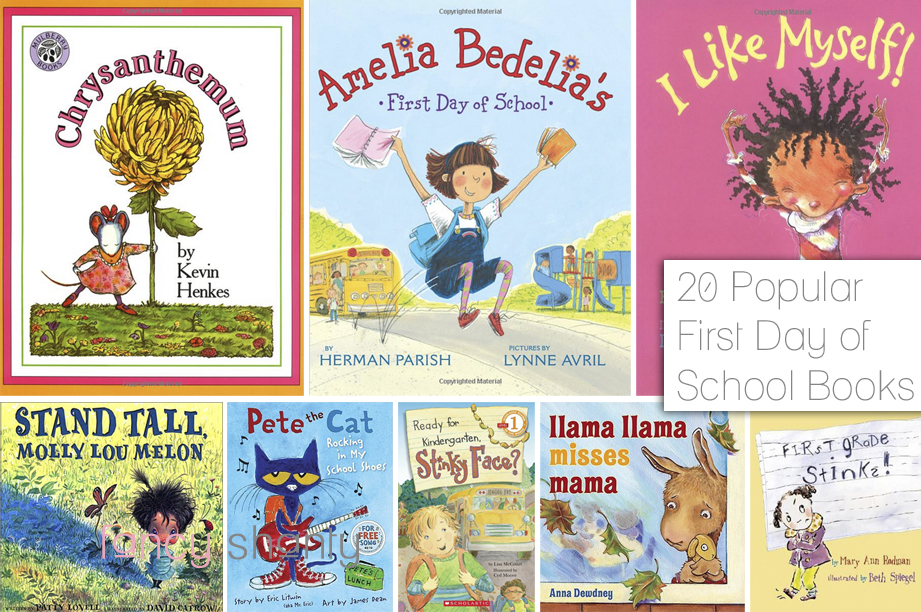 Check out 20 of our favorite, popular First Day of School books below!
20 Popular First Day Of School Books
Wemberly Worried Kevin Henkes
Wemberly worried about everything. Big things. Little things. And things in between. Then it was time for school to start. And Wemberly worried even more. If you ever worry (or know someone who does), this is the book for you.

The Kissing Hand Audrey Penn
School is starting in the forest, but Chester Raccoon does not want to go. To help ease Chester's fears, Mrs. Raccoon shares a family secret called the Kissing Hand to give him the reassurance of her love any time his world feels a little scary.

Chrysanthemum Kevin Henkes
She was a perfect baby, and she had a perfect name. Chrysanthemum. When she was old enough to appreciate it, Chrysanthemum loved her name. And then she started school.
David Goes To School David Shannon
This light-hearted companion to the Caldecott Honor Book "No, David!" is an entertaining, laugh-out-loud romp from the beginning of class to the end of the day.
I Like Myself! Karen Beaumont
High on energy and imagination, this ode to self-esteem encourages kids to appreciate everything about themselves–inside and out. Messy hair? Beaver breath? So what! Here's a little girl who knows what really matters.
Llama Llama Misses Mama Anna Dewdney
It's Llama Llama's first day of preschool! And Llama Llama's mama makes sure he's ready. They meet the teachers. See the other children. Look at all the books and games. But then it's time for Mama to leave.
The Name Jar Yangsook Choi
Being the new kid in school is hard enough, but what about when nobody can pronounce your name? Having just moved from Korea, Unhei is anxious that American kids will like her.
First Grade Stinks! Mary Ann Rodman
First-grader Haley wishes she were back having fun in kindergarten with her old teacher–until she finds out that first grade is special, too.

Miss Nelson Is Missing! Harry Allard
The kids in Room 207 were misbehaving again. Spitballs stuck to the ceiling. Paper planes whizzing through the air. They were the worst-behaved class in the whole school. The students don't proffer a shred of respect for their good-natured teacher Miss Nelson, but when the witchy substitute Miss Viola Swamp appears on the scene, they start to regret their own wicked ways.

Ready For Kindergarten, Stinky Face? Lisa McCourt
Stinky Face is full of "What ifs" as he gets ready for kindergarten! It's time to go to kindergarten, but Stinky Face has a question . . . "But, Mama, what if the sink in my classroom pours grape juice instead of water?" As the situations grow stranger, Stinky Face's mama always has just the right answer to make him feel better.

Pete the Cat: Rocking in My School Shoes Eric Litwin
Pete the Cat is back—and this time he's rocking in his school shoes. Pete discovers the library, the lunchroom, the playground, and lots of other cool places at school. And no matter where he goes, Pete never stops moving and grooving and singing his song . . . because it's all good.
The Night Before First Grade Natasha Wing
It's the night before the Big Day—first grade. Penny is excited to start the year with her best friend right beside her in the same classroom.

Amelia Bedelia's First Day of School Herman Parish
Amelia Bedelia is sure she will love everything about the first day of school. New friends, a new teacher, her own desk, music, books, gym, art, recess and lunch, Amelia Bedelia can't wait.
Froggy Goes to School Jonathan London
Froggy's mother knows that everyone's nervous on the first day of school. "Not me!" says Froggy, and together they leapfrog to the bus stop — flop flop flop. Froggy's exuberant antics, complete with sound effects, will delight his many fans and reassure them that school can be fun.

Boomer Goes to School Constance W. McGeorge
In Boomer's Big Day, Boomer and his family moved to a new town. Now Boomer is going to school! Like many new students, Boomer finds that going to school can be a bit confusing…at first. But in the end, he discovers that school is a great place for friends, learning, and fun!
The Teacher from the Black Lagoon Mike Thaler
On the first day of school, a boy falls asleep and dreams that he is assigned to Mrs. Green's class. In his nightmare, Mrs. Green is a monster with a tail and smoke coming out of her nostrils. He is so happy when he awakes to see the real Mrs. Green that he gives her a hug.
Oh, the Places You'll Go! Dr. Seuss
In this joyous ode to life, Dr. Seuss addresses graduates of all ages, from nursery school to medical school, and gives them the get-up-and-go to move mountains with the unrivaled exuberance and charm that have made Dr. Seuss's books favorites for years.

First Day Jitters Julie Danneberg
Everyone knows the jumble of feelings as the first day of school approaches — especially if it's the first day at a new school. Children and adults delight in the surprise ending!
Splat the Cat Rob Scotton
It's Splat's first day of school and he's worried. What if he doesn't make any new friends? Just in case, Splat decides to bring along his pet mouse, Seymour, and hides him in his lunchbox.
Stand Tall, Molly Lou Melon Patty Lovell
Molly Lou Melon is different, but this doesn't slow her down. Her self-confidence, however, is bigger than Andre the Giant. No matter what ugly things that stereotypically-red-headed class bully Ronald Durkin says to her, she just grins her giant grinning grin and goes right ahead doing whatever it is she's doing.
What are some of your favorite popular first day of school books? Leave them in the comments below.