Tim Burton's re-imagination of Walt Disney Studios classic film Dumbo is spectacular! The classic story of everyone's favorite flying elephant comes to life, but with the Burtonesque twist audiences have come to love.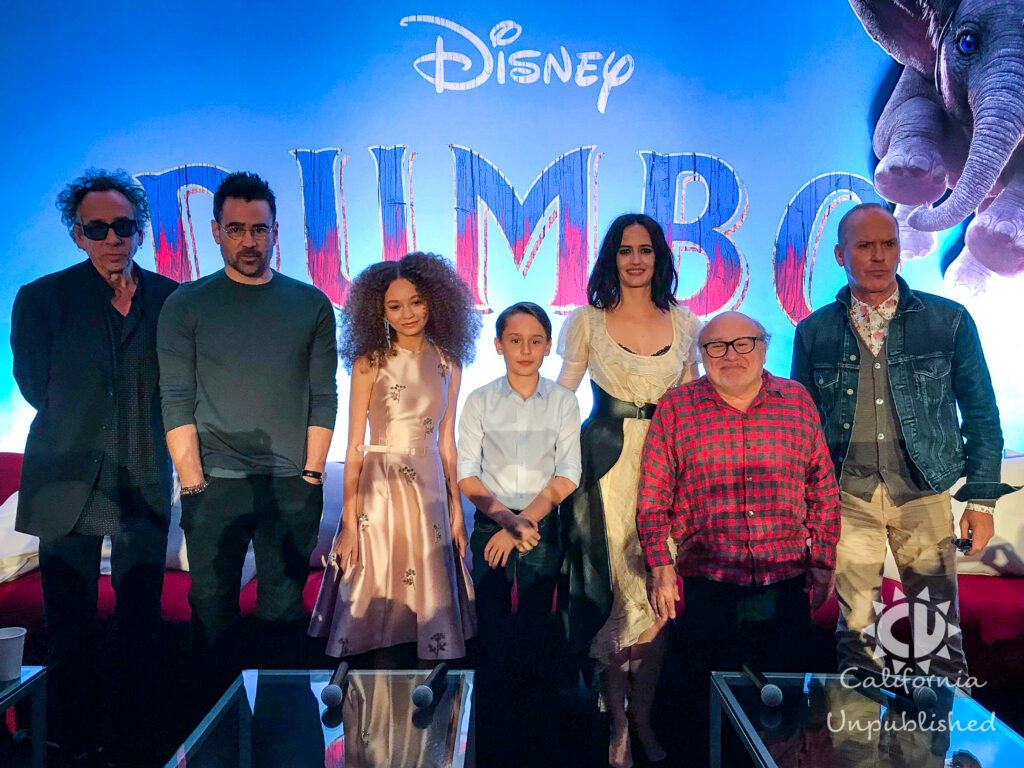 See also: World Premiere of Disney's Dumbo
There's something that this movie really illuminates and that is the love of the circus, the strength of the performers, and the importance of family. The film is simply pure Disney magic.
Our family, absolutely LOVES the circus and at the press conference for Disney's Dumbo, we had the opportunity to learn what the cast of Dumbo thinks about the real circus. Here are their favorite productions from the big top.
Believe it or not, even though Tim Burton has made circus movies, he's never really liked the circus.
Nico Parker favors the contortionists and cake top dancers.
Finley Hobbins enjoys the jugglers.
Much like her character in the film, Eva Green appreciates the aerialists.
Michael Keaton surprised the room with his pick, the snake. He also appreciates the aerialists, as well does Danny DeVito.
And, check out what the cast has to say about their characters in the film. You'll love what Michael Keaton thinks of his wig!
Get your tickets to see Disney's Dumbo, opening in theaters this Friday!
Behind the Characters of Disney's Dumbo
Q: Tim, what do you love about Dumbo?
Tim Burton: It was the idea of it. The idea of a flying elephant and the character that doesn't quite fit into the world. How somebody with a disadvantage makes it an advantage. It just felt very close to the way I felt about things. It was just a very pure simple image. Like all the old Disney fables had that kind of simple symbolism for real emotions.
It's a very simple fable, very simple story. Its heart is about family. This character who comes back from a war. He doesn't have an arm. He doesn't have a wife. He doesn't have a job. He's trying to find his place in the world.
All of the characters actually are in that way. Nico's character. They wanted to be something. She wants to be something else. Every character in it. Everybody is trying to find their place in the world. And, like Dumbo, using disadvantage to advantage. Lots of nice themes with a very simple framework.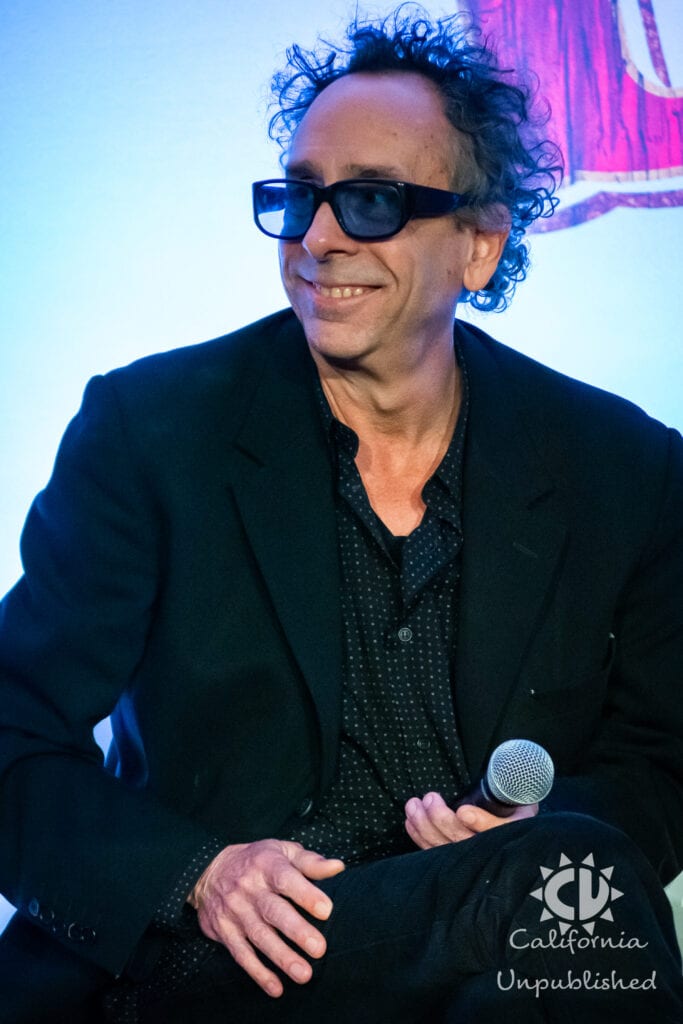 Q: Colin, can you tell us a little more about your character?
Colin Farrell: I was playing a father who was disenfranchised from his kids, disenfranchised from a life that he left behind that is completely different by the time he comes back from fighting in the first war. He's physically a different man.
He's lost his left arm. He's seen a lot of brutalities. We don't get into all of that psychological stuff so heavily because we want the film to be able to be received with the importance of the messages that are in it rather than hitting them all over the head. But, my character's journey was one in just accepting his position as father and how that meant that all he had to do really was get out of his children's way and let them be who they are.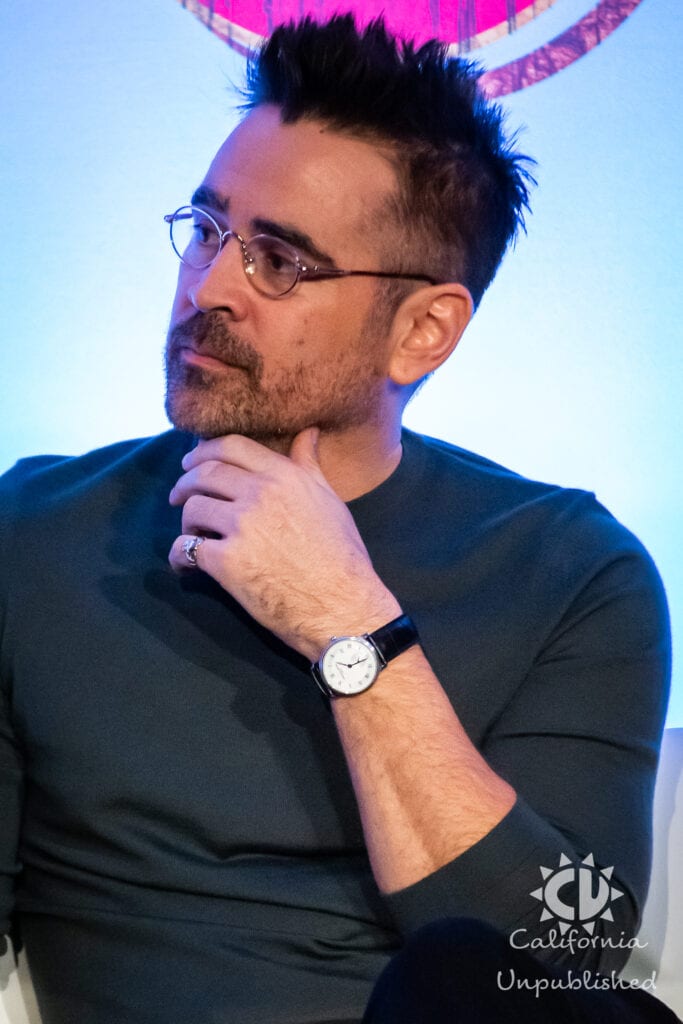 Q: Danny, as the ringleader, was any of your performance based on Mr. Burton?
Danny DeVito: Everything I do in the movie is basically fed to me through the insane mind of Mr. Burton. It felt really great to be Max Medici and be part of this insane family. The great thing is that it is a family and it is Max trying to keep everything together and keep all the elements up in the air.
Tim just works 24/7 when he's making a movie, keeping everything going, keeping the plates spinning, keeping all the balls in the air, keeping everything moving. All the moving parts congealing. Everything going together. I feel like he's an inspiration when we're on the set and it pushes you to new heights.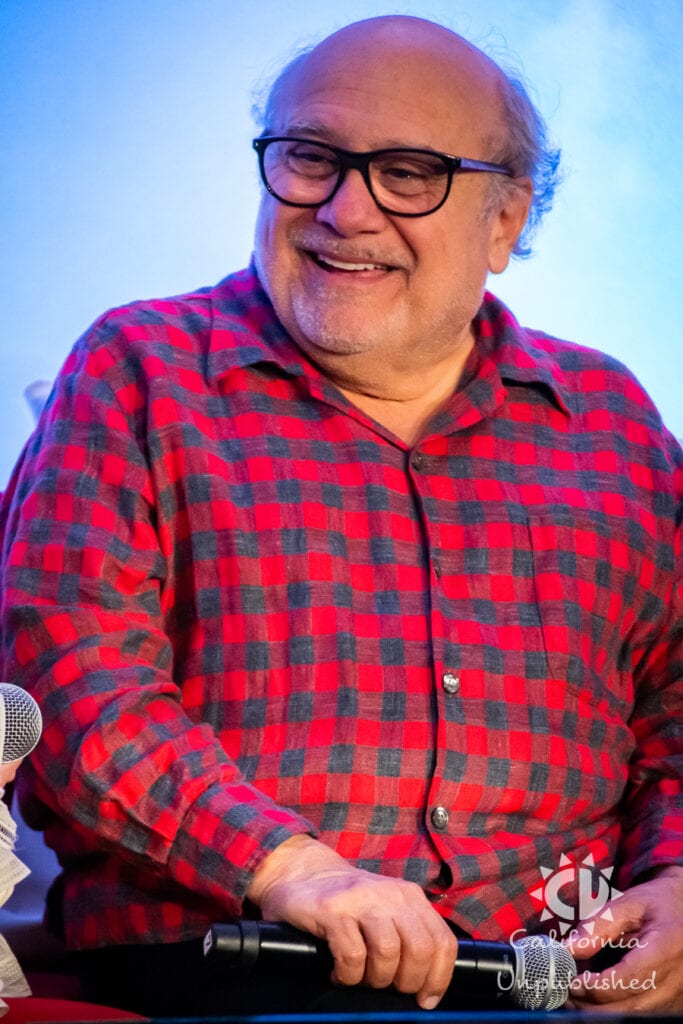 Q: Tim, you mentioned briefly that Dumbo is about kind of leaving behind things that other people might perceive as a weakness and turning it into a strength. I was thinking about a journey as an artist seems like it could be something similar. Eva, do you think that that applies to your work at all? Do you identify with that theme? And, Can you expand on the training that you did in order to first, of all, conquer your fear of heights, but also, to be this performer in the circus so elegantly?
Eva Green: Feeling like an outsider? I do. Yeah. I think you don't have to be an artist to feel like an outsider. I think everybody has felt at some point kind of a bit strange or different. It's a big thing. It's just such a wonderful movie because it has that message of it's okay to be strange or different. It's actually great. It makes you special. We just have to embrace our uniqueness.
I had the most amazing circus people who were very patient, very kind to me. Because I was absolutely petrified. I thought I would never be able to do that. For two months, every day, I trained. You need a very strong core as well. Have very strong abs. Very strong arms. Then little by little, I went higher and higher and higher. That was amazing.
I found a trick. It was to sing as well, in French, as you go off. You swear and you sing. I surprised myself. It was a miracle.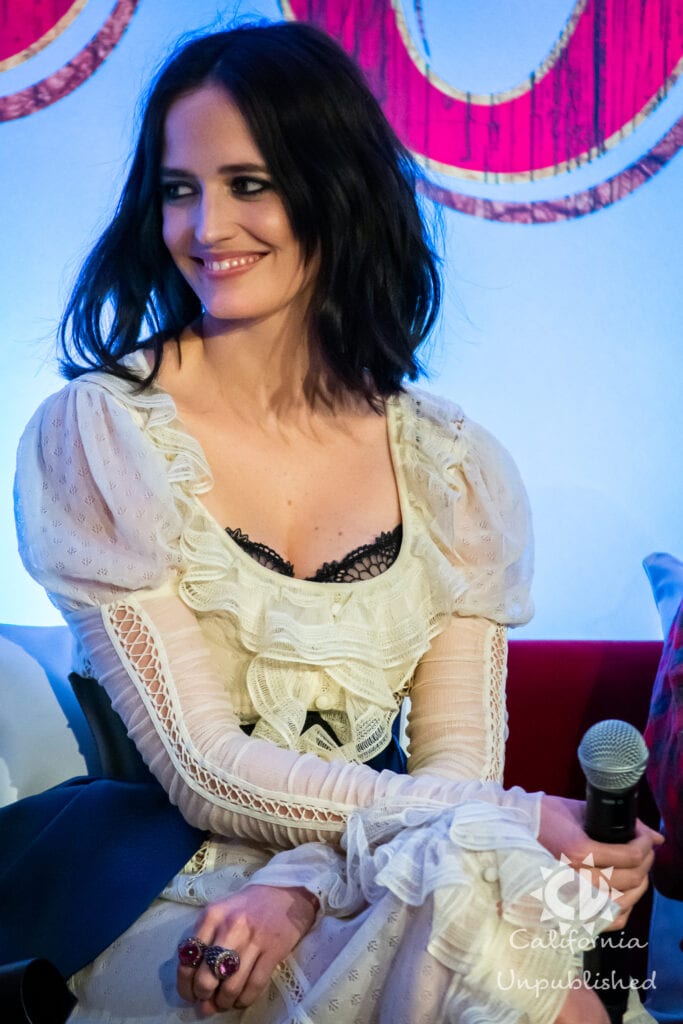 Q: Can we talk about what Dumbo was actually represented by on set? Because I'm having trouble believing he's not real.
Tim Burton: Ed. He looked like a weird insect, he had this green suit on. It was extended length. Ed was amazing because he actually studied elephants and movements.
Q: And what about Michael's wig in this film?
Michael Keaton: I regret the wig in a lot of ways. It's so great and weird and odd and kind of off off-putting. And, so well done.
What happened was, I thought about it. I thought man, I really don't like sitting in the makeup chair for very long or hair and makeup. I just don't like to be there.
When I was there and I had a thought in the back of my head. I thought, oh man. I'm not going to mention a wig. Don't mention a wig. Don't say anything about a wig. And as soon as I said, 'This is probably a dumb idea. What do you think about a wig?' his eyes lit up. Now I've got to wear this stupid wig. But, I dug the wig. And, the wig now has its own agent by the way.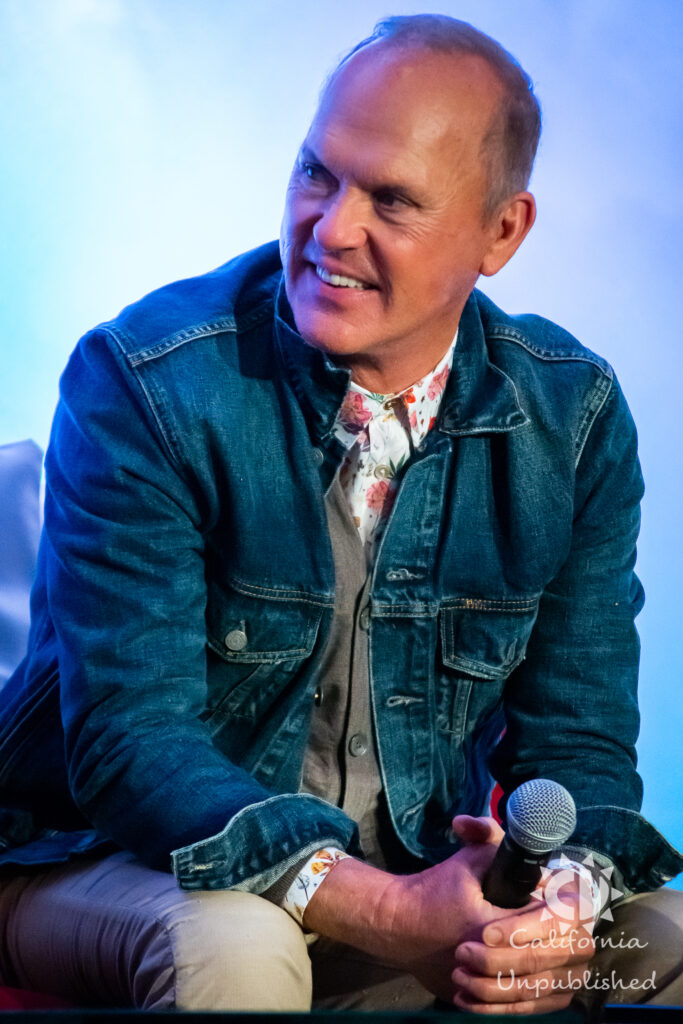 Q: Tim, what draws you to a performer or an artist? What qualities do you look for? Because you often work with the same actors.
Tim Burton: For me, there are two different things. One, because it's a weird story about a weird family. It was very special to me to work with people that I've worked with. Michael, Eva, Danny, and Colin, I feel like I've worked with them for many years. because they've got the same kind of spirit. And meeting Nico and Finley. Everybody, and Alan Arkin. Having a family, a weird dysfunctional family, like the film is and like the movie circus is, is very beautiful and important.
The spirit of all of them really meant the world to me in terms of what the movie is and the spirit that they all put into it. It's like a weird elephant, I had one thing in the back of my mind. All the people had to look kind of weird. Naturally. In a good way.
About Dumbo
From Disney and visionary director Tim Burton, the all-new grand live-action adventure "Dumbo" expands on the beloved classic story where differences are celebrated, family is cherished, and dreams take flight.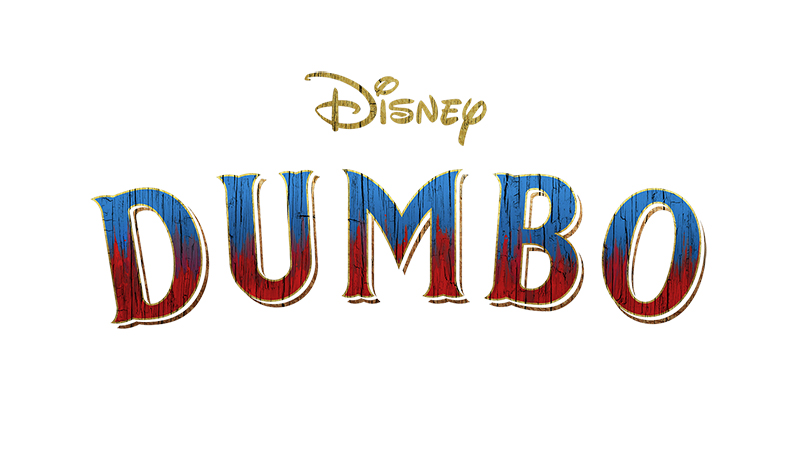 Circus owner Max Medici (Danny DeVito) enlists former star Holt Farrier (Colin Farrell) and his children Milly (Nico Parker) and Joe (Finley Hobbins) to care for a newborn elephant whose oversized ears make him a laughing stock in an already struggling circus. But when they discover that Dumbo can fly, the circus makes an incredible comeback, attracting persuasive entrepreneur V.A. Vandevere (Michael Keaton), who recruits the peculiar pachyderm for his newest, larger-than-life entertainment venture, Dreamland. Dumbo soars to new heights alongside a charming and spectacular aerial artist, Colette Marchant (Eva Green), until Holt learns that beneath its shiny veneer, Dreamland is full of dark secrets.
Directed by Tim Burton ("Alice in Wonderland," "Charlie and the Chocolate Factory") from a screenplay by Ehren Kruger ("Ophelia," "Dream House"), and produced by Justin Springer ("TRON: Legacy"), Kruger, Katterli Frauenfelder ("Miss Peregrine's Home for Peculiar Children," "Big Eyes") and Derek Frey ("Miss Peregrine's Home for Peculiar Children," "Frankenweenie"), "Dumbo" flies into theaters on March 29, 2019.