Homeschooling is a lot of hard work for you and your children, but it can also be loads of fun. Incorporating play and games into your curriculum is not only entertaining for your kids; it also helps them learn! Here are some of the best homeschool board games to use in your classroom.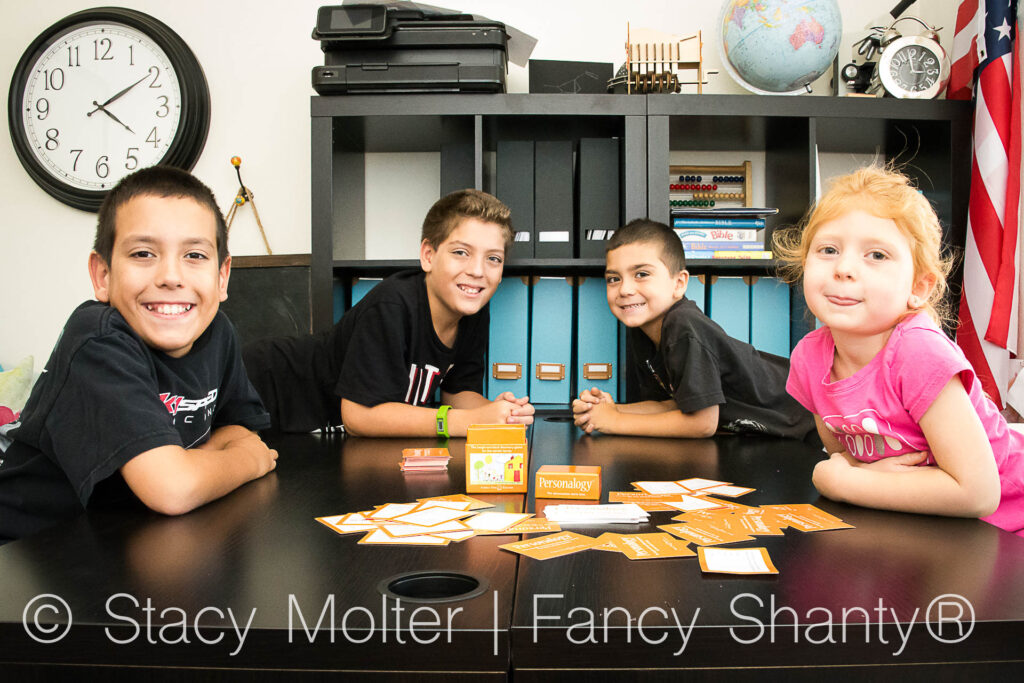 Best Homeschool Board Games
Personalogy Family Fun Card Game
2017 Winner of the Creative Child Award, Family Review, and NAPPA Award – by parents! A Laugh-out-loud discovery card game for the family (ideal for kids 6-11). Storytelling game brings families together instantly – the playful, heart-warming and silly questions get everyone talking, laughing and having fun! Many of the questions were co-created by kids 6-11. Great for family dinners gatherings, birthday parties, goodie bags, and a hostess gift. A great game for grandparents to connect with their grandkids! Three ways to play, with or without points and can be played in teams. 122 fun, silly, laugh-out-loud and memorable questions and even more surprising answers.
Teaching character education can be quite daunting when you're in the roles of parent and teacher. It can be challenging to get your child to open up about what they're feeling when it comes to showing empathy and expressing their own frustrations. This set of six board games focuses on morals, manners, showing emotions, managing emotions, friendship, and empathy. Games are targeted towards grades 1-5 and can be used with multiple children, or you can amend rules to use with your only child.
The classic word-building game is an outstanding way to help your child with vocabulary development, spelling, and word parts. Scrabble is a game that transcends ages. Young readers can build sight words while older children can have open-ended vocabulary games or focus on specific content areas. Start a game where you and your children build words related to literature. Try using just words related to math or social studies. Scrabble is not just for English and Language Arts curriculum!
This award-winning game will make even the most apprehensive math student get excited about adding, subtracting, multiplying, and dividing. By rolling dice, players use the operations to move to the center of the board while sharpening their math skills. This game is suited for ages 10 and up but can be played with younger children who are ready for these math concepts. Even adults will love playing Math for the Love of Prime Climb, so make it a family homeschooling activity!
Your budding scientists can learn about different scientific career fields including medicine, meteorology, chemistry, and more. There are two different board games to play (one on each side of the board), and the goal is to get the volcano in the center to explode using the vinegar and baking soda solution. Not only will your kids learn about different aspects of scientific discovery, but they'll also do an experiment while playing this exciting game.
The classic Guess Who game allows players to guess the characters provided in the game package. Use the Guess Who boards provided, but switch up the characters! Make your own cards for historical figures, literary characters, scientists, and more to review major parts of your curriculum. Go beyond people and make cards to guess vocabulary words in any subject area. Challenge your children by allowing them to guess and provide clues while playing against you or your other kids.
Winner of the 1992 Parents' Choice Award, this is a game to challenge budding detectives. Players work against the clock to discover which three treasures are hidden behind a secret door. The 12-inch game board illustrates a mansion setting, complete with a Dark Tunnel and an Observatory. Small cards, depicting either valuables or clocks, are dispersed facedown across the board. Players turn over two cards at a time. If a clock is drawn, time is running out and thieves might get away with the three hidden treasures! Children will have fun testing their memories, cooperating with their teammates, and honing their detection skills with this game. With a little care, the cards will survive years of playing.
Educational Insights Phonics Dominoes – Blends & Digraphs
Educational Insights Blends and Digraphs Phonics Dominoes emphasizes beginning consonant blends and digraphs, word building, and spelling patterns. Kids can form hundreds of words and the dominoes are printed with high-utility consonant blends, digraphs, and important phonograms. Pack includes a solid storage container, an activity guide, and 84 dominoes.
SmartLab Toys Squishy Human Body
Take a journey into the science that really goes inside – anatomy! Designed in a way that encourages learning through play, the SmartLab Squishy Human Body will take kids on a journey through the human body, picking up cool facts and tidbits along the way. The hands-on fun continues as you take apart and re-assemble the 12″ human model with the squishy organs, fitting in the bones and muscles – and then proudly displaying your human body model on the included stand!
Using games in your homeschool classroom can help break up the day and provide a new way to review important concepts while having a blast. Try some of these best homeschool board games to use in your classroom!