Are you ready to plan a camping adventure of your own? GoRVing.com has all the info on how to get started. From where to find Park Model Cabins and camping tips for families, including what to bring, great campfire recipes, and so much more!
We're getting ready for our first camping trip in what seems like forever and we couldn't be more excited. As excited as we are though, family and friends seem to think we're a bit crazy.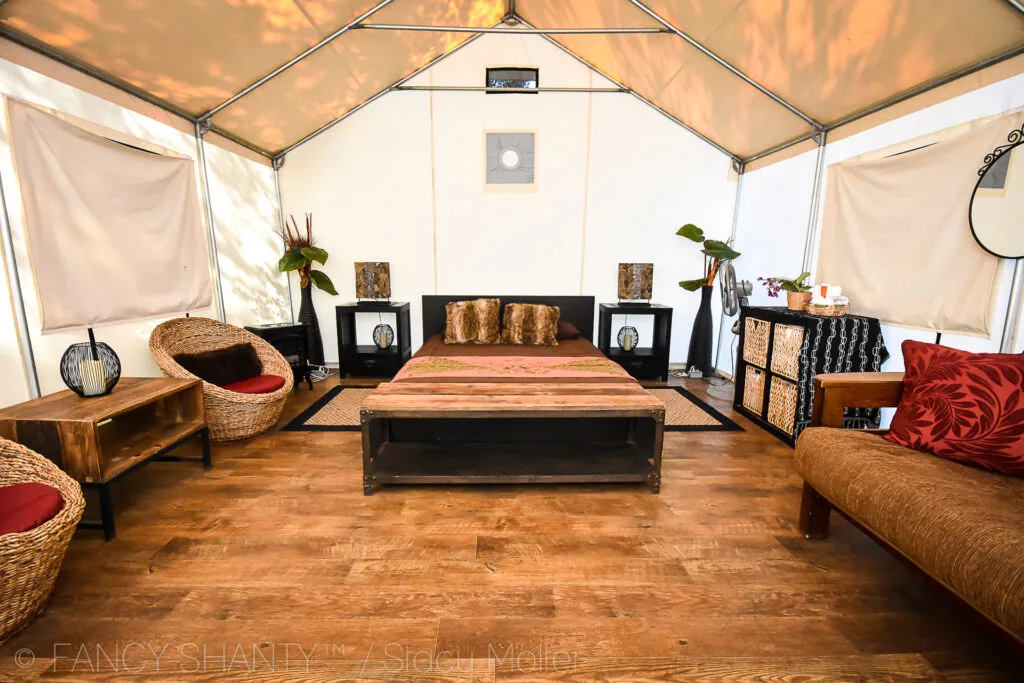 Sure, camping with a large family may seem a bit overwhelming, but I'm here to assure you that you can do it. With these simple camping tips for families, you can successfully have the adventure of a lifetime and create memories your family will cherish for an eternity.
See also: Packing Tips for Traveling with Twins or Multiples, If Your Twin Gets Lost While Traveling
Camping Tips for Families
Whether you're camping in an RV or a Park Model RV like we are, camping with a large family doesn't have to be overwhelming with these simple camping tips for families we're learned along the way.
Start Small. If this is your first camping trip, don't plan a week-long excursion. A weekend trip is the perfect way to ease into the camping lifestyle.
Practice Camping at Home. If you're a camping newbie, pitch a tent in the backyard for a trial run so kids can get used to the sights and sounds of an outdoor environment.
Get a Tour. When you arrive at your campground, ask if the campground provides an escort service for first-timers. You may even find a few hidden gems and activities to make the most of your visit.
Camping Meals. Keep camping meals simple with common ingredients that can be mixed with anything, eggs make a great meal for breakfast, lunch, or dinner. Prep on-the-go foods like muffins, burritos (breakfast too!), savory hand pies, roll-ups, and mason jar meals (oatmeal and salads) to eat with little or no utensils, This will free up your time so you get out an enjoy the great outdoors.
Bring Games. Games and activity bags are perfect for slow days when you want to hang around the campground. They're also perfect for keeping little ones busy on rainy days.
Pack Glow Sticks. Glow sticks are a great way to keep track of kids at night or mark dangerous obstacles around a campsite. Plus, glow necklaces make for a fun nighttime ring toss or hopscotch game.
Stock a First Aid Kit. From little scrapes and splinters, to bug bites and more, boo-boos are going to happen and you'll want to be prepared for anything. In addition to bandages and ointments, don't forget sunscreen, insect repellent, and prescription medications.
Pack Outfits for Each Day. Make getting dressed easy by rolling each day's outfit together. Place the smallest pieces like underwear and socks on the inside of pants and shirts, then roll them up and secure with a rubber band. It's a great way to know you have packed enough clothes. Plus, you won't run out of matching outfits!
Forgo the Rules. Get dirty, play with bugs, and stay up late to watch the stars at night. Sleep in, eat late, and get ready to try something new. Take the time to make this adventure one your child will remember.
Hope for the Best, Plan for the Worst. Let's be honest, things will go wrong and that's okay. You might get lost or someone may get sick, but as long as you are flexible and pack a sense of humor you can fully enjoy you time together on vacation.
And if you're wondering what RVers favorite activities are, check out this survey from the 2016 Campfire Canvass. According to their survey, RVers love:
Sightseeing – 76%
Cooking out — 75%
Visiting friends and family — 60%
Hiking — 55%
Fishing — 50%
Visiting festivals or fairs — 45%
Football tailgating is huge with RVers — 53% college; 39% professional; 7% high school
30% had someone in the family tent camping while others in their party slept in the RV
Do you have any camping tips for families to add to our list? Leave your tips in the comments below.