Now that we've completed the first week of our first year of homeschooling, I think we have settled on a daily elementary grade homeschool schedule that everyone loves, even me.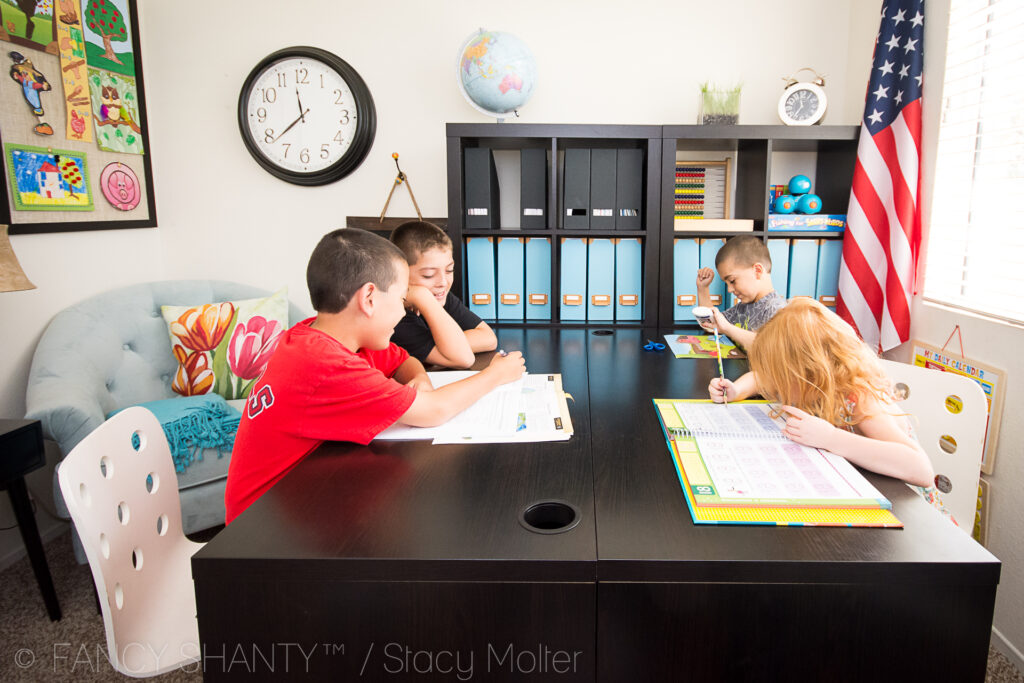 When we first embarked on this homeschool journey I worried if I was going to be able to create a schedule that fits into our family's needs and our children's needs, while still completing 4th grade in a timely matter. As it turns out, it wasn't as difficult as I thought it would be and I did more stressing than was probably necessary.
I am a person who over-thinks most things, constantly worrying if I'm doing enough, and I really try not to freak out if our schedule gets bumped a bit, though I probably do freak out just a tad, but as I have quickly learned even the most meticulous homeschool schedule is never fully set in stone.
Appointments will come up and work commitments will arise. Maybe we'll need to spend a few extra minutes on a core subject than expected. No matter what happens though, there is always time to complete a full day of school in a timely manner.
Elementary Grade Homeschool Schedule
Today I'm sharing our elementary grade homeschool schedule to help those looking for inspiration on how to create their own homeschool schedule.
Here's our planned daily elementary grade homeschool schedule.
8:00 AM – Bible/Pledge of Allegiance (15 minutes)
8:15 AM – Arithmetic (35 minutes)
9:00 AM – Language (25 minutes)
9:30 AM – Penmanship (10 minutes)
9:40 AM – Spelling/Poetry (15 minutes)
10:00 AM – Reading (20 minutes)
10:30 AM – History (20 minutes)
10: 50 AM – Science (20 minutes)
11:15 AM – Art/P.E.
12:00 PM – Lunch
1:00 PM – Independent Study Time/Homework
Bible – We start every day with the morning offering and a reading from the Bible. We reflect on the meaning from the bible, and how we will use God's teachings to help us be a good person, student, and family contributor.
Arithmetic – An essential core subject our children love, as well as the subject that we allot the most time for. I scheduled arithmetic as the first core subject so our children can tackle this subject while their brains are fresh in the morning and ready to learn.
Language (Penmanship, Spelling/Poetry, Reading) – We group language, another essential core subject, together with Penmanship, Spelling/Poetry, and Reading.
We begin language learning about the use of proper sentence development, learning the writing process, and mastering all 8 parts of speech. Before we spend any time writing we go over proper penmanship and practice cursive, and study the weekly spelling words which can always be found within the stories we read. This helps our children better understand the stories they read. We read aloud in class to practicing oral reading, and discuss comprehensive questions pertaining to each story.
NOTE: You will notice with the first two hours of school day, we only have an hour and 45 minutes of scheduled study time. This allows us to spend a few extra minutes on a core subject if needed and morning snack time.
History and Science – History and Science are lighter subjects and a great way to wind down the day. History usually involves a short reading followed by a few questions.
Science. I LOVE science. I try to schedule a short, hands-on experiment once a week to develop the same love for science I have within our children. Scheduling this core subject last allows us to complete experiments as needed without affecting the school day.
Art/P.E. – Art and P.E. are the 'fun' subjects our children, like many other children, love. I love ending the school day on a high note! Art is scheduled for Mondays and Wednesdays, while P.E. is scheduled Tuesdays, Thursdays, and Fridays.
To finish out our day, we break for lunch and complete any independent studying and homework we did not finish during our scheduled school day.
So far our children really love this schedule and so do I. It has a good flow throughout the day, keeping our children focused and on track to get the most our of our homeschool schedule.