St. Patrick's Day will soon be upon us and everyone will be celebrating by wearing green and having some fun. The great thing about this holiday is that you don't have to be Irish to take part in the festivities. People all over the world celebrate St. Patty's Day in a variety of different ways.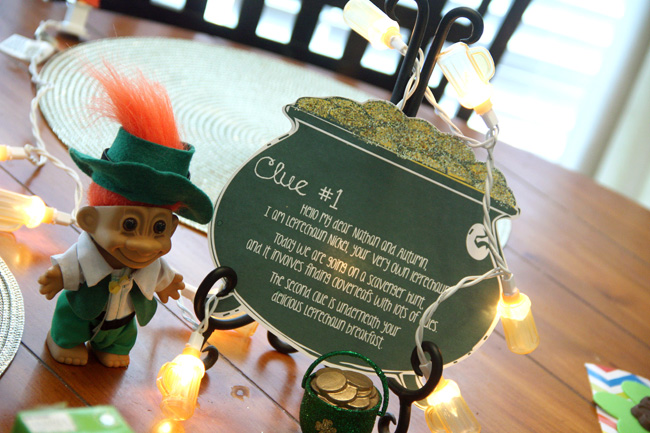 Fun Things to Do with Kids on St. Patrick's Day
The pubs are coloring their beer green and getting ready for the crowds to roll in but that's not for everyone. If you have kids, here are a few fun things you can do to celebrate St. Patrick's Day together.
Plan an Irish Treasure Hunt
Going on a treasure hunt is always fun but putting a little Irish spin on things will make it even more interesting. Pick up some lucky green coins and a bag of small toys from your local retail store and start planning your treasure hunt. Tape a number on the back of each coin that coincides with a toy and then hide them throughout your home or outside if it's a warm a day.
Have your kids go on a treasure hunt to see how many coins they collect. When the hunt is over, match the coins with the prizes each child won. It's a lot of fun for the whole family and a great way to celebrate St. Patrick's Day with your kids.
Make St. Patrick's Day Craft Projects
Do your kids love making craft projects? If so, then this is a great way to spend the day together. You can cut out shamrocks, make leprechauns or create your own pot of gold to go at the end of the rainbow. Drop by your local craft store to pick up some special supplies like green construction paper and green coins to help get you in the mood. Free Kids Crafts has a lot of great project ideas for St. Patty's Day to help you plan your craft day celebrations.
Create Your Own St. Patrick's Day Dinner
You don't have to go out to enjoy a great St. Patrick's Day dinner. Make your own and let the kids help. Use food coloring to turn everything from your main course to the beverages you drink green. Let the kids help you cook or if they're too young to help prepare the meal, they'll have a blast helping you color everything green.
Hang some shamrocks and pictures of leprechauns around the room. You can even make a rainbow out of crate paper that leads to a pot of gold and hang it on your wall. The kids will have a ball decorating your kitchen and it'll help set the mood for your St. Patty's Day dinner.
You can have a great time celebrating St. Patrick's Day with the kids when you plan ahead and fill your day with fun activities. Celebrating holidays as a family will bring you closer together as you create happy memories that will last a lifetime. You can even start your own St. Patrick's Day tradition that your kids can pass down to their kids one day. What a great way to celebrate this fun and festive holiday.
Photo courtesy of Flickr.