Last weekend was epic! The Star Wars: The Last Jedi press conference was held in a super secret, undisclosed location in LA, and while I can't share many details from the press event yet, I can quote what Mark Hamill said about the film, 'This is not going to go the way you think!' And you know what, it's not. While we are all sitting and waiting to find the answers the cast was so tight-lipped about, pass the time by entering for a chance to own your favorite characters and toys from the film, through the galactic Star Wars: The Last Jedi giveaway below!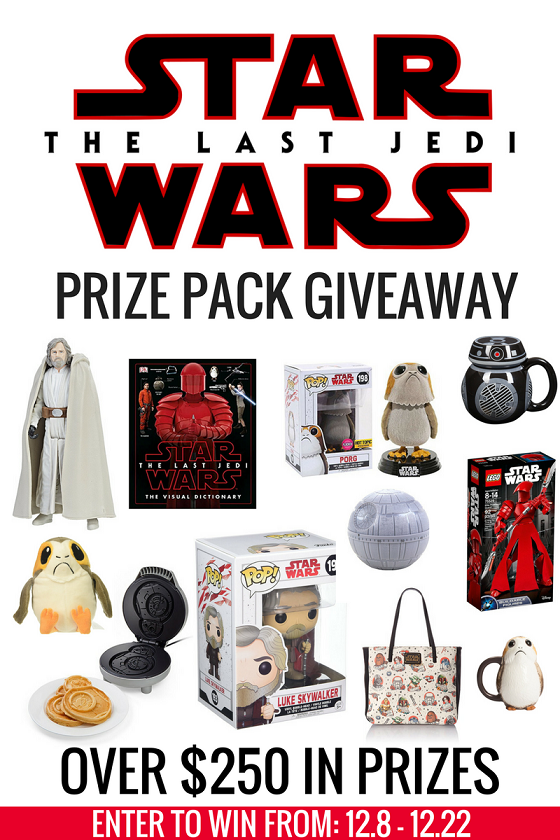 Galactic Star Wars: The Last Jedi Giveaway
Star Wars: The Last Jedi FINALLY hits theaters December 15th. Episode VIII is highly anticipated as fans want to know answers to many questions. Who are Rey's parents, what has Luke been up to, and so much more. Will we find the answers? We hope so! To help celebrate this release, The Hopping Bloggers have come together to bring our readers a fantastic Star Wars:The Last Jedi giveaway worth over $300!
The Star Wars: The Last Jedi Giveaway Prize Pack Includes:
Not all prizes are pictured. Products subject to change based upon availability.
About Star Wars: The Last Jedi
Rey develops her newly discovered abilities with the guidance of Luke Skywalker, who is unsettled by the strength of her powers. Meanwhile, the Resistance prepares to do battle with the First Order.
See Star Wars: The Last Jedi in Theaters 12/15!
Connect with Star Wars: The Last Jedi on Social
Like STAR WARS on Facebook: https://www.facebook.com/starwarsmovies/
Follow STAR WARS on Twitter: https://twitter.com/starwars
Follow STAR WARS on Instagram: https://www.instagram.com/StarWarsMovies/
Follow STAR WARS on YouTube: https://www.youtube.com/user/starwars
Visit the official STAR WARS: THE LAST JEDI website: http://www.starwars.com/films/star-wars-episode-viii-the–last–jedi
#TheLastJedi | #StarWars
Enter to win this Star Wars: The Last Jedi Prize Pack using the form below. GOOD LUCK!
If you're a blogger looking to connect with brands: Join The Hopping Bloggers database and get started today!
If you're a brand looking to work with a network of professional bloggers: Check out the creative campaigns The Hopping Bloggers has to offer!