Pixar has done it! The one thing many studios fail at. They have created the rare sequel that is beyond incredible, not only living up to everyone's expectations but also rivaling any live-action superhero film. In Incredibles 2, we find Pixar's crimefighting team reuniting for a long-awaited continuation, one 14 years in the making, but this time Helen is in the spotlight leaving Bob at home with Violet, Dash, and baby Jack-Jack. It's a tough transition for everyone, but when a new villain hatches a brilliant and dangerous plot, the family and Frozone must find a way to work together again.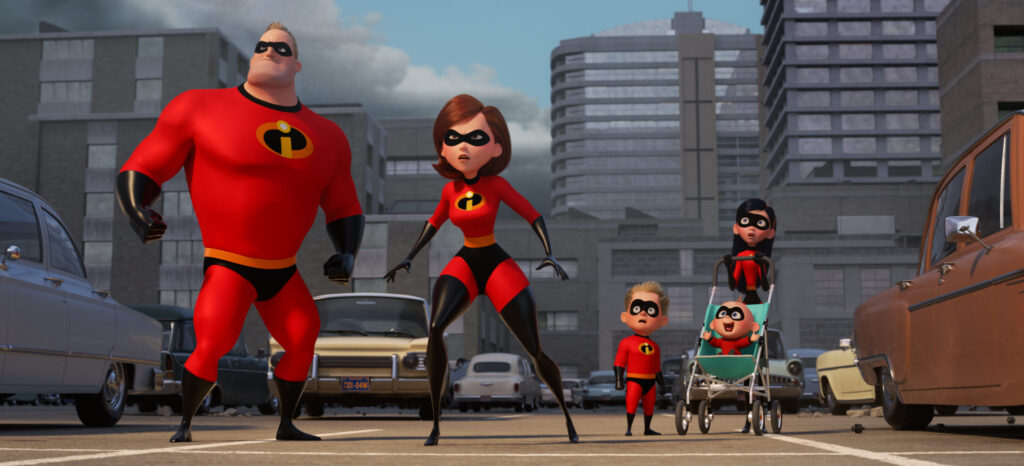 See also: Behind the Incredibles 2 Nod to Johnny Quest, The Outer Limits
Pixar's Newest Animated Short, Bao
As with any Pixar film, Incredibles 2 opens with a new short called Bao, created by Director Domee Shi. The touching story is about a Chinese mother who is struggling as she transitions to the empty-nester lifestyle when she accidentally creates an adorable, little, giggling dumpling. As the mother re-enters motherhood with her new side-kick, we follow her emotional journey as she raises her dumpling through the tough years of adolescence and the gut-wrenching pains of watching as yet another child spreads their wings to leave the family. With the pain nearly too difficult to bear, we shockingly watch as she takes a desperate step to hold on to her baby forever, one that many audiences will surely relate to.
Incredibles 2 is Beyond Incredible
Pixar's Incredibles 2 picks up exactly where it left off in the original film, as we find our favorite animated superheroes fighting the Underminer. But, after a trail of destruction is left throughout the city, any hope for the supers to earn their legalization again is seemingly derailed, that is until Helen is recruited by media mogul siblings Winston and Evelyn for a superhero rebranding initiative.
With Helen busy being super, Bob is left at home to fill Helen's shoes as the stay at home parent as we see exactly what the heart of this film is about, family. As Bob tries to maneuver through the challenges of being a stay-at-home dad, he has to deal with Violet's boy problems, Dash's struggle with what we're assuming is common core math, and baby Jack-Jack's (who shines alongside Edna) superficially unlimited superpowers, we see just how much love the Parr family has for one another. But, just as Helen and Bob begin to settle into their new roles as parents, a new villain comes into play threatening superheroes everywhere.
What makes Incredibles 2 beyond incredible is how writer-director Brad Bird retained the bold color pops and visually elegant 1960s-chic world-building from the original film and flawlessly tied Incredibles 2 to the original film. Baby Jack-Jack couldn't be any cuter, even when he wrestles with a thieving raccoon in an attempt to protect his family simply because, it's the right thing to do. The struggles Bob has transitioning to a stay-at-home dad are hilarious, in a very relatable way, and of course, the thrilling chases and fight scenes are spectacular. Incredibles 2 is a must-see this opening weekend.
ABOUT INCREDIBLES 2
In "Incredibles 2," Helen (voice of Holly Hunter) is called on to lead a campaign to bring Supers back, while Bob (voice of Craig T. Nelson) navigates the day-to-day heroics of "normal" life at home with Violet (voice of Sarah Vowell), Dash (voice of Huck Milner) and baby Jack-Jack—whose superpowers are about to be discovered. Their mission is derailed, however, when a new villain emerges with a brilliant and dangerous plot that threatens everything. But the Parrs don't shy away from a challenge, especially with Frozone (voice of Samuel L. Jackson) by their side. That's what makes this family so Incredible. Written and directed by Brad Bird ("Iron Giant," "The Incredibles," "Ratatouille") and produced by John Walker ("The Incredibles," "Tomorrowland") and Nicole Grindle ("Sanjay's Super Team" short, "Toy Story 3" associate producer), Disney•Pixar's "Incredibles 2" busts into theaters on June 15, 2018.