Action-packed, exhilarating, emotional, amazing, and down-right the best MARVEL film yet are just a few of the words critics and fans are saying about Captain America: Civil War, which opens in theaters this Friday. While we're not going to share any spoilers with you today, you know we would never do that, we are going to share what we learned about the cast's thoughts on their characters from the Captain America: Civil War press conference in LA late last month.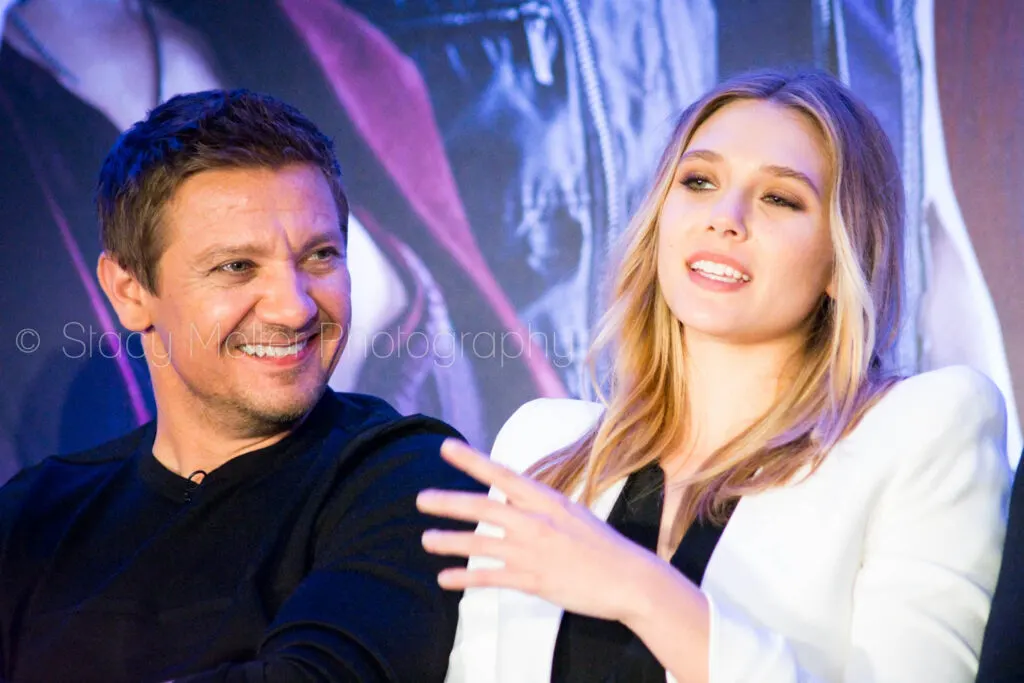 See also: MARVEL Avengers Age of Ultron Press Conference, MARVEL's Ant-Man Press Conference
More: Marvel Cinematic Universe Press Conferences
As always, the MARVEL press conference was filled with laughs as the cast of MARVEL's Captain America: Civil War spoke candidly about the film, and with such an amazing ensemble we were able to enjoy not one but two press conferences, Team Cap and Team Iron Man.
During the Team Cap press conference we learned more about the film from Paul Rudd's genuine fanboy excitement to meet the rest of the team and Captain America's decision to reject government control for his own selfish desires, to the Russo brother's love for action.
The cast at the Team Cap conference included: Chris Evans ("Steve Rogers / Captain America"), Sebastian Stan ("Bucky Barnes / Winter Soldier"), Anthony Mackie ("Sam Wilson / Falcon"), Jeremy Renner ("Clint Baron / Hawkeye"), Elizabeth Olsen ("Wanda Maximoff / Scarlet Witch"), Paul Rudd ("Scott Lang / Ant-Man"), Director Joe Russo, and Producer Kevin Feige.
Captain America: Civil War opens this Friday, May 6th, in theaters everywhere.
MARVEL's Captain America: Civil War Press Conference
Q: The first question is for Chris, in the MARVEL universe of movies, everyone in the film is so represented and so balanced. Do you feel an even bigger responsibility when your part of a movie where the first two words are Captain America?
Chris Evans: There's pressure, but I don't think it's anywhere near the pressure that the Russo's and MARVEL feel. Honestly, movies live and die based on the directors and producers. We've all seen phenomenal actors and great scripts that still didn't come to fruition in a good way. You can have all the other pieces in place, but you may fall on your face.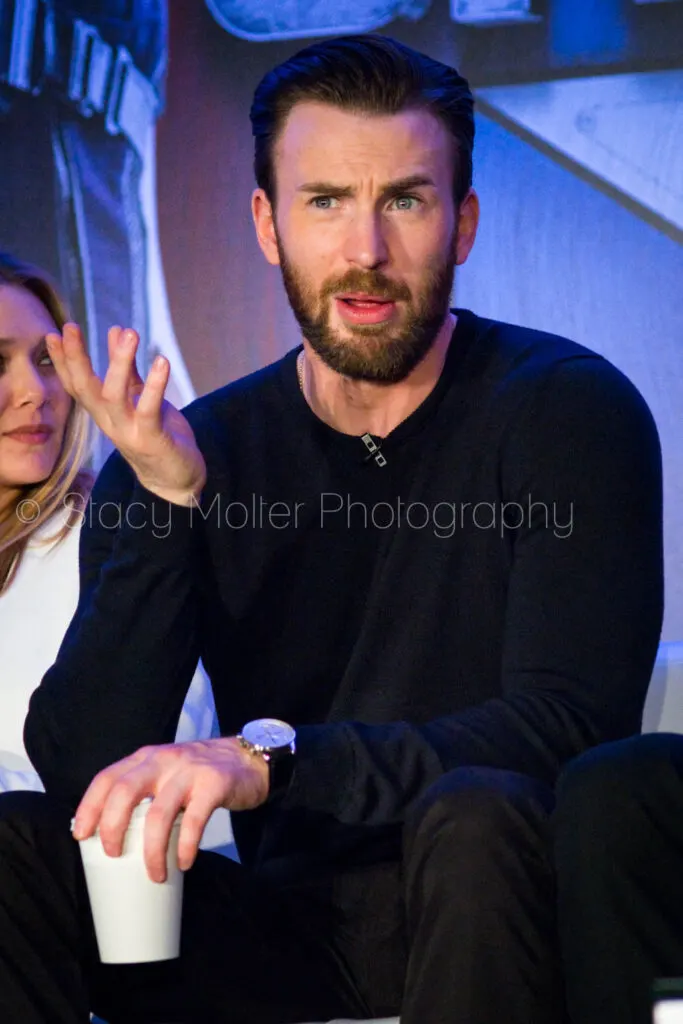 Q: Joe, speaking to you as a director but part of a team, something that is rare to see, especially in a major motion picture, do you feel that you have particular strengths and Anthony has particular strengths?

Joe Russo: We've been doing this a long time together, we grew up watching movies together, and I don't think there is a true division of labor for us. It's a pure collaboration. The only thing that is tricky for us is who has enough energy to get out of the chair. Other than that, everything is shared equally.
Q: Some are saying this film is better than The Force Awakens because the story telling is superb, but beyond the story telling Joe, you and Anthony have done a terrific job of melding the action in with the story. How difficult and challenging was it choreographing all of the action sequences to bring this to life?
Joe Russo: Action is very important to us. These movies are about action and these characters express themselves through action, and action has to have storytelling. You'll get tired of an action sequence if it's not defining a character or moving a story forward in some sort of way. It takes an incredible amount of effort and thank God that we have such an amazing team of collaborators including Kevin, Marcus, and Nate Moore who can work with us and keep us honest in terms of storytelling, and this cast who are the caretakers of their character in ways we never could be.
The toughest sequence by far in this film, which we literally just finished a week or two ago, was the airport sequence. It's filled with a lot of moving parts, characters, and you want to move each character forward and make sure you're not leaving anyone behind.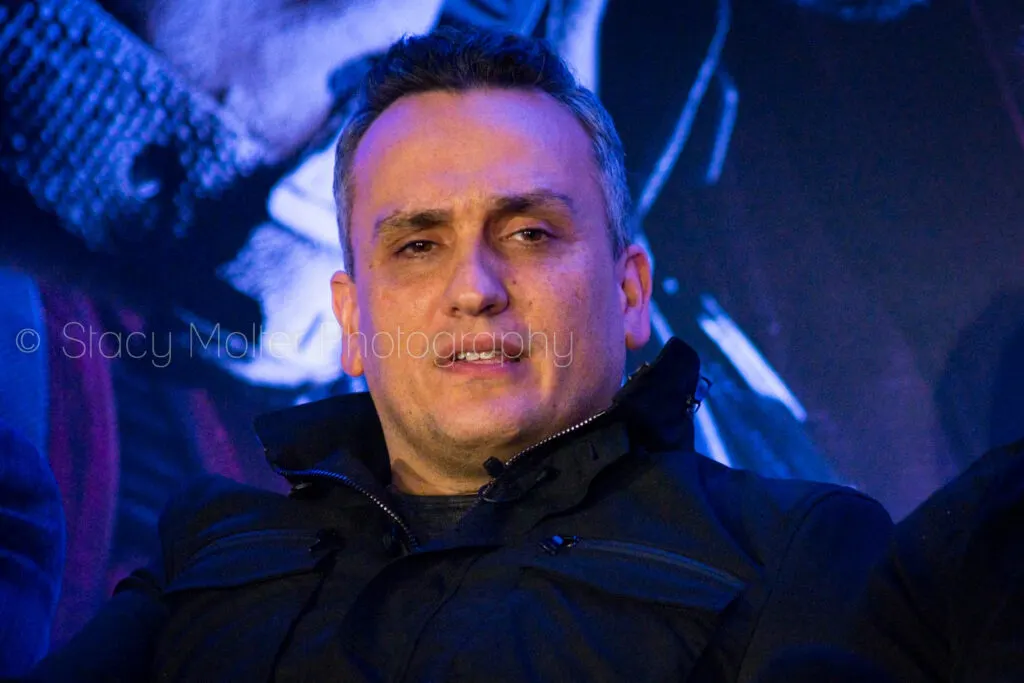 Q: For all the actors, how many days did you shoot the airport sequence and what was the most challenging part of that.

Chris Evans: It was hot. It was in August in Atlanta so everyone was toasty. There's only a couple of scenes where you might have that 50/50 running together, for the most part its picks and pops so there's a lot of waiting around. You really have to have confidence that this is going to be something special.
Elizabeth Olsen: And these guys run really fast, and I'm in heals and a corset, and I really wanted everyone to slow down just a little bit. I didn't get that. I was just pumping those arms and falling behind, and then taking off so it was fine.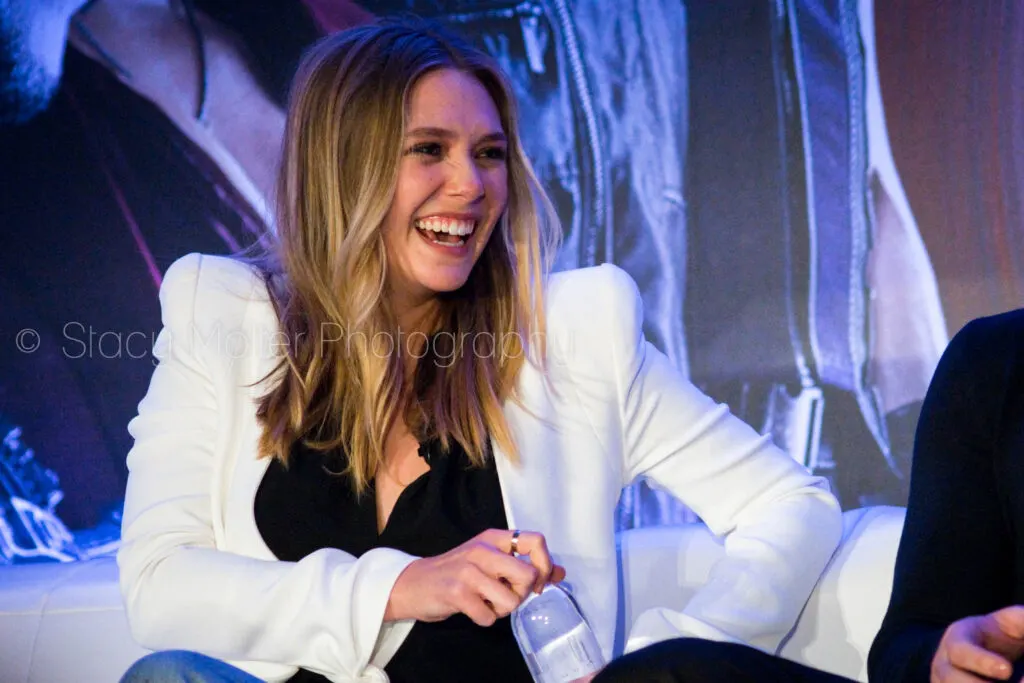 Q: Paul, when you say 'I believe this belongs to you Captain America,' was that improvised, and did you try out different ways of saying that because that just seemed so you.
Paul Rudd: I think that was always in the script. We would sometimes play around with lines and stuff when we were shooting, and these guys would suggest things, and sometimes we would come up with things after the fact. One of the great things about having a mask is that you think of a great joke after and you don't have to match it to anything.
Joe Russo: He's being modest. Paul is one of the great improvisers that you could hope to work with. It is true that when he had the mask is was a great benefit to both of us, in terms of modulating the tone in that section of the movie. We had endless amounts of jokes that we'd sit and laugh about for hours.
Q: Paul, how excited were you to meet everyone?

Paul Rudd: How I felt as being the fanboy of the group? There was very little acting required in that scene for me. They've all worked together and done this before, I've just seen the movies, so to be there on the day I couldn't stop geeking out about it.
There's this area where we get changed and its like oh, there's Iron Man's suit. I did feel that excitement of 'I can't believe that I'm standing here. This is nuts.'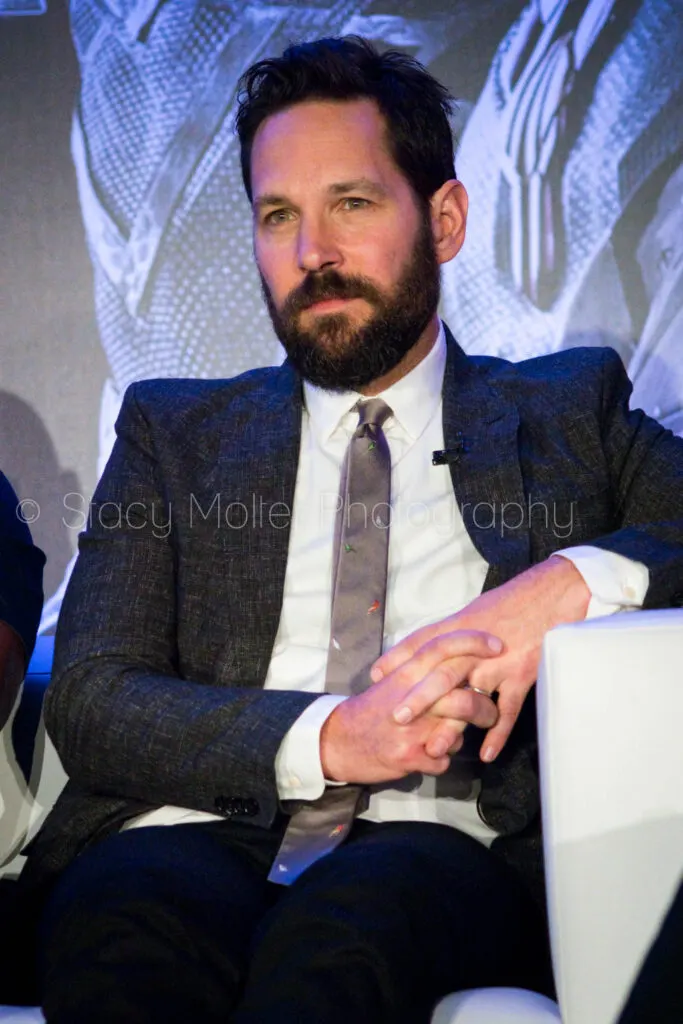 Q: Chris, it's been an interest evolution of your character, from protecting the all-American values to, in this case rejecting the government control. Can talk more about that?
Chris Evans: The name America stands for what he believes in, honor, morality, and values. He's always fought for the greater good and put the needs of the masses before his own desire. This film prioritizes what he wants, which is apart from what he is normally allegiant to. It colors the character in a really nice way. You have the guy who is an incredibly austere and moral character, and in this movie he becomes potentially selfish, where he puts his own desires first but is rooted in family.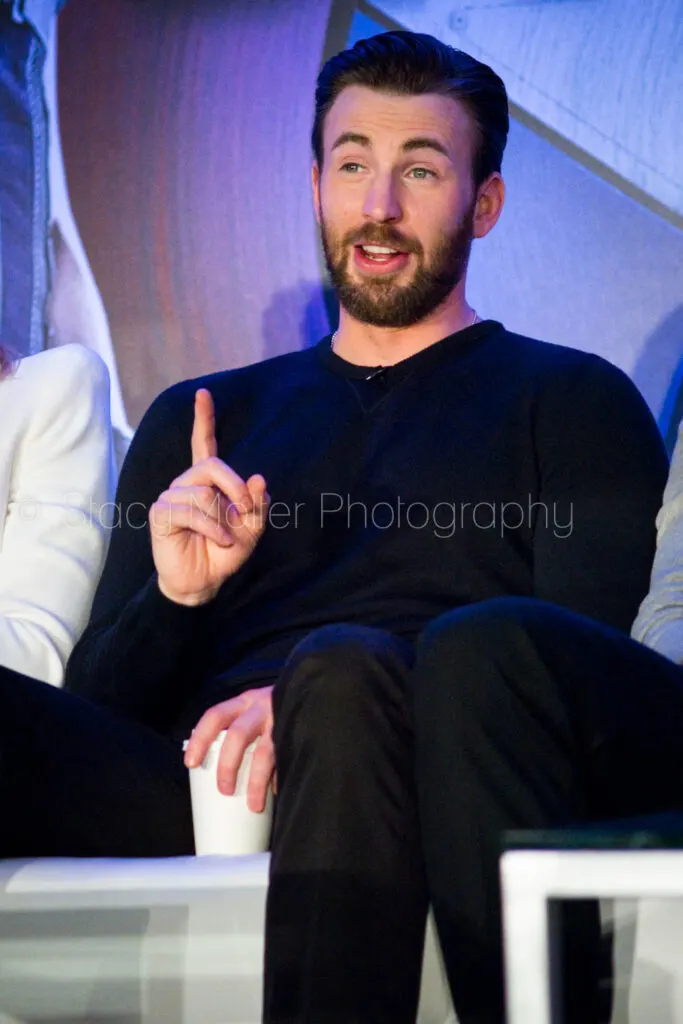 Q: Jeremy, as we got to know Hawkeye more, why do you think he joined Cap's side immediately in this film.
Jeremy Renner: He's the one who called. The moral compass is not far from Cap's principles.
Q: Sebastian, in this film we feel like we get Bucky back. What was your process like in this film opposed to Winter Soldier when he's not himself?

Sebastian Stan: Our writers Christopher and Steven who are phenomenal, they were able to write a script that gave every character a moment, an arc, and particularly I think they were the ones that figured the temperature of Bucky Barnes. How much of the guy is back from the first movie? How much of the Winter Soldier there? A lot of that is determined in the writing and then also in the decisions Anthony and Joe make. The fun part for me is I never know where they're going to take it.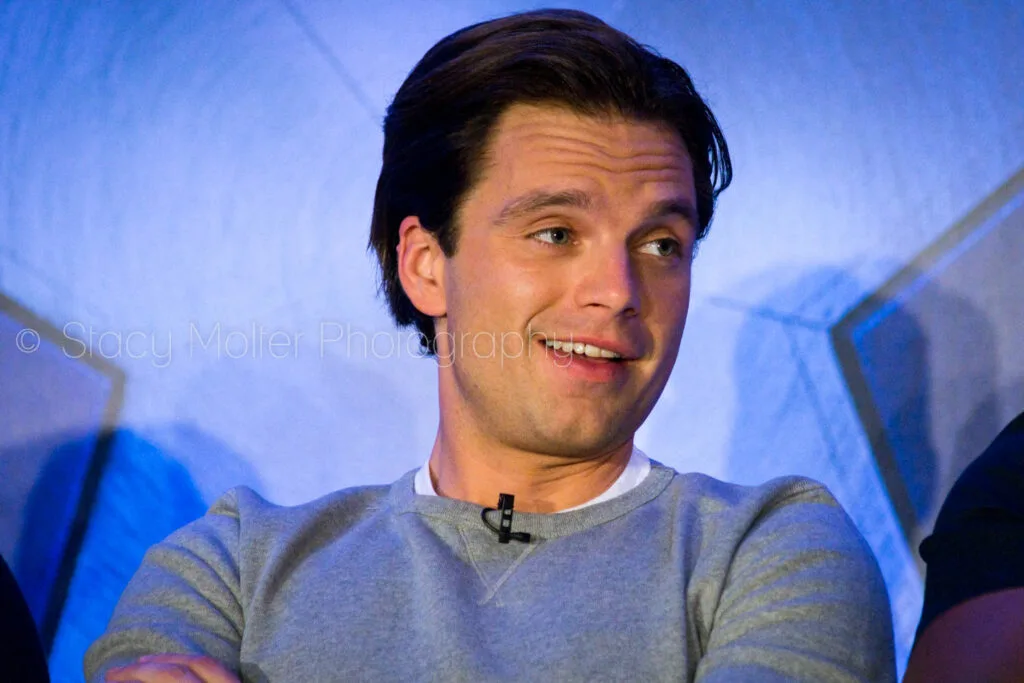 Q: Elizabeth, in Age of Ultron you seemed afraid of your powers and in Civil War you have gained some confidence, but still cannot really control them and seem terrified of them. Do you think Scarlet Witch will ever be able to control with real confidence her powers?
Elizabeth Olsen: I think what ended up happening was that she wasn't starting to feel confident of her powers, it was more about the conflict she had with making a big mistake. What's interesting is that every superhero has a weakness and I've always thought of her's as she's the person who gets in her own way. She's limitless and to me, that's an interesting character trait. I think of her as an incredibly strong and powerful person.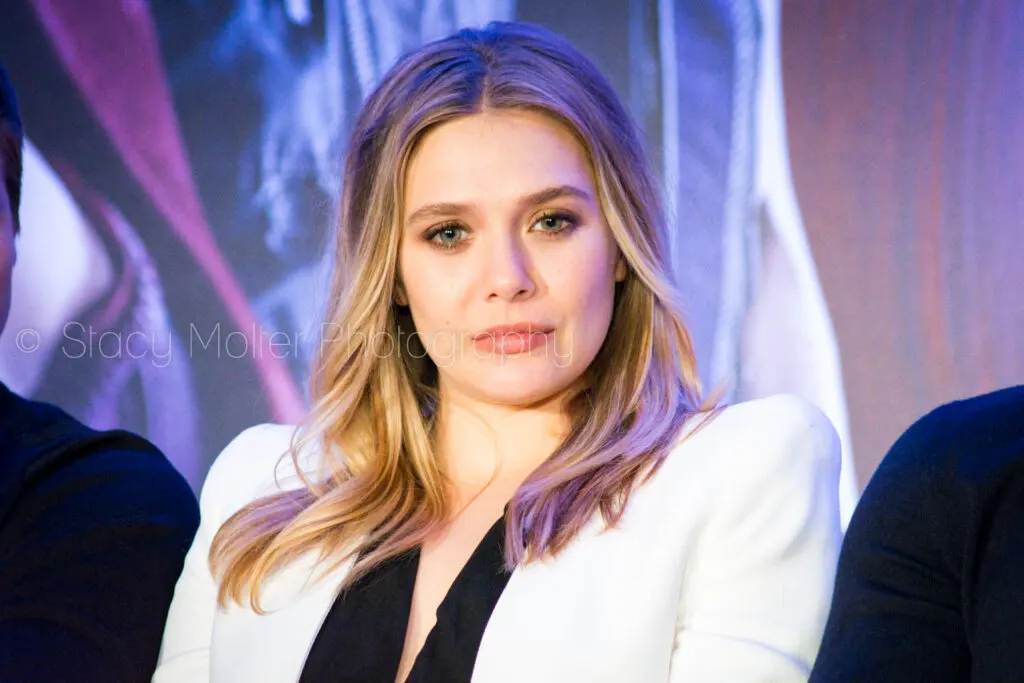 About Captain America: Civil War
From Marvel Studios comes the highly anticipated "Captain America: Civil War," the third film in the Captain America franchise and the first film in Phase 3 of the Marvel Cinematic Universe.
Marvel's "Captain America: Civil War" finds Steve Rogers leading the newly formed team of Avengers in their continued efforts to safeguard humanity. But after another incident involving the Avengers results in collateral damage, political pressure mounts to install a system of accountability, headed by a governing body to oversee and direct the team. The new status quo fractures the Avengers, resulting in two camps—one led by Steve Rogers and his desire for the Avengers to remain free to defend humanity without government interference, and the other following Tony Stark's surprising decision to support government oversight and accountability.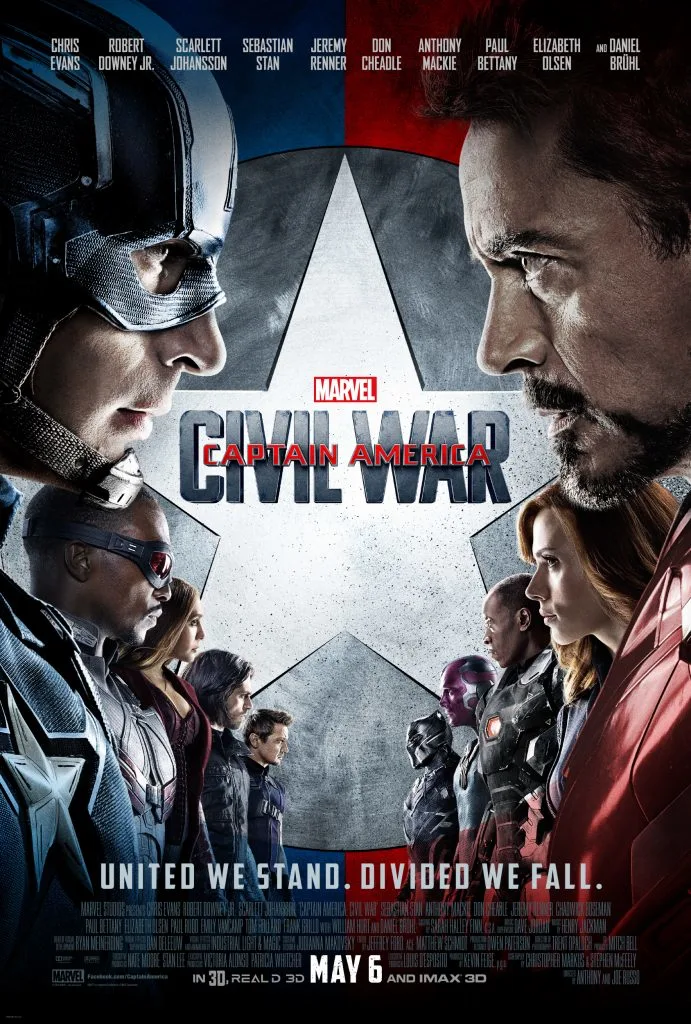 Captain America: Civil War opens in theaters everywhere this Friday, May 6th!
Portions of this material have been provided by Walt Disney Studios.