St. Patrick's Day is just around the corner and it's the perfect time to try to catch a Leprechaun and find his pot o' gold with this easy DIY Leprechaun Trap.
This is a great tradition to start with your children to celebrate St. Patrick's Day. Children will love to wake in the morning to see if they caught a lucky Leprechaun, and creating the traps is a great opportunity to spend some quality time as a family.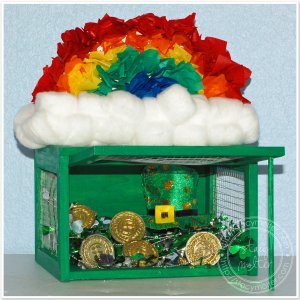 To get you started, here are some fun facts about leprechaun's:
You can find a Leprechaun if you hear the sound of a hammer.
If you take your eyes off a captured Leprechaun, they vanish.
If captured, a Leprechaun has to lead you to his treasure, he cannot lie.
If a Leprechaun looses his gold, he also looses his magic and becomes more and more human.
Leprechauns spend their time making shoes.
A Leprechaun is and Irish Fairie
Leprechauns live in the hallows of trees.
Leprechauns carry a hammer in their belts.
Leprechauns keep their gold at the end of a rainbow.
St. Patrick's Day Kids Craft: DIY Leprechaun Trap
Supplies Used:
Rainbow colored tissue paper (1 sheet of each color)
Jumbo size cotton balls (1-2 dozen per rainbow)
Box or cage (Perfect opportunity to recycle what you have on hand)
Green paint or paper to cover the box or cage
White card stock (1 sheet)
Drafting compass
Ruler
Glue
Scissors
Pencil
Additional accessories to decorate: shamrocks, gold coins, pot to hold the pot o' gold, Leprechaun clothing, etc.
Stick or pencil to set the trap (if needed)
Instructions:
Preparing the Cage/Box
For our cage, we recycled an old small chocolate bunny cage from last Easter that I have held on to waiting for the perfect craft to come along. Any box, like a shoe box, will work just as well.
I decided to prepare (paint) the cage while the boys were at school. There's nothing more boring for a 6-year-old then having to wait for paint to dry. When the boys came home from school, the cage was dry and we could start making our rainbows right away.
If you're wrapping a box, you can use green construction paper or green wrapping paper, and you will wrap it just like you're wrapping a present. Don't forget to wrap the inside of the box as well, since we want the Leprechaun to feel welcome enough to come in.
Making the Rainbow Template

Be sure to measure your cage/box so you will know how big to make your rainbow.
To make the rainbow, I used a drafting compass to draw a series of crescents on white cardstock at 1/2″ intervals. Our cage measured 7 1/2″ inches wide, so I made a 7″ rainbow to allow an addition 1/4″ space on each side for clouds.
Since we used 5 colors in our rainbow, we measured and drew 6 crescents at 1/2″ intervals with our drafting compass to create our rainbow. Measuring one extra line will allow the correct amount of spaces between crescent lines for children to glue one color of tissue paper per space for their rainbow.
Once our rainbow outline was measured, we cut our rainbow template for the boys to glue their tissue paper on.
Making the Tissue Paper Rainbow
To prepare the tissue paper, I cut each color in 1-2″ squares and separated them by color. The boys used pencils to make tissue paper flowers (place the pencil eraser in the center of the tissue and fold the edges of the tissue paper up all around the pencil), before gluing the tissue to their rainbow template.
To limit the chance of the boys creating a big gluey mess, I poured a line of glue on each template, one color at a time, to show them were to place their tissue paper.
When the rainbow is complete, the boys glued the cotton balls together at the bottom of each side of their rainbow to create clouds.
(Tip: If you want your rainbow to stand on its own, glue cotton balls on both sides (front and back) for added support.)
Decorate the inside of the Leprechaun trap.
The last step was by far the most fun for my boys.
I gave the boys all the decorations to create a beautiful scene to try to lure in and catch the Leprechaun. We added shamrocks as a grass filler, the Leprechaun's hat (hoping he'd think he lost his), and of course free gold.
Some other great decorating ideas are to use Lucky Charms cereal as a treat, a pot to hold the pot o' gold, or a sign to point in the trap saying 'Free Gold!'.
St. Patrick's Day is this Saturday and I'd love to see the Leprechaun traps you create! Just leave a link in the comments and I'll add it to this post!
Best of luck to all who try to catch a Leprechaun this weekend!