When you think about California you think about the beach, the great weather, and of course the celebrities. Most people just don't think about the food unless you are obsessed with In and Out. But, California has some amazing foodie options and even if you are a novice foodie you will find something to love as you take a food journey through California.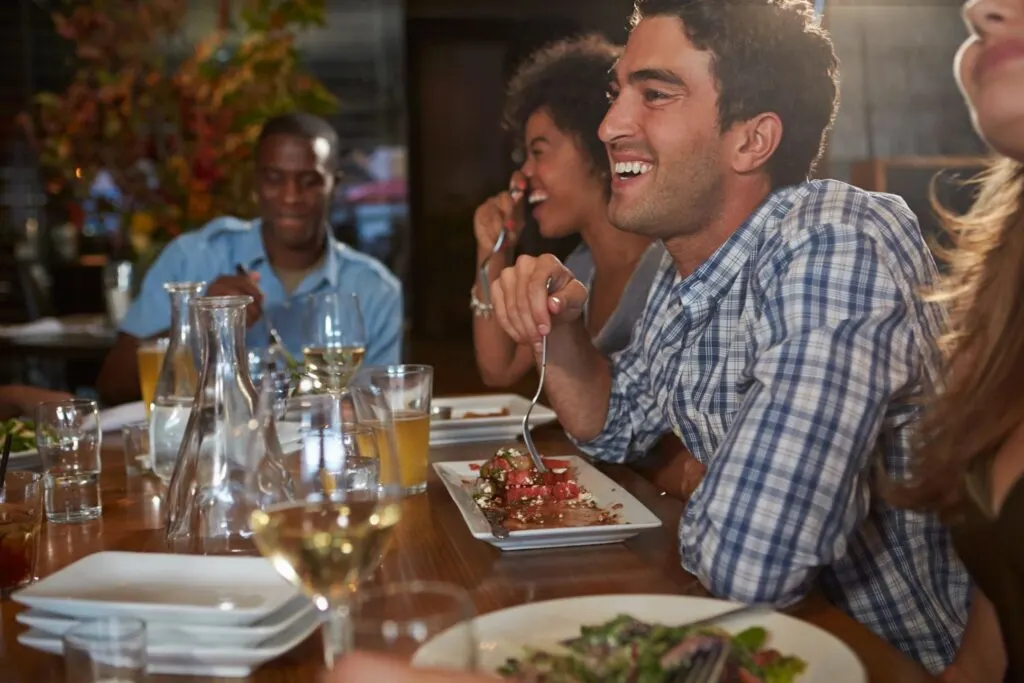 Our food journey through California is broken down into two parts. The best restaurants in Northern California and the best restaurants in Southern California. So no matter which direction you are heading on your food journey through California, you will find somewhere amazing to eat!
For more California adventures, don't miss our some of our favorite placesOff the Beaten Path in California, our Unique Date Ideas in LA, and our best Los Angeles Day Trips for Adults and Day Trips for Families.
Take A Food Journey Through California
Northern California
Samoa Cookhouse
Topping the list on our food journey through California (Northern California style) is the Samoa Cookhouse. When you walk into Samoa Cookhouse you will be treated like family, literally.
The restaurant is lined with large tables that have the old-fashioned red checkered tablecloths. It was originally built to feed lumberjacks after they worked in the fields but over time it evolved into the restaurant it is today. You will be seated with other people if you have fewer than 10 in your party but that is part of the fun!
Everything is served family style and in heaping portions. Don't look for a menu though because they still handwrite them on a whiteboard.
Each week a different menu is posted for that week. You may get to enjoy fares like ribs, fried chicken, or roast pork. Lunch and Dinner are served with a drink, soup, salad, bread, vegetable, beans, a potato, and dessert. And don't worry, you can ask for seconds!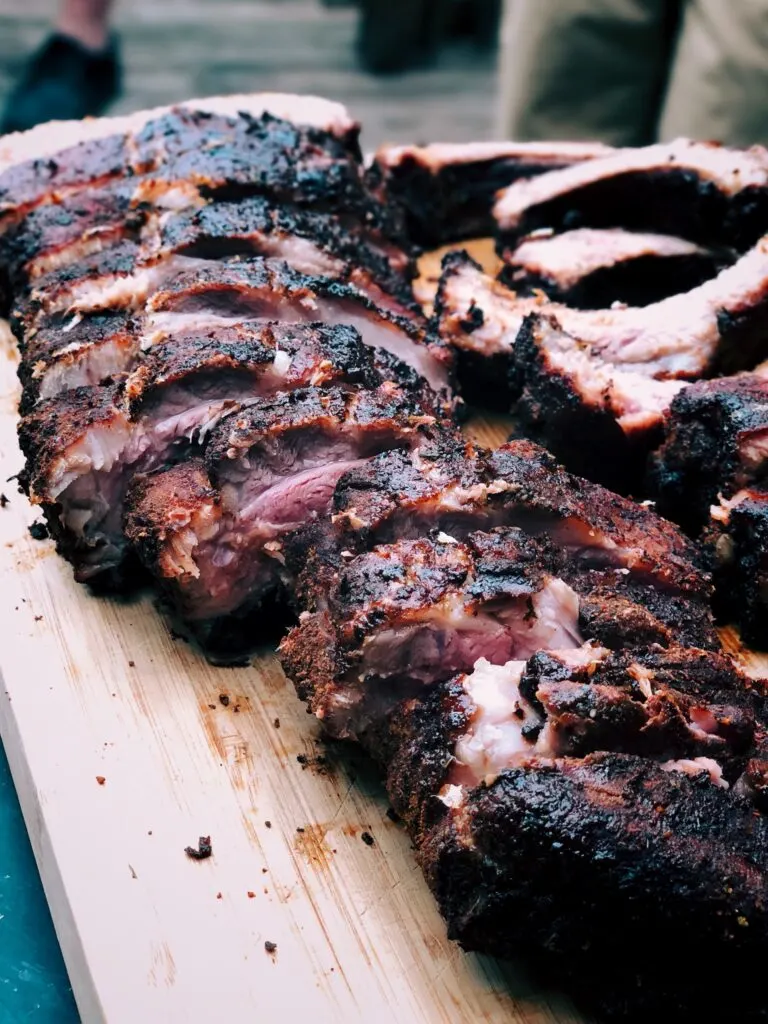 Breakfast is served with biscuits and gravy, orange juice, and coffee. It is like getting a down home cooked meal in the heart of Northern California.
The restaurant is in Samoa, CA and is open 7 days a week. If you want to plan your visit they post weekly menus on their Facebook page.
View 202
Sitting right on the Sacramento River, View 202 is a little gem that has some great views. The best time to eat there is in the evening just before the sun sets.
Sit out on the patio and enjoy your meal with breathtaking views of the sunset against the mountains. It is incredible! Lunch is the cheaper option but if you want an incredible meal, go for dinner.
Start with the duck quesadillas. The duck is moist and is paired with foraged mushrooms, a local cheese blend, and maple chipotle basil aioli. It is all wrapped up in a tortilla shell and could almost be a meal in itself.
For your entree, I would highly recommend the grilled New York steak. It is tender, juicy, and will melt in your mouth. It is served with mashed potatoes, ranch foraged mushrooms, fingerling potatoes, and market vegetables. It is AMAZING!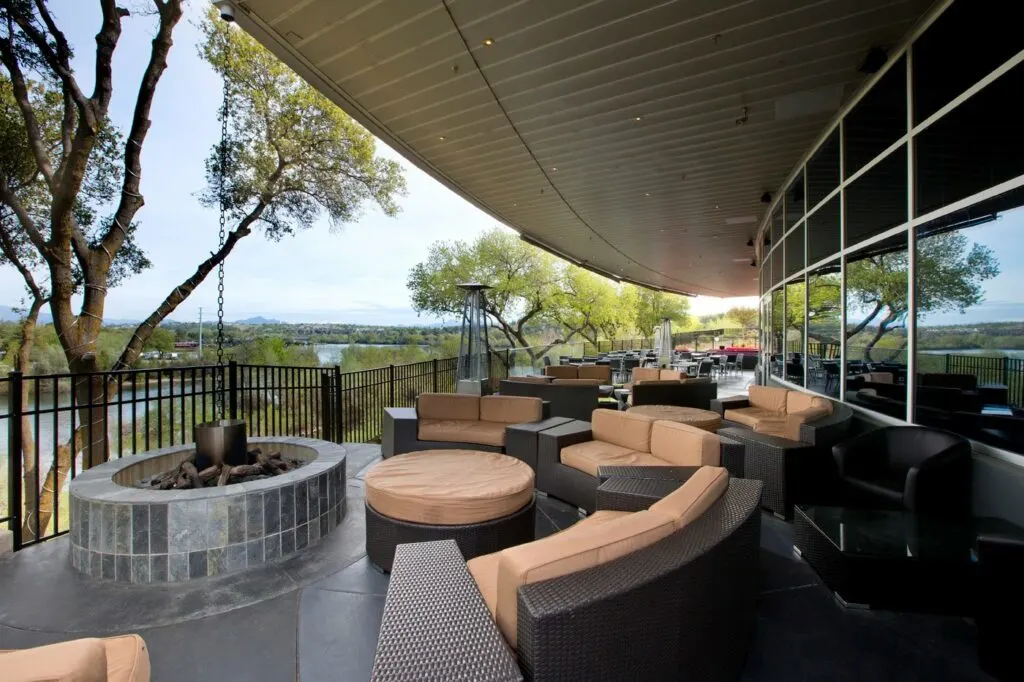 You cannot get into View 202 without a reservation, so make sure you get one before you go! View 202 is located in Redding.
Station 16
Of course, this food journey through California list wouldn't be complete without a seafood restaurant and we have the perfect one, Station 16.
Located in Sacramento, Station 16 is an experience as well as a great place to get seafood. They have a seated raw oyster bar that gives you great views of fresh oysters.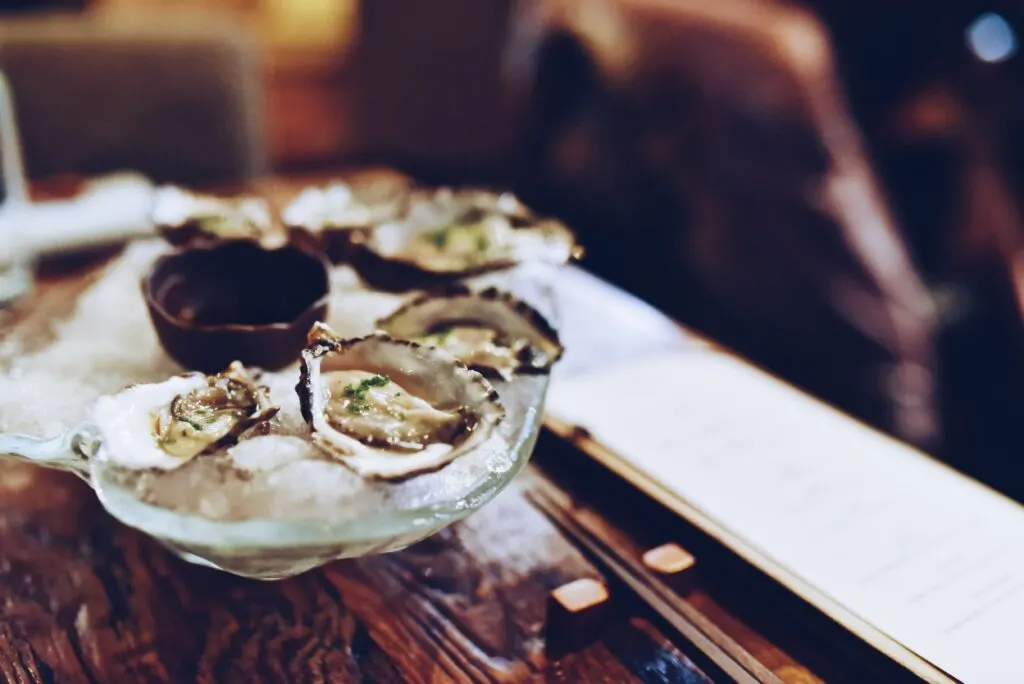 They are open Monday through Friday for lunch and dinner, Saturday and Sundays they are open for brunch and dinner. To take advantage of a full seafood menu, dinner is the best option.
I recommend starting with the fried oysters to share. They are lightly seasoned and fried on the outside but tender on the inside.
If oysters are not your thing I would definitely try the shrimp ceviche. It is served cold with tomatoes, cilantro, onions, jalapenos, and a spritz of lime juice.
For the main entree, you can't really go wrong with any of the menu options but a fan favorite is the lobster mac. Cellentani noodles are drenched in an amazing 3 cheese cajun sauce. Add in tender, flavorful lobster and you have a dish that screams comfort as well as ingenuity.
Another favorite is the Iron Skillets. You can have them in mild (garlic butter sauce) or spicy (house secret). They are served in a hot skillet and it seems like the one to order is the Dungeness crabs and prawns.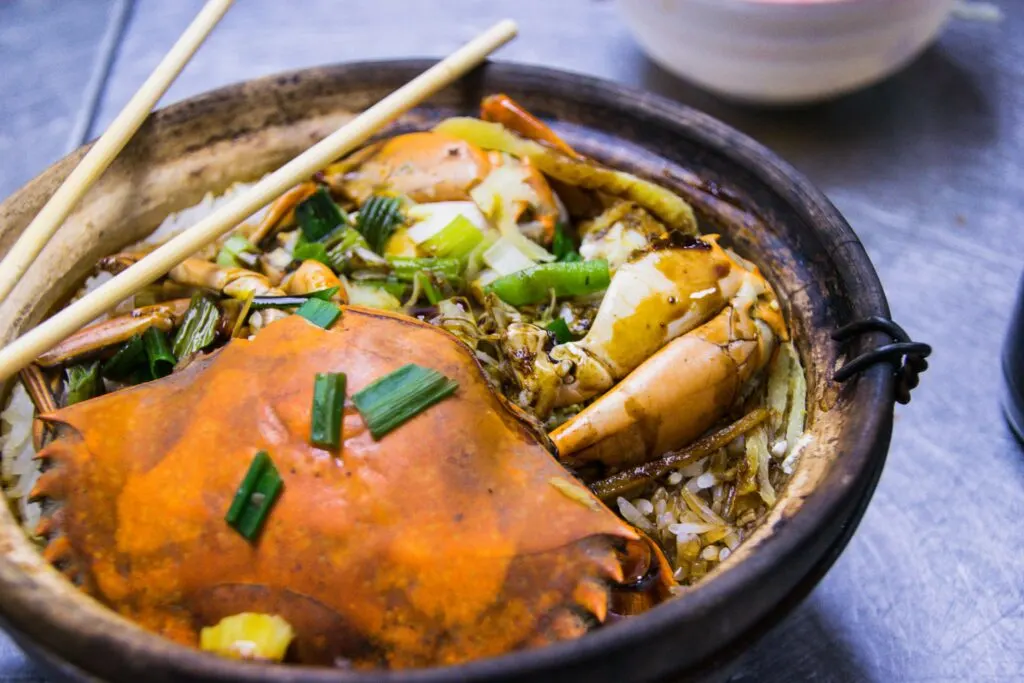 I will admit that considering the menu is high-end the desserts were very low key. I was expecting a little more pizazz but they do serve old favorites like caramel apple pie, chocolate brownie, and a vanilla ice cream sundae.
Station 16 is family owned and operated. Reservations are encouraged for prompt seating.
Southern California
Sycamore Inn
You can't visit Southern California and not stop in at the Sycamore Inn, topping our So Cal food journey through California list. There was a time that travelers traveling along Rt. 66 stopped in here for a bite to eat but thanks to the freeway system everyone can now enjoy the food.
Located in Cucamonga, Sycamore Inn has been around since 1848. Of course, the food has changed a lot since then.
Opened by William Rubottom, affectionately known as Uncle Billy, the inn started out serving southern comfort food such as buttermilk biscuits, fried chicken, and corn dodgers. The menu has been updated to the current food trends but the hospitality and quaint charm are still in effect.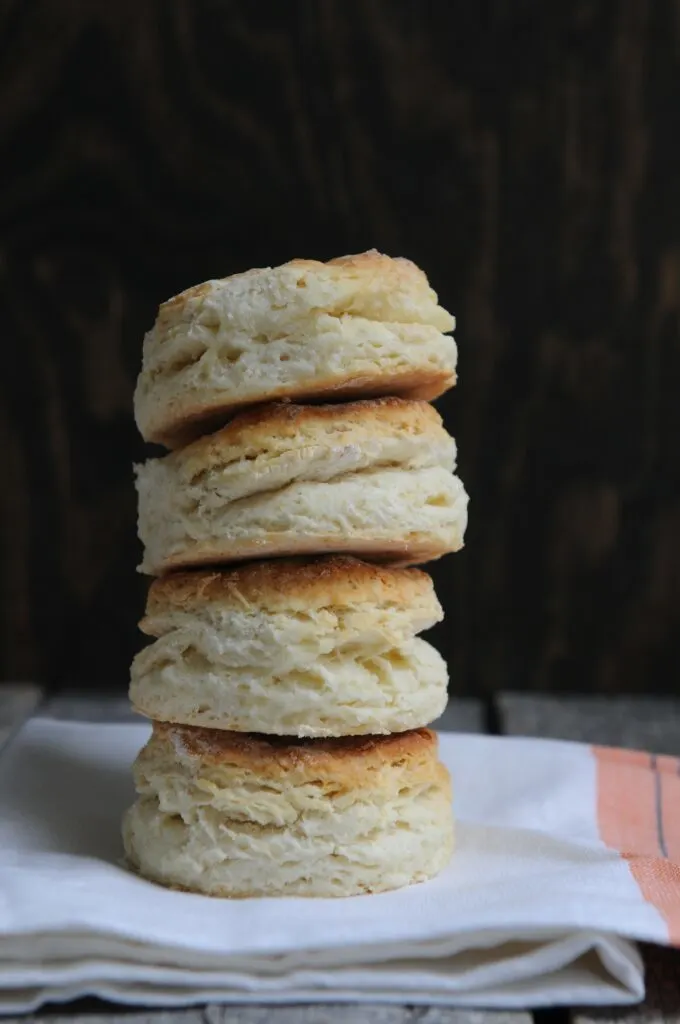 In 1939 a Danish immigrant Irl Hinrichsen acquired the Inn. He closed off the upstairs rooms and turned it into a full restaurant named the Sycamore Inn.
Before the freeway, the Inn entertained celebrities and the rich. It is rumored (but not proven) that Marilyn Monroe and the Black Dahlia both ate there weeks before their demise. It is rich in history but the current news is the food. Sycamore Inn is open seven days a week for dinner only.
You will find classic dishes with a modern twist on the menu. For starters, I would recommend the Oysters Rockefeller. Broiled on the half shell with spinach they are topped with parmesan cheese, smoked bacon, and bread crumbs.
Moving onto the entrees you have a lot of choices, including magnificent steaks, but I would definitely go with the rack of lamb. You get 12 oz of prime Colorado lamb pan seared and roasted. For vegetables, you can't go wrong with the broccoli and hollandaise sauce.
Looking to end your meal sweetly? Definitely, have the chocolate souffle. It is served tableside with powder sugar and whipped cream. Reservations are a must.
The Dresden
The Dresden is the place to be and be seen. A lot of A-list celebrities eat at the Dresden and you may just spot one or two.
Dresden has a very continental vibe with subtle lighting. Big leather half seats cover one far wall and white leather chairs with tables loiter in the middle of the room. It is kind of like stepping into another time.
I won't lie, the bar has a sort of 70's vibe. But the food, the food is right now and delicious!
Start your evening off with the Calamari Friti. For an entree, I would suggest two. If you are eating separately I would highly recommend the veal piccata.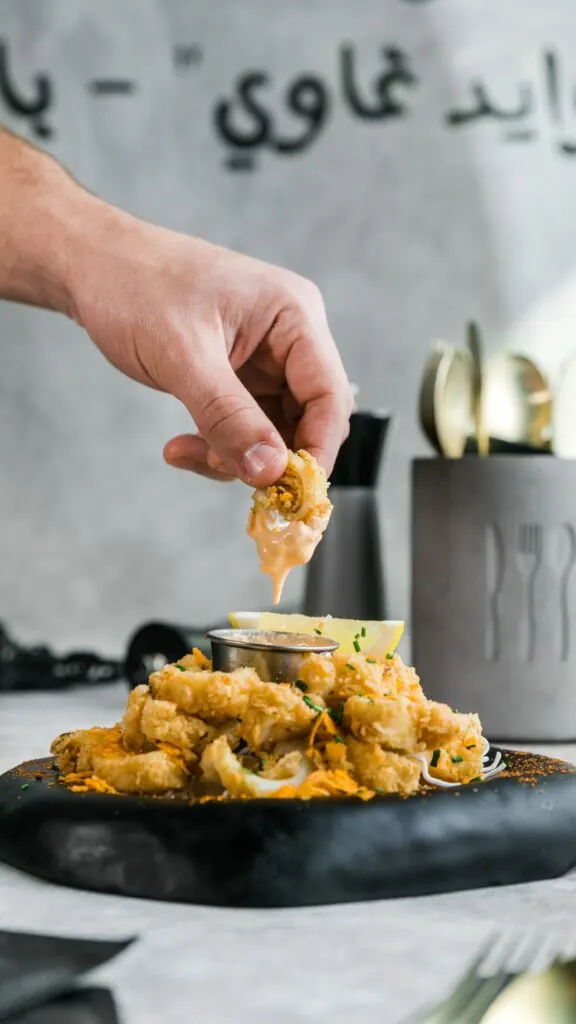 If you want to split a meal and you don't mind a hefty price tag, the chateaubriand for two is the way to go. It is carved at the table and is a great way to share a great meal with someone you love.
Each entree is served with linguini and a potato. Hello, double carbs! The dessert menu is just cakes and pies from a local bakery but they are very good.
The Dresden is located in LA and reservations are recommended.
3-Thirty-3 Waterfront
If you find yourself in Newport Beach and want a delicious meal with an amazing view, 3-Thirty-3 Waterfront is the spot for you! This is another great place to eat an amazing dinner and watch a spectacular sunset.
3-Thirty-3 is for everyone, whether you come in just off the beach or are dressed to the nines, you are welcome here. The are open for Lunch and Dinner, 7 days a week and on the weekends they offer a brunch that is worth every single penny.
Dinner has an amazing sunset but lunch has some amazing menu choices that won't break your budget.
After you sit down with your drink, order the bacon wrapped dates. Medjool dates are stuffed with blue cheese then wrapped with bacon and toasted. They are sweet and savory, making them the perfect starter.
3-Thirty-3 is the home of the original gourmet slider. If you are looking for a small bite, I recommend the grilled chicken and swiss cheese sliders. It is topped with chipotle mayo, avocado, and tomato.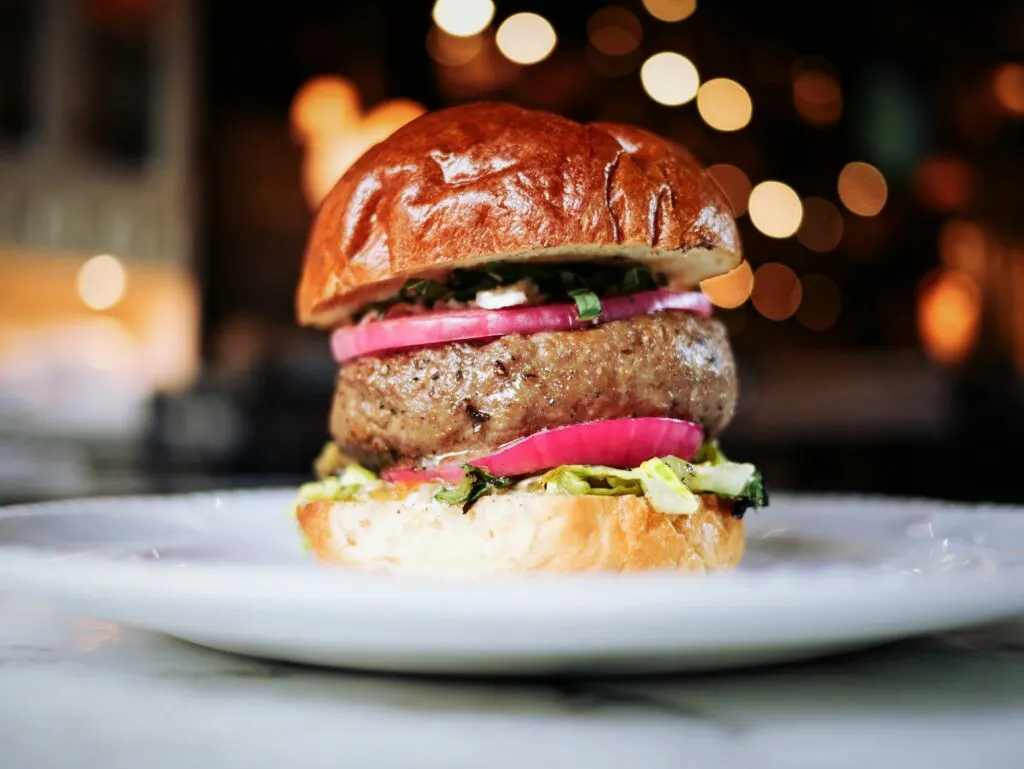 But don't worry about leaving hungry. Each slider entree is served with your choice of shoestring fries, sweet potato fries, side salad, or country style potato salad.
If you are looking for something more substantial the beer battered fish and chips is a great choice. Grouper fillets are beer battered and then fried to a golden crisp. It is served with shoestring fries and coleslaw.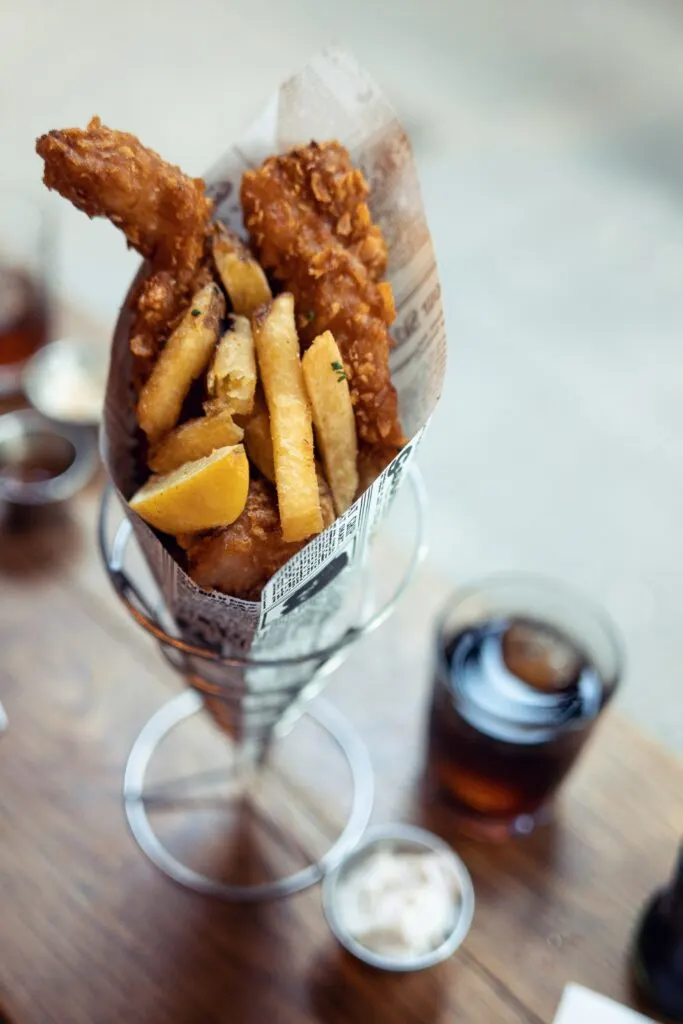 You can end your meal in style with the bourbon street bread pudding drizzled with a jack daniels sauce. If you are full, you may want to split this with someone! Reservations for dinner are highly recommended.
I hope you enjoyed the stops on our food journey through California! Do you have any must-eat restaurants to add to our list? Leave them in the comments below.